Interview: How China's 'Super Consumers' Are Changing the World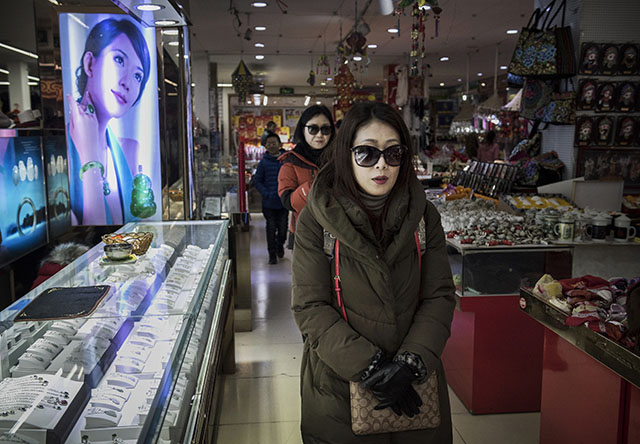 Chinese shoppers walk through a small department store in a shopping district in central Beijing, China. (Kevin Frayer/Getty Images)
As China's days of double-digit annual GDP growth draw to a close, it's beginning to transition from an investment-driven growth model to one that encourages consumption. Well-to-do Chinese are already stepping up to the plate, now ranking number one in spending on everything from cars to wine, and their numbers are growing. By 2022, more than half of Chinese urban households (400 million people) are expected to be among the middle class.
In his book China's Super Consumers: What 1 Billion Customers Want and How to Sell it to Them, Savio Chan, president and CEO of U.S. China Partners, Inc., details how these big spenders are leaving their footprint, not just in China, but throughout the world. Ahead of his February 18 talk at Asia Society Houston with co-author Michael Zakkour, Chan explained to Asia Blog just how big an impact Chinese consumers are having internationally and what foreign brands should know when trying to sell to them.
What is a Chinese "super consumer?"

From Chairman Mao to Chairman Ma (Jack Ma from Alibaba), China went from sandpaper to Sephora and feudalism to FENDI in 30 years. Consider this: In the late 1970s, Chinese women used sandpaper on their faces because there was no makeup. French cosmetics retailer Sephora now has more than 250 outlets in China. China's super consumers are the perfect confluence of the biggest consumer market in the world plus the "China global consumer demographic."
Besides consumption in China, which is heavily encouraged by the Chinese government, Chinese consumers travel around the world. There were about 1.8 million Chinese visitors to the U.S. last year, contributing about $21 billion to the American economy. Besides, they are the highest-spending group — about $7,000-$8,000 per capita per trip, compared to the $3,000 that U.S. travelers spend.
What are some other ways Chinese consumers' reach is extending beyond China's borders?

By most measures, 60-70 percent of all luxury purchases by Chinese are made when they travel outside of China. In the 12 months ending in March 2014, Chinese spent $22 billion on real estate in the United States, or nearly one quarter of all international sales, according to a survey by the National Association of Realtors. In almost every category, Chinese consumers are the number one or two spenders. If you look at most research, the trends continue. The only exception is that luxury spending in China was down 1 percent last year due to the anti-graft campaign from the Chinese government.

What are some major shifts you've noticed in the tastes of Chinese consumers over the past several years?

When we talk about Chinese consumers, we need to remember that China is not one market (in our book we talk about 22 clusters) and Chinese consumers have many variations. For the first-tier cities like Shanghai, Beijing, and Hong Kong, Chinese consumers have become very sophisticated. The days of traditional logos and brands no longer work for them, as there's a shift towards more subtle luxury brands in the market. For the third- to fourth-tier cities, Chinese consumers are increasingly affluent, opting to trade up to more luxurious brands. Even consumers with less disposable income are also becoming "big shoppers," spending the majority of their income on upscale labels.
With Alibaba becoming the largest e-commerce platform in the world, Chinese consumers have demonstrated that they are the largest e-commerce shoppers in the world, with over 649 million web users and over 86 percent of them logging in with their smart phones and tablets.

What generational consumption trends are you noticing?

The older generations are very different than the post-'90s Chinese consumers [born after 1990]. The older generations still purchase real estate as an investment and love luxury brands. The post-'90s buy everything on the Internet. As they all grow up with technology, they are much more comfortable with the Internet. They are the drivers of e-commerce and mobile.

China's consumer spending is expanding significantly. Urban consumption is expected to go from 10 trillion yuan in 2012 to nearly 27 trillion by 2022, by one McKinsey estimate. But at the same time, a lot of domestic businesses are stepping up to meet the new demand. Where does this leave foreign companies that are trying to sell in China?

The challenges among foreign brands and local brands are getting very competitive. Some of the Chinese brands are learning fast from the foreign brands and in the near future, I foresee some will become "China's super brands." For example, in less than four years' time, Chinese phone-maker Xiaomi has come from nowhere to become the number three smart phone manufacturer in the world, and number one in China. It is actively expanding to other emerging markets like India and Indonesia. A couple of weeks ago Xiaomi raised $1.1 billion in new funding at a valuation of $45 billion, beating the ubiquitous Uber as the world's most valuable tech start-up. Foreign brands need to be staying ahead of the curve with better innovations and anticipate strong Chinese competition.

What's one of the biggest mistakes you see foreign companies making these days in selling to China?

Trying to use the same American best-practice business model to go to China and not taking enough time to study and understand Chinese culture. You don't need to be bilingual but you must be bicultural, otherwise you cannot win. From what I have seen, those mistakes killed some of the biggest names like Google, BestBuy, Home Depot, and many others.