Infographic: Asian American Corporate Employees Dedicated, But Often Don't Fit In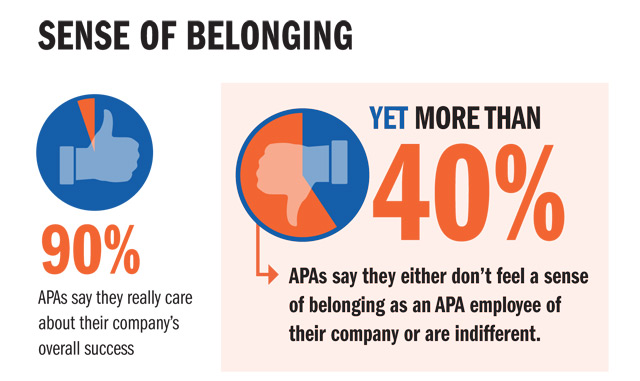 Over 40 percent of Asian Pacific Americans working at Fortune 500 Companies say they either don't feel a sense of belonging in the workplace or are indifferent.
According to the Asia Society's 2013 Asian Pacific American Corporate Survey released today at the Diversity Leadership Forum in New York, 90 percent of Asian Pacific Americans (APAs) working in corporate environments said they "really care about their company's overall success." Meanwhile, over 40 percent of the survey pool indicated they either don't feel a sense of belonging as an APA employee of their company or are indifferent.
"Fifty percent of the APA population over the age of 25 has a bachelor's degree and 20.7 percent has a professional degree, both nearly double the U.S. average," noted Asia Society's Mike Kulma. "Their overall job satisfaction and engagement are critical to the success of U.S. businesses. As Asia Society's survey proves, cultural and religious acceptance is the main driver of engagement among this group. As such, organizations with a strong focus on supporting and embracing the unique attributes of this group are bound to rise to the top as preferred employers among APAs."
The corporate survey, now in its fourth year, is an assessment designed to identify and evaluate best practices for APAs working at Fortune 500 companies.
Click here to view the full infographic and survey findings.