How Trump's Paris Decision Marginalizes Washington — Not America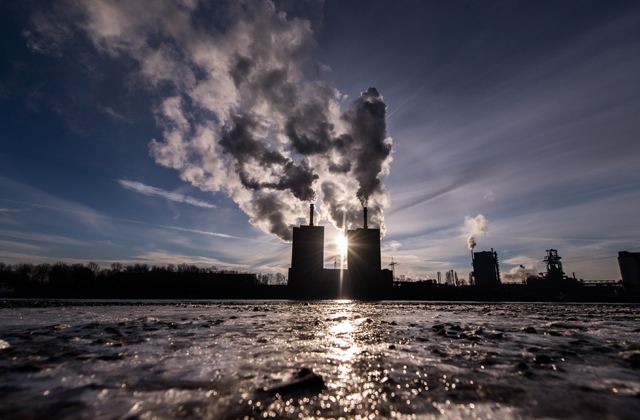 2016 was confirmed to be the hottest year on record. (Lukas Schulze/Getty Images)
On June 1, President Trump announced that the United States would withdraw from the Paris Agreement on climate change. The decision is the latest move by the administration to extract the United States from international commitments and roll back federal environmental measures. But while the withdrawal further marginalizes the U.S. federal government from the international climate community, it has provoked a perhaps unintended effect: galvanizing subnational policymaking and boosting international partnerships to scale-up American climate action.
President Trump justified U.S. withdrawal from Paris, which seeks to keep global temperatures from rising more than two degrees Celsius above pre-industrial levels during this century, on fairness and economic terms. He argued that the agreement places disproportionate burdens on America while letting other countries — including China and India — skate through with lesser commitments. Trump claimed the agreement would cost millions of American jobs and trillions of dollars without leading to substantial global emissions reductions. He left open the possibility that the U.S. could re-enter the Paris Agreement once it had been renegotiated to right these injustices. 
The president's justifications for withdrawing from Paris are misguided, and his proposed pathway forward shows a poor understanding of international climate diplomacy.
Leaving aside that the U.S. is the largest historical emitter of greenhouse gas emissions, President Trump's fairness argument misrepresents the Paris Agreement's core characteristics. Unlike some climate regimes of the past, it is a non-binding, non-punitive, and wholly inclusive approach that calls on countries to act in good faith on targets that they create and have the ability to amend. It is far from the "draconian" and imposing accord that President Trump claims.
For his financial and job-loss arguments, the president relied on a fraught and agenda-driven report that appealed to a key sliver of his constituency at the expense of major players in the U.S. economy. Prior to withdrawal, 630 American businesses signed an open letter to President Trump and Congress to advocate remaining in the Paris Agreement. Tech companies like Apple and Google, large manufacturers including General Motors and General Electric, oil companies including Chevron and Exxon-Mobile, large electricity generators (PG&E and National Grid), and coal producers (Arch Coal, Peabody Energy) all advocated remaining in.
Meanwhile, the prospect of simply "renegotiating" the Paris Agreement for more favorable terms drastically misunderstands international climate change policymaking and was quickly refuted as impossible by leaders across the world. Floating this option reveals a transactional worldview and could merely be a symbolic gesture to placate administration members who argued that the U.S. should remain a party to Paris.
The result of Trump's withdrawal is already apparent: a further decentralization of American climate policy and action away from the federal government, and an enlivened international community determined not to be derailed. Just hours after Trump's announcement, the United States Climate Alliance was formed as a bipartisan collection of U.S. states committed to upholding the goals of the Paris Agreement. At this writing, this group — which will likely grow — has a collective population of over 100 million and a GDP approaching $7 trillion. This comes in addition to the more than 200 mayors around the country dedicated to forward-thinking climate action, including the leaders of America's 10 most populous cities, and a host of private companies and civil society organizations. In a June 5 open letter titled "We are Still In," more than 1,200 governors, mayors, businesses, attorneys general, investors, and colleges and universities declared their intention to continue pursuing the Paris Agreement goals. Subnational action to combat climate change was not born of the Trump announcement, but it is accelerating rapidly in response to it.
Much of this support for Paris stems from a desire for consistent and predictable federal regulation on one hand and a recognition that decarbonization brings opportunities on the other. A wide range of American companies — including in the coal sector — are convinced that greenhouse gases will be regulated and priced in long-term, and the Paris Agreement offered some clarity on their future plans. Many likewise see economic opportunity from a fast-growing clean technology market predicted to receive $7 trillion in investment over the next two decades, and are concerned with competing with foreign companies that enjoy strong political support. Still others recognize climate change as a key challenge of our time and wish to address it head-on. President Trump's abandonment of Paris does not reverse these forces.
Meanwhile, China and India have both reconfirmed their climate commitments and begun working more deliberately with partners in Europe, elsewhere in Asia, and with parties in America that are carrying on despite the shifting national position. This comes via subnational partnerships on climate and clean energy like those already signed between China and California in the wake of the Paris withdrawal, and through business operations that continue to see climate-smart operations as the most profitable path forward.
With his Paris announcement, President Trump has radically changed the U.S. national climate position. However, he does not have the power or influence to reverse trends in the country or stop efforts by Americans to work in concert with international partners that seek to address climate and energy challenges.
On the contrary, his policy decision is already amplifying them.