How Can Companies Make Better Use of Asian American Talent?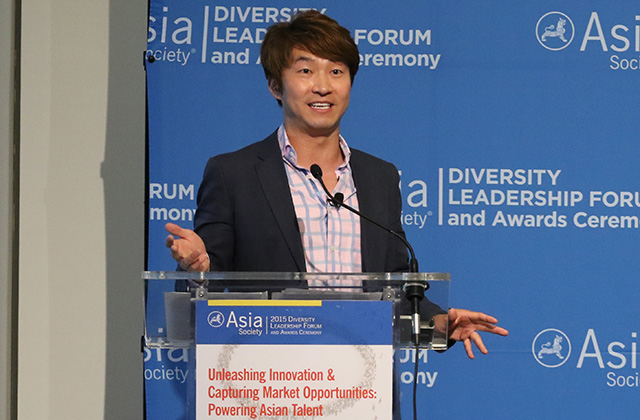 Pirq CEO and diversity and entreprenuership expert James Sun speaks at Asia Society's Diversity Leadership Forum. (Ellen Wallop/Asia Society)
According to the most recent census figures, Asian Pacific Americans (APAs) make up 5.6 percent of the United States population. Yet, they make up only 2.4 percent of the corporate directors at Fortune 500 companies. The "bamboo ceiling," as the trend of underrepresentation of APAs in corporate leadership positions has been dubbed, represents lost opportunities. Studies have found that the most racially diverse companies perform better financially than national industry averages.
Asia Society recently hosted its annual Diversity Leadership Forum, where corporate leaders gathered to discuss best practices in fully recognizing and utilizing APA talent. At the forum, Asia Blog asked several experts and business leaders what they think companies and individuals can do to get more APA representation in leadership positions. Here's what they had to say:

Apoorva Gandhi
Vice-President of Multicultural Affairs, Marriott International, Inc.
I think the way that companies can get more APAs in executive leadership is to really start from the beginning in terms of hiring great talent and then focusing on those key skills — whether it's mentoring or providing sponsorship that will help them continue to grow and sometimes hear the good feedback along the way, but also maybe the growth areas and the areas that need to improve. So that way when they migrate through their careers and get to the points where they can be considered [for promotion], hopefully they have the hard and soft skills that will enable them to get to the next level.

Fabian DeRozario
Leadership Consultant, National Association of Asian American Professionals
At the top leadership levels — frankly at any leadership level — the criteria for people to be raised and promoted takes relationships. It's not as much about competencies. I feel that as Asians, partly because we're immigrants, but even second generation Asians, we're a little late to the party because we don't have the same relationships, family history, and connections that the rest of Americans do. It's always advocates for us that are pulling people into those higher levels of leadership, and it's the lack of these connections, the lack of this advocacy, that I think is one of the premier reasons we don't see a lot of Asian representation at the top leadership levels. I think organizations need to continue to develop our Asian leaders, but don't lose sight of strategies and programs that will integrate Asian future leaders into the mainstream. We've got to find ways to plug these Asian leaders into the mainstream activities, into the mainstream patterns of things that are happening in the workplace. Only then will that give them the opportunities to develop the important relationships and create that advocacy that will pull people into higher levels.
 

James Sun
Public Speaker on Diversity and Entrepreneurship; CEO, Pirq; Former Contestant on The Apprentice
To get more APA leadership I think it's going to take being part of the company's overall strategy. One example would be, rather than saying, "Let's put a committee together just for having representation," instead say, "Lets put a committee together so that this is a group that helps us lead product innovation and revenue growth into Asia or other territories." So it's used as a topline strategy rather than just, "Oh we have to do this for compliance." That's going to get senior leadership to really pay attention. And with the rise of Asia it makes sense from a market dynamic standpoint.

Chandresh Iyer
Global Head of Middle Office Solutions, BNY Mellon
I think one way to really get more representation is [for APAs] to go the extra mile and make sure you can deliver the results that are required, and then talk about how you've done that and how you've grown in the company. So at the end of the day I would say, first it's about results. Second it's about people knowing who you are and what you've done. And third is just about being open and honest about one's own strengths and weaknesses and being clear about what they can stand for and what doesn't make sense for them.

Barbara Pak
Vice President of Conservatorship & Corporate Initiatives, Freddie Mac
I think what hits home is not just around "we're doing a lot from a senior executive level to put into our scorecards, goals, and objectives, and we're also doing a lot of development at the grassroots." But it's also about coming up with a cohort at the management level, or even at an officer level, to really develop and become a role model so there becomes sort of a target that people can see visually and try to achieve. I think that's one actionable thing we need to do more of.

Mohammed Farshori
Lead Product Marketing Manager, AT&T; National President, Organization of Asian Indians
There should be an effort to recognize the Asian talent within the organization, and it starts from the higher level. A lot of times due to cultural reasons and multiple other reasons, people are not comfortable. You need to get them out of their comfort zone. Someone has to make an effort. It needs to start not just from the diversity and inclusion team, it needs to involve every department, regardless of what they're doing — HR, finance — they need to be proactively looking for talent. Not just Asian talent — diverse talent — and recognize leadership qualities and people who have potential, because not everyone can be a senior officer, not everyone can be chief technology officer. So look at the talent and potential and at least guide the folks that you see the potential in. If someone just approaches me and says, "Hey Muhammed, I see potential in you," just that will drive me, regardless of what I become in the future at the company, that will drive me to stay. That will drive me to feel like someone cares about me, someone is going above and beyond.