Can Japan and the US Make a Deal on Automobile Trade - and Get to a Final TPP?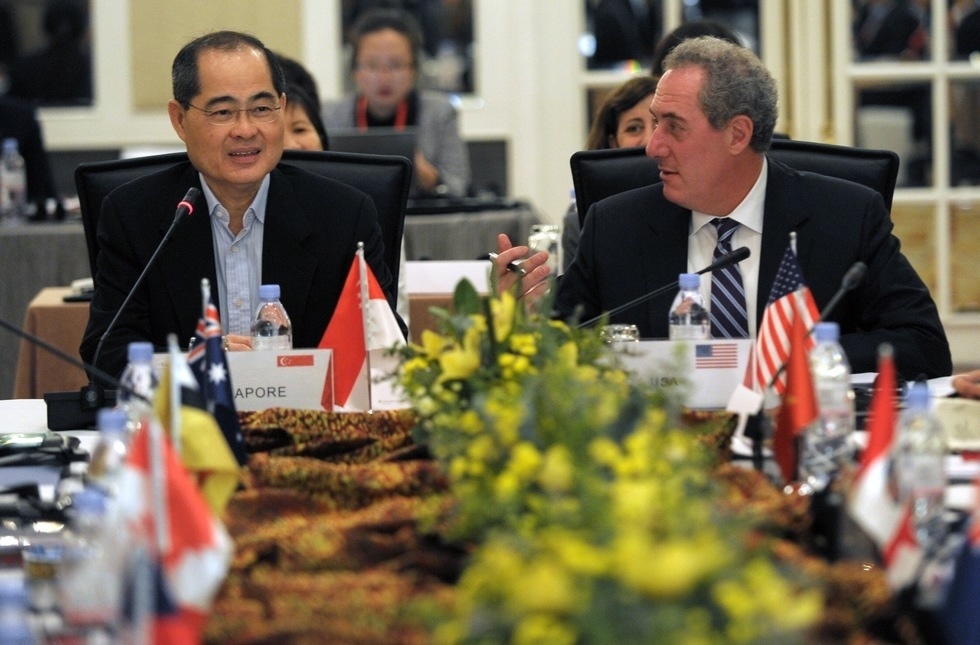 Singapore Minister of Trade and Industry Lim Hng Kiang (L) speaks as US trade representative Michael Froman (R) looks on during the Trans-Pacific Partnership (TPP) Ministerial Meeting in Singapore on May 19, 2014. Trade Ministers and officials from the 12 TPP countries—Australia, Brunei, Canada, Chile, Japan, Malaysia, Mexico, New Zealand, Peru, the US, Vietnam and Singapore—convened for the meeting. (Roslan Rahman/AFP/Getty Images)
Hopes were high for a breakthrough announcement on U.S.-Japan trade talks during President Obama's recent trip to Asia. Overall negotiations on the Trans-Pacific Partnership (TPP) are stalled due to a lack of a bilateral agreement between the U.S. and Japan, with the major sticking points being around automobiles and agriculture. With strongly entrenched positions on both sides, effective resolution of trade issues around automobiles will be a key determinant to a successful passage of the TPP. President Obama and Prime Minister Abe made progress toward a resolution, but significant differences still remain between their positions.
According to the U.S. census, Japan is the U.S.'s fourth largest trading partner. U.S.-Japan two-way trade in goods was $204 billion in 2013, with U.S. exports being $65 billion and imports being $139 billion, resulting in a U.S. goods trade deficit of $74 billion. When it comes to automobiles, Japan exported $38 billion of passenger cars to the U.S., while the U.S. exported only $756 million of passenger cars to Japan.
The U.S.-Japan automobile trade has been a long-standing area of friction, and the dispute ratcheted up as negotiations got underway. Matt Blunt, President of the American Automotive Policy Council (AAPC) and former Governor of Missouri, issued a statement in March 2013 that read in part, "AAPC member companies have supported every free trade agreement the United States has joined, but because Japan is the most closed auto market among developed nations and helps accomplish that through non-tariff measures, including manipulating its currency, Japan cannot be treated like other U.S. trade partners."
The Japan Automobile Manufacturers Association (JAMA) responded with a TPP publication noting "unsubstantiated claims have been made that Japan's market is closed to imports. On the contrary, Japan's auto market is completely open to other countries' products." It highlighted that European dealerships in Japan have increased by 72% from 1996 to 2011. Market share had increased from 3% to 4.6% for European vehicles but dropped from 1.6% to 0.3% for U.S. vehicles. The JAMA report also stated that European manufacturers had responded more closely to Japanese consumer demand for smaller cars, which make up 90% of the Japanese passenger car market. In this smaller car category, eighty-seven European automobile models were available in 2012 compared with five American models. JAMA went on to note that 70% of the vehicles sold in the U.S. are built in North America, and that Japanese automakers have invested $35 billion as of 2011 in U.S. plants, employing 388,000 U.S. workers.
Despite JAMA's statements regarding European vehicles and the growth of European manufacturers, the EU noted that it has concerns of its own in its Free Trade Negotiations with Japan. It raised concerns about Japan's non-tariff barriers and about the significant EU Japan automotive goods trade deficit.
The Japanese government made some concessions to U.S. negotiators in April 2013, including agreeing to increase the annual ceiling of motor vehicles under its Preferential Handling Procedure (PHP), a faster certification process used by U.S. auto manufacturers. The U.S. will now be able to export 5000 motor vehicles per year instead of the prior ceiling of 2000 vehicles.
These concessions failed to appease U.S. automakers. At the end of May, Steve Biegun, VP of International Governmental Affairs at Ford, wrote, "Japan simply is not a free-trading country. Even though it has no tariffs on autos, it manages to keep all other imports—from the U.S., Canada, Mexico, Europe, and Asia—to just 5 percent of the entire Japanese market", arguing that the country manipulates its currency to do so.
On June 6, 230 members of Congress wrote to the President requesting that currency manipulation be addressed in the TPP negotiations. This was followed by a letter on September 23 from 60 senators to U.S. Treasury Secretary Jacob Lew and U.S. Trade Representative Michael Froman asking for similar provisions.
In late December 2013, The Japan Times reported Prime Minister Shinzo Abe saying, "We are having tough talks with the United States in the areas of agriculture and automobiles…we will not make any easy concessions."
Discussions between U.S. and Japanese officials in April 2014 suggested that there was some room for optimism regarding the auto negotiations. On May 19, the Japanese Minister responsible for TPP negotiations, Akira Amari, met with his counterpart, U.S. Trade Representative Michael Froman, to discuss key outstanding areas of concern, including agriculture and automobiles, in order to find a way forward ahead of the Singapore ministerial meeting.
Similar challenges were encountered, and ultimately overcome, during negotiations for the North American Free Trade Agreement (NAFTA), which was highly controversial at first and faced strong opposition from various stakeholders in the U.S., Mexico, and Canada. NAFTA became a blueprint for the U.S. for negotiating future trade agreements. Mexico had a restrictive auto decree, charging tariffs of 20% on automobiles and light trucks, and this was phased out to the U.S.'s benefit.
According to an evaluation by the Congressional Research Service, the three NAFTA countries experienced significant trade gains from NAFTA: U.S. trade with Canada increased 200%, and trade with Mexico increased 522%, from 1993 to 2013. U.S. trade with its NAFTA partners more than tripled over this time period, and trilateral trade actually reached $1 trillion in 2011. While U.S. imports from Mexico increased from $40 billion in 1993 to $281 billion in 2013, U.S. exports to Mexico also increased from $42 billion to $226 billion, so the trade gains didn't accrue in just one direction. The trade deal made it possible for automakers to achieve supply chain synergies across North America, by eliminating a number of tariff and non-tariff barriers, which made the U.S. automobile industry more competitive globally. TPP holds similar potential across a variety of sectors, but challenging negotiations lie ahead.