Asia Society Remembers India's Musical Giant Ravi Shankar, 1920-2012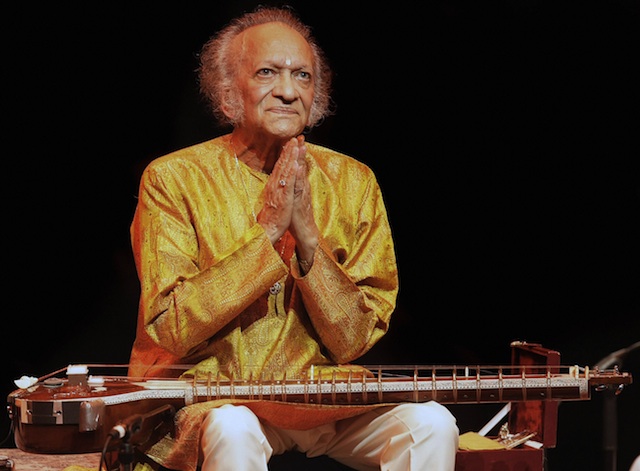 Indian musician Ravi Shankar salutes the audience as he performs on June 4, 2008 during a concert at London's Barbican centre. (Shaun Curry/AFP/Getty Images)
Asia Society mourns the passing of Indian musical legend Ravi Shankar, who died Tuesday in a hospital near his home in Southern California at the age of 92.
Shankar had a long history with our organization. Asia Society presented Shankar's first American concert at Carnegie Hall in 1957, and his first American tour four years later. The 1960s saw Shankar rise to become India's premiere musical ambassador, bringing its classical tradition to Europe and America through teaching, touring, and his association with Western musicians like John Coltrane, violinist Yehudi Menuhin, and of course George Harrison of The Beatles. By the end of the '60s he was arguably the most famous Indian in the world.
Asia Society honored Shankar with a Cultural Legacy Award in 2010.
Rachel Cooper, Asia Society's Director of Global Performing Arts, had this to say about Shankar's legacy:
It would not be hyperbolic to say that Ravi Shankar had a significant impact on global culture. He reframed the music of the Indian sitar within a global context. He ignited an interest in the West of India as a great civilization, and recast that image with a deep respect of the sophistication and complexity of the music, while at the same time making it accessible to an uninitiated audience. Part of his genius was to be able to popularize the music without compromising its integrity.

His virtuosity and charisma were appreciated around the world. He was one of the first great Indian musicians to be recognized in the West. At a time when Western classical music was considered the apex of culture and there wasn't much room for other forms and traditions Ravi Shankar came to be recognized and talked about in the same way as other great classical musicians such as Pablo Casals or Arthur Rubinstein.

His early beginnings as a dancer in his older brother Uday Shankar's dance troupe brought him to Europe at a young age. This exposure instilled in him an understanding of the world beyond India and provided a context in which he could imagine bringing the beauty of Indian music to a global audience.

His familiarity with both India and the West gave him confidence that his music would have a larger audience outside of India. He was fierce in his defense of the integrity of the Indian classical tradition and its authentic voice. At the same time, his deep knowledge of the music did not keep him from seeing potential for cross-cultural musical encounters and an openness to collaboration.

His knowledge of the West fueled a desire, even an obligation, to share his passion for Indian music with the West, whether with classical musicians such as Yehudi Menuhin or rock musicians such as George Harrison and the Beatles.
Former Asia Society president Vishakha Desai added the following via email:
The passing of the musical genius Ravi Shankar is a giant loss not only to the world of music, but to all of us who passionately believe in the power of the arts in creating bonds across national and cultural borders.

I first heard the maestro at a young age of 10 in my hometown of Ahmedabad. He was already a renowned player in India and had created a sensation in the West through his first American tour in 1957. I remember coming out of that concert with my parents at two in the morning blurry-eyed and overwhelmed by the perfection of the sound we had been engulfed by. I didn't know then that the American tour was presented by Asia Society, the institution I had the honor of serving for 22 years.

Ravi Shankar led the way for everyone committed to creating cross cultural bonds at the highest level. Long before economic globalization became the buzz word in the international arena, Ravi Shankar and artists like Yehudi Menuhin and the Beatles, Shankar's frequent collaborators, reminded us that it was possible to create partnerships with parity, and at the highest level of creativity.

Our political and business leaders could learn some valuable lessons from the daring innovation, technical perfection, and mutual musical respect exercized by Ravi Shankar every time he played.  
In the fall of 2010, when Asia Society recognized Shankar with its Cultural Legacy Award in New York, Shankar was only able to appear by video, but his daughter Anoushka and his friend and collaborator Philip Glass both spoke in his honor. Watch highlights from that program below:
On the occasion of Shankar's 90th birthday, we put together the following slideshow looking back on his career:
Video: Live in Santa Cruz, with Anoushka Shankar (sitar) and Tanmoy Bose (tabla), in 2007:
Video: Anoushka Shankar performs her father's Concerto No. 3 and discusses differences between Western and Indian music on Jan. 24, 2009 at Asia Society New York:
Do you have something you'd like to share about Ravi Shankar? Please leave your thoughts in a comment below.