Asia-Pacific Trade in 2014: A Year of Hedging Bets and Weaving Intricate Webs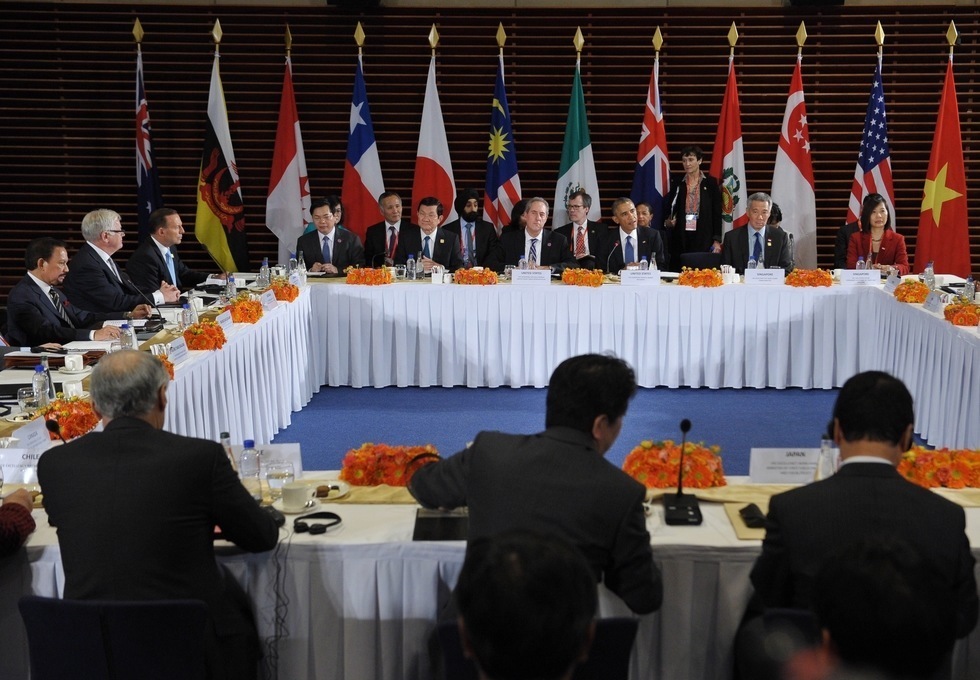 Leaders from the Trans-Pacific Partnership take part in a meeting at the U.S. Embassy in Beijing on November 10, 2014. From left: Vietnam's Vu Hu Hoang, U.S. Trade Representative Mike Froman, U.S. President Barack Obama, Singapore Prime Minister Lee Hsien Loong, and Singapore's Ow Foong Pheng. (Mandel Ngan/Getty Images)
The year 2014 was a momentous one for trade agreements and strategic alliances in Asia. Even though the multilateral Trans-Pacific Partnership (TPP) agreement wasn't concluded, many countries involved in the negotiations pressed forward with a host of bilateral agreements. And as China became more assertive in Asia, countries across the region, while strengthening their ties with China, also built economic and defense bridges with other partners.
Perhaps no country exemplifies these trends more than Australia. After 10 years of negotiations, China and Australia finally concluded their free trade agreement. China is Australia's largest trading partner, with two-way trade measured at more than US$150 billion. Although the Australia-China economic relationship is critical to Australia, it is hedging its bets within and beyond the region. The day after President Xi Jinping of China left Canberra, Prime Minister Tony Abbott of Australia quietly signed a defense and security agreement with Prime Minister Narendra Modi of India and announced that the two countries would accelerate efforts to reach a free trade agreement. This followed quickly on the heels of the Japan Australia Economic Partnership Agreement, which bolsters Australia's relationship with its second-largest trade partner. Australia and Japan are also building closer defense partnerships, which may be further strengthened if Australia purchases Japanese submarines for US$18.7 billion. Finally, a Korea-Australia FTA will become effective at the end of 2014. Australia also hosted the 12 trade ministers from the countries negotiating the TPP in late October. And Australia maintains close defense ties with the U.S., as one of two countries (the other being the U.K.) that has a defense trade treaty with America.
Meanwhile, both Taiwan and South Korea have made their desire clear to join the TPP. Although China is Taiwan's largest trading partner, elections in Taiwan have seen a movement away from those supporting closer unification. The ratification of a trade agreement with China was blocked, the Taiwanese Premier resigned, and the election was a message to President Ma, who has espoused closer ties with the mainland, cemented through stronger trade. In addition, China's recent free trade agreement with South Korea caused concerns in Taiwan, which sees the agreement as a threat to its economy. (China is currently South Korea's largest trading partner with US$230 billion in two-way trade.) The TPP could help Taiwan diversify its trade relationships should China shift business away from Taiwan. Taiwan also balances the China relationship through its relationship with the U.S., formalized by the Taiwan Relations Act concluded in 1979, as does South Korea through the strength of its trade relationship with America and its Mutual Defence Treaty with the U.S. which was enacted in 1953.
Japan, despite having substantial two-way trade with China, is keen on diversifying its trade relationships and views TPP as a key mechanism for this. It concluded an Economic Partnership Agreement (EPA) with Australia in 2014, building on its agreements with seven other TPP countries (Malaysia, Singapore, Chile, Vietnam, Brunei, Peru, and Mexico). Yet the U.S. and Japan are still unable to conclude their negotiations, which are holding up the TPP process. With Prime Minister Abe's recent election win, he has greater clout to deal with resistance to the TPP from the powerful agricultural lobby and other special interest groups. Japan is unlikely to show its final hand on negotiations until it has confidence that the U.S. has the ability to fast track the agreement through Congress. If Congress grants Trade Promotion Authority, it will give other countries the confidence that U.S. negotiators have the support of Congress, which could lead to a more ambitious agreement.
China, Japan, and South Korea continued to develop their trilateral free-trade agreement despite lingering tensions. A CJKFTA would help China counter the TPP and would provide further impetus to the Regional Comprehensive Economic Partnership (RCEP), which proposes to form an FTA among the ASEAN countries and Australia, China, India, Japan, Korea, and New Zealand. This agreement would cover a population base of 3 billion people and GDP of US$21 trillion and account for 27 percent of global trade.
China, to counter the US-led TPP, is also keen on promoting a pan-Asia trade agreement of its own called the Free Trade Area of the Asia Pacific (FTAAP), which had its origins in ASEAN. In addition, China is promoting the benefits of an Asian Infrastructure Bank, a China-led bank that could counter the Asian Development Bank, which is predominantly led by the U.S. and Japan. The bank is well-capitalized by China and has the support of a number of Asian countries.
It remains to be seen whether the U.S. will be able to work with its partner countries to finalize the TPP and maintain its role as a central trade player in the Asia-Pacific. In the interim, China will be doing all that it can to progress a regional trade agreement of its own with China at the center. As in so many other spheres of influence, the U.S.-China relationship is proving to be a key driver in the evolution of an Asia-Pacific free trade area.