Asia Abridged Podcast: Jackie Chan on Cheating Death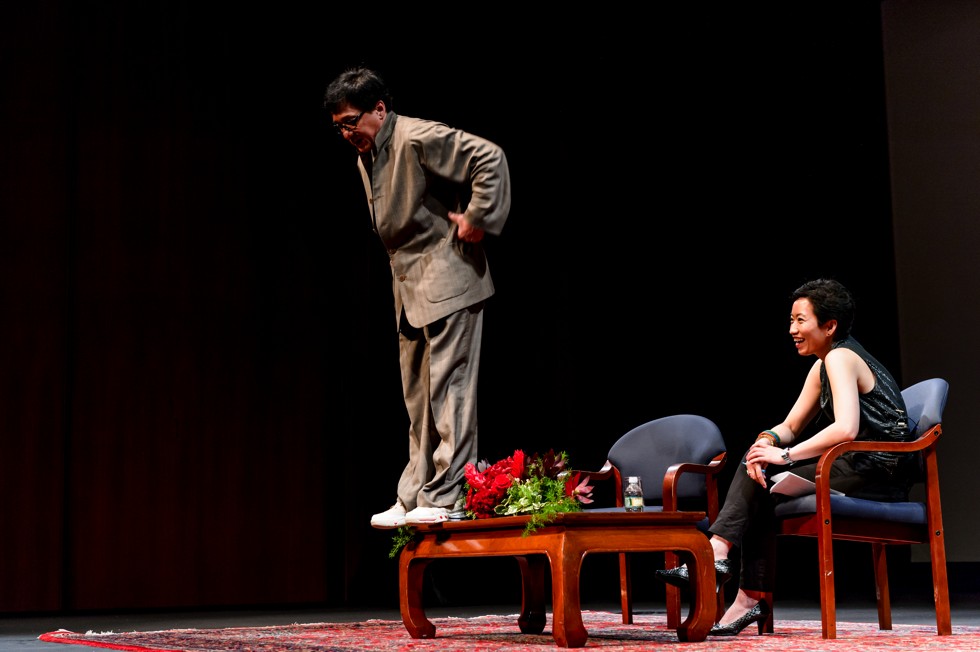 In a rollicking 2013 discussion at Asia Society in New York, an animated Jackie Chan spent almost as much time out of his seat as in it. (C. Bay Milin)
Subscribe in iTunes ∙ RSS Feed ∙ Download ∙ Full Episode Archive
Movie legend Jackie Chan has appeared in more than 150 films dating back to 1962, and he's performed his own stunts in almost all of them.
But perhaps no Jackie Chan scene is more memorable than the one from 1992's Super Cop in which he jumps from the top of Kuala Lumpur high-rise onto a ladder dangling from a moving helicopter.
In this episode of Asia Abridged we hear Chan talk candidly about that famous scene — and other stunts he says he honestly thought might kill him. Some nearly did.
We also go back to his early days in Hong Kong and learn how working on so many low budget films forced Chan to hone his craft — many, many crafts, in fact.
Chan's latest film, The Foreigner with Pierce Brosnan, opens in theaters this weekend.