Ajay Piramal: Five Lessons in the Life of 'India's Warren Buffett'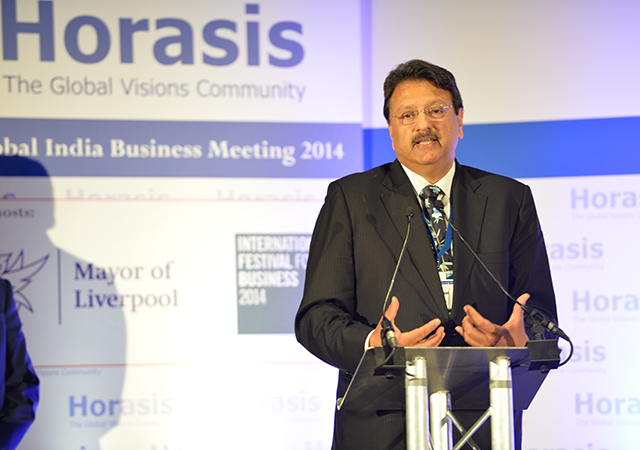 Ajay Piramal is one of India's wealthiest and most successful businessmen. (Richter Frank-Jurgen/Flickr)
Ajay Piramal is currently the chairman of the Piramal-Shriram Group, a conglomerate that has ventures in health care, financial services, and information management, among other industries, and employs over 76,000 people in India, the United States, the United Kingdom, Japan and elsewhere.
Piramal may not be well-known internationally — but he is a household name in his home country of India. Here are five things to know about him:
He has experienced failure
Piramal cut his teeth in the business world in 1977 at the age of 22 when he started work at his father's textile manufacturing company after receiving his Master's in Business Administration from the Jamnalal Bajaj Institute of Management Studies in Mumbai.
According to a profile by Live Mint, an India-based finance and business publication, Piramal and his brothers Ashok and Dilip inherited the struggling company two years later when their father died, and then expanded after acquiring a tool manufacturer called Miranda Tools. When the textile industry began to shrink, Dilip spun off a plastics division into Bloplast VIP Industries, while Ajay and Ashok stayed on with textiles. Just 16 days later, however, all textile mills in the city closed.
Though this business ultimately proved to be a failure, it gave Piramal a valuable lesson on the fluidity and flux of business ownership — something he would later use to his advantage.
He knows how to diversify
Piramal's list of diverse business ventures reads like an encyclopedia of important economic industries: real estate, pharmaceuticals, financial services, and glass production — to name a few.
He built his empire less by understanding each industry deeply than through understanding the bigger picture of India's investing environment, and through smartly planned mergers and acquisitions.
Piramal's first acquisition came soon after leaving the textile business when he purchased a company called Gujarat Glass in 1984. Four years later, Piramal would acquire his most profitable business, a pharmaceutical company called Nicholas Laboratories Ltd, which he eventually sold to the U.S.-based Abbott Laboratories in 2010 for $3.72 billion.
Transactions like these justified Piramal's faith in the economic potential of his country.
"In the late 1980s, when we entered the pharmaceutical sector, the view of multinationals — pharmaceutical companies that had been operating in India for more than 50 years — was that India wasn't a great place to be because there were price controls and there was limited patent protection," he said last year in an interview for Boston Consulting Group's Perspectives publication. "Nobody was interested in the industry, and the multinationals wanted to get out. No one in India wanted to acquire this type of business."
"We saw a huge opportunity. The market was growing. The penetration of modern medicine was still limited. There were lots of new doctors coming in, and treatments were required. That's why we entered into the pharma space then."
In this way, Piramal has followed a similar trajectory to the famed Berkshire Hathaway chairman Warren Buffett, who built his investment empire through the simple principle of "buy low, sell high." Piramal attributes his ability to grow in the right ways and into the right places to a keen business acumen, as well as through acquiring and developing new businesses by relying on value investing: His pharmaceutical empire was built from buying a string of smaller companies cheaply when multinationals — leery of what they saw was a limited market — were selling them. According to a 2014 report by Business Standard, in the late 2000's Piramal made acquisitions overseas when India's currency was at its strongest, and chased underplayed sectors — like life-science research and anesthetic gas distribution — while others pursued more popular investment opportunities in infrastructure and real estate.
He's not afraid of mistakes
"The way we've attracted talent is by giving people the opportunity to be true entrepreneurs. Entrepreneurship is giving senior people — and even young people — far more responsibility than they've ever expected. We always give them more responsibility than their role calls for," Piramal said to the Boston Consulting Group. "We also give them the freedom to act, the freedom to make mistakes. We have a bias for action. As long as you don't make mistakes too often, it's fine. All of us make mistakes."
He's humble
"My father was quite a successful businessman, but he never gave the impression that he was successful. He was very humble, and that's how I've grown up. To some extent, that environment shaped me," he told the Boston Consulting Group. "If you're humble, you can get the best minds to come and talk to you because you have the ability to listen. We've grown a lot through acquisitions, and because we're humble, we have the ability to accept what is good in a company we acquire — and that aligns people better. You get the best out of those people. All of that helps."
This mentality was a contributing factor to the beginning of Piramal's philanthropic endeavors. The Piramal Foundation is dedicated to engaging in initiatives to improve four core areas in India: healthcare, education, water, and women's empowerment.
"Our group's purpose is 'doing well and doing good: making a positive difference in the world around us, serving people, and living our values.' Whatever we do, it's important that we make a difference."
He's very spiritual
After experiencing personal tragedies at the age of 29, when his father died unexpectedly, and again five years later when his brother died of cancer, Piramal turned to religion for spiritual guidance.
"Life looked bleak when I became chairman of the group at the age of 29 [after my father had died]," Piramal said in a 2005 interview with Business Standard. "But I survived as the Lord must have carried me when I needed Him the most."
According to the profile, his spirituality is also manifested in his place of work, with inscriptions from the Bhagavad Gita written on the walls in his offices. Piramal says the Bhagavad Gita — or "Gita," as it is often referred — is one of the greatest management books because it focuses on optimism and freedom from stress.