Addressing Vietnam's Struggle With Youth Unemployment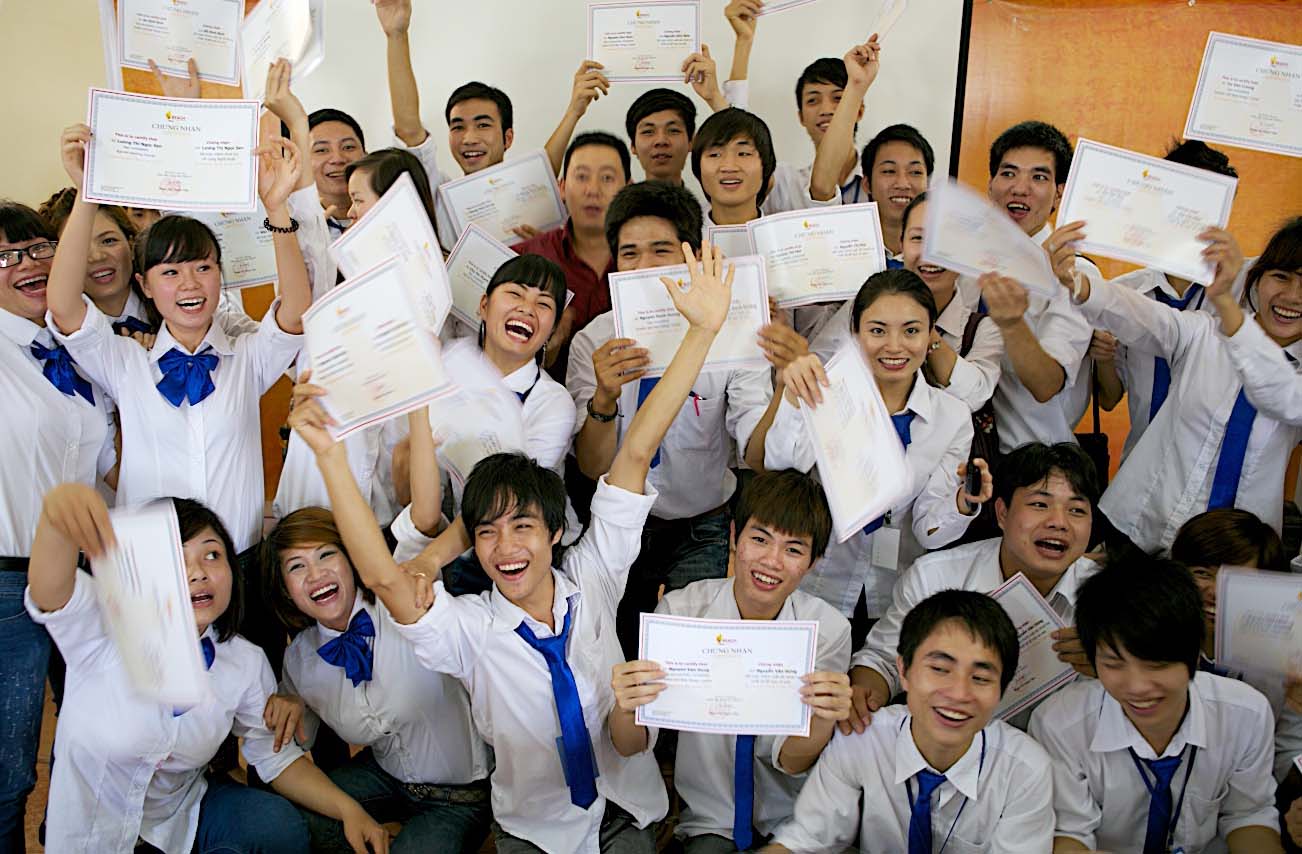 Students of REACH in Vietnam. (Pham Thi Thanh Tam)
When the 2008 Global Financial Crisis rocked the world economy, young people just entering the job market suffered most. Nearly a decade later, many are still struggling as rapid shifts in the labor market disadvantage those with the least experience. In the Asia Pacific, those aged 15-to-24 represent only one in five workers, but account for almost half of the region's jobless sector.
Pham Thi Thanh Tam is executive director of REACH, a Vietnam-based non-profit organization specializing in vocational training for disadvantaged young people. On April 27th at Asia Society in Hong Kong, she'll speak on a panel about social mobility for youth and escaping poverty in developing Asia. Ahead of the event, she spoke with Asia Blog about why youth unemployment has become such a big problem in Vietnam, and what can be done to address it.
Why is youth unemployment so serious in Vietnam?
There are different problems. In Vietnam the unemployment rate is not that high, but youth unemployment accounts for about two-thirds of the overall number. Besides that, with economic development and the gap between rich and poor, education is becoming even more expensive. So there's a part of the population that cannot afford to get it. When young people don't have skills, they can't compete to enter the labor market.
Also, our education and training in Vietnam is not that good. So the unemployment rate is quite high even for graduates from universities and colleges. A lot of graduates from universities have to have work in labor jobs where they don't need their university degree. So for the people who don't have a formal education, it will be even more difficult to get a job.
In Vietnam, every year there are about 1.4 million people that enter the labor market, but only about 27 to 30 percent of those people have had skilled training. So a large proportion of them are not trained to do jobs with high demand.
What solutions do you see to the problem?
There's now more movement in investing in colleges and universities in Vietnam. So a lot of young people want to go to college, but meanwhile there's a huge gap in supply and demand for skilled workers, so there's a mismatch in the labor market. There are more managers than steel workers. So in my opinion, the Vietnamese government should invest more to develop the vocational training system here. A lot of government vocational training and even universities keep their curriculum for five to ten years without any change while the labor market keeps changing all the time.
Another area that can be a solution is raising people's awareness. In Vietnam, family members, especially parents, only want to send their kids to a university or college. It's in the culture and the way of thinking. I think it should be more market-driven and look more at the requirements of employers and businesses.
I think that recently the Vietnamese government has tried to invest more money and also I think a lot of foreign investors and businesses see that solution. But it takes time. Because the government education and training system is very big, changing it will take time. And raising people's awareness will also take time.
Who are the people you work with, and what kind of work do you train them for?
We are working with young people from 16 to 30 years old who come from very disadvantaged backgrounds. Some are afflicted with HIV and some of them are living with a disability. We're also working with human trafficking victims, victims of domestic violence, commercial sex workers, and migrants from poor families. If they can't escape from that disadvantaged cycle, poverty will pass on from generation to generation. So we are working with those groups to provide them with life and vocational skills to help equip them for market needs. We also offer a six month follow up and support to make sure they get a job and stay in the job. So far we've trained 13,000 disadvantaged youth and about 85 percent of them get a job and keep it.
We try to look at the market to see what areas have a gap between supply and demand and what kind of jobs meet the needs of young people we're working with. We're growing year-by-year and currently have nine training areas including sales marketing, food and beverage service, housekeeping service, spa and cooking class, hairdressing, web design, and 3D modeling.
How bad is the discrimination in Vietnam's labor market against people with HIV and disabilities?
There's a lot of stigma and discrimination in our society toward people in those positions, and when we design our program we need to take those stigmas into consideration. We have to provide training to our staff and our partners and have to understand the needs of these young people. We need to not just consider their physical needs but security and social needs. For example, we're opening a coding program because we think that kind of training is suitable for young people with disabilities.
Are there any particular people you've worked with that left an especially big impression on you?
Each student comes with their own story and I think we have a lot of student stories that are very moving and memorable. One girl was born with no arms and could only use her feet to do everything. Now she's become a professional graphic designer by using her feet to do all the design work.
We have another student who is living with HIV — she transmitted it from her drug-addicted husband and she has very disadvantaged background, a very difficult life. She joined our program and was an outstanding student and now has her own business. We have many cases like that.
I now consider this job my passion, especially when we see that we can make big changes for young people with small things. It makes us very happy and motivated.