2011: Google Zeitgeist, How Asia Searched the World
This is part of a series of year-end posts on Asia Blog written by Asia Society experts and Associate Fellows looking back on noteworthy events in 2011. You can read the entire series here.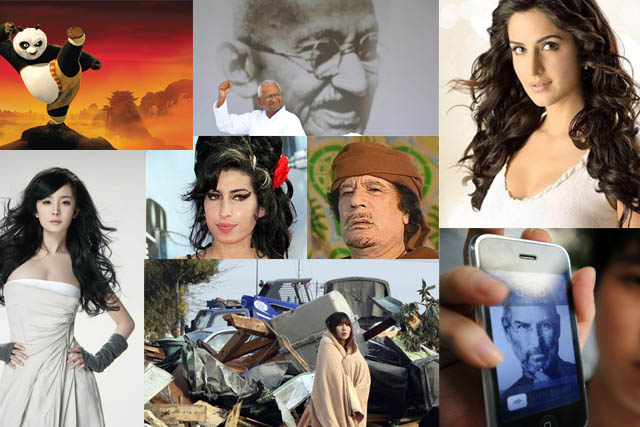 (Asia Society)
As 2011 draws to a close, Google has released its Zeitgeist site, a year-end tradition which reveals the top searches made on Google around the world. Categories included are most-searched terms, celebrities, brands and news stories. You can watch how the world searched Google in the video below. 
Justin Bieber was declared Google's Most Popular Person of the year and the loved/hated "Friday" singer, Rebecca Black, was the fastest rising search globally. Steve Jobs searches increased by 982% in 2011, making the tech luminary the ninth fasted rising search on Google.
Searches for the Japanese earthquake and terms related to it showed up on popular lists for around half of the nearly 50 countries included in Zeitgeist. "東京 電力" ("TEPCO", owners of the Fukushima power plan), became the first query not using the Latin alphabet to ever make the global fastest-rising list.
Across Asia, Steve Jobs dominated most of the Fastest Rising People lists and terms "iPad 2," "Libya" and "Gaddafi" also appeared in the top five most searched terms in Singapore and China.
Take a look at how Asian nations searched the world below.
China
The most searched term in mainland China was the Japan earthquake followed by Naked Marriage Age, a TV drama which depicts a young married couple struggling to make ends meet.
Chinese actress Yang Mi was the most searched person of 2011, followed by Steve Jobs, and Guo Meimei, a 20-year-old who bragged about her luxurious lifestyle and tied it to the Red Cross Society of China.
Fastest Rising Searches
Japan Earthquake
Naked Marriage
Discounts
Libya
Kung Fu Panda
India
Bollywood star Katrina Kaif continued her reign as the most searched celebrity in India, beating anticorruption leader Anna Hazare who moved the masses to protest this year. Hazare did top the Fastest Rising People list followed by Poonam Pandey, who created a frenzy online when she promised to pose nude if India were to win the World Cup Cricket (which they did and Pandey did not). Steve Jobs came in third in a list most commonly dominated by entertainers.
This year's news searches were dominated by terms like World Cup win, IPL and Sachin Tendulkar.
Ironically, most Indians searched Google for competitor Facebook and surprisingly, IBPS (Institute of Banking Personnel Selection) showing Indians' interest in public sector jobs. Access to train times and online bookings continued to make Indian Railways a popular search term.
Fastest Rising Searches
Facebook
IBPS
Google+
World Cup 2011
Fastest Rising People
Anna Hazare
Poonam Pandey
Steve Jobs
Japan
It should come as no surprise that the fastest-rising Google search was "earthquake," and related terms like "power outage" and "nuclear power plant." The fastest rising people were the Japan women's soccer team, Nadeshiko Japan, who beat the United States in a penalty shootout in the final to become world champions for the first time. Taking second place is TV host Shinsuke Shimada, who admitting ties to Japan's equivalent of the mafia.
Fastest Rising Searches
Earthquake
Power outage
Radioactivity
Nuclear Power Plant
TEPCO
Fastest Rising People
Nadeshiko Japan
Shinsuke Shimada
Here are other lists from Asia:
Hong Kong
Fastest Rising Searches
Google+
iPad 2
Groupon
iPhone 4S
Fastest Rising People
Amy Winehouse
Steve Jobs
Malaysia
Fastest Rising Searches
Facebook
Angry Birds
iPhone 5
Samsung Galaxy
Philippines
Fastest Rising Searches
Angry Birds
Facebook
Movies 2011
Fastest Rising People
Bruno Mars
Rebecca Black
Singapore
Fastest Rising Searches
Groupon
iPad 2
iPhone 5
Japan earthquake
Planking
Fastest Rising People
Amy Winehouse
Steve Jobs
Adele
Find out how South Korea, Taiwan and Thailand searched the world.