60 on 60: Asia Society Celebrates Six Decades in Photographs
60 on 60 Asia Society Celebrates Six Decades in Photographs
Asia Society was founded in New York on June 28, 1956, and entrusted with the mission to build bridges of understanding between the peoples of Asia and the United States through culture, education, and policy. It was a mission grounded in John D. Rockefeller 3rd's profound impression—after numerous trips to Asia in the 1940s and 1950s—that Americans poorly understood the cultures of the region's nations and peoples he had come to know. It is difficult to capture in any sixty images the extent to which the Society has executed that mission, given the geographic and thematic variety of its work, but this collection celebrates, in snapshot form, some of the highlights from the Society's distinguished history.
From Mr. Rockefeller's early stewardship of the institution to the Society's global expansion, from its impactful policy and education work to inspiring exhibitions and performances, these photographs capture the essence of what has transpired in this Park Avenue building and in the Society's growing network of centers in Asia and the United States. Among the Asian and American artists and leaders who have graced the Asia Society stage you will find iconic figures—Jacqueline Kennedy and Malala Yousafzai, Ravi Shankar and Martha Graham, Robert Frost and Aung San Suu Kyi— but mostly we hope that you find some of the reasons why we feel proud of what the Society has accomplished. We are ever grateful to Mr. Rockefeller for his vision and hopeful that he would be pleased to see, even in this small collection of images, the fruits of his inspiration.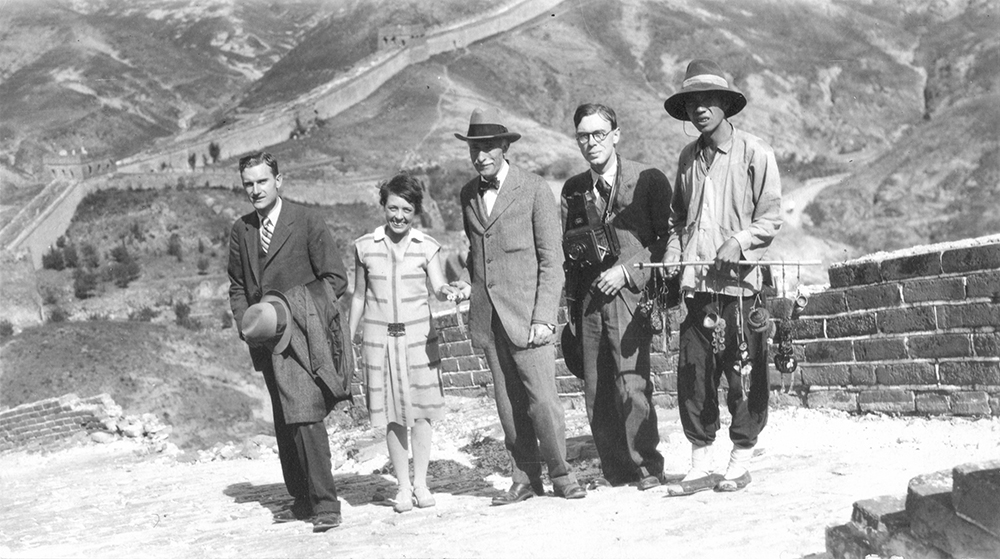 After graduating from Princeton University in 1929, John D. Rockefeller 3rd embarked on a global journey culminating with stops in Japan, Korea, and China. These travels—the first of over 20 subsequent trips to Asia—left a lasting impression on Rockefeller and sparked a lifelong fascination with that continent, leading to his establishment of Asia Society decades later. In this photo from his trip, Rockefeller (far left), poses on the Great Wall of China with Columbia University Professor Joseph Perkins Chamberlain (center), Hobart Young (second from right), and an unidentified man and woman. (Rockefeller Archive Center)
---
1950s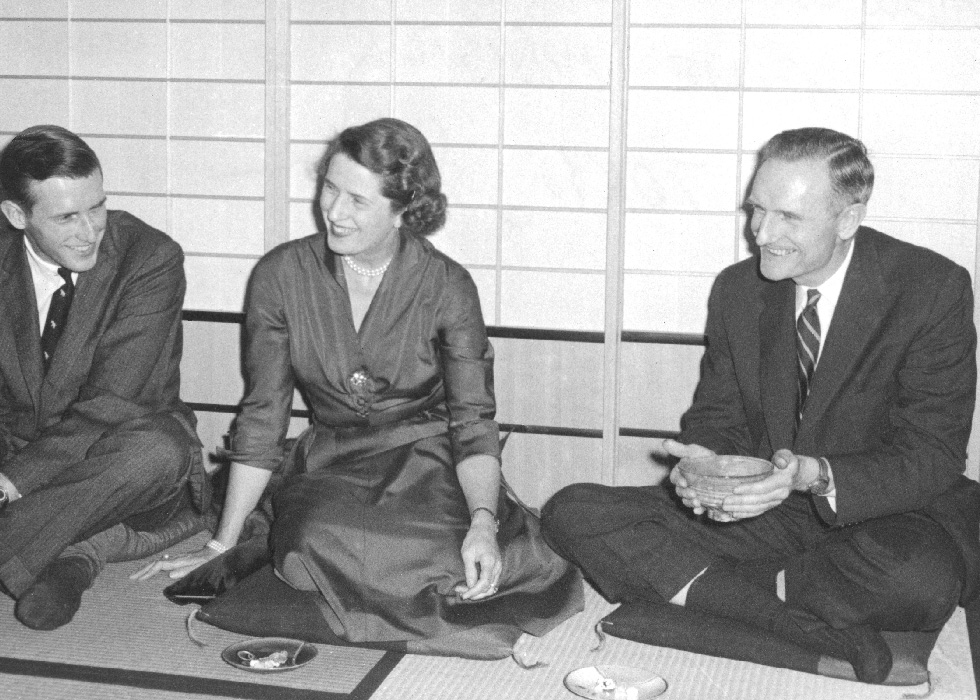 From left to right, John D. "Jay" Rockefeller IV, who later served as a U.S. Senator from West Virginia, and his parents Blanchette Hooker Rockefeller and John D. Rockefeller 3rd at the residence of Japanese Prime Minister Nobukazu Kishi in Tokyo, 1958. (Rockefeller Archive Center)
In 1959, Asia Society opened Asia House, a program and office space in New York shared with the Japan Society. Located at 112 East 64th Street, the Philip Johnson-designed structure included a library, garden, gallery, offices, and meeting rooms. The building served as the organization's headquarters until Asia Society was able to build a larger structure for its operations at its present location on Park Avenue. In this photograph, visitors stream into Asia House at its public opening in December 1959. (United Press International Photo)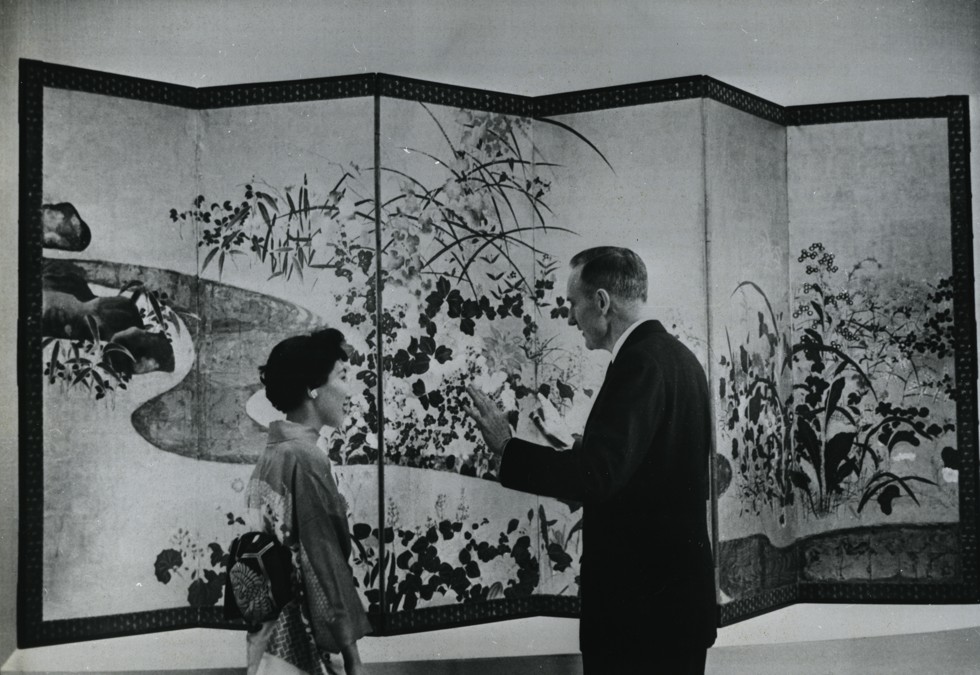 John D. Rockefeller 3rd and Mrs. Kitoshi Ishii discuss an early eighteenth-century Japanese screen titled The Thousand Flowers of the Four Seasons at the opening of Asia House. This first Asia Society exhibition, "Masterpieces of Asian Art in American Collections," opened January 7, 1960, and was hailed as "an exhibition of singular beauty and importance" by Stuart Preston in The New York Times. In the nearly 60 years since, Asia Society has presented more than 250 exhibitions of traditional, modern, and contemporary art. (Morris Warman/New York Herald- Tribune/Rockefeller Archive Center)
---
1960s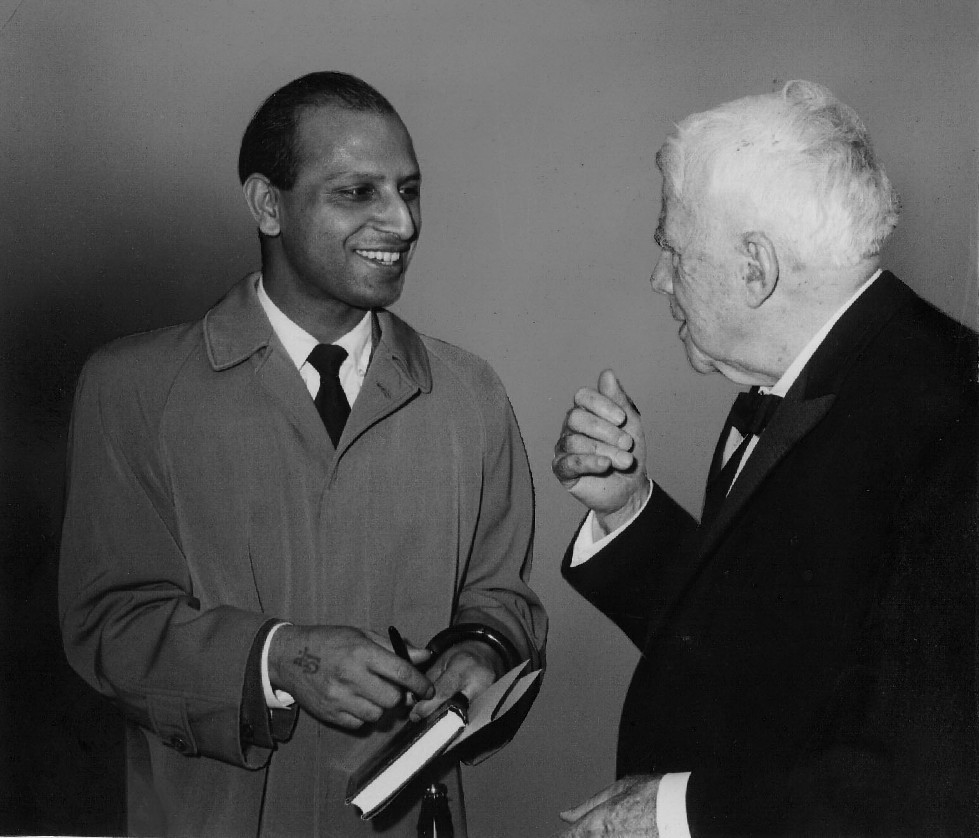 On April 19, 1961, at New York City's Town Hall, American poet and four-time Pulitzer Prize winner Robert Frost (at right) delivered remarks as a featured guest at an Asia Society- sponsored program commemorating the centenary of the birth of Indian writer and Nobel laureate Sir Rabindranath Tagore (1861–1941). Asia Society founder John D. Rockefeller 3rd, who introduced Frost at the event, described Tagore as a man with "a great deal of love for humanity, a man whose heart spoke of the inevitable loneliness and silence of life."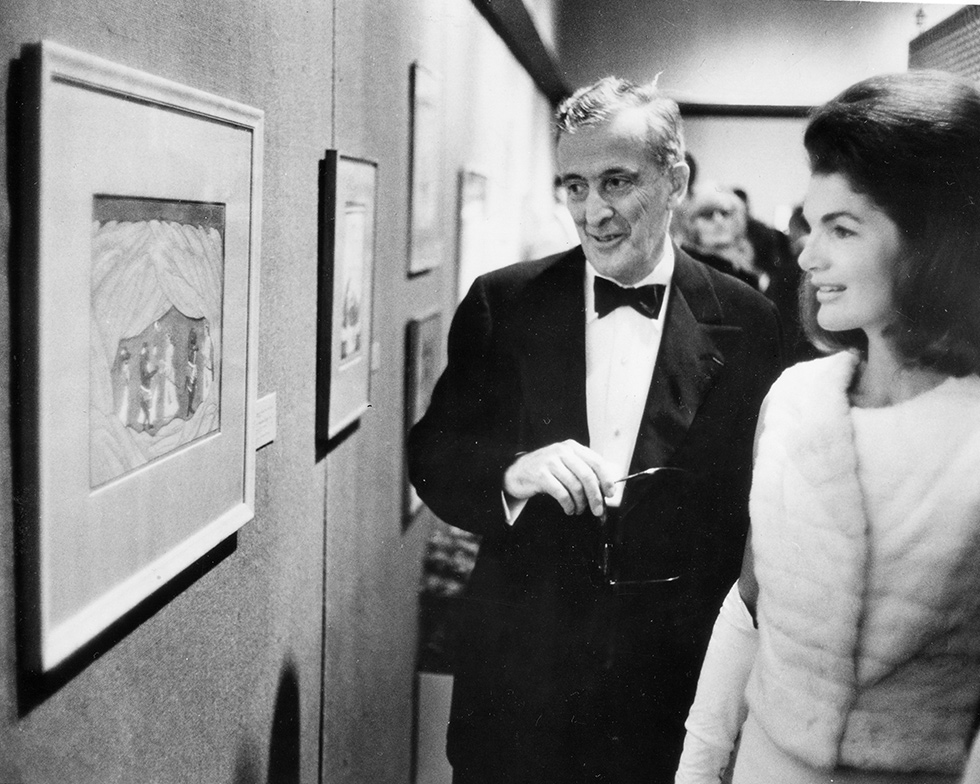 Asia House Gallery director Gordon Bailey Washburn leads former First Lady Jacqueline Kennedy through the opening of "Gods, Thrones, and Peacocks: Northern Indian Painting from Two Traditions" in 1965. Mrs. Kennedy lent five Mughal miniature paintings to the exhibition, which also featured loans from John Kenneth Galbraith, Stuart Gary Welch, and Harvard University's Fogg Museum of Art. John Canaday, writing for The New York Times, called the show "continuing proof that Asia House is establishing a reputation for the most consistently first-rate art exhibitions in New York." A framed print of this photograph was presented to U.S. Ambassador to Japan Caroline Kennedy during her visit to Asia Society in February 2016. (Ben McCall)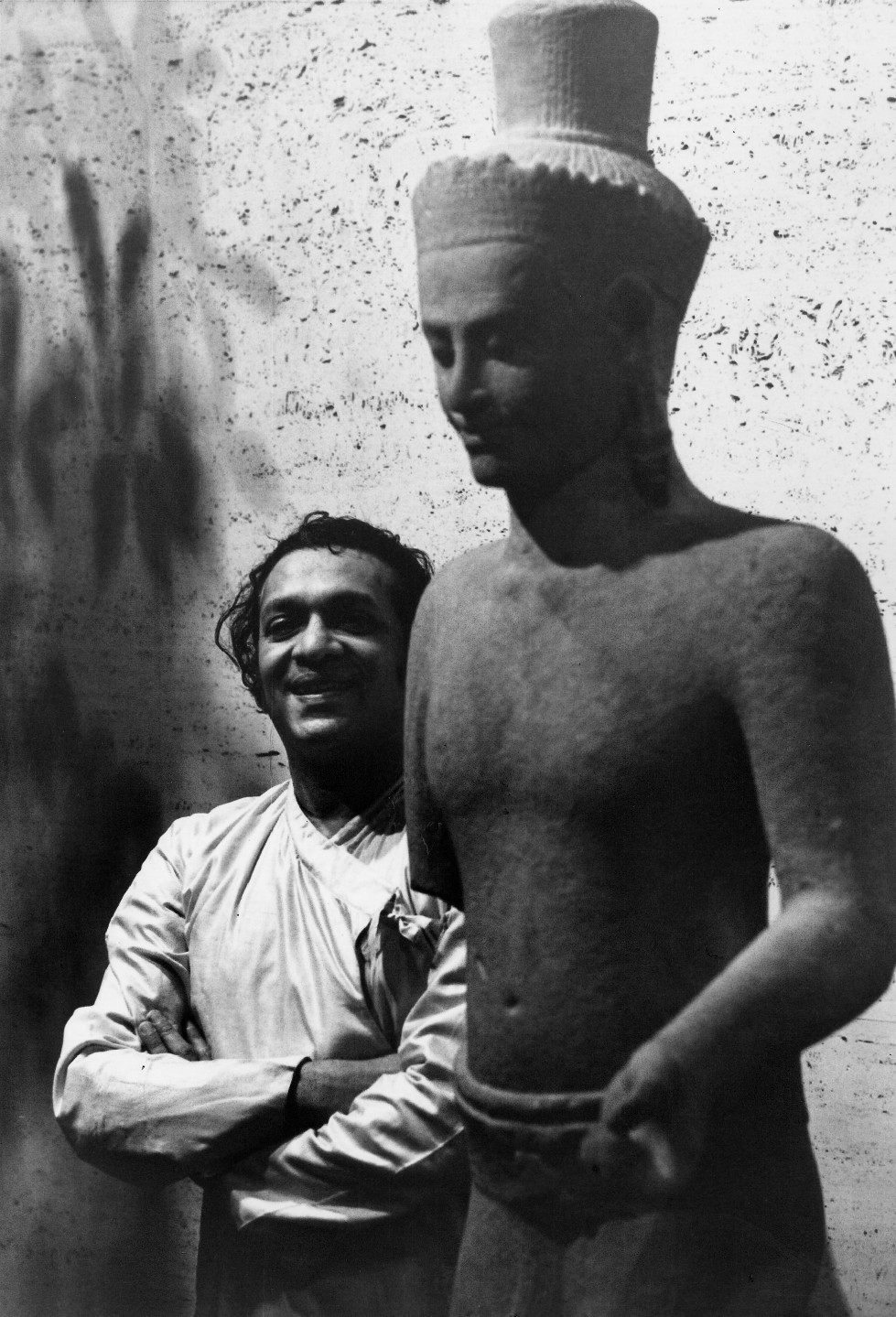 In this 1962 photo, musical giant Ravi Shankar poses in New York alongside an early thirteenth-century Cambodian sculpture, part of the original bequest that would later become Asia Society's Mr. and Mrs. John D. Rockefeller 3rd Collection. The Indian composer and sitar virtuoso's long relationship with Asia Society began in 1957, when the Society presented Shankar's Carnegie Hall debut. Shankar was the first Asian artist Asia Society introduced to U.S. audiences following the organization's founding. He received Asia Society's Cultural Legacy Award in 2010.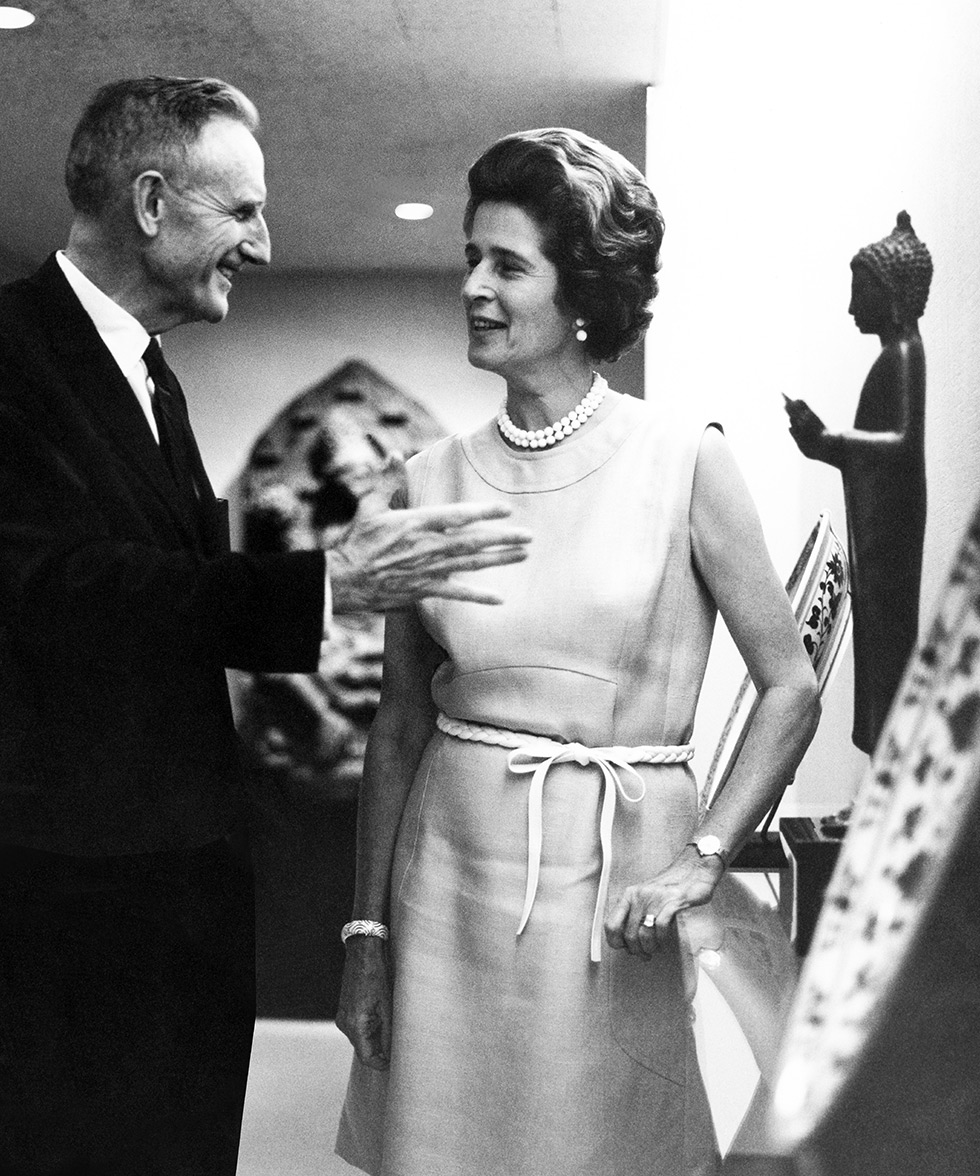 John D. Rockefeller 3rd and Blanchette Hooker Rockefeller view a display of artworks from their collection in the reception area of Mr. Rockefeller's office at Rockefeller Plaza in New York, circa 1968. It was the gift of their collection to Asia Society, announced in 1974, that inspired the building of a new and larger home to house the collection and maintain a program of changing exhibitions. Though Rockefeller did not live to see the Society's new building, his vision was realized when the new headquarters opened at 725 Park Avenue in 1981. One of the blue and white platters in the photograph is currently on view in the Visitors' Center as part of this installation. (Bernard Wolf)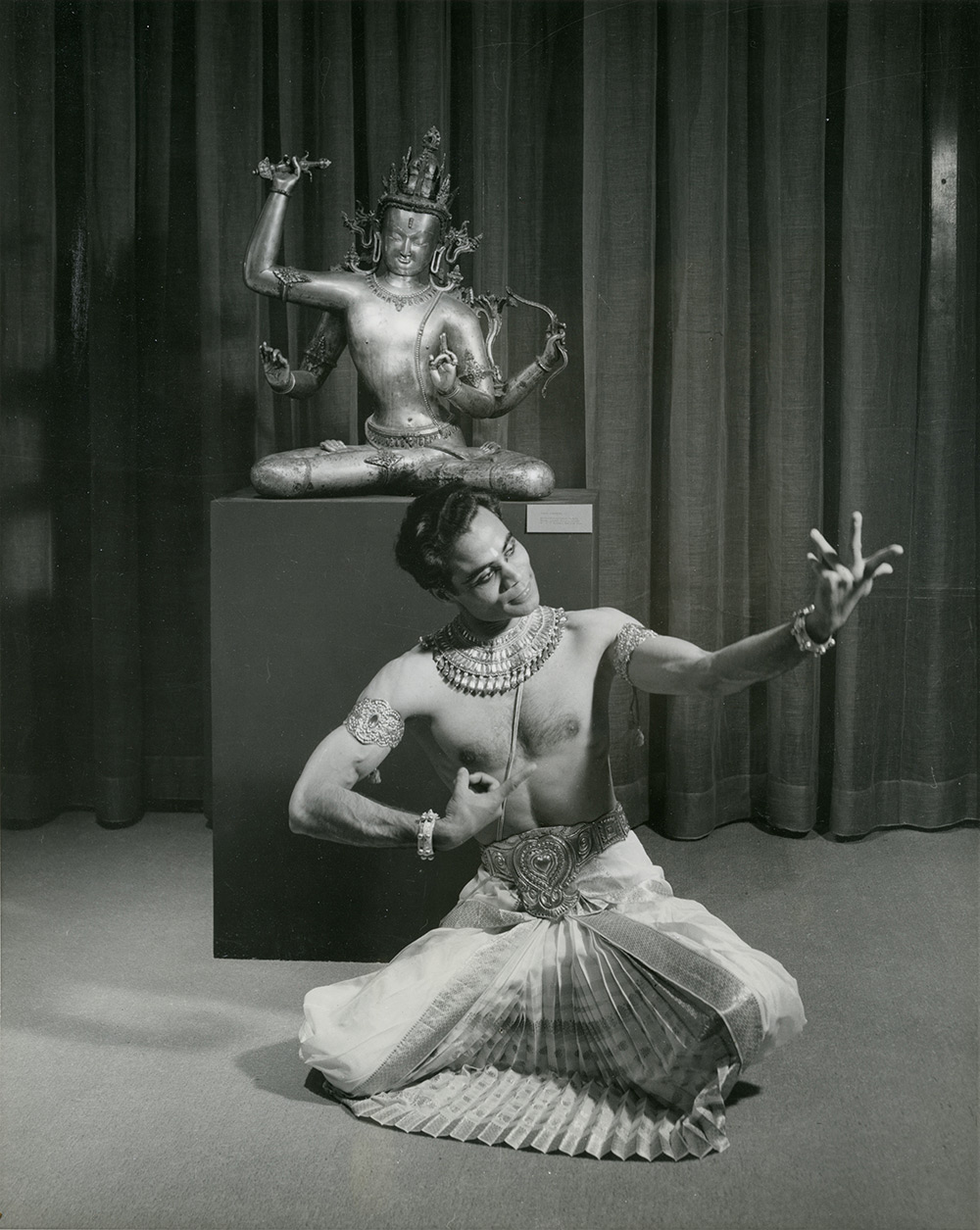 Born in Nepal and educated in India, renowned dancer Bali Ram found fame performing to raise money for Mother Teresa, ultimately becoming an international sensation who rubbed elbows with the likes of Marilyn Monroe and Pablo Picasso. After Bali Ram moved to New York in the 1960s, John D. Rockefeller 3rd invited him to visit Asia Society, where he later gave regular performances of Indian and Nepali dance, and even occasional classes on Indian cooking. In this photo from 1964, Ram poses with a fourteenth-century sculpture of Avalokiteshvara, on loan from the Golden Temple in Patan, Nepal, for Asia Society's "The Art of Nepal" exhibition.
---
1970s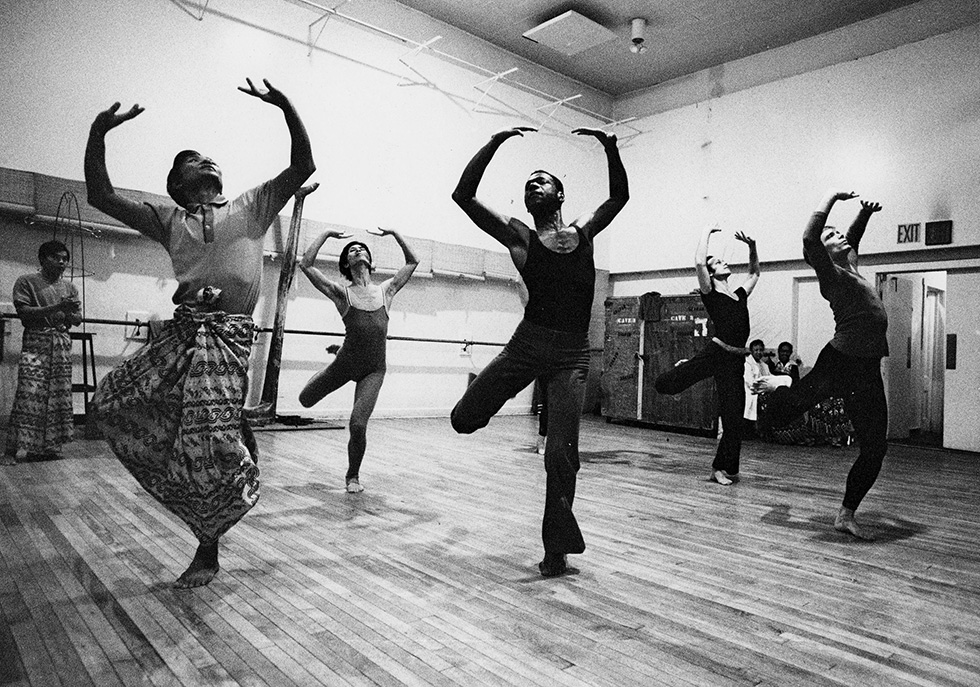 In the fall of 1975, musicians and dancers from the Burmese National Theater became the first performing artist troupe from their country to be presented in the United States, giving eighteen performances in venues across the United States. In this photo, dancers from Burma teach American dancers at the New York studio of legendary dancer and choreographer Martha Graham. The group was featured in a video created by Asia Society in cooperation with Brooklyn College. The late Beate Gordon, Asia Society's then Director of Performing Arts, hosted and narrated the program. (Dan Sterbling)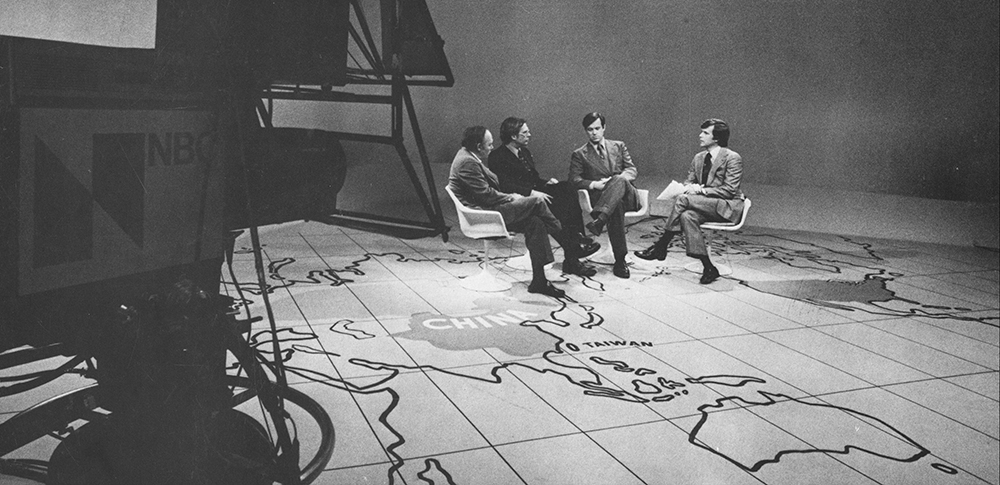 In 1975, Asia Society launched the China Council, which brought together scholars, journalists, business experts, and former government officials to better educate Americans about China. The Council became a critical resource for the press when Chairman Mao Zedong died in 1976. In 1977, then Director of the China Council and future Asia Society President Robert B. Oxnam (second from right) appeared on the Today Show with host Tom Brokaw (far right), who later served as Asia Society Trustee (1991–96) and is currently Trustee Emeritus; journalist and historian Stanley Karnow (far left); and then President of the Council on Foreign Relations and later U.S. Ambassador to China Winston Lord (second from left). (Dan Sterbling)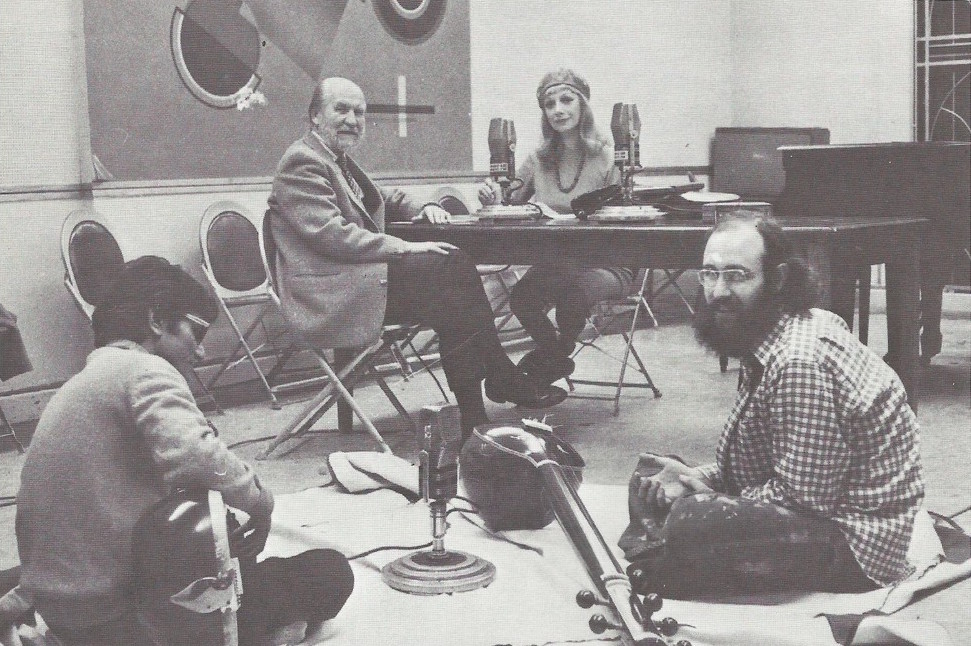 For twenty-six weeks from 1972 to 1973, Asia Society hosted a radio program on New York's public radio station WNYC titled "Window on Asia," which featured journalists, scholars, and performers with an Asian focus. In this photo, host Lee Graham interviews Willard Rhodes, a scholar best known for his study and recording of Indian music. In the foreground, Indian music virtuoso Vasant Rai plays a sarod, accompanied by Donald Heller.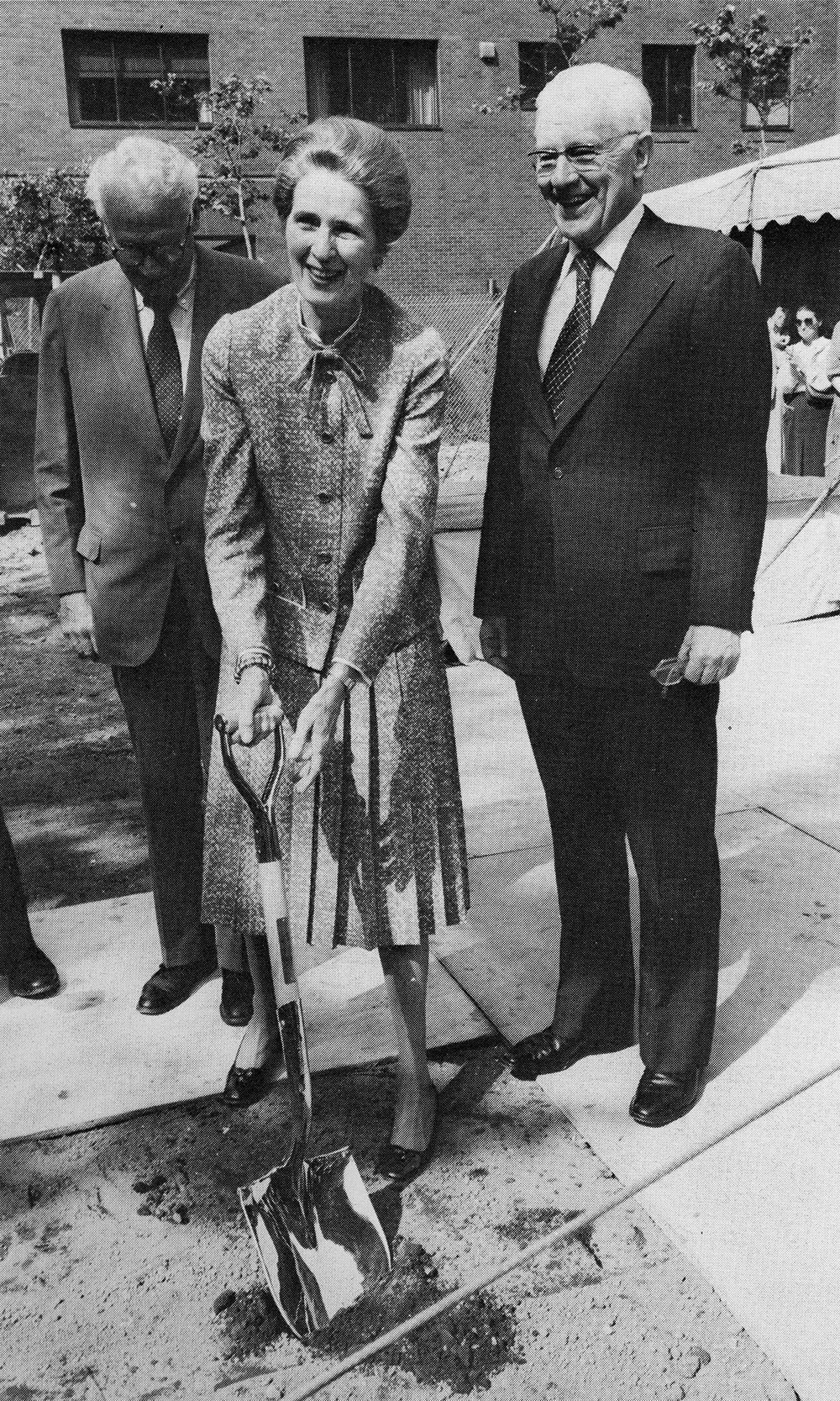 In June 1979, Asia Society broke ground on its New York City headquarters, designed by Edward Larrabee Barnes, at the corner of Park Avenue and East 70th Street. The eight- story building—housing the museum, performing arts space, conference facilities, and offices—was completed in less than two years, and its opening in 1981 marked the commemoration of the institution's 25th anniversary. Architecture critic Paul Goldberger, writing for The New York Times, called it "an ambitious building, full of civilized intentions." Pictured here are then Board Chairman George W. Ball, Blanchette Hooker Rockefeller, and then President Phillips Talbot.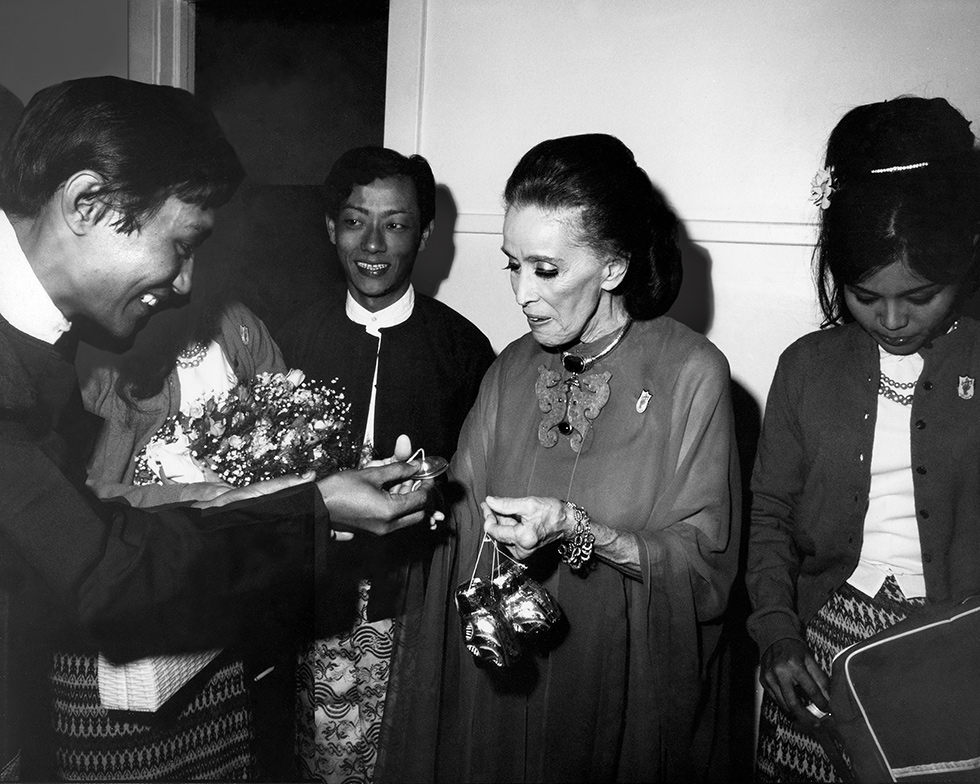 Legendary dancer and choreographer Martha Graham receives a gift from dancers from Burma (now officially known as Myanmar) following their joint master class with the Martha Graham Dance Company at Asia Society in 1975, the first time a traditional performing artist troupe from Burma appeared in the United States. Graham had taken her company to Burma and other Southeast Asian countries in the mid-1950s on a U.S. State Department-sponsored trip that was part of a larger effort to send dance companies to many of the Cold War's contested regions. (Dan Sterbling)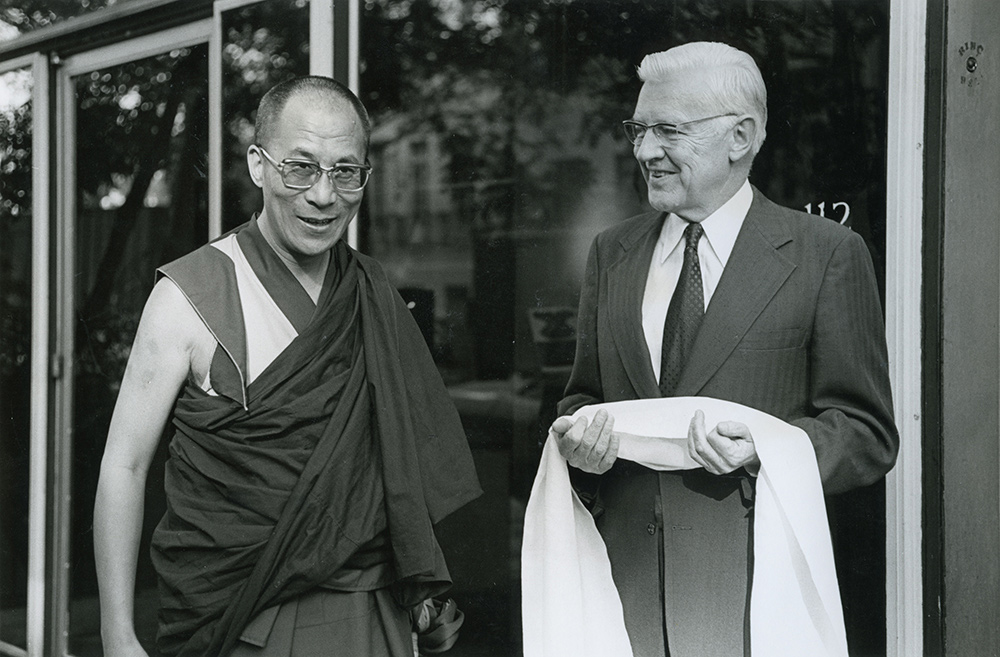 Born Tenzin Gyatso in 1935, the fourteenth Dalai Lama assumed his formal role as the temporal ruler of Tibet in 1950. Nine years later, after a failed uprising against Chinese rule, he fled Tibet and has lived in exile in Dharamsala, India, ever since. In this photograph from 1979, the Dalai Lama—who has visited Asia Society on several occasions throughout the years—meets with Phillips Talbot, who was Asia Society's president at the time. (Nancy Crampton)
On January 1, 1979, the United States normalized relations with China for the first time since the People's Republic was established thirty years earlier. Deng Xiaoping, who then held the title of Vice Premier of China, wasted no time capitalizing on the restored relationship and made a historic visit to the United States. One of his first stops, as seen in this January 30, 1979, photo, was a reception cosponsored by Asia Society at the National Gallery in Washington, D.C.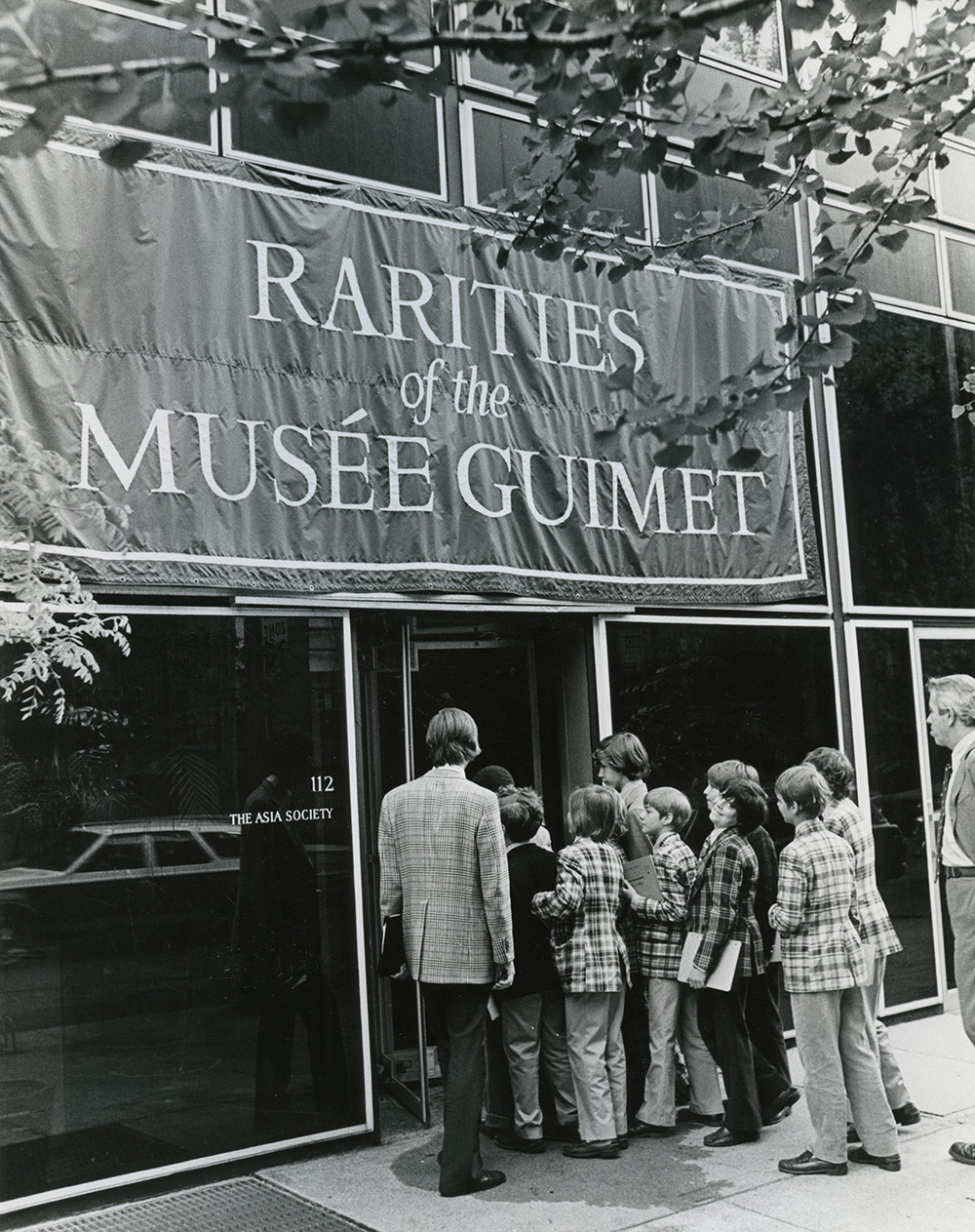 In May 1975, a group of schoolchildren visit Asia Society's New York gallery to view the exhibition "Rarities of the Musée Guimet," which featured Buddhist and Hindu artwork from India, Tibet, and Nepal, on loan from Paris's Guimet Museum. Asia House, at 112 East 64th Street in Manhattan, was a Philip Johnson-designed "international style" building that served as Asia Society's home from 1959 to 1981. Today the building is occupied by the Russell Sage Foundation.
---
1980s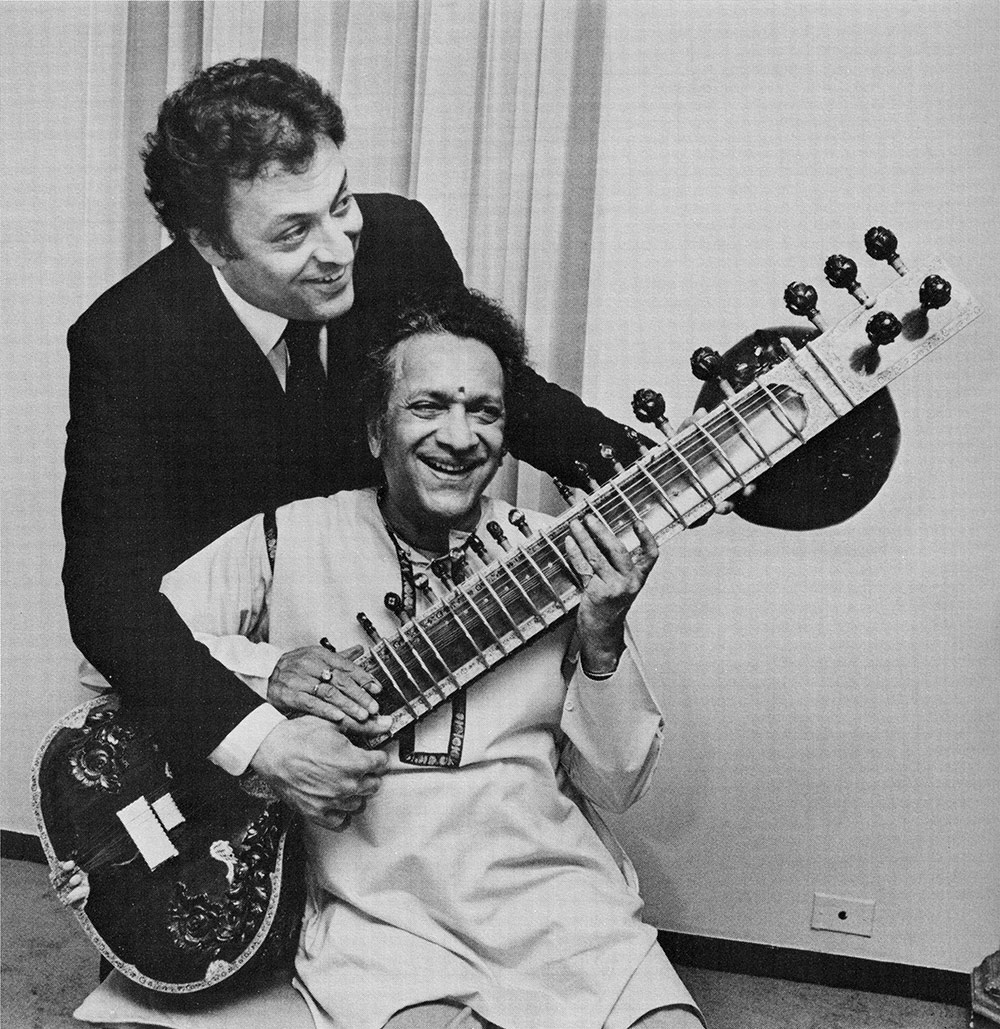 In April 1981, Asia Society partnered with the New York Symphony Orchestra to provide a behind-the-scenes glimpse at the latter organization's rehearsal process. The event, which included a tour of Asia Society's newly opened headquarters at 725 Park Avenue, featured an appearance by Zubin Mehta, the Indian conductor who was then the New York Philharmonic's music director. In this photograph, Mehta is shown with Ravi Shankar, the Indian-born sitarist and composer, who also performed at the event. (Marianne Barcellona)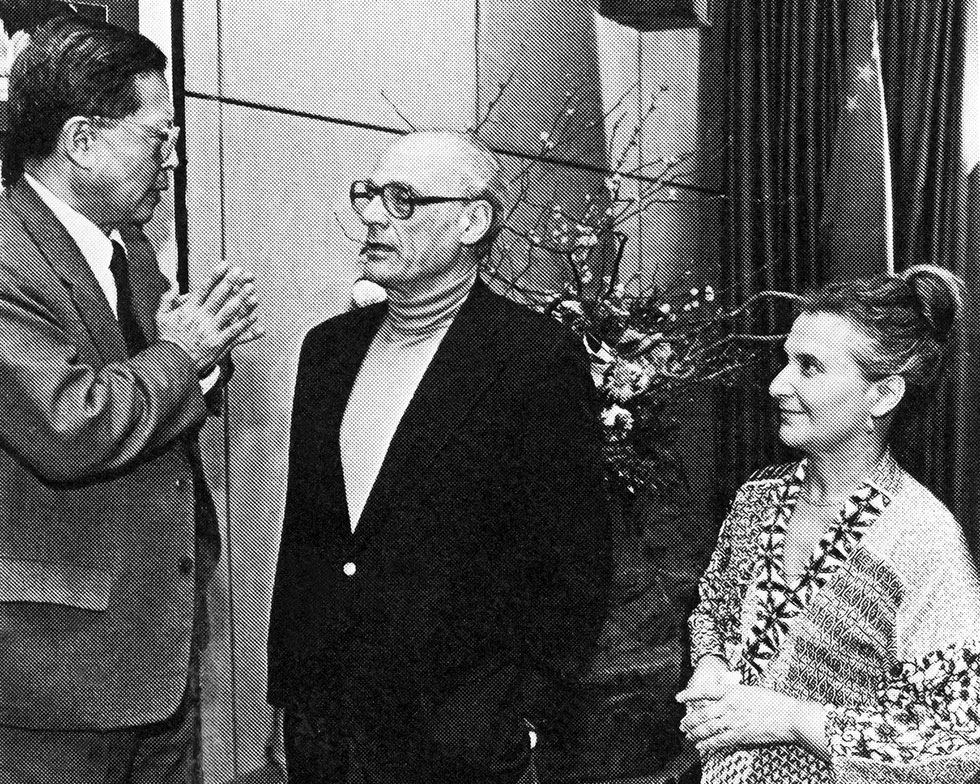 Cao Yu, an acclaimed Chinese playwright known for his works Thunderstorm, Sunrise, and Peking Man, is joined by American playwright Arthur Miller, and Beate Gordon, who was Asia Society's longtime Director of Performing Arts, at an Asia Society reception in 1980 honoring Mr. Cao. Asia Society has regularly welcomed prominent Asian and Asian American authors and playwrights to its global stages. (Johan Elbers)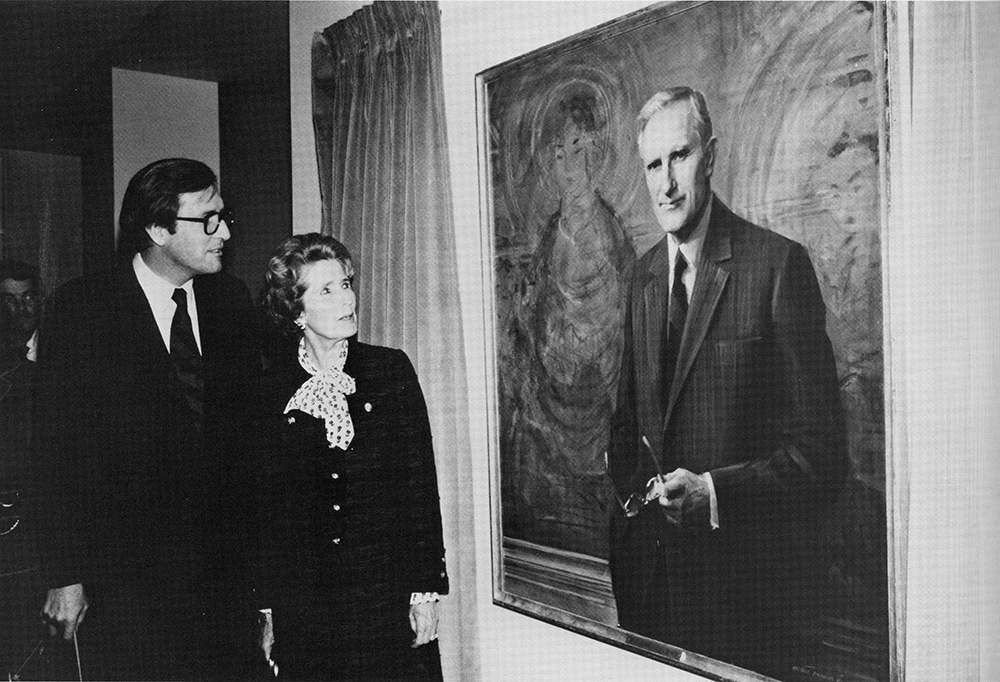 Blanchette Hooker Rockefeller and her son, John D. "Jay" Rockefeller IV, the future U.S. Senator from West Virginia, admire a portrait of her husband and Jay's father, the late John D. Rockefeller 3rd. The oil painting, by the American artist and portraitist Everett Raymond Kinstler, a native New Yorker, was unveiled at the dedication of Asia Society's new building in New York and still hangs on the building's fifth floor. (Nancy Crampton)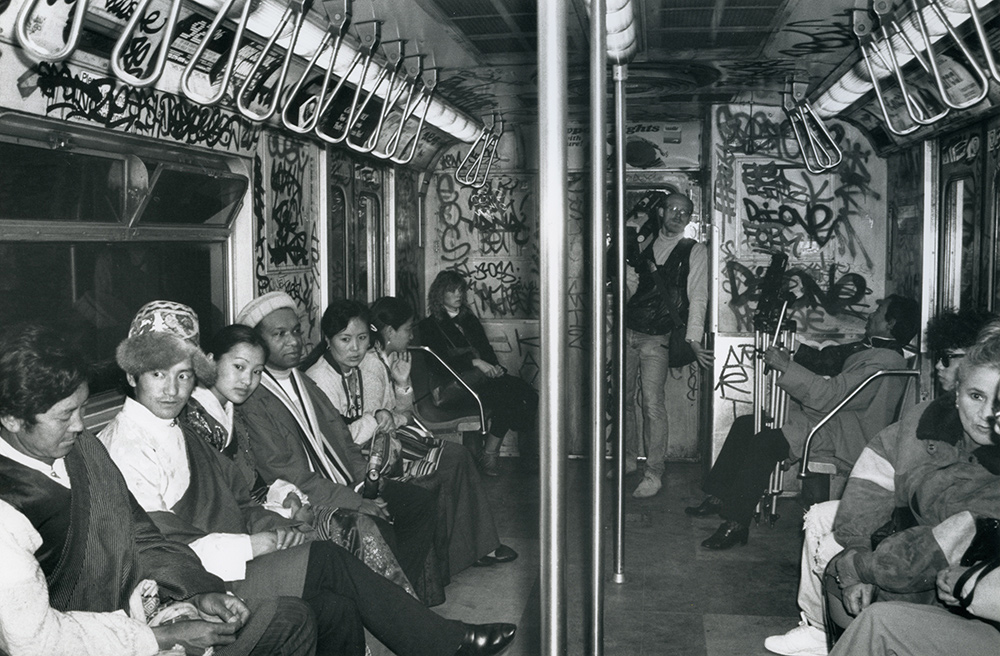 In 1987, a Tibetan dance and drama troupe visited New York to perform at Asia Society. While they were in town, they toured the city by subway with then Asia Society Performing Arts Director Beate Gordon, pictured here with the group. Sent by the Chinese government, the nine-member troupe performed a show titled "Tibetan Opera, Music, and Dance from Lhasa." (Barry Bryant/Samaya Foundation)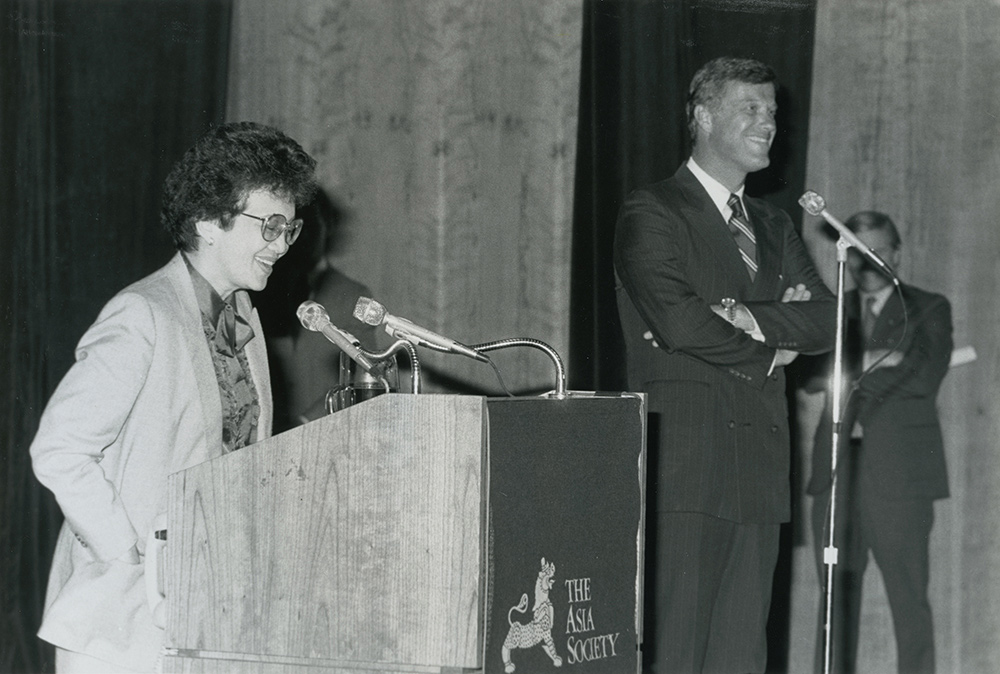 In September 1986, seven months after becoming the Philippines' first female president in the "People Power" Revolution that toppled Ferdinand Marcos, Corazon Aquino spoke at Asia Society in New York. She thanked the organization for being among the first to give her husband, Benigno "Ninoy" Aquino, Jr., a forum while he was in exile during the Marcos era. "The Asia Society will always be close to my heart," Aquino said. In this photo, Aquino stands beside then Asia Society President Robert B. Oxnam and responds to a question about the role of women in the revolution and in Philippine politics. "My favorite song," she quipped, "is 'Anything You Can Do, I Can Do Better.'" (Robert Glick)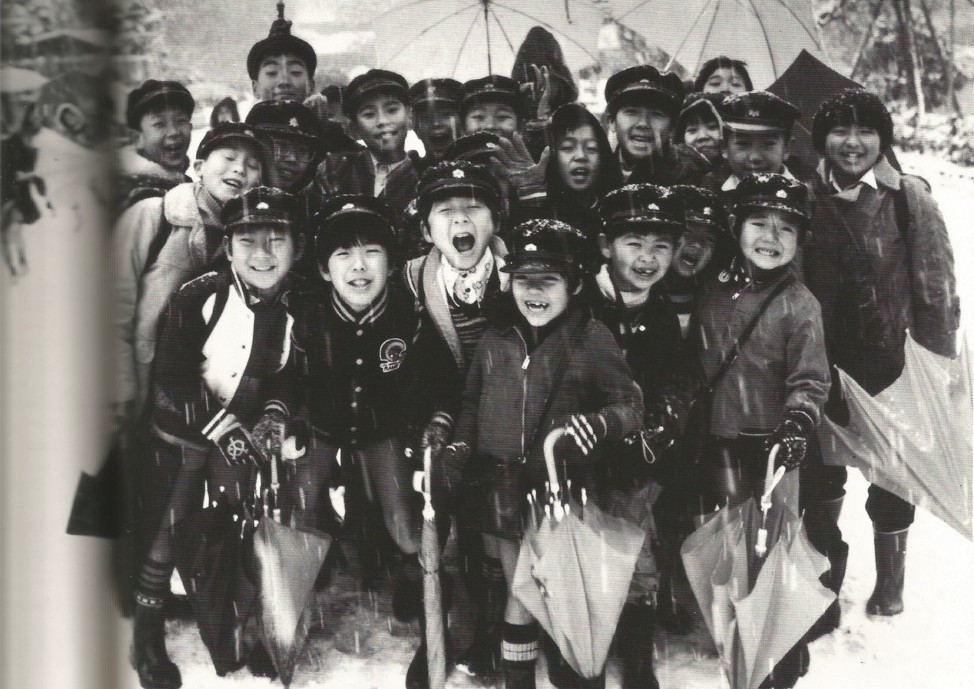 In the 1980s, Asia Society's education department produced several films depicting the lives of students in Asia, which were used as teaching aids in western classrooms. The first and most popular of these was the 1982 twelve-part "Video Letter" series from Japan showing the daily lives of Tokyo sixth graders; a frame from the series is pictured here. The film was viewed by an estimated 4 million American, European, and Australian students. Scenes of Japanese students hand-scrubbing their classrooms reportedly surprised American students. But other segments suggested similarities between the two cultures; scenes of Japanese children engaged in a playground bout of "samurai and ninja" reminded some of American playground games of swordplay and "cops and robbers."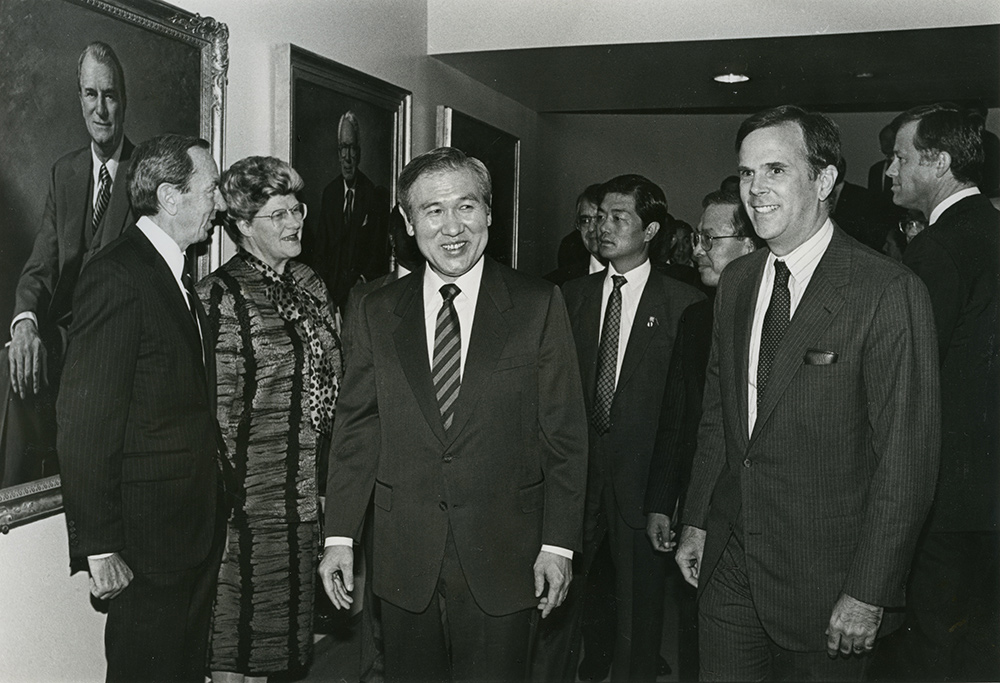 In October 1988, South Korean President Roh Tae Woo was the guest of honor at a luncheon in New York, cohosted by Asia Society and the Council on Foreign Relations, where he described his country's moves toward political openness and pledged to seek better ties with North Korea. In 1991, South Korea ultimately did sign a nonaggression pact with the North and both countries were admitted as full members to the United Nations. In this photo, Roh is pictured at the Asia Society luncheon with the organization's then Vice President Marshall Bouton. (Marcia Weinstein)
On June 28, 1988, Japanese performer and father of Butoh dance Kazuo Ohno (1906–2010) performed Suiren (Water Lilies) at Asia Society in New York. Eighty-one years old at the time, he used his aging body as a symbol in his portrayal of ambiguous, often androgynous characters. In a review of the Asia Society performance, The New York Times wrote: "Nearly nude, Mr. Ohno is at once a glamorous woman, a child, and a very old person. It is a state he achieves with the slightest of moves and little overt expression—a rich minimalism that calls to mind the sparest and most distilled of traditional Japanese classical dance forms." (Linda Vartoogian)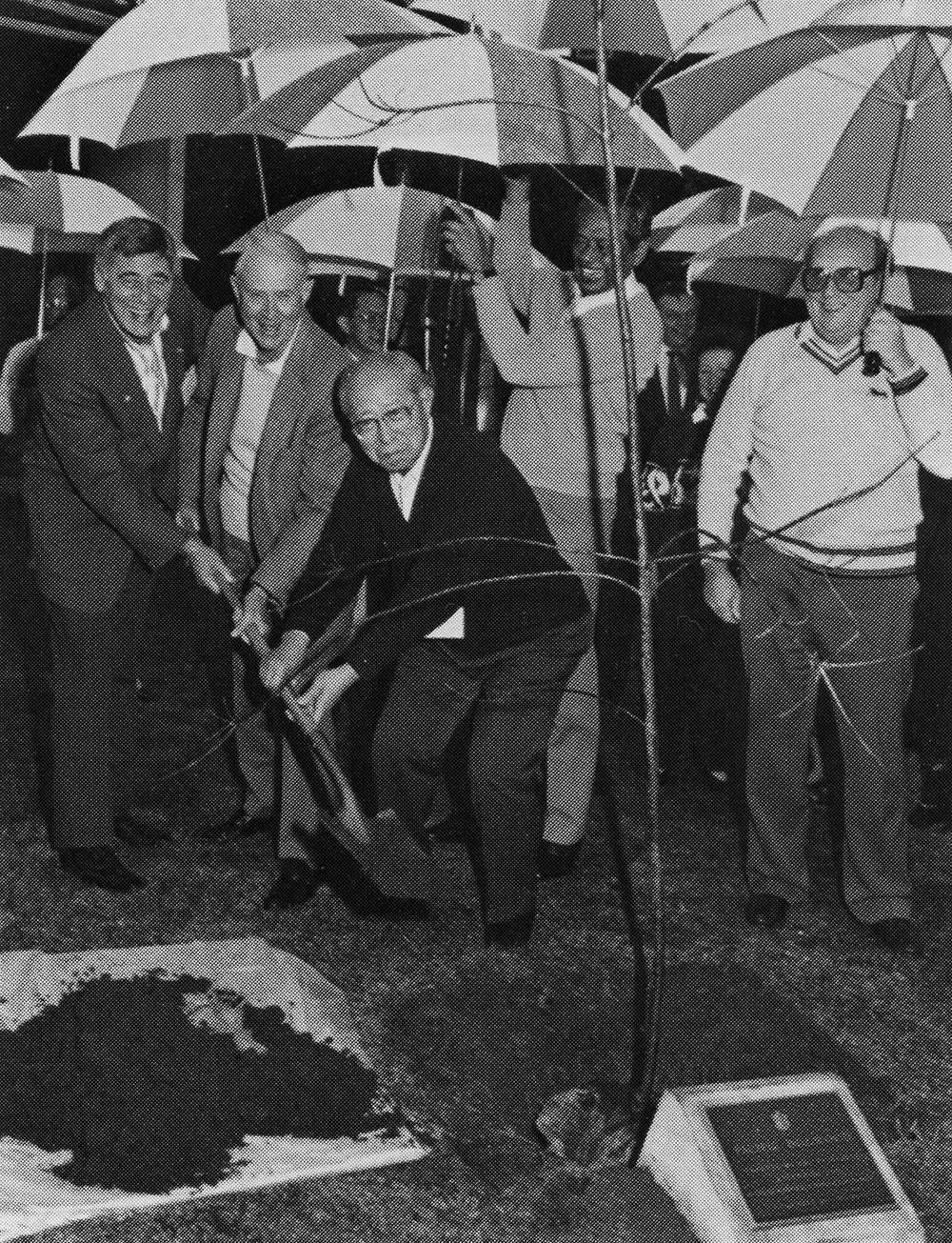 Former U.S. Secretary of State Cyrus Vance and ex-Japanese Foreign Minister Saburo Okita plant a Pacific Dogwood tree during Asia Society's Williamsburg Conference in Vancouver in 1989. The high-level conference was founded by John D. Rockefeller 3rd in 1971 and brought leading American and Asian leaders together in a different city each year to discuss various challenges facing the Asia-Pacific community and ways to address and mitigate them. Today, Asia Society hosts a regular "Asia Rising" dialogue to facilitate high-level conversations on the shifts in global power taking place and their implications for Asia in particular. (Mits Nage)
---
1990s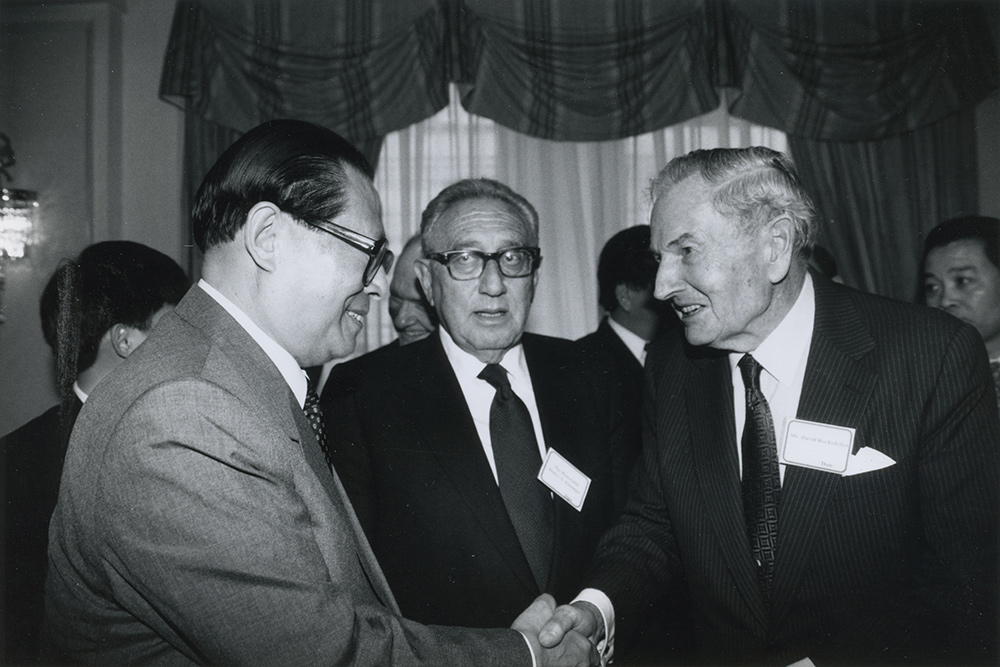 In October 1995, Asia Society cohosted a conference in New York titled "China and China-U.S. Relations Towards the New Century." In this photograph, then Chinese President Jiang Zemin shakes hands with David Rockefeller, then CEO of Chase Manhattan Bank and the brother of Asia Society founder John D. Rockefeller 3rd, while former U.S. Secretary of State Henry Kissinger looks on. Jiang said at the event: "History tells us that [the United States and China] will reap the benefit from our cooperation while neither can escape the harm of our confrontation....The right choice for us to make is to proceed from the reality of China-U.S. relations, take a global perspective, and look into the next century." (Elsa Ruiz)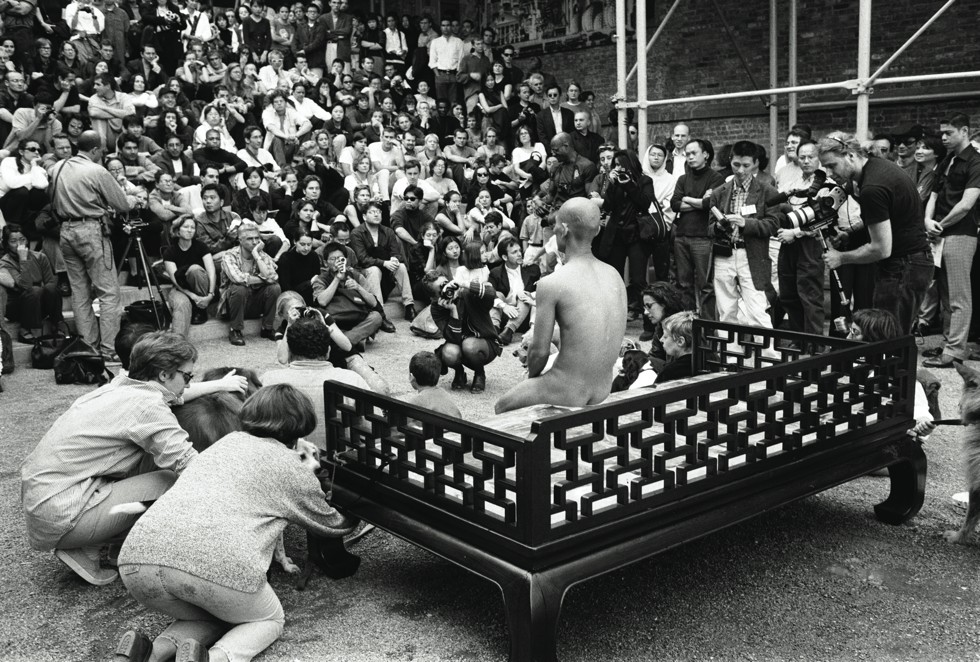 Zhang Huan, the celebrated Chinese painter and performance artist based in Shanghai and New York, is pictured here performing Pilgrimage: Wind and Water at P.S.1 Contemporary Art Center as part of the seminal 1998 exhibition "Inside Out: New Chinese Art," co-organized by Asia Society and the San Francisco Museum of Modern Art, and presented simultaneously at Asia Society and P.S.1. The first major U.S. survey of post-Cultural Revolution Chinese avant-garde art, the exhibition electrified art audiences around the world and sparked new dialogue about contemporary Chinese art. In 2007, Asia Society Museum presented the first U.S. museum retrospective of Zhang Huan.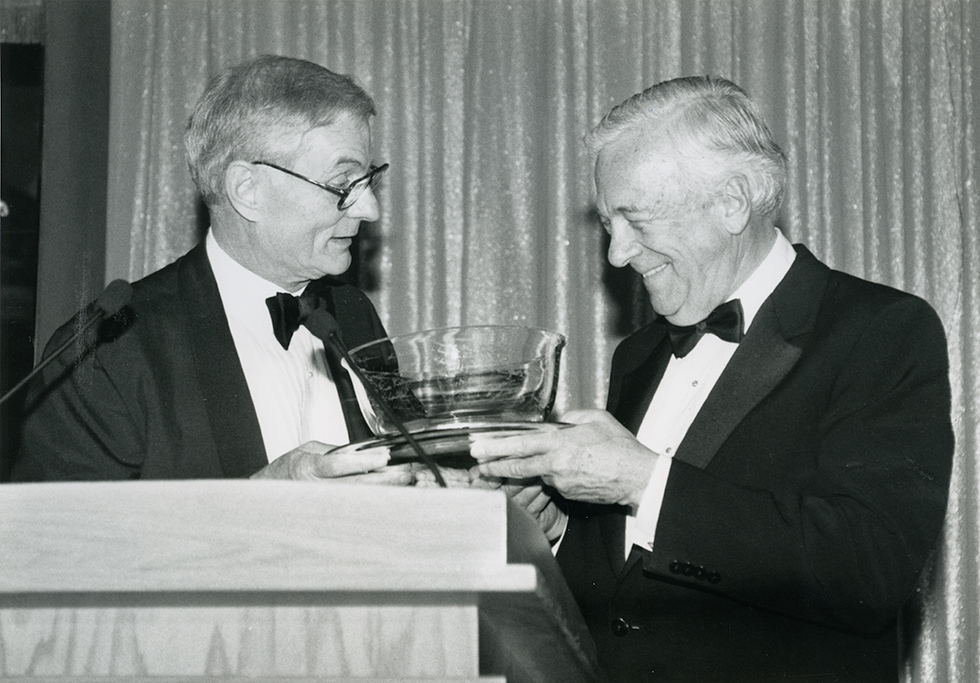 In this 1995 photograph, then Asia Society President Nicholas Platt presents outgoing Asia Society Board Chairman John C. Whitehead with a crystal Revere bowl from Tiffany & Co. inscribed with the names of all the Trustees who served during his tenure as Chairman. Whitehead, who had served as cochairman of Goldman Sachs and later as U.S. Deputy Secretary of State, continued his involvement with Asia Society as Chairman Emeritus, referring to his service to Asia Society as part of the "third stage" of his life. His achievements were celebrated at Asia Society's 2012 annual gala dinner held just before his 90th birthday. (Elsa Ruiz)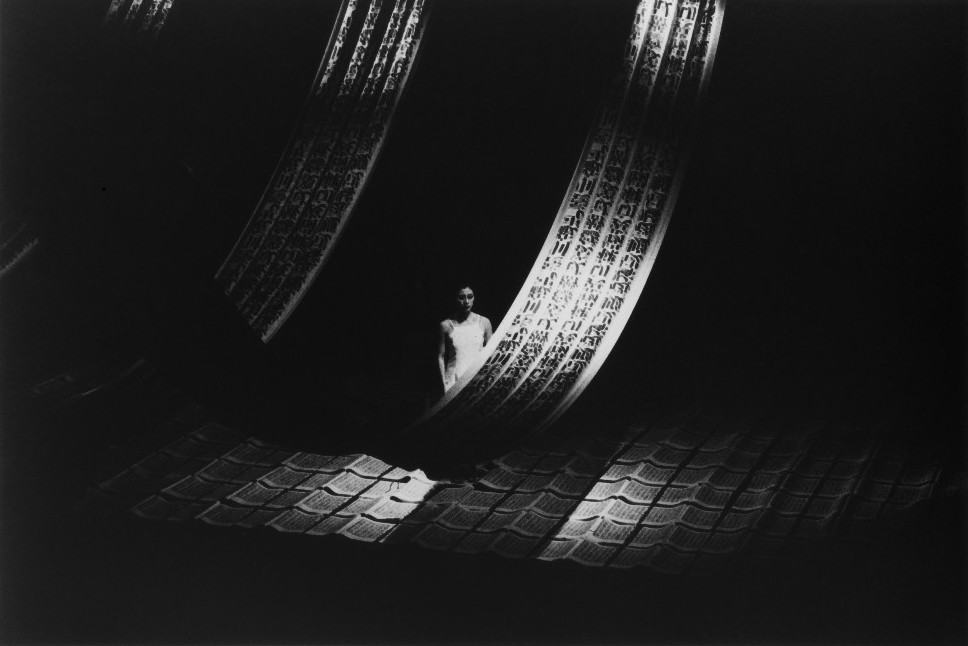 Empty Tradition/City of Peonies was an evening-length dance theatre work by Chinese choreographer Yin Mei and Indonesian composer Tony Prabowo with set design by Chinese artist Xu Bing. The 1998 performance explored political instability and the conflict between rigid adherence to tradition and perceived freedom of contemporary life through the eyes of a child during the Cultural Revolution. The work was commissioned, produced, and presented by Asia Society, and performed at Asia Society in New York and at Jacob's Pillow Dance Festival in Lee, Massachusetts. (Rachel Cooper)
---
2000s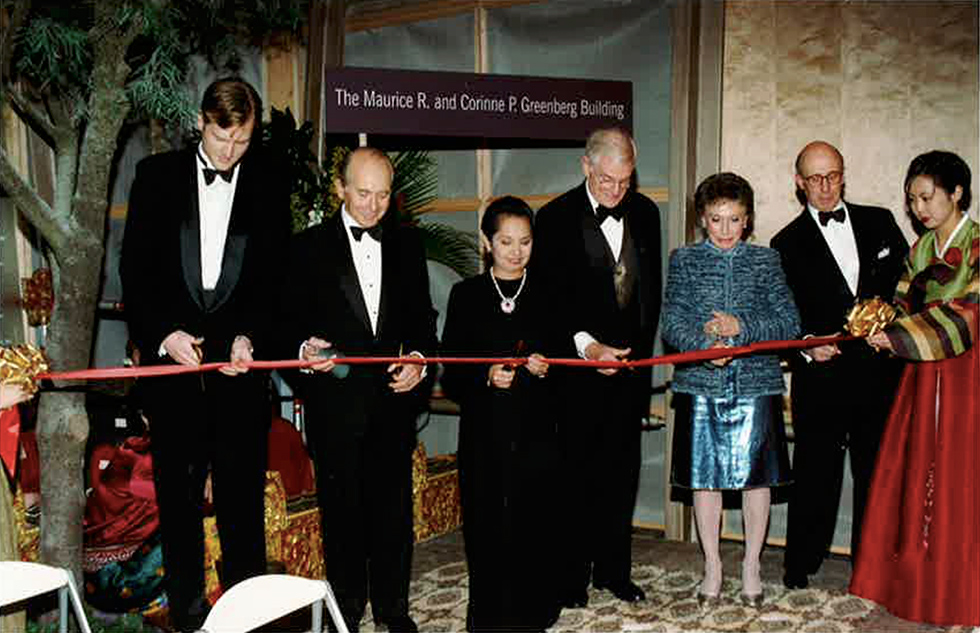 Cutting the ribbon at the November 2001 gala opening of the newly renovated Asia Society building at 725 Park Avenue are: Charles Rockefeller, grandson of Asia Society founder John D. Rockefeller 3rd; Maurice R. Greenberg, then Chairman of the Asia Society Board of Trustees; President Gloria Macapagal Arroyo of the Philippines; Nicholas Platt, then President of Asia Society; Corrine P. Greenberg; and David Coulter, then Asia Society Trustee and Vice Chairman of J.P. Morgan Chase and Co. In recognition of Mr. Greenberg's long-term support, the building was named the Maurice R. and Corrine P. Greenberg Building. (Jack Deutsch)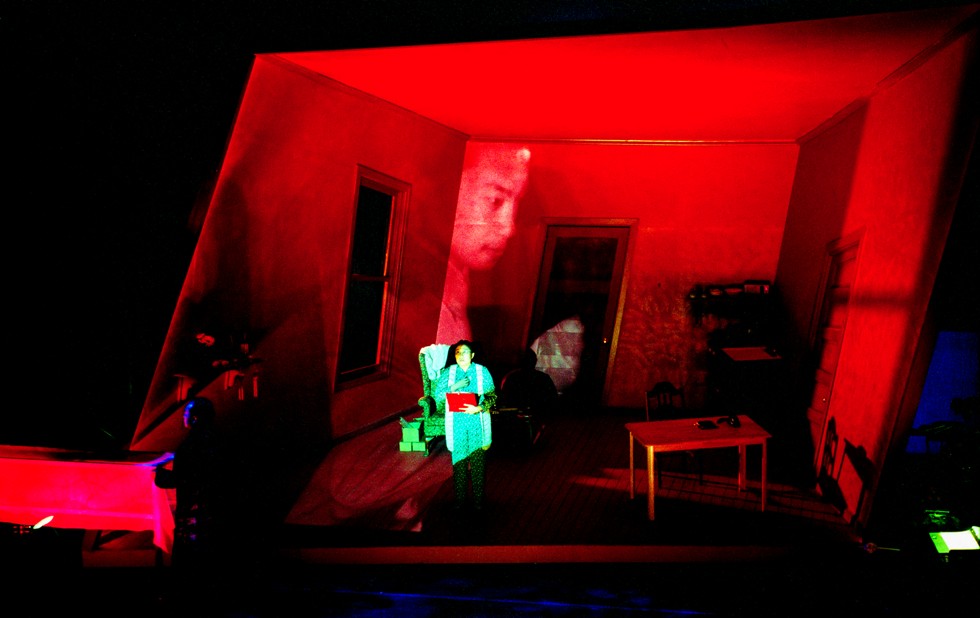 In October 2001, Asia Society presented The Floating Box: A Story in Chinatown in association with the Museum of Chinese in America (MOCA) and Music From China. The chamber opera charted the journey of one immigrant family across continents, languages, and generations, and was inspired by oral histories of Chinese Americans living in New York's Chinatown. With music by Jason Kao Hwang and libretto by Catherine Filloux, the piece incorporated Chinese and western instruments with influences as diverse as jazz, samba, Gregorian chant, and Chinese music. The Floating Box was the inaugural performance in a season celebrating the opening of Asia Society's newly renovated home in New York. (Jack Vartoogian)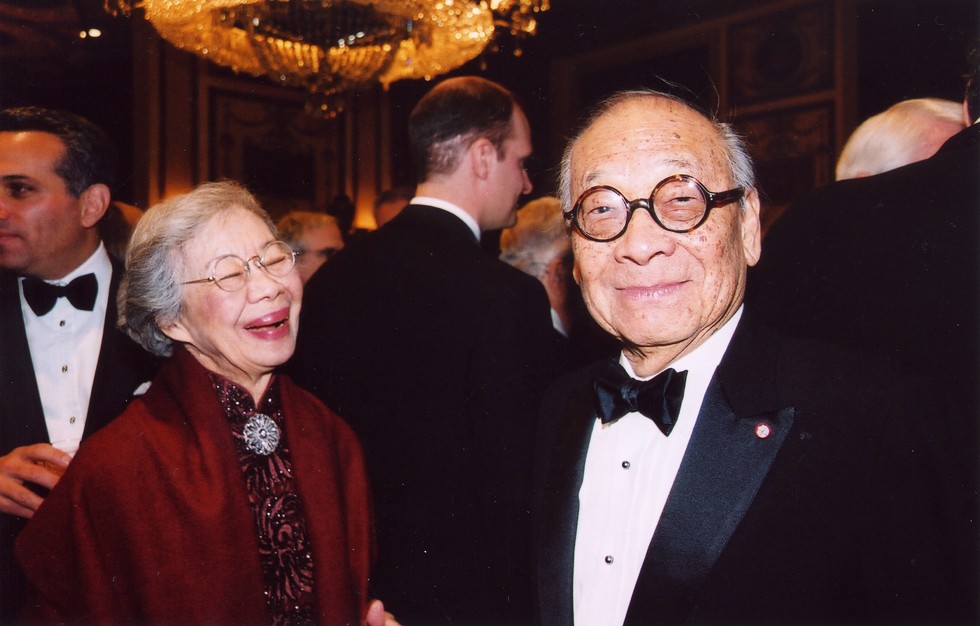 Chinese-born American architect I.M. Pei (right) and wife Eileen Pei attend Asia Society New York's 2004 Annual Dinner, themed "The China Connection," at the Waldorf Astoria New York. Pei, who turns 99 this year, is widely considered one of the world's greatest architects. His projects have included the Pei Pyramid in the courtyard of the Louvre Museum in Paris, The Bank of China Tower in Hong Kong, and the East Building of the National Gallery of Art in Washington, D.C. In 2009, Asia Society Washington, D.C., presented Pei with a Cultural Achievement Award. (Elsa Ruiz)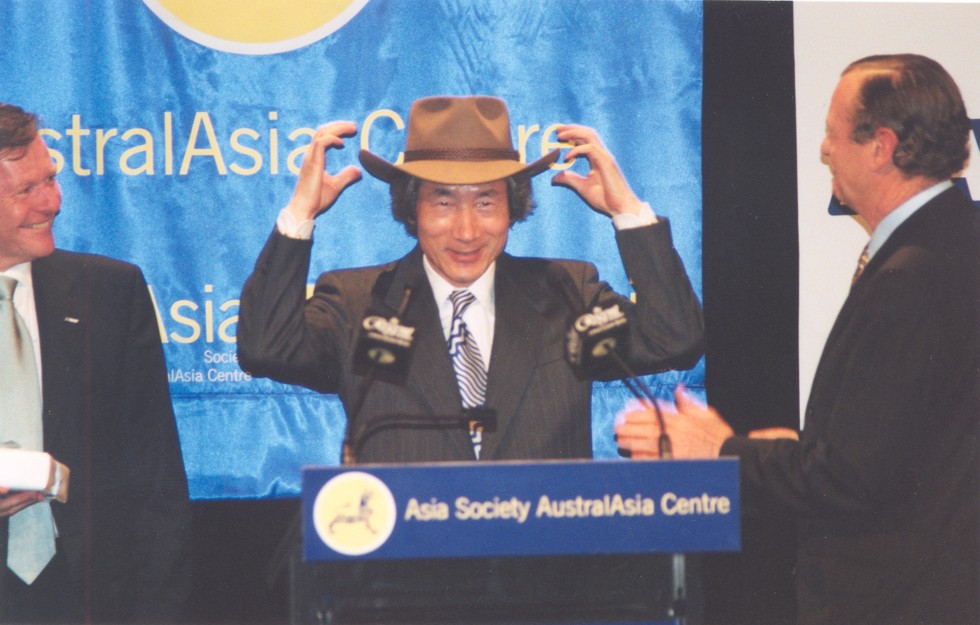 In May 2002, Japanese Prime Minister Junichiro Koizumi attended a dinner hosted by Asia Society in Sydney, Australia. During his address at the dinner, which came on the heels of his meeting with Australian Prime Minister John Howard, Koizumi highlighted goals of cooperation between Japan and Australia and donned a rabbit skin cowboy hat given to him by Asia Society. "I came to Australia," Koizumi said, "to let you know that Japan seeks to deepen the spirit of cooperation between us." To expand its reach in the Asia-Pacific region, Asia Society opened a center in Australia in 1997. Today there are 12 Asia Society centers; the newest opened in Zurich, Switzerland, in January 2016.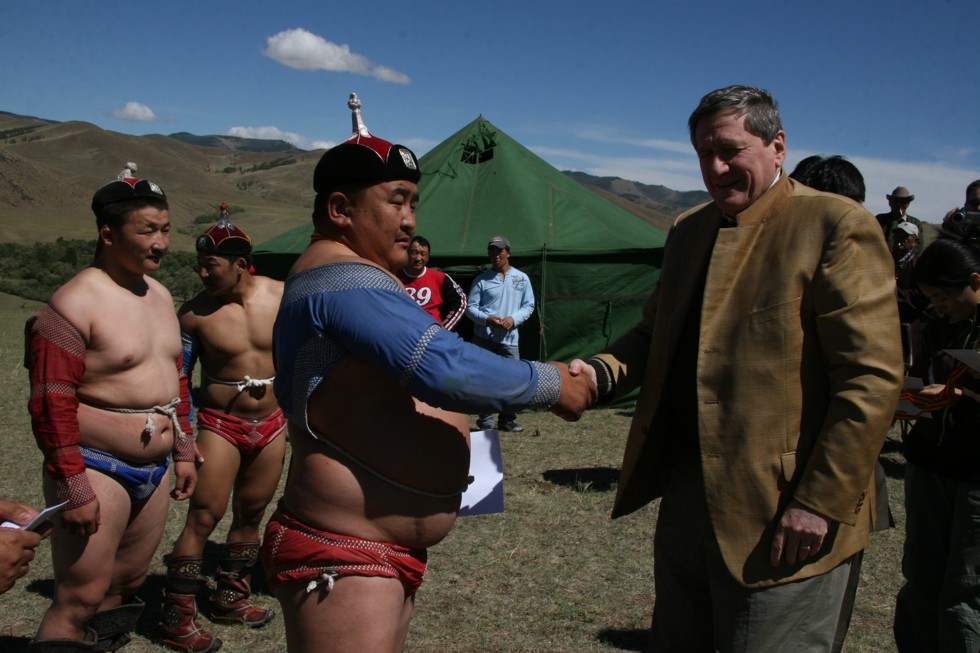 Ambassador Richard C. Holbrooke, distinguished diplomat and then Asia Society Chairman, meets traditional wrestlers in Mongolia on a stop during the 2007 Williamsburg Conference held in Ulaanbaatar. Holbrooke served as Chairman of Asia Society's Board of Trustees from 2002 to 2009. During his tenure, Holbrooke oversaw the creation of the Center on U.S.- China Relations, as well as the establishment of new centers in Mumbai and Seoul.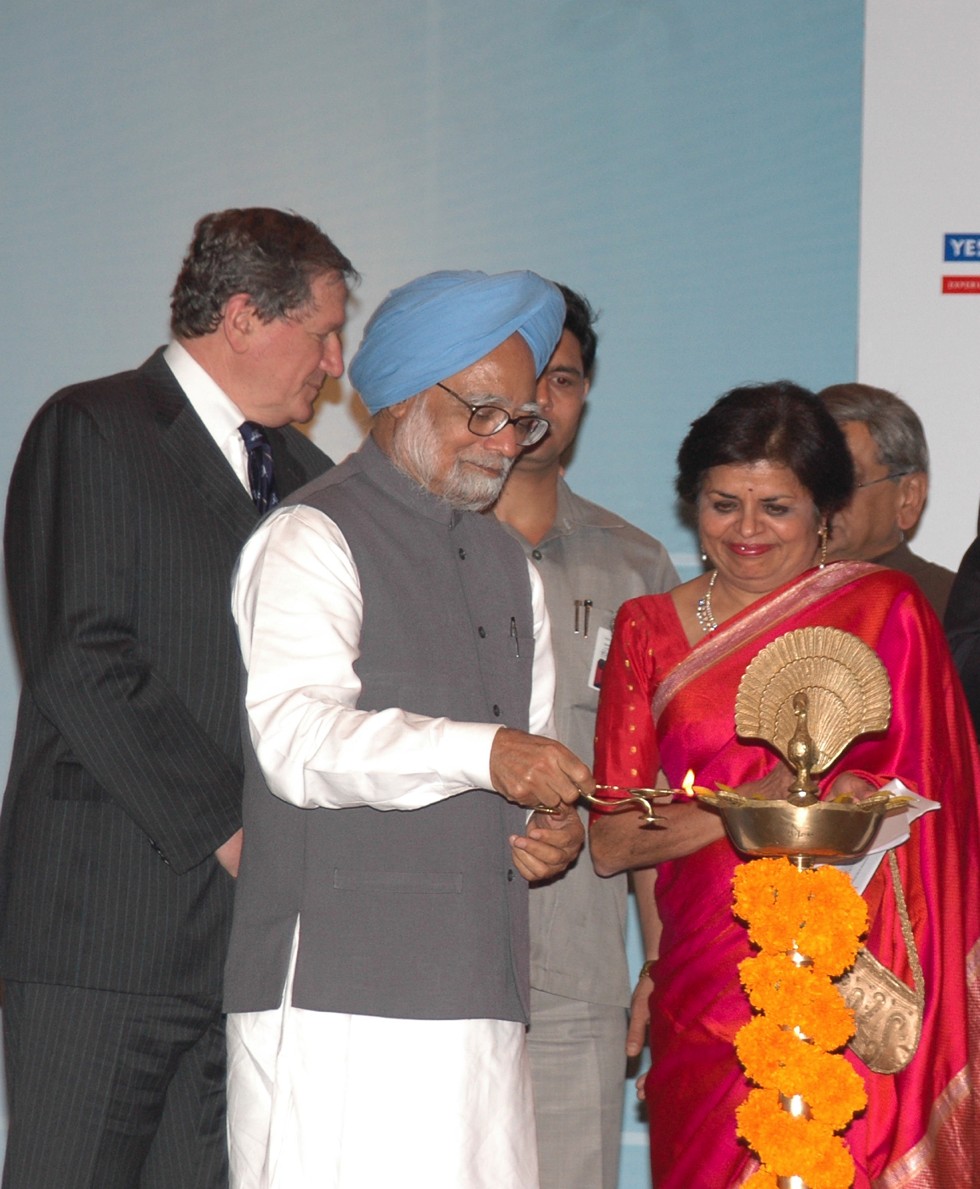 "The establishment of [a center] in Mumbai will help us better address the challenges and issues we all face in a rapidly changing world, whose focus is unquestionably tilting toward Asia and in which India will play a crucial role," noted Richard C. Holbrooke, then Asia Society Board Chairman, on the occasion of the India Center's launch in March 2006. Presiding over the affair with Ambassador Holbrooke, and pictured here, are then Prime Minister Dr. Manmohan Singh and then Asia Society President Vishakha N. Desai. The launch coincided with Asia Society's 16th Asian Corporate Conference, which drew hundreds of government and business leaders from the United States, Europe, and Asia. (Mustafa A. K.)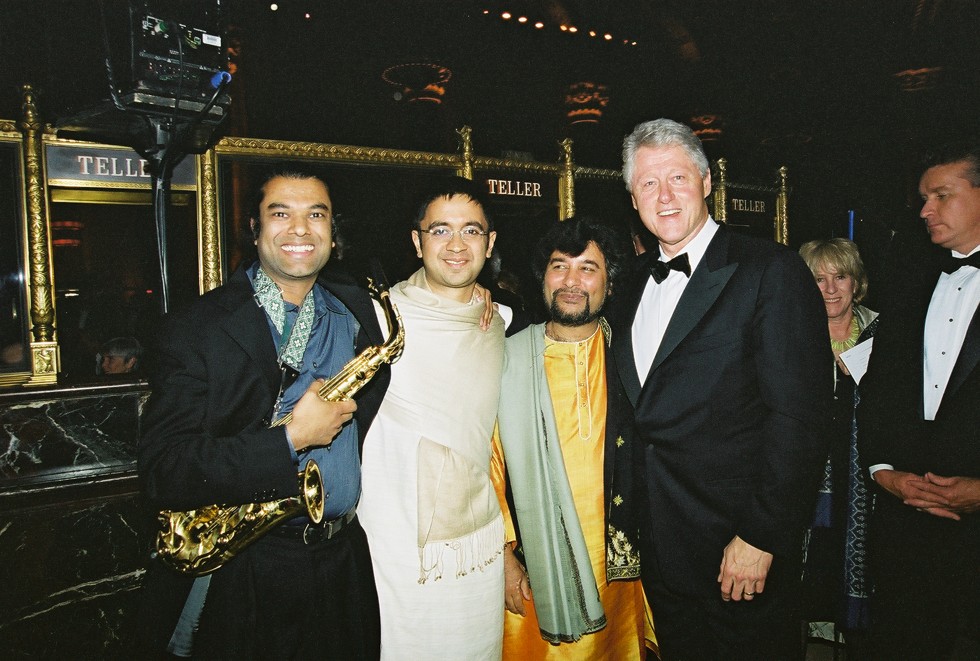 On May 12, 2003, former President Bill Clinton gave the keynote speech at Asia Society's Annual Dinner in New York. "I would like to say a special word of appreciation to the Asia Society for all that you do," he said. "For the policy dialogues, the art exhibits, the Asia in the schools program. . . . No region matters more to our hopes for the future than Asia." In this photo, he poses with renowned jazz musicians—(left to right) saxophone player Rudresh Mahanthappa, pianist and composer Vijay Iyer, and tabla player Samir Chatterjee—who performed that evening. Each of these artists has performed at Asia Society numerous times over the years. (Elsa Ruiz)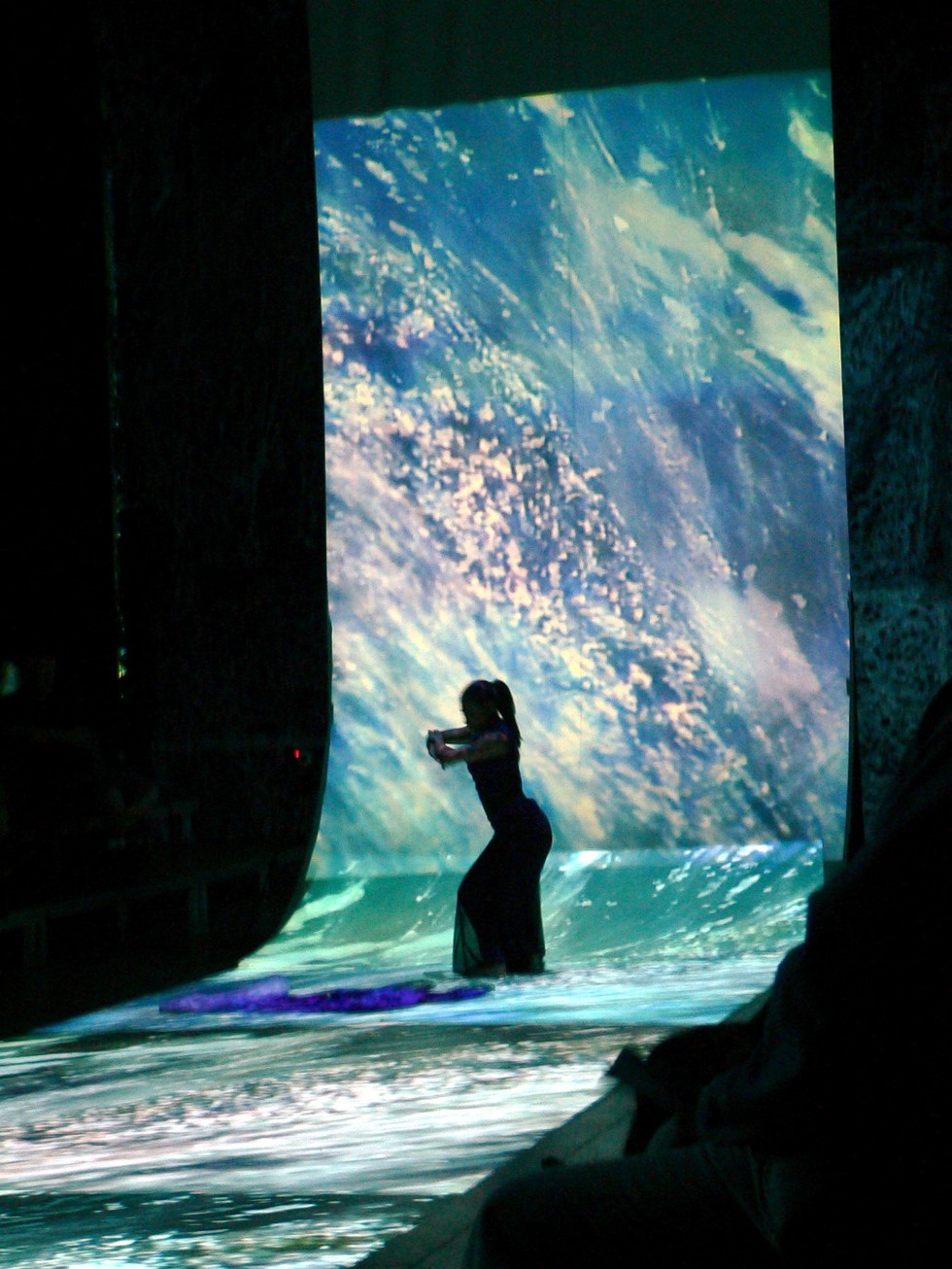 "Like his immersive installation 5 Streams, which kicks off the Asia Society's 50th anniversary season, Ibrahim Quraishi speaks with multiple fluencies, gliding among sources, subjects, and media without skipping a beat," wrote Aaron Landsman in the Village Voice in his review of the Pakistani-born conceptual artist's multimedia performance. Commissioned by Asia Society and workshopped at the Massachusetts Museum of Contemporary Art (MASS MoCA), the performance featured a cast of nine artists including renowned dancer Parul Shah, pictured here. Fusing movement, projections, video, electronics, and cutting-edge technology, 5 Streams premiered in 2006 at Asia Society in the Museum's gallery space and toured Europe, Asia, and other parts of the United States. (La Frances Hui)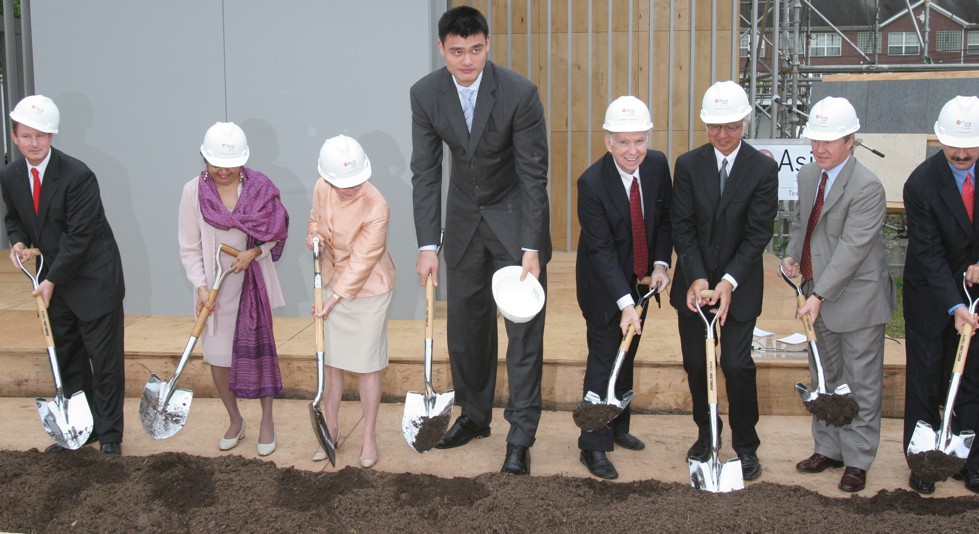 One participant at the 2008 groundbreaking for Asia Society Texas Center's new building in Houston stood out from the crowd: Yao Ming, the Chinese basketball star who spent his entire eight-season NBA career with the Houston Rockets and has since been active as a philanthropist and activist. Yao has had a long relationship with Asia Society; in 2010, the Texas Center honored him with its Award for Contribution to the Global Community and in 2013 Asia Society Southern California named him Visionary of the Year. Among the dignitaries present was renowned Japanese architect Yoshio Taniguchi (third from right), who designed Asia Society's much-celebrated $48.4-million-dollar home in Houston's Museum District. (Richard J. Carson)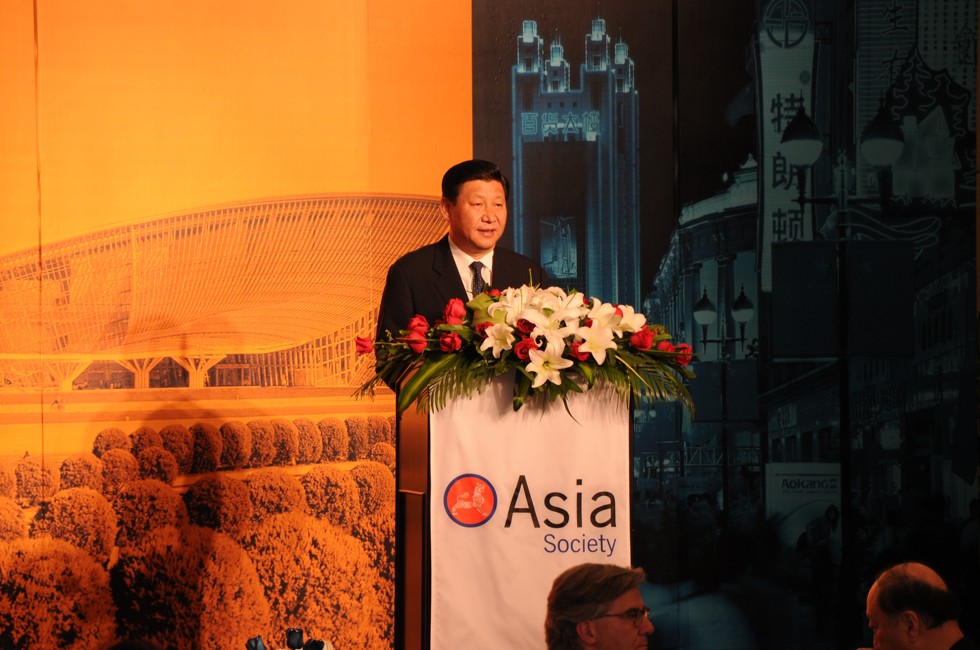 In one of his first appearances before an international audience as China's then Vice President, Xi Jinping gave a highly anticipated keynote address at Asia Society's 18th Asian Corporate Conference in Tianjin in 2008. In his remarks, Xi spoke about the conference theme, "A New Era for Global Business: Sustainable Growth for China and the World," and declared that despite the devastating Sichuan earthquake that occurred just two weeks before the gathering, China had the "determination and confidence" to host the Summer Olympics in Beijing later that year.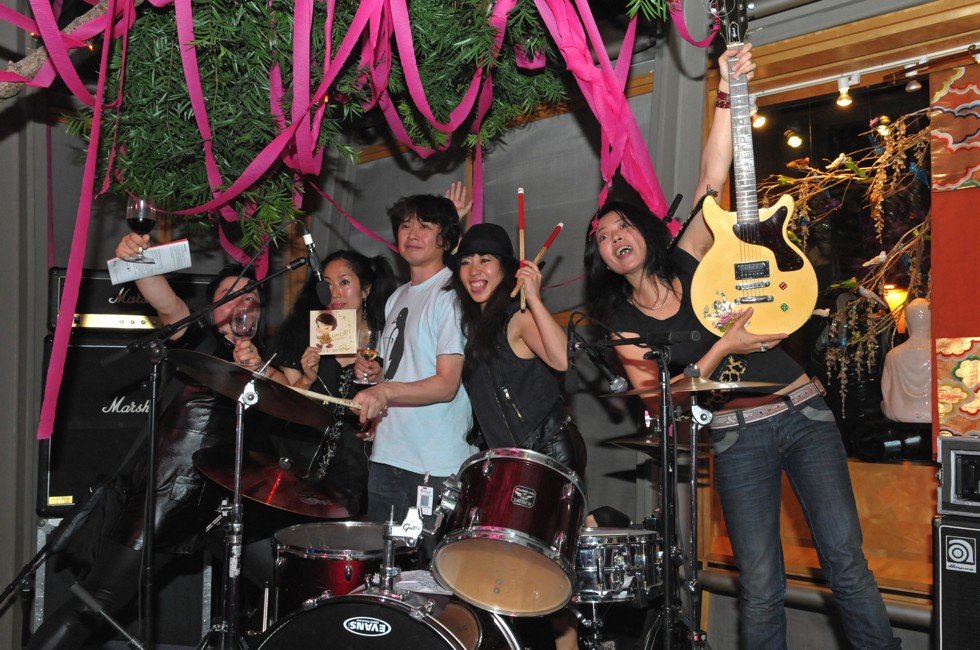 On September 13, 2010, Asia Society in New York held a benefit gala for celebrated Japanese artist Yoshitomo Nara, who is known for his depictions of cute, though often menacing, children and animals. In this photo from the gala, Nara (center) poses with the Japanese punk band High Teen Boogie. The event was held in conjunction with the Asia Society exhibition "Yoshitomo Nara: Nobody's Fool," which drew connections between his work and the sensibilities of youth subcultures worldwide, focusing on themes of alienation and rebellion, particularly in relation to rock and punk music. Five years later, Asia Society's Hong Kong Center presented a similarly well- received solo exhibition "Life is Only One: Yoshitomo Nara." (Elsa Ruiz)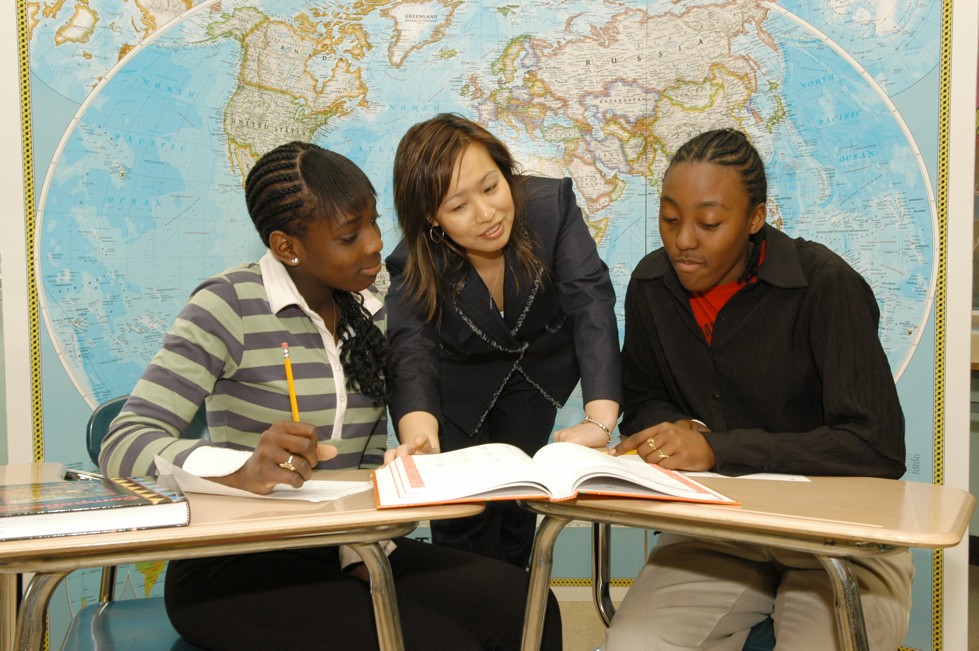 Despite dramatic transformations in the global economy and changes in the educational expectations of the job market, the American high school curriculum has remained largely unchanged. In 2003, Asia Society launched a national network of internationally themed schools aimed at addressing this knowledge gap and closing the achievement gap for low-income and historically underserved secondary students. At New York City's Henry Street School for International Studies, one of the first schools in the network, students learn about Asia and the world—its cultures, languages, and how its economic, environmental, and social systems work. Schools such as the Henry Street School fully integrate global education across the curriculum. (Elsa Ruiz)
---
2010s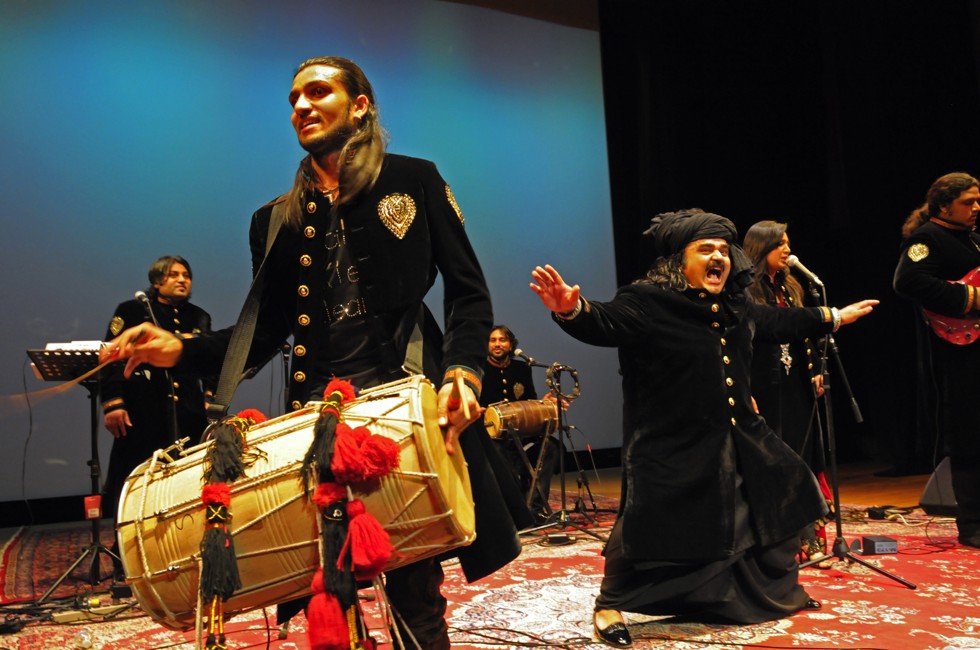 Asia Society's two New York concerts featuring Pakistani musical icon Arif Lohar soared to euphoric heights in 2012, inside the auditorium and beyond. Crowds at the sold-out shows danced to Lohar's signature take on traditional Punjabi songs. The New York Times—which named the show one of the year's best concerts—cited Lohar's "superhuman lung power" and the music's "visceral drive," while the Village Voice singled out Lohar's "increasingly delirious" marathon rendition of his hit "Alif Allah Chambey di Booti." YouTube users would agree—the Asia Society performance has now been viewed more than 3 million times. Lohar's shows were part of Asia Society's ongoing initiative, Creative Voices of Muslim Asia. (Elsa Ruiz)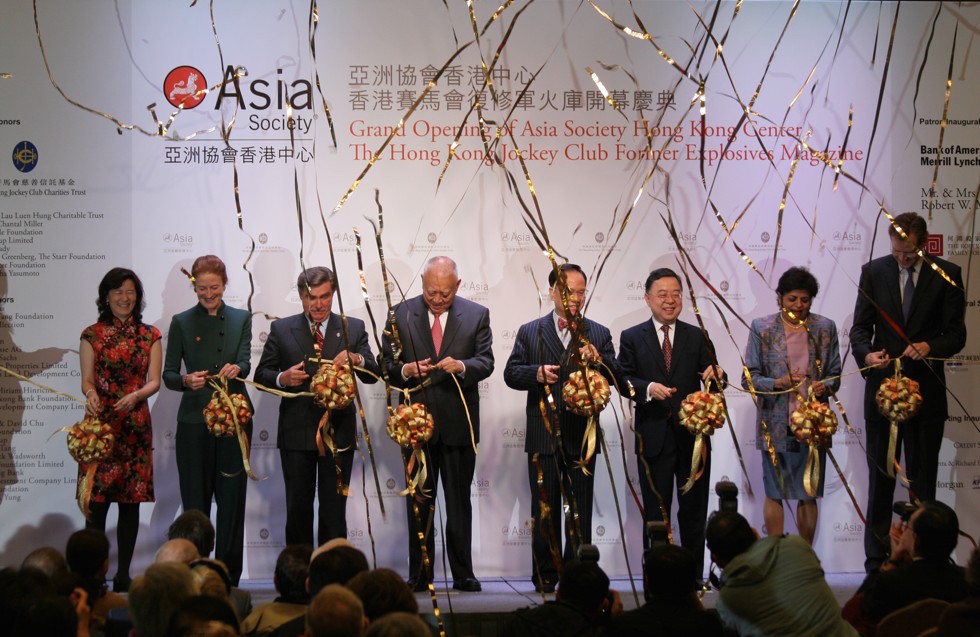 Streamers fly as a festive ribbon-cutting marks the official opening of the Asia Society Hong Kong Center in February 2012. The center, more than a decade in the making and designed by the architects Tod Williams and Billie Tsien, occupies a former British explosives magazine site and has been widely celebrated by visitors and the global press. The ceremony also marked the announcement of Ronnie C. Chan and Henrietta H. Fore as the first global Co Chairs of the Asia Society Board of Trustees. From left to right: Edith Ngan Chan, former Center Executive Director; Fore; T. Brian Stevenson, Hong Kong Jockey Club Chairman; C.H. Tung, former Hong Kong Chief Executive; Donald Tsang, then Chief Executive; Chan; Vishakha N. Desai, then Asia Society President; and Charles Rockefeller, the grandson of Asia Society's founder. (Bill Swersey)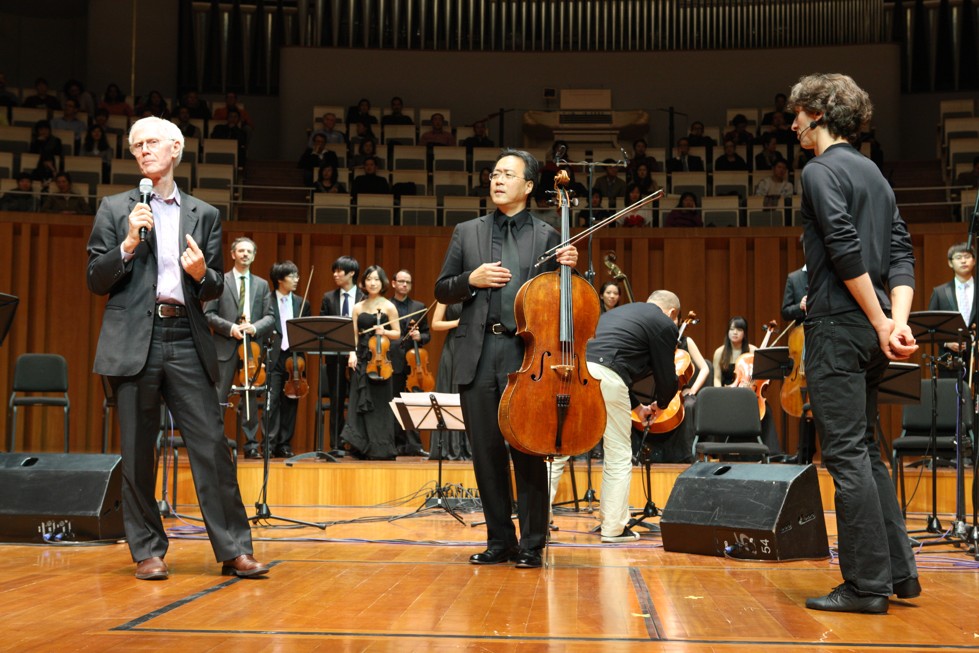 In the summer of 2011, a delegation of distinguished American artists—including the actress Meryl Streep and cellist Yo-Yo Ma—traveled to Beijing to participate in Asia Society's U.S.- China Forum on the Arts and Culture. The event was organized by Orville Schell, the Arthur Ross Director of the Asia Society Center on U.S.-China Relations, who designed the forum to have an improvisational feel uncommon at official exchanges between the two countries. "The best way is to show, not tell," Schell said of the effort. In this photo, Schell, Ma, and dancer Damian Woetzel introduce the performance. To help forge a more constructive bilateral relationship, Asia Society established the Center on U.S.-China Relations in 2006 with a generous gift from the late Arthur Ross, who together with his wife Janet Ross was a long-time supporter of the institution. (Dong Lin)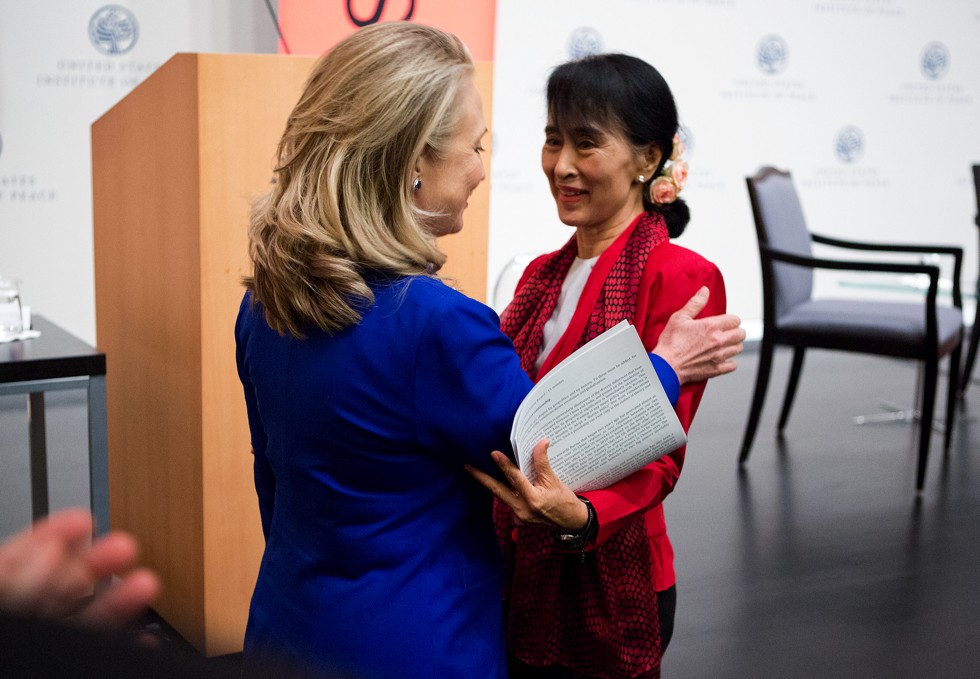 Then Secretary of State Hillary Clinton greets Nobel Peace Prize winner and pro-democracy icon Aung San Suu Kyi before an event cohosted by Asia Society and the U.S. Institute of Peace in Washington, D.C., on September 18, 2012. Clinton introduced the Nobel Laureate, whose visit to the United States that fall was her first in over forty years. During her remarks, Aung San Suu Kyi thanked Asia Society and advocated for deepened ties between her country and the United States. "U.S.-Burma relations will be what we make of them, here and now," she said. "What happens over the next years will determine how strong and how healthy the relationship between our two countries will be." (Joshua Roberts)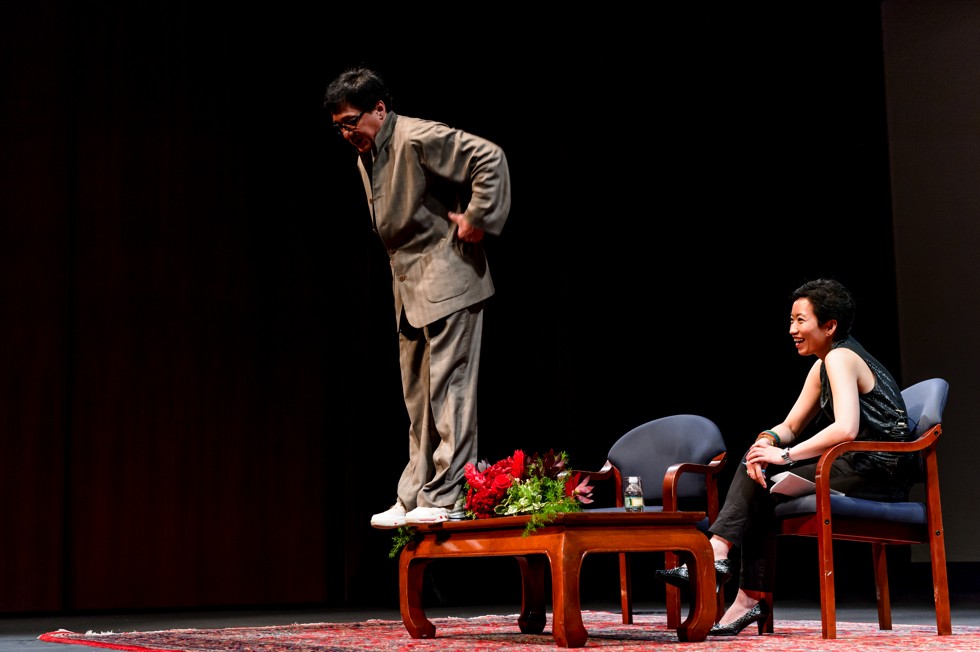 In a rollicking discussion at Asia Society, New York, in 2013, an animated Jackie Chan spent almost as much time out of his seat as in it. Speaking with former Asia Society Film Curator La Frances Hui, the superstar touched on a wide variety of topics, including Hollywood's relationship with China, doing his own stunts, and what it was like on the set of his 1994 classic Drunken Master II (the crowd was treated to a screening after this interview). The sold-out event was copresented with the Film Society of Lincoln Center and the New York Asian Film Festival. (C. Bay Milin)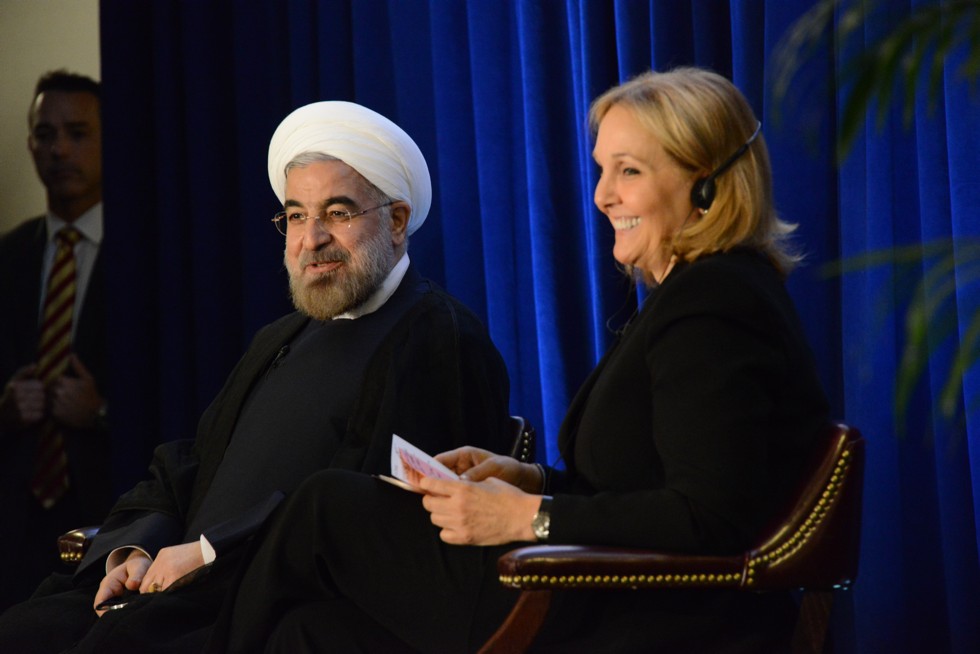 In August 2013, the reformist Hassan Rouhani assumed the presidency of Iran in a decisive electoral victory. The following month, Rouhani made a historic visit to New York to take part in the United Nations General Assembly. Asia Society President Josette Sheeran interviewed Rouhani at an event cosponsored with the Council on Foreign Relations at which he also answered questions submitted though Twitter and Facebook. "During my tenure in office as president," Rouhani said, "moderation and wisdom will guide my government in making and implementing policies in every field." Following his remarks, Iranian Foreign Minister Javad Zarif came onstage and made an impromptu announcement that he had just returned from talks with U.S. Secretary of State John Kerry, the highest level official contact between the two countries since relations were severed in 1979. (Kenji Takigami)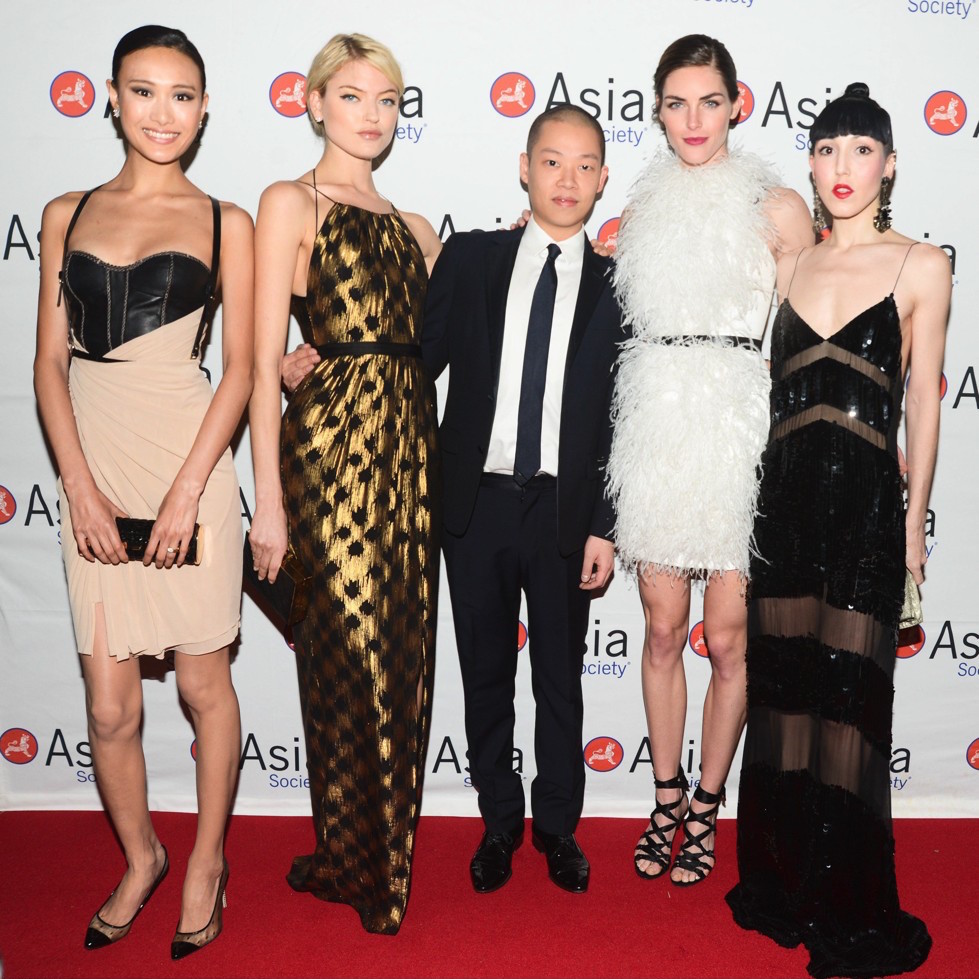 Fashion models Shu Pei, Martha Hunt, Hilary Rhoda, and fashionista Michelle Harper pose with designer Jason Wu at Asia Society's Celebration of Asia Week gala in 2013 at The Pierre hotel in New York. Wu, who rose to fame when First Lady Michelle Obama chose him to design her inaugural ball gown, served as honorary chair for the evening, which was a highlight of Asia Week New York. The star-studded gala featured special menu items created by guest chefs Pichet Ong and Simpson Wong, a live auction led by Sotheby's Henry Howard-Sneyd, and live music by Peter Duchin and his Orchestra. (Joe Schildhorn/BFAnyc.com)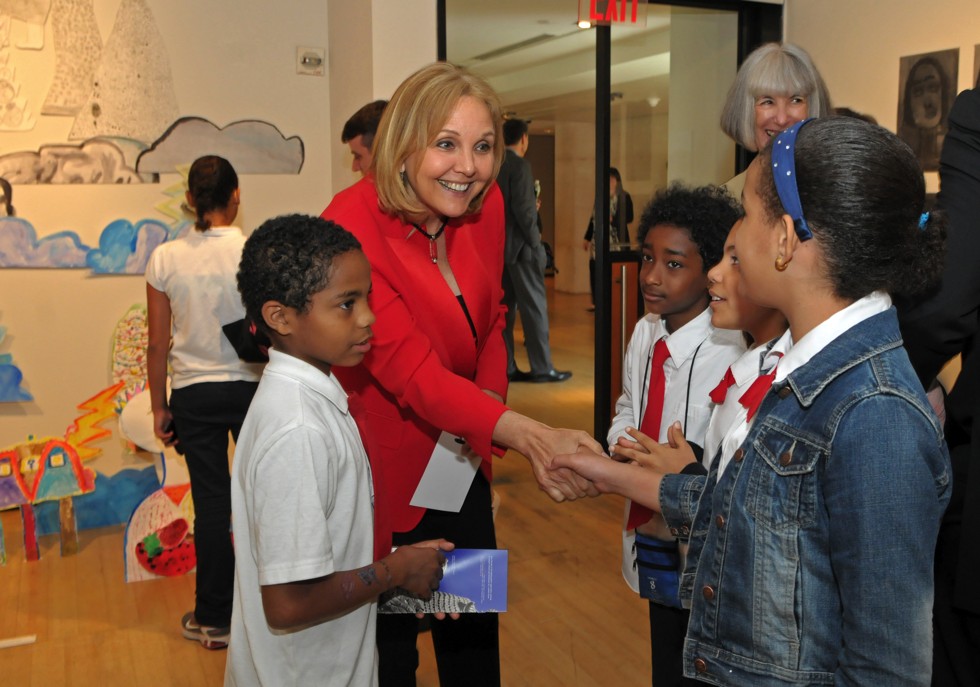 Newly appointed Asia Society President Josette Sheeran welcomes local student artists at the opening of "Inspired by Lin Tianmiao: Works by New York City Students" in June 2013. The exhibition was part of an ongoing series in which New York City students create works of art in response to their study of Asia Society Museum exhibition themes and artists. Students from four New York City public schools—P.S. 182 and P.S. 94 in the Bronx, P.S. 200 in Manhattan, and P.S. 59 in Brooklyn—saw their works displayed in the Asia Society galleries, alongside illustrations of the original works that inspired them. The exhibition series, now in its 23rd year, is a partnership with Studio in a School, the nonprofit arts education program founded by Agnes Gund. (Elsa Ruiz)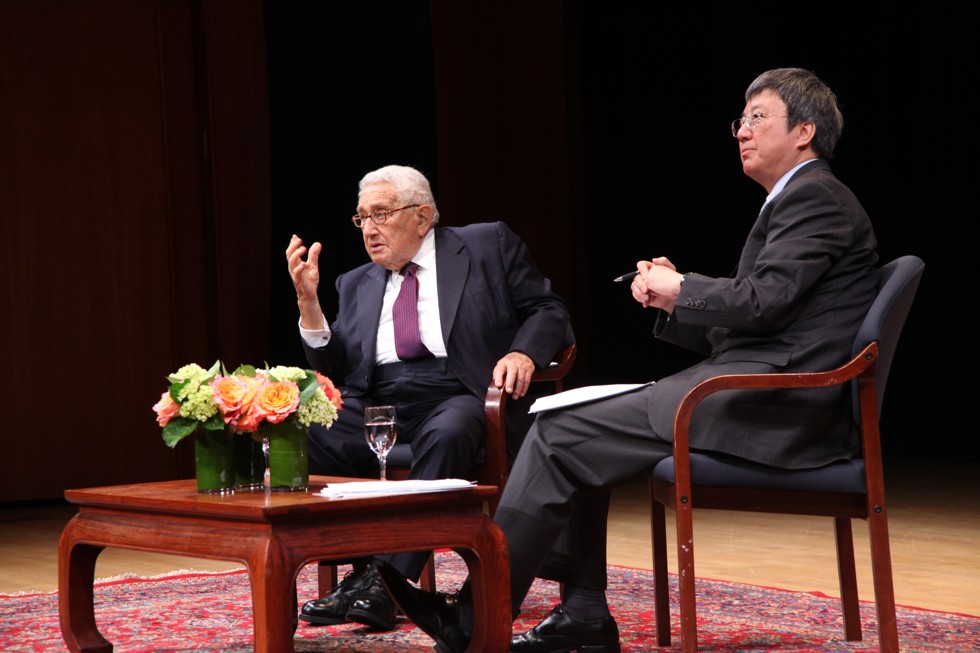 Former U.S. Secretary of State Henry Kissinger (left) is shown here in conversation with International Monetary Fund Deputy Director Zhu Min at the launch of the Asia Society Policy Institute in New York on April 8, 2014. The Institute—created to develop "solutions for the Asian Century"—is headed by former Australian Prime Minister Kevin Rudd and its vice president is former U.S. Trade Representative Wendy Cutler. In a lighthearted moment at the event, Zhu asked if Kissinger had a Twitter account. "I don't use any of it," Kissinger replied. "But that's not out of moral superiority. Maybe it's out of arrogance, but I don't care what 500 people think. I want to find out first what I think." (Ellen Wallop)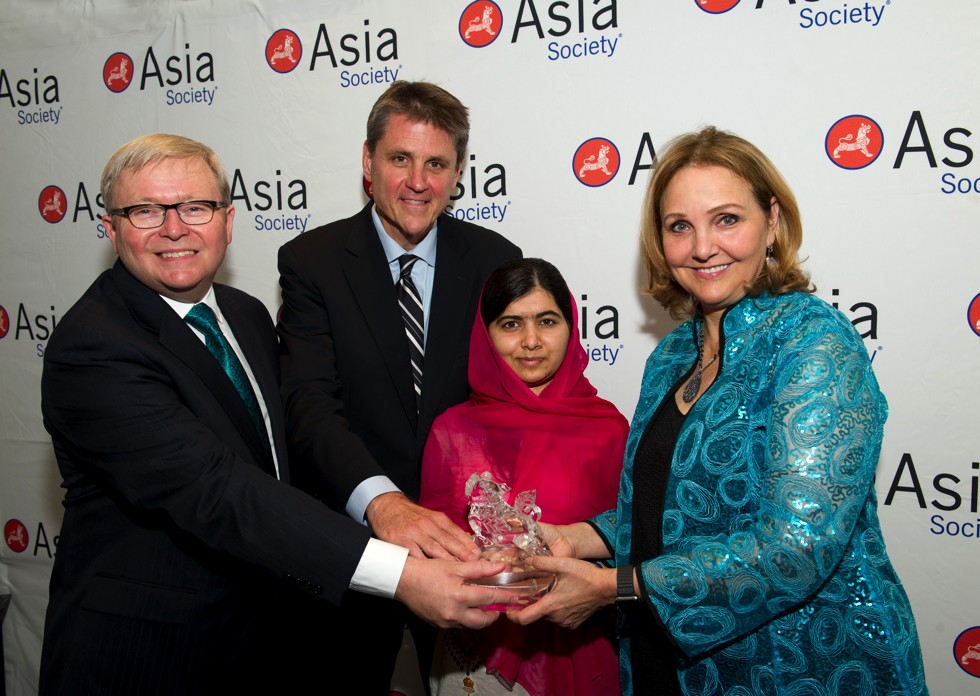 In the years since her survival of an assassination attempt carried out by the Taliban, Pakistan-born Malala Yousafzai has emerged as a global icon of resilience and an ambassador for girls' education around the world. In recognition of her courage and her advocacy work, Asia Society honored Yousafzai with an Asia Game Changer Award in 2014. It was the inaugural year for the Awards, which were designed to identify and honor true leaders making a positive contribution to the future of Asia. From left to right: Kevin Rudd, President of the Asia Society Policy Institute; Tom Nagorski, Executive Vice President of Asia Society; Malala Yousafzai; and Josette Sheeran, President and CEO of Asia Society. (Elena Olivo)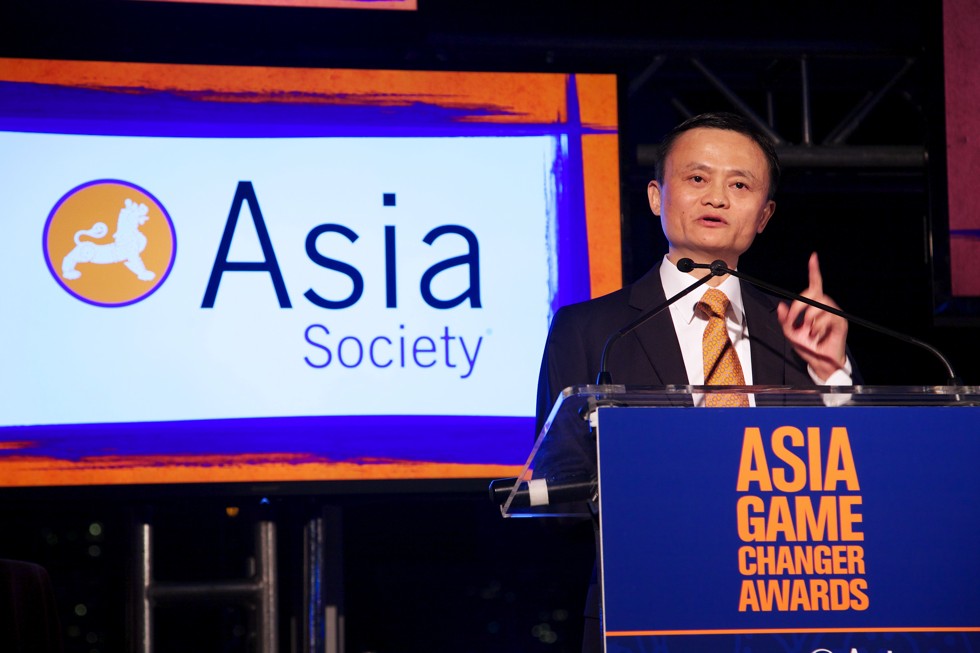 In 2014, Asia Society honored Alibaba Group Chairman Jack Ma and twelve others as its inaugural class of Asia Game Changers. The ceremony, held at the United Nations, recognized those making a transformative and positive difference for the future of Asia and the world. Honorees included Nobel Peace Prize laureate Malala Yousafzai, Shanghai Normal University professor Zhang Minxuan, and Oscar-winning documentary filmmaker Sharmeen Obaid-Chinoy. Ma, who was recognized as Asia Game Changer of the Year for his philanthropic contributions and innovative vision, thanked Asia Society, and said, of his company's rise from humble beginnings, "I never thought I'd have a chance to be at the United Nations." (Ann Billingsley)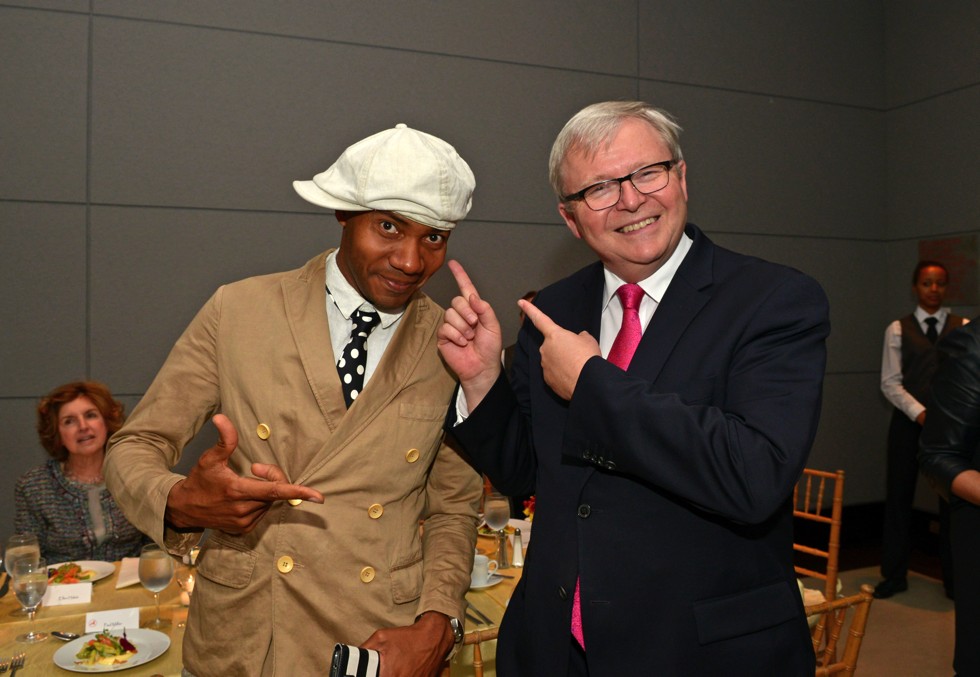 The acclaimed musician and composer DJ Spooky, also known as Paul D. Miller, collaborated with the dancer and choreographer Jonah Bokaer in a performance organized in conjunction with the 2014 Asia Society Museum exhibition "Nam June Paik: Becoming Robot," honoring the Korean-born experimental artist. In this photograph, DJ Spooky enjoys a light moment with Kevin Rudd, the former Prime Minister of Australia and inaugural President of the Asia Society Policy Institute. (Elsa Ruiz)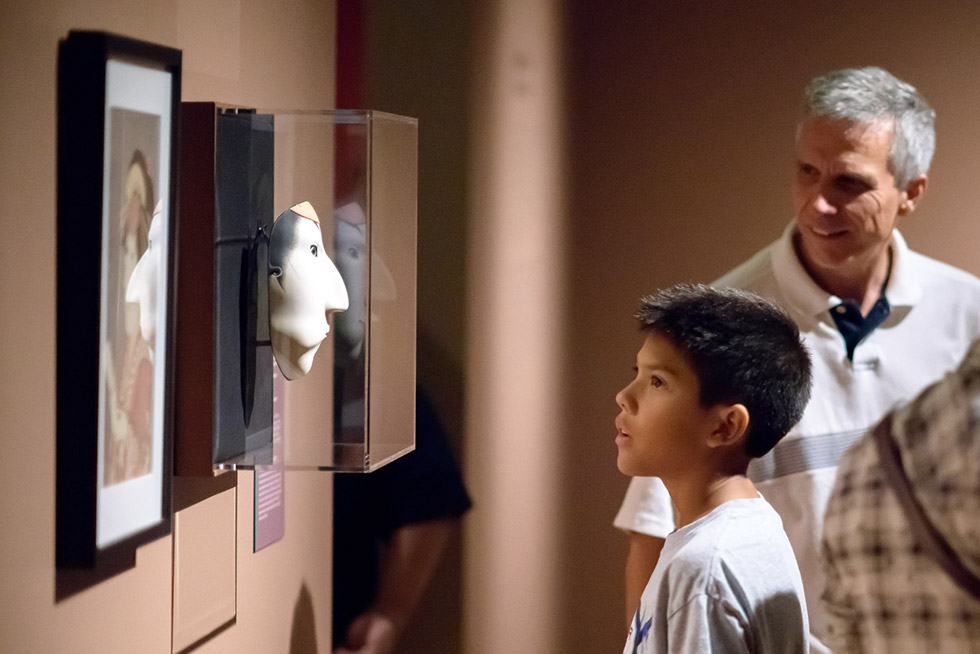 A family visits Asia Society Texas in October 2014 to view the exhibition "Traditions Transfigured," featuring noh masks carved by Japanese artist Bidou Yamaguchi. Former First Lady Barbara Bush and former Asia Society Board Chairman Roy M. Huffington established the Texas Center in 1979. Its Board of Directors later voted to build a permanent home and exhibition space for the center in Houston's Museum District. Completed in 2011, the new Center is the first freestanding building in the United States designed by Japanese architect Yoshio Taniguchi, best known in this country for his 2004 renovation of the Museum of Modern Art in New York. Asia Society Texas has since become a major educational and cultural institution in the region and an important center in Houston for the Asia-Pacific community.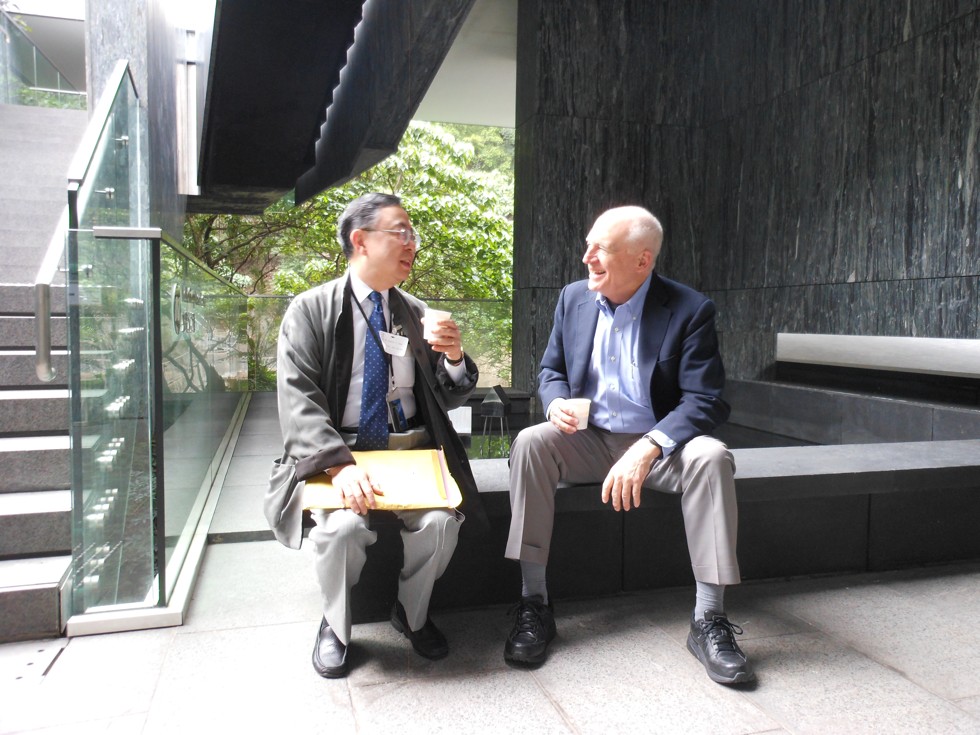 This seemingly unremarkable photograph of Asia Society Board Co Chair Ronnie Chan and former Vice Chair Jack Wadsworth, as they share a light moment at the Asia Society Hong Kong Center, represents the culmination of years of effort to transform a once abandoned and overgrown military site into a spectacular and unique public space. Chan and Wadsworth were part of the Advisory Council charged in the 1990s with finding an appropriate site for the Hong Kong Center. Wadsworth recalled, "It was really Chien Lee [another Council member] who one day said: 'As a kid, I used to pass by some old buildings in an ammunition storage site on the way to school. We should look at them.'" Wadsworth and Chan did just that, scaling the walls to check out the site. The rest, as they say, is history. (Elizabeth Lancaster)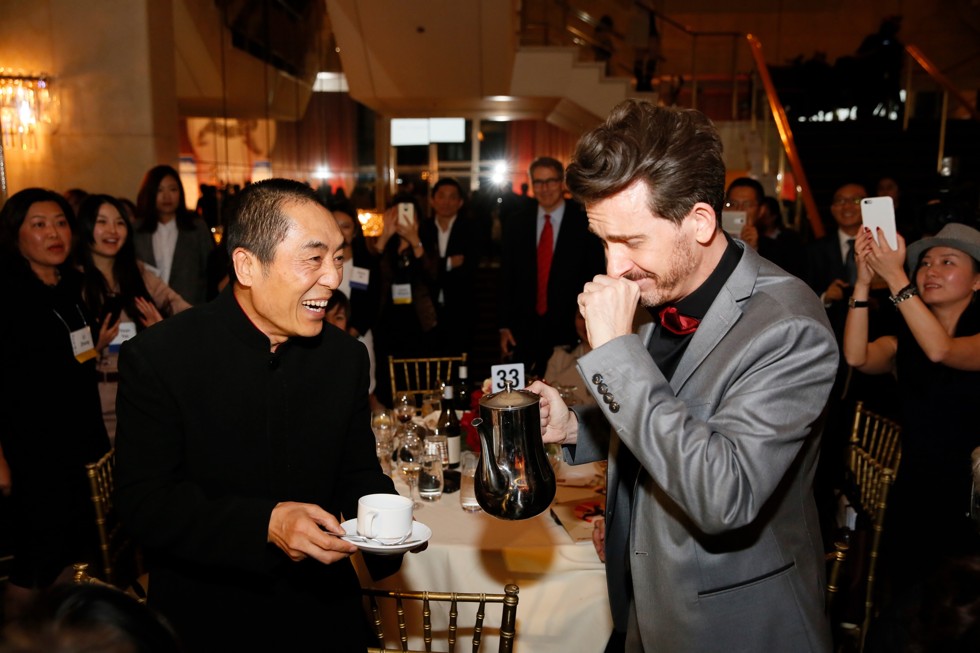 In this photo, actor and emcee Jeff Locker (right) fulfills a dream to pour celebrated filmmaker Zhang Yimou a cup of coffee during the sixth annual U.S.-China Film Summit and Gala in Los Angeles in November 2015, where Asia Society honored Zhang with a Lifetime Achievement Award. In his acceptance speech, Zhang (Raise the Red Lantern, Ju Dou, and the recently released Coming Home) said he was among the first in his country to study filmmaking in the years after the Cultural Revolution. "Everybody here tonight is an ambassador for the arts," he said, "and I believe we'll broaden our perspective together." (Ryan Miller/Capture Imaging)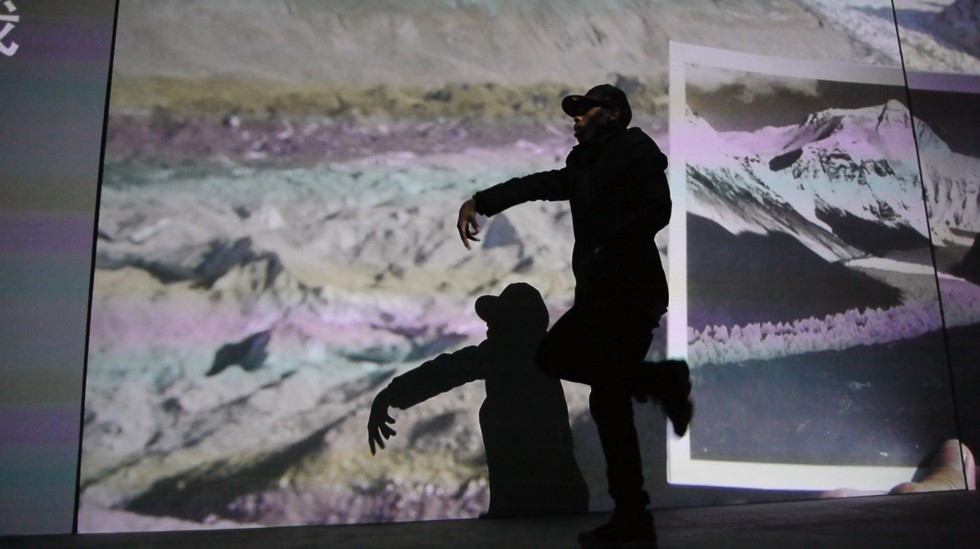 In 2011, professional street dancer Charles "Lil Buck" Riley was one of sixteen American cultural figures—including Meryl Streep, Joel Coen, and Yo-Yo Ma—who traveled to China to participate in the four-day U.S.-China Forum on the Arts and Culture, organized by the Asia Society Center on U.S.-China Relations. While visiting Asia Society's "Coal + Ice" exhibition at Three Shadows Photography Art Centre in Beijing, Lil Buck spontaneously danced to LYNX's "Burning Bone" in front of the large projection screen after connecting his iPhone to the sound system. "Coal + Ice" is a documentary photography exhibition that visually narrates the hidden chain of environmental actions triggered by mankind's use of coal. (Michael Zhao)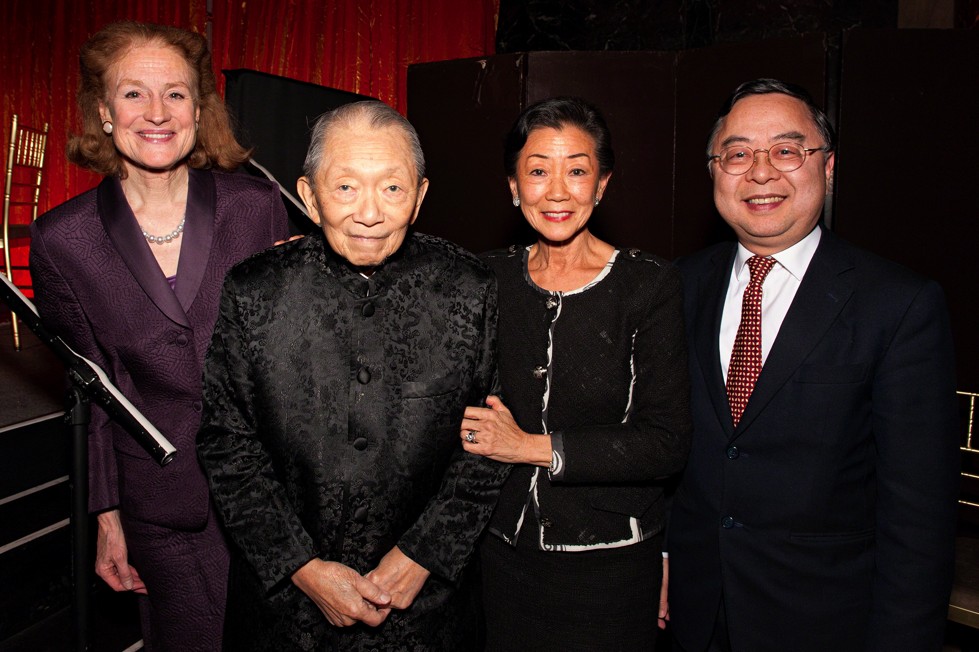 Asia Society Board Co Chair Henrietta H. Fore, Trustee and now Vice Chair Lulu C. Wang, and Co Chair Ronnie C. Chan present a lifetime achievement award to Washington SyCip at Asia Society's 2012 Annual Dinner at Cipriani 42nd Street in New York. SyCip founded SGV, the largest professional services firm in the Philippines, and the Asian Institute of Management, a renowned business school in Manila. A long-time supporter and active advisor to Asia Society, he founded the organization's Philippines Center in Manila in 1999, and currently serves as an honorary life trustee of Asia Society and an honorary counselor to the Asia Society Policy Institute. (Bennet Cobliner)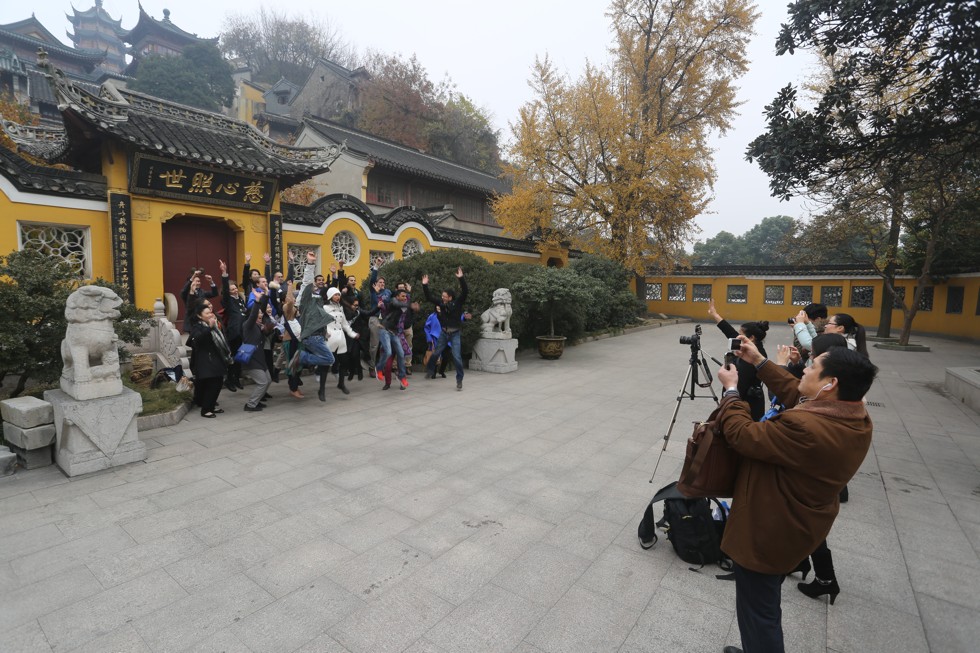 Members of the Asia 21 Young Leaders Class of 2013 take a joyful jump for the cameras in Zhenjiang, China. Having built powerful connections with established Asian leaders in politics, business, and the arts, Asia Society in 2006 created an initiative to find and highlight the region's future leaders. A decade later, Asia 21 is the region's foremost leadership program, a network that boasts more than 800 leaders from 30 countries, and all manner of professional background, bringing their collective energy and intellect to address the region's problems. "Asia 21 is extraordinary," retired U.S. General and former CIA Director David Petraeus told a 10th-anniversary gathering at Asia Society Hong Kong in December 2015. "I've been associated with a number of programs like this in the past. But think of the legacy of these 800 alumni all over the world. It really is extraordinary." (Tahiat Mahboob)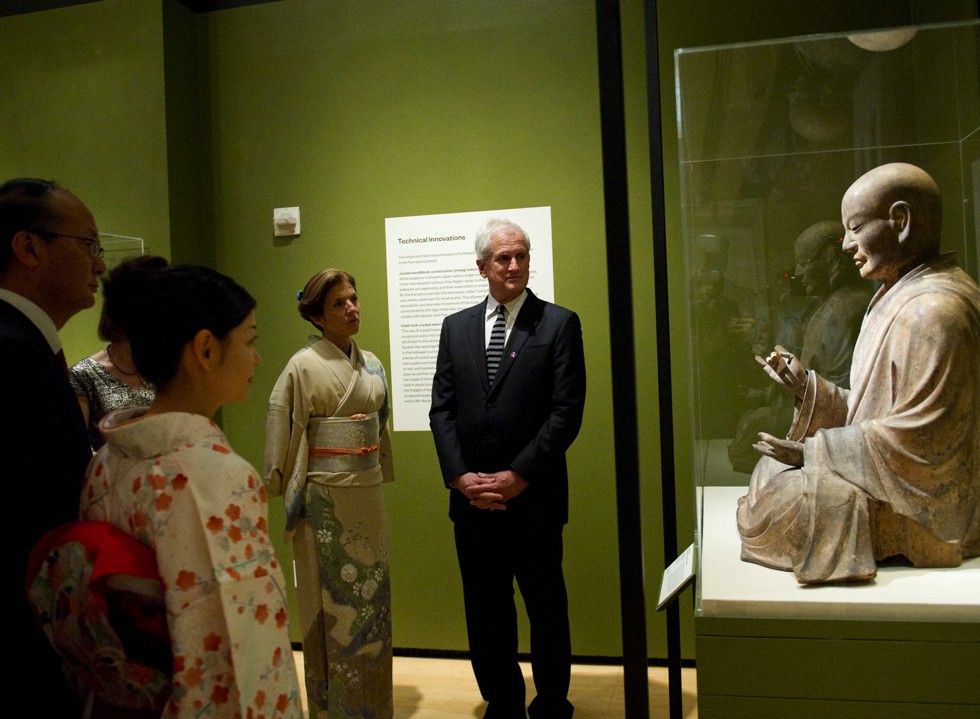 The U.S. Ambassador to Japan Caroline Kennedy and her husband Edwin Schlossberg attend the opening of the Asia Society Museum exhibition "Kamakura: Realism and Spirituality in the Sculpture of Japan." Also in attendance were Ambassador Reiichiro Takahashi, Consul General of Japan in New York, and his wife, Madame Masako Takahashi. In his remarks, Ambassador Takahashi wished Asia Society a happy 60th anniversary, noting that in Japan, a 60th birthday is especially meaningful since 60 years is the time it takes for the lunar calendar to complete a full cycle. Ambassador Kennedy praised Japan's "deep artistic traditions" and "rich cultural history," adding, "I'm so happy that the citizens of New York will get to have a small sense of that with this beautiful exhibition." (Elena Olivo)