Huffington Award Luncheon
Huffington Award Luncheon
Schedule | Tickets and Tables | Sponsors | About the Honoree | Related Link
The Huffington Award Luncheon recognizes an individual who has been a major force on the international stage. Named for the Houston oilman and former ambassador who played a leading role in creating Asia Society Texas Center, the Roy M. Huffington Award for Contributions to International Understanding is the highest honor bestowed by the Texas Center.
Rex W. Tillerson, Chairman and Chief Executive Officer of Exxon Mobil Corporation, has been selected for 2014 and will be in conversation with Andrew H. Card, Jr., the 21st White House Chief of Staff.
Former recipients include President George Bush and First Lady Barbara Bush; Jon Huntsman, Jr.; Mr. and Mrs. George Strake; Robert Mosbacher, Sr.; Mayor Bill White; Washington SyCip; Gordon M. Bethune; and The Honorable Lee Kwan Yew of Singapore.
Schedule
Reception for Table Sponsors and VIP Ticket Holders: 10:30 am
Registration: 11:30 am
Luncheon: 12:00 pm
Tickets and Tables
To purchase tickets, please click the 'Buy Tickets' button to the right, or click here to download a printable form.
To purchase tables, please click here to download a printable form or contact Bronwyn Beauchamp at [email protected] or 713.496.9937.
Sponsors
Click here for more information on sponsorship. Contact Bronwyn Beauchamp at [email protected] or 713.496.9937 for immediate assistance.
Current Sponsors
Presenting Sponsors
Exxon Mobil Corporation
David E. Harvey Builders, Inc.
Founders
Texas Monthly
Benefactors
Nancy Allen
Baker Hughes Incorporated
Deloitte & Touche LLP
Ambassadors
Anadarko Petroleum Corporation
Aramco Services Co.
CB&I Inc.
Eagle Global Advisors
Freeport McMoRan
Gensler
Nabors
Occidental Petroleum
Satake USA Inc.
Welltec Inc.
Chairmen
Muffet Blake
Cameron International
Cogan & Partners, LLP
Deborah and William Colton
FosterQuan LLP
Gilbane
Glen Gondo
Terry Huffington
Marathon Oil Corporation
Marek Family Foundation
PricewaterhouseCoppers LLP
Texas Capital Bank
UT MD Anderson Cancer Center
Vinson & Elkins, LLP
Wells Fargo Bank
Marion and David Young
Official Magazine
Texas Monthly
About the Honoree
A native of Wichita Falls, Texas, Rex Tillerson earned a bachelor of science degree in civil engineering at the University of Texas at Austin before joining Exxon Company, U.S.A. in 1975 as a production engineer.
In 1989, he became general manager of Exxon Company USA's central production division, responsible for oil and gas production operations throughout a large portion of Texas, Oklahoma, Arkansas, and Kansas.
In 1992, Mr. Tillerson was named production advisor to Exxon Corporation. Three years later he was named president of Exxon Yemen Inc. and Esso Exploration and Production Khorat Inc., and in January 1998 became vice president of Exxon Ventures (CIS) Inc. and president of Exxon Neftegas Limited. In those roles, he was responsible for Exxon's holdings in Russia and the Caspian Sea as well as the Sakhalin I consortium operations offshore Sakhalin Island, Russia.
In December 1999, he became executive vice president of ExxonMobil Development Company. Mr. Tillerson was named senior vice president of Exxon Mobil Corporation in August 2001, and was elected president of the corporation and member of the board of directors on March 1, 2004. He assumed his current position on January 1, 2006.
Mr. Tillerson is a member of the executive committee and a former chairman of the American Petroleum Institute. He is also a member of the Society of Petroleum Engineers and a trustee of the Center for Strategic and International Studies. He is a member of the National Petroleum Council, a member of the Business Roundtable, a member of the Business Council, an honorary trustee of the Business Council for International Understanding, and a member of the Emergency Committee for American Trade. In 2013, Mr. Tillerson was elected to the National Academy of Engineering.
Mr. Tillerson is the vice-chairman of the Ford's Theatre Society, immediate past national president of the Boy Scouts of America, and a former director of the United Negro College Fund. He is also a member of the Chancellor's Council, Development Board, and the Engineering Advisory Board for the University of Texas at Austin, where he was named a distinguished alumnus in 2007. In 2011, he received an honorary doctorate engineering degree from the Worcester Polytechnic Institute.
Related Link
Jon Huntsman Receives Huffington Award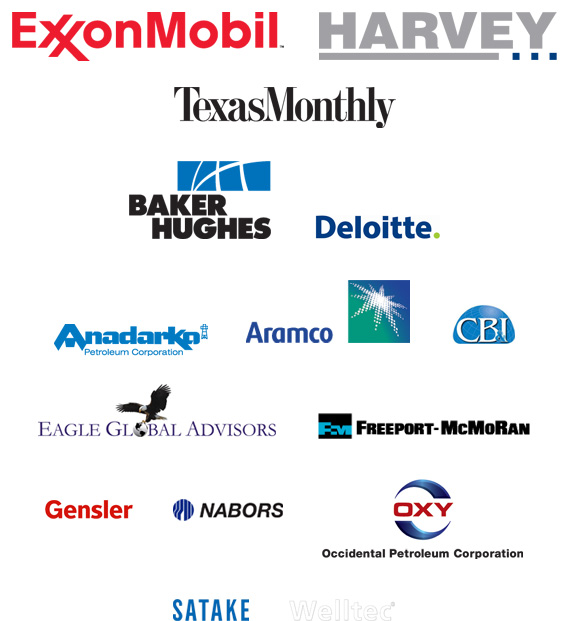 Event Details
Hilton Americas Houston
1600 Lamar St.
Houston, TX 77010

Add to Google Calendar
Tickets: Member $150, Individual $200, VIP $500; Tables: $2,500 – $50,000. Instructions below event description.