ASIA IN MY POCKET: Investing in Real Estate
7 March 2013 -- Asia Society Philippines, together with its partners, the Asian Institute of Management, Highlands Coffee and Business World launched the Asia in My Pocket Series last Tuesday at the GDLC Room, AIM, Makati City. 
Now on its third run, the 4-part series opened with a session on the Real Estate Industry. The theme for this year is 'Investment Opportunities in Asia' specifically in the Real Estate, Tourism, Finance and Manufacturing sectors.
Three esteemed speakers from the real estate industry graced the event – Mr. Gerard De Guzman of Jones Lang LaSalle, Mr. Har Man Ahmad of Malaysian Trade, and Mr. Rodel Manansala of Ayala Land Inc. All three speakers emphasized that is a good time to invest in real estate because of the growing economies of the Philippines and Malaysia.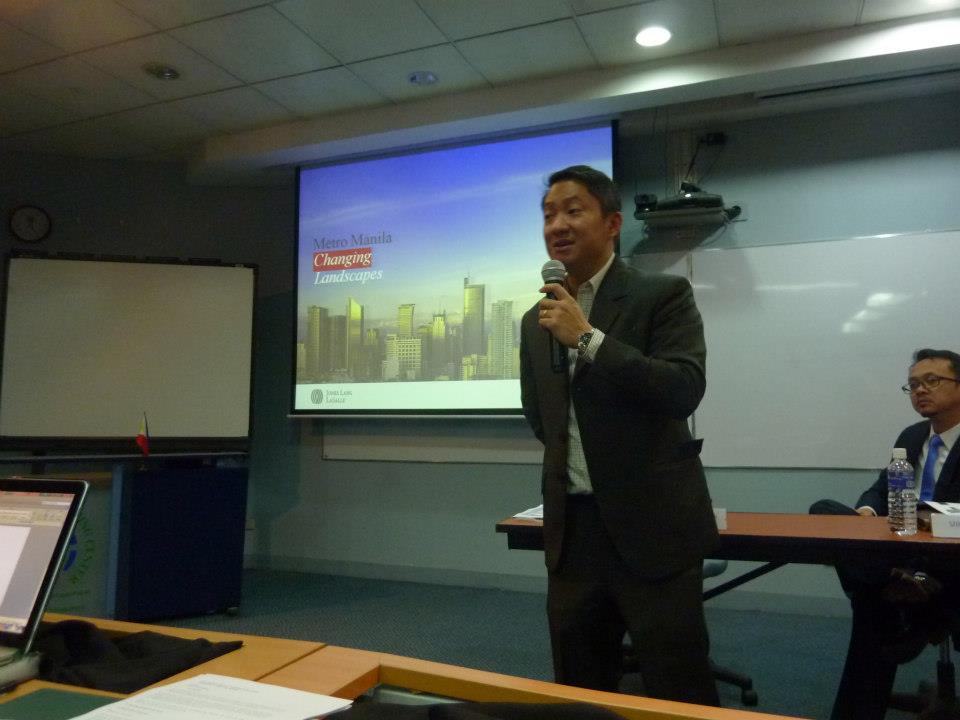 Mr. Gerard De Guzman, Senior Manager for Capital Markets of Jones Lang LaSalle, was first on the podium and he focused his speech on 3 main things. First, that the real estate industry is at the "growth stage" and will continue to be in that stage for the next 3-6 years. Second, the main consideration for an investor is "location, location, location", and lastly, there is a need for quality development.
He also highlighted the contribution and influence of the BPO industry to the country's real estate. It has provided so much employment for Filipinos, and has increased growth in full time employees, which has resulted to spurring the requirements for housing and growth in our economy as well. Due to the growing number of BPOs in the country, the office property market is taking on a new direction – numerous emerging business districts are being developed. Aside from the BPO industry, he talked about another contributor to the demand in real estate --  the retail industry. He said that retail shopping malls are being created within mixed use developments. Malls have now become a lifestyle center, and not just a place to purchase products. The demand is at robust growth, while the supply is at moderate growth. As for the residential industry, Mr. De Guzman discussed that having the right location, quality developer, good tenants is the perfect equation for investing in real estate. As he said that as the BPO industry grows, the middle class that can afford a condo unit is also growing.
The Philippines is still expected to perform better than other emerging economies and its Asian neighbors. The current property upturn is expected to continue for the next three years before a possible shift in the property cycle. In terms of investment, one must pick the best locations such as those with easy access to infrastructure, establishments, schools, restaurants and hospitals.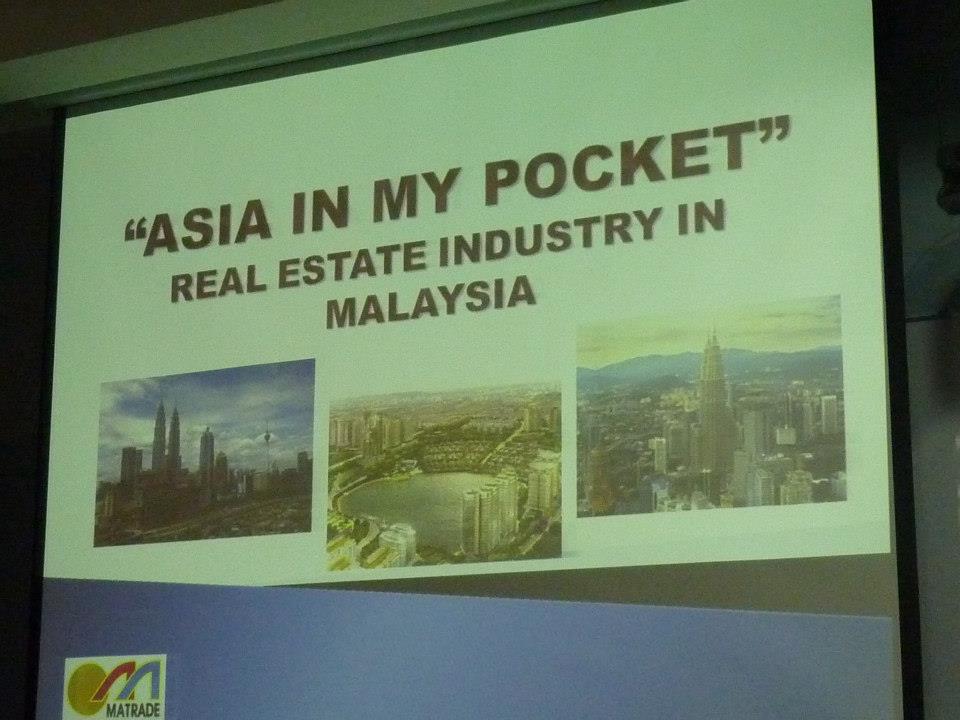 Mr. Har Man Ahmad, Trade Commissioner of the Embassy of Malaysia and MATRADE, discussed how Malaysia's property market was hit hard in the late 90's during the Asian Financial Crisis. He said that in Malaysia, property prices have climbed steadily since then. The economic downturn that started four years ago was a little more than a blip in the Malaysian property market. In 2008 they experienced a slight slowing down in activity, but prices never declined, adding that prices have climbed 10 to 15 % annually since 2005. In the luxury market, the growth has been even faster. He said that lending restrictions have been tightened to prevent prices from escalating to an unsustainable level in an effort to keep the industry from overheating and leading to inflation. Prices in their real estate industry have recently stabilized though they have yet to decline.
As of now, Kuala Lumpur is considered relatively more affordable compared with other cities in the. Due to Malaysia's tourism initiatives, foreign investors and retirees are starting to purchase real estate in Kuala Lumpur as part of their "Malaysia, My 2nd Home" campaign. Among Europeans, a few look for properties outside the city on one of Malaysia's islands, drawn by their more tranquil lifestyles. Others buy in the state of Johor on the country's border because of its proximity to Singapore.
He also shared that goreigners are allowed to buy only luxury properties, defined as a property costing more than 500,000 ringgit. He suggests that interested investors should buy property in major cities like Kuala Lumpur, Shah Alam, Johor Bahru and Penang.
Mr. Rodel Manansala, Corporate Controller of Ayala Land Inc., then discussed why we should invest in the Philippines. He said that we have a strong domestic economy and that we are at a historic period in Philippine economy where all indicators are positive and multiple years of sustained 5-6% growth is expected. This 2013, we reached a new high of 6.6 % growth, he said there is a strong upside potential from tourism, PPP and FDI. The property sector grew by 23% in 2 months time, and despite the "boom bust" cycle, people still believe that 2012-2013 will be a "boom boom" cycle for the Philippines. There is a huge domestic housing backlog and increasing affordability, which are good signs to invest in the sector. There are low interest rates to support affordable housing purchases and mortgage is at an all time low. This is helping the residential industry in terms of buying houses and the residential sector is still a good avenue for investments because of the resurgence of the middle class.
Like what Mr. De Guzman discussed, Mr. Manansala said that robust private consumption fuel demand for shopping center space. It is expected that malls will continue to grow. There is also an increase in tourist arrivals creating a greater need for rooms. In 2012 4.3 million tourist arrivals are expected, and with that there is also an expectation that hotels and resorts will grow which will contribute to the boost of the real estate industry.
He also discussed the key success factors for Ayala Land – development of mixed use, integrated and sustainable communities; consistent innovation; company's strong management and corporate governance.
All these points strengthens the positive outlook on the industry and it gave the audience added information on why it is important to be part of this booming industry, especially for those in Asia.
Next session: Tourism as an Investment (12 March 2013); 4:30 pm to 6:00 pm at the GDLC Room of the Asian Institute of Management, Makati City
Email info@asiasociety.org.ph for more information.