anGie seah
b. 1979 in Singapore

Working in Singapore

Showing at Asia Society Museum

On view from March 26, 2021, through June 27, 2021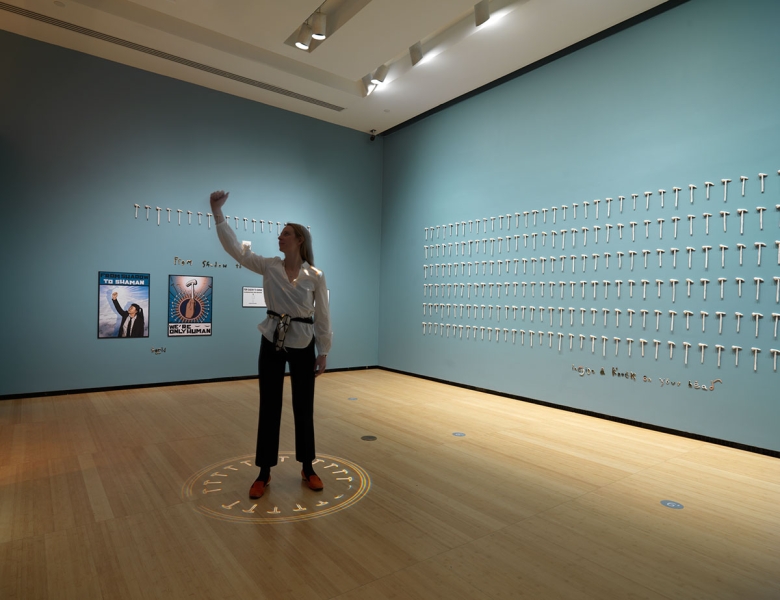 anGie seah, From Shadow to Shaman, 2021. Installation consisting of single-channel high-definition video with sound, 400 clay hammers, clay text, prints with instruction guide, spotlight. Music by anGie seah and Qianpima. Installation dimensions variable. Video duration: 6 minutes, 5 seconds. Courtesy of the artist. Photograph © Bruce M. White, 2021. This work was commissioned by Asia Society Museum, New York, for the inaugural Asia Society Triennial: We Do Not Dream Alone.

Location: Asia Society Museum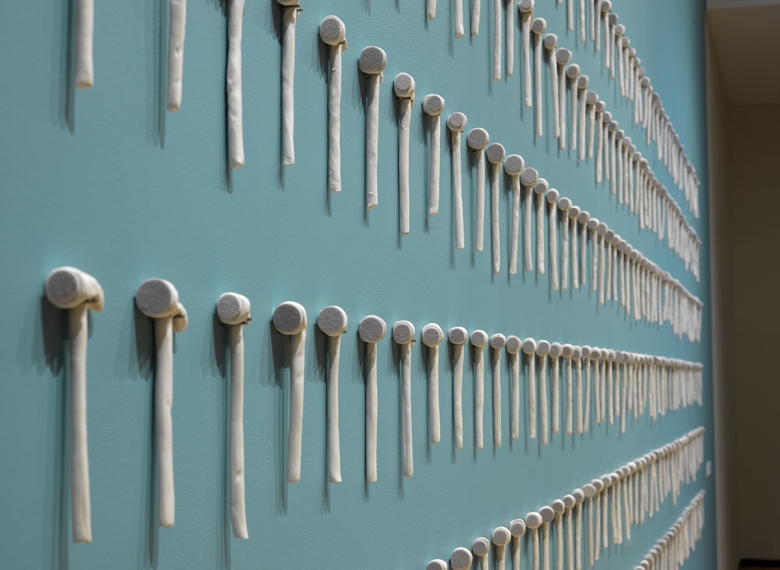 anGie seah, From Shadow to Shaman, 2021. Installation consisting of single-channel high-definition video with sound, 400 clay hammers, clay text, prints with instruction guide, spotlight. Music by anGie seah and Qianpima. Installation dimensions variable. Video duration: 6 minutes, 5 seconds. Courtesy of the artist. Photograph © Bruce M. White, 2021. This work was commissioned by Asia Society Museum, New York, for the inaugural Asia Society Triennial: We Do Not Dream Alone.

Location: Asia Society Museum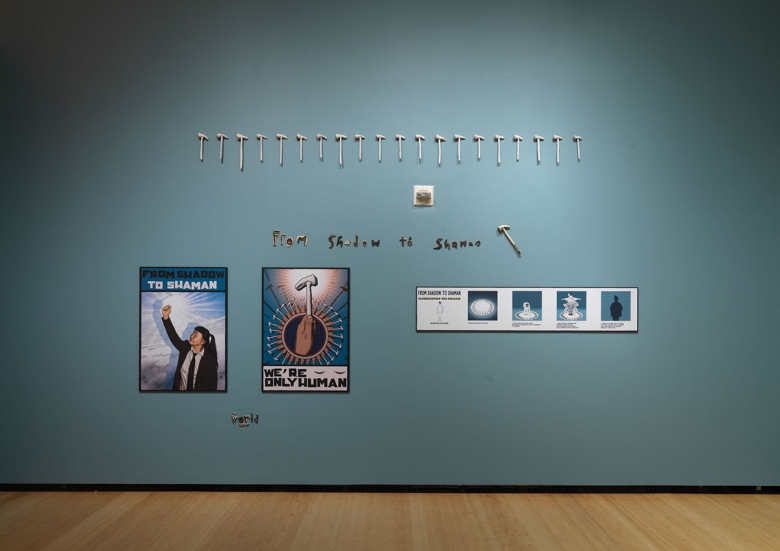 anGie seah, From Shadow to Shaman, 2021. Installation consisting of single-channel high-definition video with sound, 400 clay hammers, clay text, prints with instruction guide, spotlight. Music by anGie seah and Qianpima. Installation dimensions variable. Video duration: 6 minutes, 5 seconds. Courtesy of the artist. Photograph © Bruce M. White, 2021. This work was commissioned by Asia Society Museum, New York, for the inaugural Asia Society Triennial: We Do Not Dream Alone.

Location: Asia Society Museum
anGie seah, From Shadow to Shaman, 2015. Instructions, clay hammers, spotlight, public participation. Dimensions variable. Courtesy of the artist. Photograph courtesy of the artist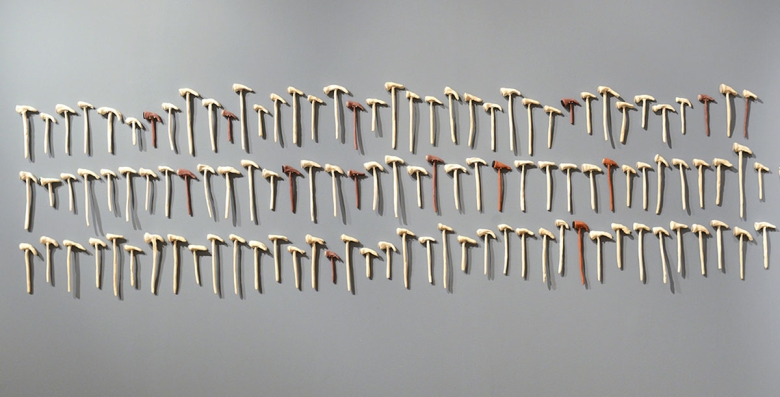 anGie seah, From Shadow to Shaman, 2015. Instructions, clay hammers, spotlight, public participation. Dimensions variable. Courtesy of the artist. Photograph by Anne Simonnot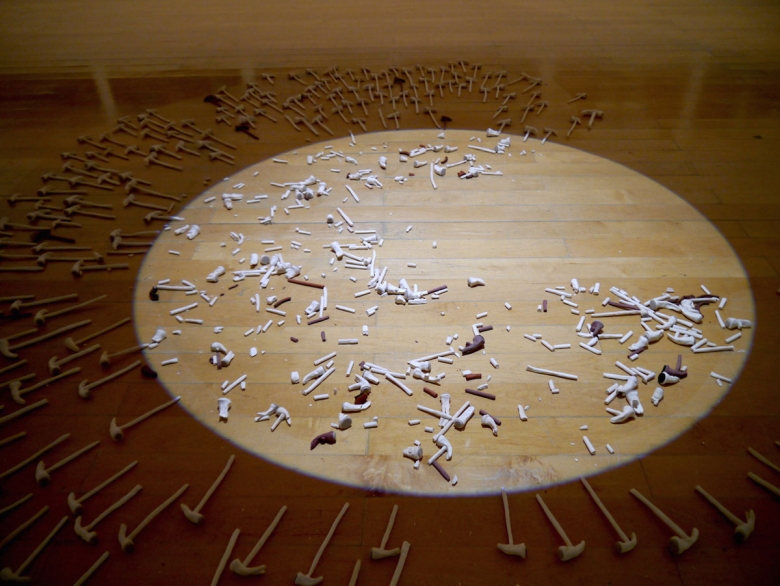 anGie seah, From Shadow to Shaman, 2015. Instructions, clay hammers, spotlight, public participation. Dimensions variable. Courtesy of the artist. Photograph courtesy of the artist
anGie seah, From Shadow to Shaman, 2015. Instructions, clay hammers, spotlight, public participation. Dimensions variable. Courtesy of the artist. Photograph courtesy of the artist
anGie seah's work encompasses drawing, sculpture, and sound-based performance. Her fascination with mysticism and sacred music has led her to investigate the ways that ritual and mystery permeate everyday life. A key artistic strategy in her work is a reliance on spontaneity, allowing chance and intuition to function as tools to navigate one through shifting emotional resonances and psychological states. For more than a decade, seah has been creating participatory art projects with communities locally and internationally.

From Shadow to Shaman is centered on hundreds of low-fired clay hammers and is accompanied by a single-channel video and an instruction guide that encourages the visitor to enact a sequence of physical and vocal actions meant to provide a cathartic release. These autonomous actions are wake-up calls for reinventing mundane objects into tools to express our lives in the moment. A sequence of vocal cries and shouts epitomizes the artist's belief in the ability of one's voice to bring forth something from deep within one's body.  
Shadow has no name, 2021, was commissioned by Asia Society Museum, New York, for the inaugural Asia Society Triennial: We Do Not Dream Alone.
Supported by Lauren Bogen and Richard Nijkerk.
Events
Related