Asia Society Australia at 20
In 2017 Asia Society Australia is celebrating its 20th birthday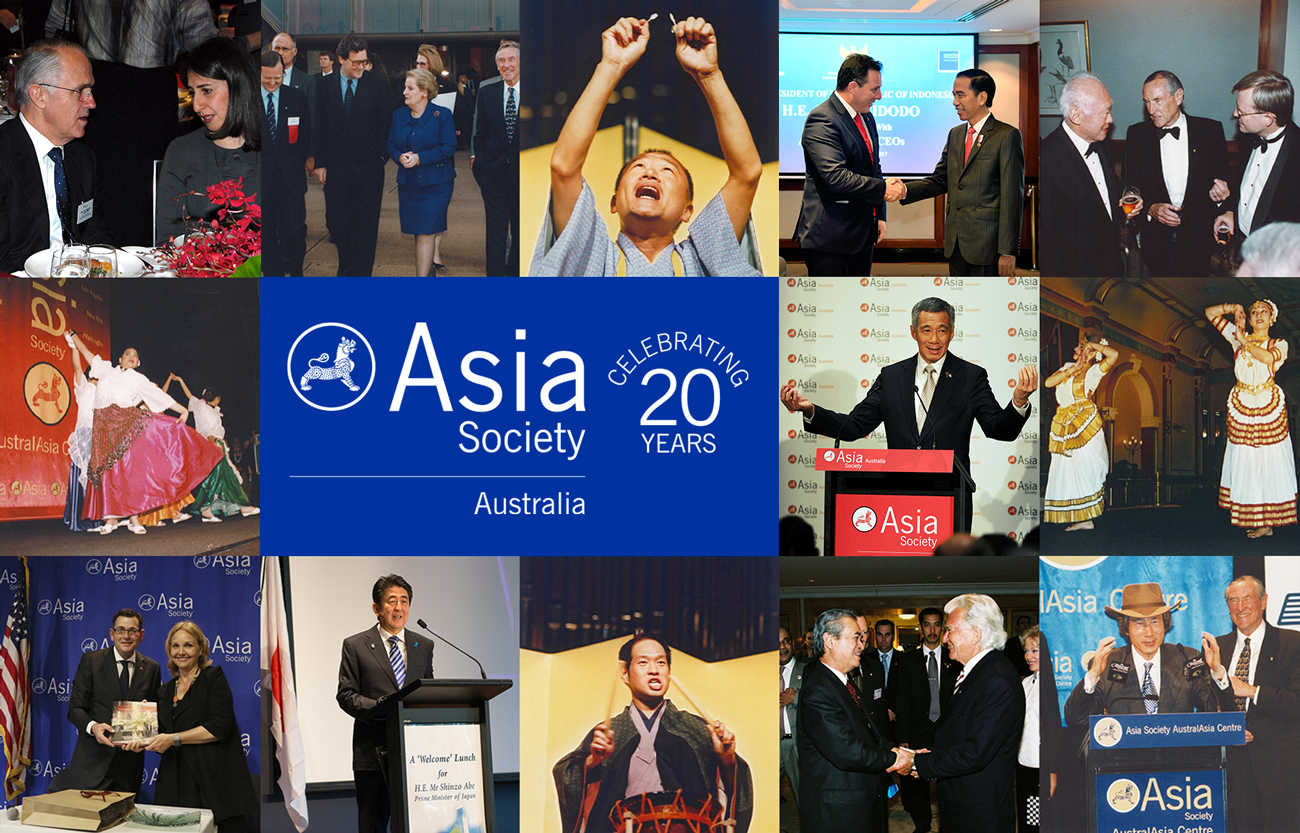 2017 marks the 20th anniversary of Asia Society Australia. It is a significant milestone and an opportunity to reflect on our achievements and the work ahead.
Launched in 1997 by then Prime Minister John Howard to broaden interest and understanding in Australia of Asian countries and their politics, business and culture, Asia Society Australia has been consistently recognised for the quality of its insights and the ability to bring together Australian and the region's leaders, networks and communities in a dialogue on the critical issues in Australia-Asia engagement. As the leading Asia-focussed Australian organisation with the global and regional DNA, our responsibility to lead and inform a conversation about Asia in Australia has never been more critical.
Much has changed since our founders – Hugh Morgan AC and Richard Woolcott AC led the development of Asia Society's Australian Centre.
The share of the global GDP by developing and advanced Asian economies has grown from 26% in 1997 to 38% in 2015. Australia's total trade with Asia has nearly quadrupled. China's trade with Australia alone has multiplied by 1500%. In immigration, the rate of arrivals to Australia from South East Asia, South Asia and East Asia has increased from approximately 35% to 56% of all arrivals.
Yet despite the progress we have made, there is still much to be done. Our investment in Asia continues to be disproportionally low and our trade lacks sectoral diversity. The teaching and learning of Asian languages has declined since 1997. Populism and intolerance are on the rise. Our Asian Australian community is under-represented in the leadership of our institutions.
It makes our mission of building Asia-connected Australia ever more relevant. That's why we have embarked on the strategic transformation program – Asia Society Australia 2020 – to grow our impact, network and reach.
We are grateful to all our members, supporters and friends for making Asia Society Australia a successful, growing and dynamic social enterprise that we are today.
We look forward to celebrating and working together.
Philipp Ivanov
CEO, Asia Society Australia
---
Coming up in 2017
Launch of 'Disruptive Asia' publication and project (National)
A collection of essays from the leading Australian opinion-shapers and new voices on how Asia's rise is fundamentally altering Australia's foreign policy, economy and society and how Australia should respond.
Asia Society Australia 20th Anniversary Dinner (Sydney)
A celebration of 20 years of Asia Society's Australia Center bringing together our leaders, members, supporters and friends.
Wednesday 30 August 2017
2017 Asia 21 Young Leaders Summit will be held in Melbourne, co-hosted with the Victorian Government. Asia Society's Asia 21 Young Leaders Initiative is the region's preeminent network of more than 800 young leaders from 30 countries focused on shaping a brighter future for the Asia-Pacific region. Each year, Asia Society selects a new class of leaders through a competitive process based on outstanding achievement, commitment to public service, and a proven ability to make the world a better place. The Summit will bring together 2017 cohort, alumni and global and Australian leaders.
Asia Society Australia 1997-2017 in pictures (online gallery)
A visual insight into Asia Society's past 20 years in Australia.
---
Wish us Happy Birthday!
---