Creating Across Cultures: Women in the Arts from China, Hong Kong, Macau and Taiwan
VIEW EVENT DETAILS
Asian Cultural Council - Asia Society Series on the Arts In Celebration of International Women's Day
A book featuring:
| | |
| --- | --- |
| Choi Yan Chi | 蔡仞姿 |
| Chong Mui Ngam | 莊梅岩 |
| Pisui Ciyo | 碧斯蔚‧梓佑 |
| Hou Shur-Tzy | 侯淑姿 |
| Bun-Ching Lam | 林品晶 |
| Lam Jaffa Laam | 林嵐 |
| Liao Wen | 廖雯 |
| Mui Cheuk Yin | 梅卓燕 |
| Nieh Hua-Ling | 聶華苓 |
| Tian Mansha | 田蔓莎 |
| Wang Shin-Shin | 王心心 |
| Wen Hui | 文慧 |
| Wu Na | 巫娜 |
| Yang Lina | 楊荔鈉 |
| Yang Meiqi | 楊美琦 |
| Yin Xiuzhen | 尹秀珍 |
An Evening of Special Performances and Art Works with Book Presentation
Performances 6:30pm
Book signing and drinks 7:30pm
Close 8:00pm
 
Creating Across Cultures is a collection of stories about sixteen visionary women from Asia who often defied cultural and social expectations to become leaders in the arts. Born in China, Hong Kong, Taiwan and Macau — a region of diverse cultures, languages and histories, which allowed these women to showcase theri creativity in literary, visual and performing arts and more. Their personal histories give us a glimpse into the larger historical trajectory of the region, while their art work delves into social realities and challenges of the day. All artists have benefitted from the Asian Cultural Council (ACC) fellowship that served to enrich their artistic development through experiences abroad. Creating Across Cultures is written by a team of specialists, journalists and academics who bring these accounts to light in English for the first time. 
| | |
| --- | --- |
| | Michelle Vosper is an independent writer and editor whose lifelong career has involved bringing together artists from opposite sides of the world. She served as Director of the Asian Cultural Council's China, Hong Kong and Macau Program for 25 years.  |
| | Choi Yan Chi is a Hong Kong installation and conceptual artist, and leading educator who has played a major role in developing contemporary art in Hong Kong for more than 30 years. A pioneer of new art forms, she is the co-founder of 1a space, one of the city's first independent art spaces. |
| | Pisui Ciyo is an award-winning choreographer and musician born into the Atayal tribe in Taiwan. Her works of multimedia dance theater combine traditional indigenous forms with flamenco and modern performance art. |
| | Lam Jaffa Laam is a Hong Kong artist whose practice reflects community connections and collaborative processes. She specializes in large-scale, site-specific installations and mixed media sculptures, often using recycled materials. |
| | Mui Cheuk Yin from Hong Kong is one of Asia's leading modern dance choreographers. She has created works for companies around the world, including a commission by Pina Bausch titled Whispering Color in 2000. |
| | Wu Na is a virtuoso performer of the guqin from Beijing, whose repertoire includes experimental works with rock and jazz musicians as well as ancient pieces dating back 3000 years.  |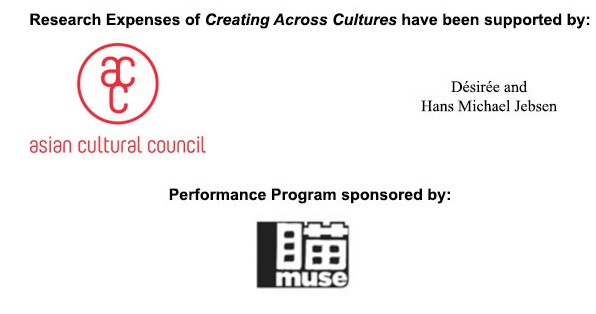 The Asian Cultural Council - Asia Society Series on the Arts features the dynamic, multi-disciplinary work of ACC alumni from China, Hong Kong, Macau and Asia.
The Asian Cultural Council (ACC) is a non-profit organization that works to advance international respect and understanding between people and cultures through transformative cultural exchange. ACC awards fellowship grants to artists and scholars in three categories of cross-cultural exchange: Asia to the U.S., U.S. to Asia, and inter-Asia, developing programs specifically tailored to the needs and interests of each of its grant recipients. Additionally, ACC fosters ongoing dialogue between and among its grantees, artists and scholars through a dynamic and robust network of individuals across disciplines and across the globe.
 
Event Details
Asia Society Hong Kong Center, 9 Justice Drive, Admiralty, Hong Kong
Buy Tickets
$200 Asia Society members / Asian Cultural Council alumni, $350 Non-members

Add to Calendar
20170308T103000
20170308T120000
UTC
Asia Society: Creating Across Cultures: Women in the Arts from China, Hong Kong, Macau and Taiwan
Asia Society Hong Kong Center, 9 Justice Drive, Admiralty, Hong Kong
---