Towards an Asia Pacific Community
VIEW EVENT DETAILS
Because of the range of latent conflicts across Asia (including Kashmir, the Korean Peninsula, the East and South China Seas, and Taiwan), many regional commentators have spoken of a dangerous long-term trajectory toward regional crisis, conflict, or even war. Regional security tensions are framed by national concerns as well as great power relationships. In light of these considerations, the Asia Society Policy Institute launched a high-level policy commission in 2015 to strengthen regional institutions in Asia and examine the possibility of developing a pan-regional institution that can manage security challenges over time.
The Asia Society Policy Institute (ASPI), the Asia Society India Centre, and Research and Information System for Developing Countries (RIS) invite you to a special discussion about the future of regional governance in Asia, and the possibility for an Asia-Pacific Community to take shape. Shyam Saran, Chairman of RIS and former Foreign Secretary of India, will moderate a conversation among top policy analysts and practitioners who have been engaged in regional security across the Asia-Pacific, including Kevin Rudd, ASPI President and former Prime Minister of Australia.
Please note that this event is by invitation only. If you have questions about the event, please contact PolicyInstitute@AsiaSociety.org. 
Speakers: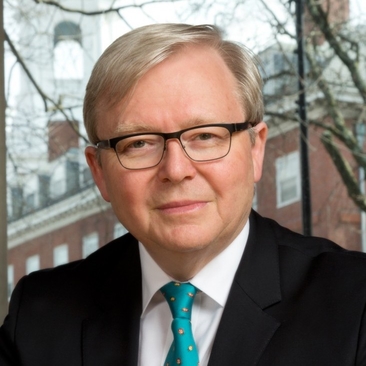 The Honorable Kevin Rudd, inaugural President of the Asia Society Policy Institute, served as Australia's 26th Prime Minister and as Foreign Minister. As Chair of the Independent Commission on Multilateralism, Mr. Rudd is leading a review of the UN system. He is a Distinguished Fellow at Chatham House in London, a Distinguished Statesman with the Center for Strategic and International Studies in Washington, and a Distinguished Fellow at the Paulson Institute in Chicago. He is proficient in Mandarin Chinese, serves as a Visiting Professor at Tsinghua University in Beijing, and co-chairs the China Global Affairs Council of the World Economic Forum.
Shivshankar Menon is a career Indian diplomat who served as National Security Advisor to the Prime Minister of India from 2010 to 2014. He is currently serving as Distinguished Fellow with the Asia Society Policy Institute, as well as Chairman of the Advisory Board of the Institute of China Studies. Previously, he was India's Foreign Secretary from October 2006 to August 2009 and served as Ambassador and High Commissioner of India to Israel (1995-97), Sri Lanka (1997-2000), China (2000-2003) and Pakistan (2003-2006).
Preeti Saran is Secretary (East) in India's Ministry of External AFfairs. She joined the Indian Foreign Service in 1982 and has held a number of senior diplomatic positions. Most recently, she was India's Ambassador to Vietnam. She has also served as Consul General at the Indian Consulate in Toronto, Canada, along with posts in Cairo, Geneva, Moscow, and Dhaka. 
Amb. Shyam Saran was Foreign Secretary of India from 2004 to 2006 and currently serves as Chairman for the Research and Information System for Developing Countries (RIS), a think tank specializing in studies on economic and trade issues. He served as Ambassador of India to Myanmar, Indonesia, and Nepal as well as High Commissioner to Mauritius. After his retirement from the Indian Foreign Service, he was appointed the Prime Minister's Special Envoy for Indo-U.S. civil nuclear issues and later as Special Envoy and Chief Negotiator on Climate Change.


Event Details
This event is by-invitation only

Add to Calendar
20160406T220000
20160407T000000
UTC
Asia Society: Towards an Asia Pacific Community
New Delhi, India
---