A Conversation with AIIB President Jin Liqun
VIEW EVENT DETAILS
For the current decade, it's estimated that the fast growing Asia-Pacific region will require over $8 trillion in infrastructure investment. As a response to the growing regional demands of rapid urbanization, China has entered into one of its most ambitious diplomatic initiatives yet, the Asian Infrastructure Investment Bank (AIIB). Officially launched in January 2016, the AIIB aims to help fill the gap in infrastructure investment needs by adopting new approaches to development lending while also working closely with international development organizations, such as the World Bank and Asian Development Bank. How will the AIIB differentiate itself from these existing infrastructure investment institutions? And how it will affect the future of lending and development in the Asia-Pacific?
The Asia Society Policy Institute is pleased to present Jin Liqun, President of the Asian Infrastructure Investment Bank, in his first public event in Washington, D.C. since the official launch of the AIIB. Mr. Jin will be joined in conversation by Kevin Rudd, President of the Asia Society Policy Institute. 
Please note that this event is by invitation only.
SPEAKERS:
Jin Liqun is the President of the Asian Infrastructure Investment Bank (AIIB). Prior to his selection as President-designate, he served as Secretary-General of the Multilateral Interim Secretariat (MIS). Before assuming the role of Secretary-General of the MIS, Mr. Jin was Chairman of China International Capital Corporation Limited, China's first joint-venture investment bank. From 2008 to 2013, he served as Chairman of the Supervisory Board, China Investment Corporation (CIC). From 2009 to 2012, Mr. Jin served first as Deputy Chairman, and subsequently as Chairman of the International Forum of Sovereign Wealth Funds (IFSWF). From 2003 to 2008, he was Vice President, and then Ranking Vice President of the Asian Development Bank (ADB).Mr. Jin joined the Ministry of Finance in 1980, where he served as Director General and Assistant Minister, and became Vice Minister in 1998.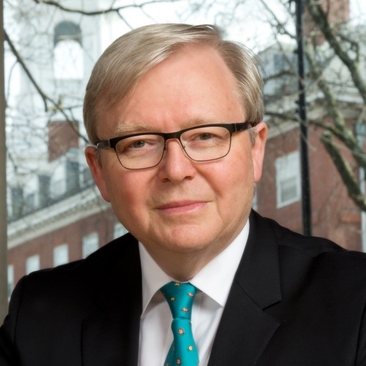 The Hon. Kevin Rudd is President of the Asia Society Policy Institute. He served as Australia's 26th Prime Minister and as Foreign Minister. As Chair of the Independent Commission on Multilateralism, Mr. Rudd is leading a review of the UN system. He is a Distinguished Fellow at Chatham House in London, a Distinguished Statesman with the Center for Strategic and International Studies in Washington, and a Distinguished Fellow at the Paulson Institute in Chicago. In 2014-2015, Mr. Rudd conducted a major research project on the future of U.S.-China relations as a Senior Fellow at Harvard's Kennedy School, and is the author of the recent report U.S.-China 21: The Future of U.S.-China Relations Under Xi Jinping. He is proficient in Mandarin Chinese, serves as a Visiting Professor at Tsinghua University in Beijing, and co-chairs the China Global Affairs Council of the World Economic Forum.    
Event Details
This is an invitation only event.

Add to Calendar
20160413T130000
20160413T140000
UTC
Asia Society: A Conversation with AIIB President Jin Liqun
Washington, D.C.
---