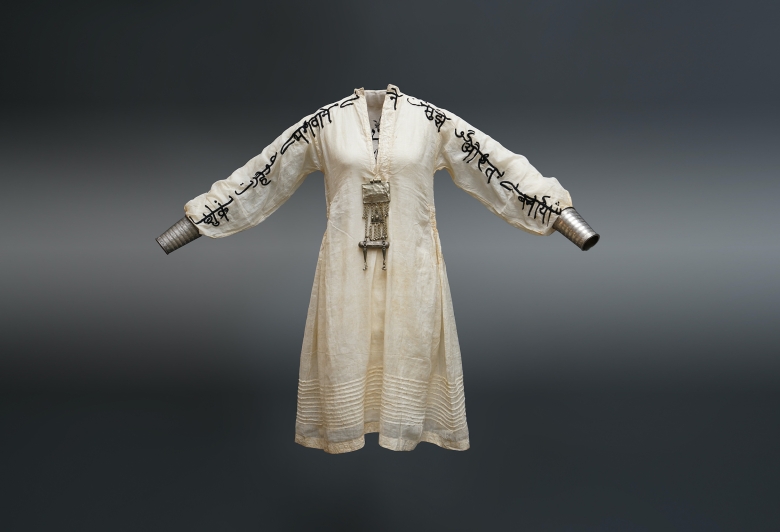 Ghiora Aharoni. Thank God for Making Me a Woman, III, 2019. Antique angarkha, hand embroidered with the Hindru©phrase (the artist's combination of Hindi and Urdu) "Thank God For Making Me A Woman" on the exterior, and "Thank God For Making Me A Woman" in Hebrabic© (the artist's combination of Hebrew and Arabic) on the interior, antique silver cuffs, antique silver brooch assemblage. H. 67 x W. 48 x D. 20 in. (170.2 x 122 x 50.8 cm). Courtesy of the artist. Photograph: Ghiora Aharoni Studio ©2019
The Story Behind the Artwork With Ghiora Aharoni
Artist Ghiora Aharoni was kind enough to take us behind the scenes of production for one of his works on view during the Triennial. Thank God for Making Me a Woman, III, exemplifies the artist's multifaceted practice. He utilizes found, often culturally specific artifacts, sacred texts, and languages to reveal and challenge patriarchal notions of gender and religion. His work often juxtaposes objects from seemingly disparate cultures as a means to provoke dialogue.
Thank God for Making Me a Woman, III is composed of a hand-embroidered angarkha, a muslin robe traditionally worn by men in ancient principalities of India hand embroidered with the phrase "Thank God For Making Me a Woman" in Hindru© (the artist's combination of Hindi and Urdu) and Hebrabic© (the artist's combination of Hebrew and Arabic) on the interior.
Watch to see how an Indian garment, a modified Orthodox Jewish prayer, hybrid texts, and Christian, Jewish, and Islamic religious jewelry come together to create an expression of feminine vitality that transcends cultures.
Ghiora Aharoni's work is on view now in Part 1 of We Do Not Dream Alone. Book your free timed-entry ticket here.
Related Updates
Event Recap
Fragility Etudes
Event Recap
An Artist Talk