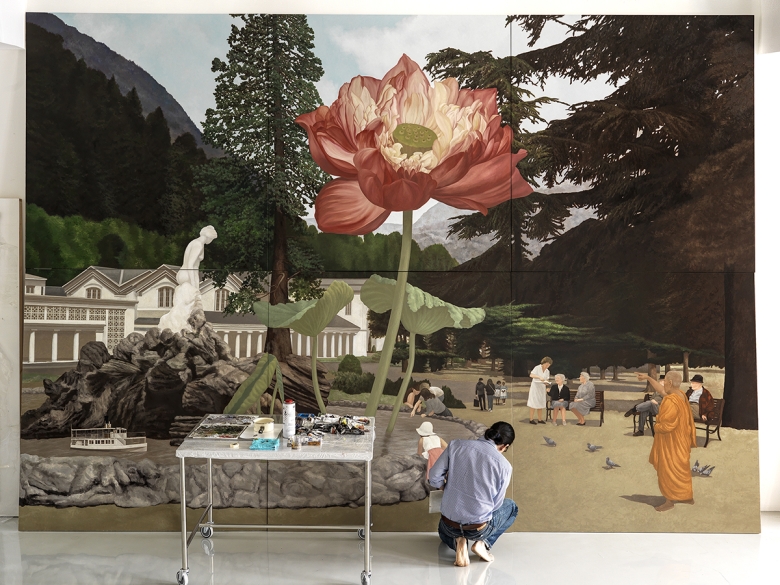 Photograph courtesy of the artist
Dreaming With: Natee Utarit
In the lead up to the Triennial opening, our Dreaming With Q&A series provides an exclusive glimpse into the artists' lives and studios.
Where have you been during the lockdown?
Home and studio in Bangkok.
Is there anything you have found yourself cooking a lot of, and if so, would you be open to sharing the recipe with our readers?
No, I order GrabFood delivery.
Photograph courtesy of the artist
What are you reading?
Art of Forgery: The Minds, Motives and Methods of Master Forgers (Phaidon, 2015)
What music are you listening to?
Ten New Songs by Leonard Cohen
Have you seen any particularly good digital exhibitions in the past few months?
I don't believe in digital exhibitions.
What do you find yourself working on most during quarantine?
Creating editions for my woodblock print project.
How has your studio practice changed in recent months?
Busier
Photograph courtesy of the artist
Have you created any art in response to the pandemic?
Two woodblock prints and one big embroidery painting.
What artists most inspire you?
YouTube
What are you most looking forward to about participating in the upcoming inaugural Asia Society Triennial?
Self-esteem and the power of Asia.
What do you most want viewers to take away from experiencing your work in the Triennial?
Intellectual equality.
Has your perspective as an artist changed in the midst of the pandemic?
No.
Are there any fun facts about your practice you would like to share with readers?
A lot of people in the big city [went] straight to shopping at Ikea after the government lifted the lockdown.
Related Updates
Artist Q&A
Dreaming With: Ahmet Öğüt
Artist Q&A
Dreaming With: Susie Ibarra
Artist Q&A
Dreaming With: Samita Sinha