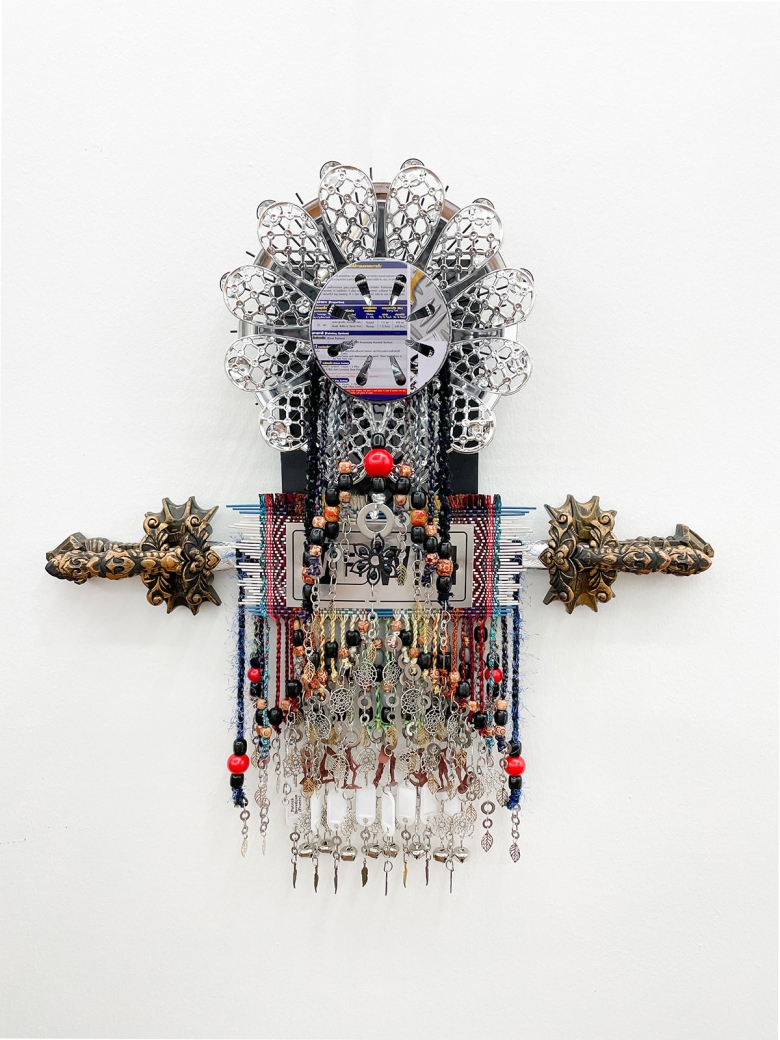 Anne Samat, Portrait of Pandemic 9, 2021. Yarn, rakes, woven belts, beads, metal and plastic ornaments.H. 32 1/4 x W. 29 1/8 x D. 3 15/ 16 in. (82 x 74 x 10 cm). Image courtesy of Richard Koh Fine Art and the artist
Dreaming With: Anne Samat
Our Dreaming With Q&A series provides an exclusive glimpse into the artists' lives and studios.
Where have you spent your time during the pandemic?
I've spent my time between my apartment and my cozy, messy little studio. I'm very grateful and fortunate because it provides me with a panoramic view of the city that gives me a sense of "escapism."
What books, music, movies, or podcasts have inspired you recently?
I discovered the "magic box" called television. So, news channels such as CNN, BBC News, Sky News, Al Jazeera, Bloomberg TV, ABC Australia, can, and CGTN are my new best friends. Also, I will watch the whole spectrum from National Geographic to RuPaul's Drag Race 😀. Those programs are very fascinating, intriguing, and challenging every now and then. These are the "melting pot" of my creativity.
What are you working on right now?
I'm responding to the current situation. I'm producing works based on COVID-19 with my unconventional, contemporary, and twisted approach. It's my personal way of paying tribute/homage to the victims. (REDHA: Portrait of Pandemic)
Furthermore, there are two superb facts that I realized during this turbulent period:
1. Redha [is the] highest level of acceptance.
2. Creativity is the mental vaccine, especially at this present moment.
Anne Samat, Portrait of Pandemic 1, 2021. Crochet, yarn, rakes, woven belts, beads, metal and plastic ornaments. H. 98 7/16 x W. 105 1/2 x D. 7 7/8 in. (250 x 268 x 20 cm). Image courtesy of Richard Koh Fine Art and the artist
What artist or work of art has most recently had an impact on you?
Frankly speaking, they are all playing an important part in my life. [This is] totally based on their creativity, transparency, and fearlessness in order to achieve their goals.
What are you most looking forward to in 2021?
I'm a "huggie." I'm looking forward to giving, receiving, and embracing in that beautiful, honest gesture (kisses and hugs) especially to and from my nearest and dearest. And, I do miss "airplane food," as well (travel, of course).
What do you want viewers to take away from experiencing your work in the Triennial?
Dream as big as possible.
Are there any fun facts about your practice or your work in the Triennial that you would like to share with readers?
Fun facts are: be free beyond doubts and Follow Your Heart Wholeheartedly!
Related Updates
Artist Q&A
Dreaming With: Ahmet Öğüt
Artist Q&A
Dreaming With: Susie Ibarra
Artist Q&A
Dreaming With: Samita Sinha