Xu Bing
b. 1955 in Chongqing, China

Working in Beijing, China and New York, NY, United States of America

Showing at Asia Society Museum

On view October 27, 2020, through February 7, 2021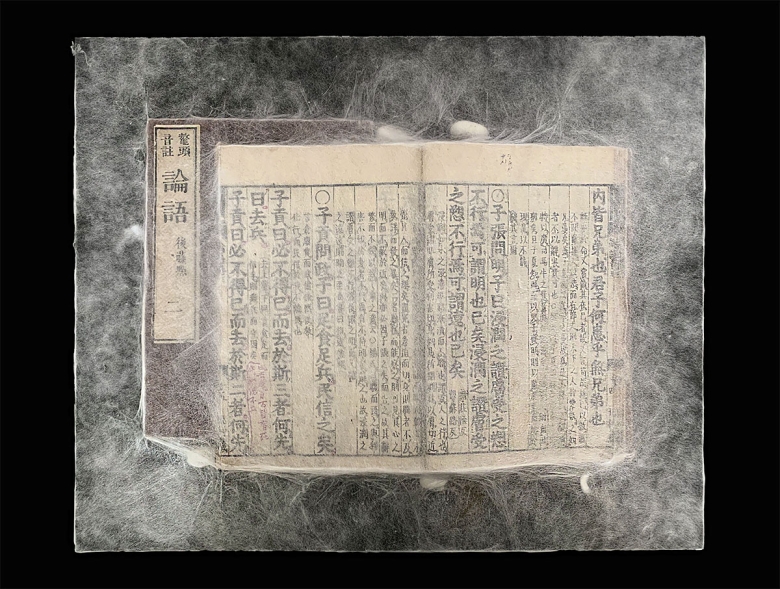 Xu Bing, Silkworm Book: The Analects of Confucius, 2019. Book, silk. H. 2 9/16 x W. 20 1/2 x D. 16 1/2 in. (6.5 x 52 x 42 cm) Courtesy of the artist. Photograph courtesy of Xu Bing Studio

 

Location: Asia Society Museum
This work was commissioned by Asia Society Museum, New York for the inaugural Asia Society Triennial: We Do Not Dream Alone.
Xu Bing's ruminations on the indelible relationship between language and society have been an ongoing subject of his work since the 1980s. He was first recognized for his now-iconic installation Book From the Sky (1987), which featured over four thousand nonsensical pictograms resembling the Chinese language. The artist subsequently created square word calligraphy—a writing system in which English words are written in a manner resembling Chinese characters. This cross-cultural fusion of language leads the viewer to reassess their preconceived notions about written language while illuminating cultural specificities and commonalities between China and the West. The artist received a BFA and an MFA in printmaking from the Central Academy of Fine Arts, Beijing, in 1981 and 1987 respectively. In 1999, Xu Bing was the recipient of a John D. and Catherine T. MacArthur Foundation "Genius Award." 

Silkworm Book: The Analects of Confucius was commissioned for the Asia Society Triennial as part of a special project entitled We the People: Sun Xun and Xu Bing Respond to the Declaration of Independence. The sculpture was created through the ancient Chinese practice of sericulture to produce a silk-encased copy of The Analects by Confucius, which was studied by the founders of the United States as a means to explore the broad transcultural influences that contributed to the formation and structure of the United States government. 

Below: Xu Bing, Silkworm Video: The Analects, 2019. Single-channel video. Duration: 3 minutes, 30 seconds. Courtesy of the artist. Video courtesy of Xu Bing Studio
Related