Natee Utarit
b. 1970 in Bangkok, Thailand

Working in Bangkok, Thailand

Showing at Asia Society Museum

On view October 27, 2020, through February 7, 2021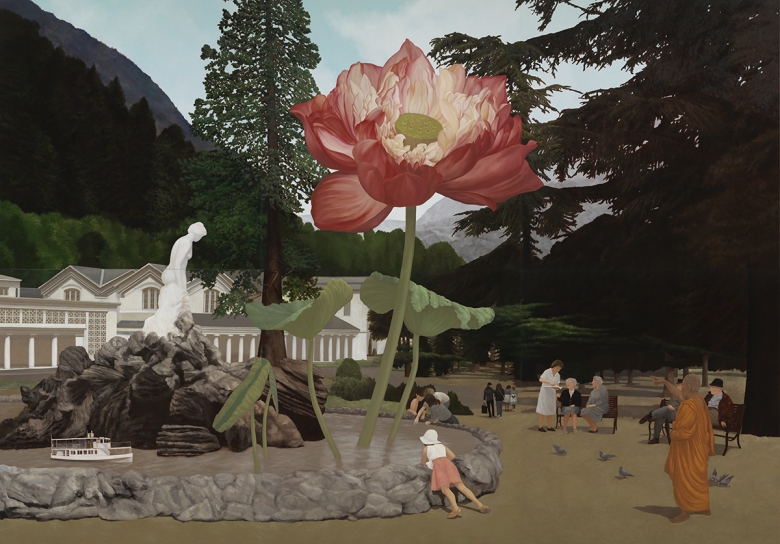 Natee Utarit, The Dream of Siamese Monks, 2020. Oil on canvas. Six panels, each: H. 74 3/4 x W. 70 7/8 in. (190 x 180 cm); overall H. 149 5/8 x W. 212 5/8 in. (380 x 540 cm). Courtesy of Richard Koh Fine Art and the artist. Photograph courtesy of Richard Koh Fine Art and the artist. This work was commissioned by Asia Society Museum, New York, for the inaugural Asia Society Triennial: We Do Not Dream Alone.

Location: Asia Society Museum
Installation view of Asia Society Triennial: We Do Not Dream Alone at Asia Society Museum, New York, October 27, 2020–June 27, 2021. Natee Utarit, The Dream of Siamese Monks, 2020, Courtesy of Richard Koh Fine Art and the artist. Photograph © Bruce M. White, 2020. This work was commissioned by Asia Society Museum, New York, for the inaugural Asia Society Triennial: We Do Not Dream Alone.

Location: Asia Society Museum

Natee Utarit, Casa Buddha, 2019. Embroidery, spray paint, acrylic on linen. H. 118 1/8 x W. 472 1/2 in. (300 x 1200 cm). Courtesy of Richard Koh Fine Art and the artist. Photograph courtesy of Richard Koh Fine Art and the artist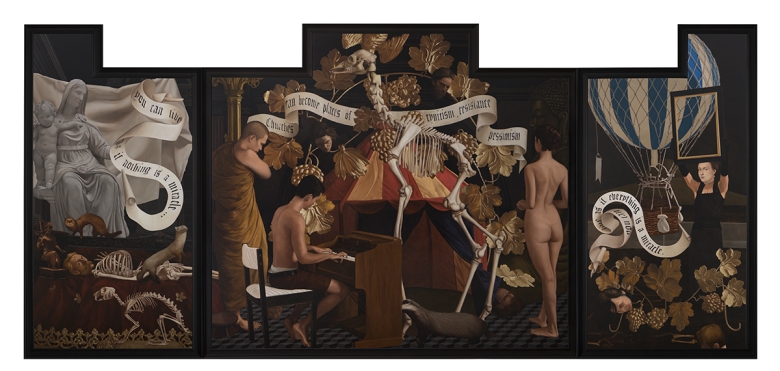 Natee Utarit, Theatre of the Absurd, 2015. Oil on canvas. Triptych, overall: H. 98 3/8 x W. 212 5/8 in. (250 x 540 cm). Courtesy of Richard Koh Fine Art and the artist. Photograph courtesy of Richard Koh Fine Art and the artist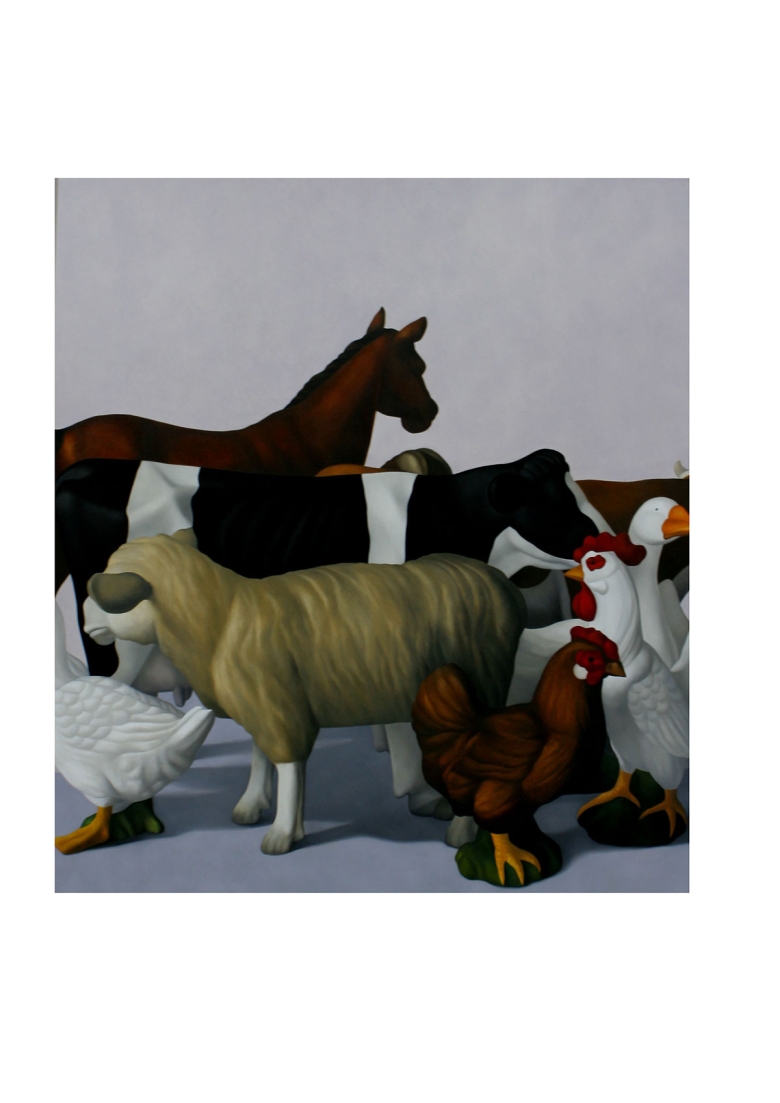 Natee Utarit, The micro history of politic no.3-Lost, 2007. Oil on canvas. H. 70 7/8 x W. 63 in. (180 x 160 cm). Courtesy of Richard Koh Fine Art and the artist. Photograph courtesy of Richard Koh Fine Art and the artist
Natee Utarit's practice focuses on challenging the relevance of historical European painting, specifically within the context of postcolonial Southeast Asia. Organized in series and utilizing the genres of history painting, portraiture, landscape, and still life, Utarit's paintings expose and question the visual strategies that have been inherited and ingrained in contemporary painting outside the West, raising issues of how one perceives origination, authenticity, and hybridity in contemporary painting in a "post-West" era. Utarit graduated with a degree in graphic arts at the Painting and Sculpture Faculty at Silpakorn University, Bangkok, in 1991. 

Khrua In Khong, one of the most celebrated nineteenth-century Siamese painters, has long interested Utarit as a historical example of an artist who had to assimilate a western aesthetic tradition alongside Siamese aesthetic traditions, in his search for a new aesthetic style that would be responsive to modern times. Following this predecessor, Utarit's use of kitsch imagery has produced an unusual series of paintings, such as the Ballad for Khrua In Khong/Greyscale (2005). In the Triennial commission, The Dream of Siamese Monks, Utarit responds to a well-known mural by Khrua In Khong, People Viewing Giant Lotus (1865), located in Wat Bowonniwet Vihara, Bangkok, by assembling landscape elements from photographs, postcards, and mass-produced calendars to reimagine Khrua In Khong's artistic process. The earlier artist was known for incorporating imagery of people, places, and objects that he had only encountered through prevalent forms of nineteenth-century mass media, such as postcards and newspapers. The title's reference to monks alludes to King Rama IV (Mongkut), who was in the monkhood for twenty-seven years before ascending to the throne and launching his dream of a modern Siam. He embarked on a modernization policy that aimed to also learn from the West, and he directed Khrua In Khong, who was a favored beneficiary of his patronage and most active during the 1850s and 1860s, to develop a new style of painting. Khrua In Khong responded by fusing the lines and colors of traditional painting, as exemplified by temple mural paintings, with western-style realism and a three-dimensional perspective.
Supported by Richard Koh Fine Art.
Events
Related