Melati Suryodarmo
b. 1969 in Surakarta, Indonesia

Working in Gross Gleidingen, Germany; and Surakarta, Indonesia

Showing at Asia Society Museum

On view from March 26, 2021, through June 27, 2021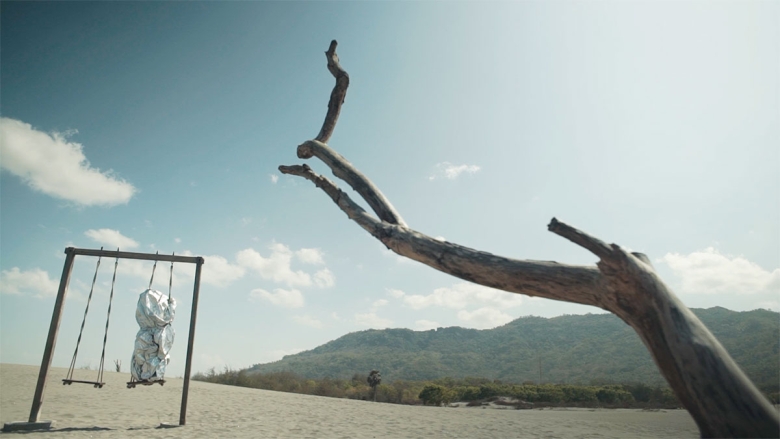 Melati Suryodarmo, If We Were XYZ – Trilogy: Alter Ego, 2019. Single-channel high-definition video with sound. Duration: 23 minutes, 25 seconds. Courtesy of the artist. Image courtesy of the artist. This work was commissioned by Asia Society Museum, New York, for the inaugural Asia Society Triennial: We Do Not Dream Alone.

Location: Asia Society Museum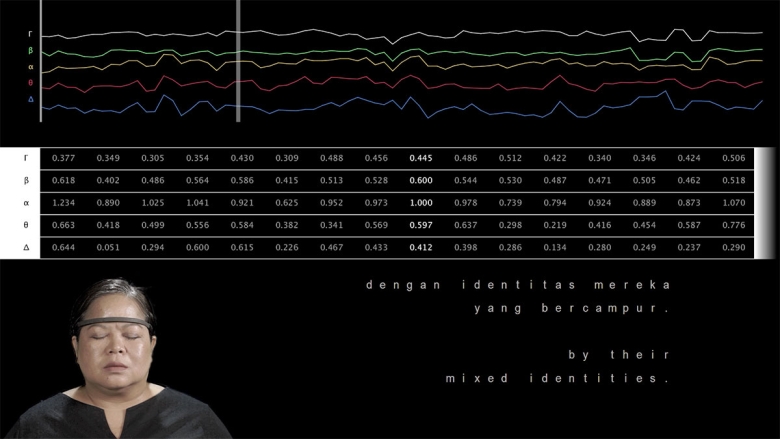 Melati Suryodarmo, If We Were XYZ – Trilogy: Catching Dreams, 2019. Single-channel high-definition video with sound. Duration: 23 minutes, 25 seconds. Courtesy of the artist. Image courtesy of the artist. This work was commissioned by Asia Society Museum, New York, for the inaugural Asia Society Triennial: We Do Not Dream Alone.

Location: Asia Society Museum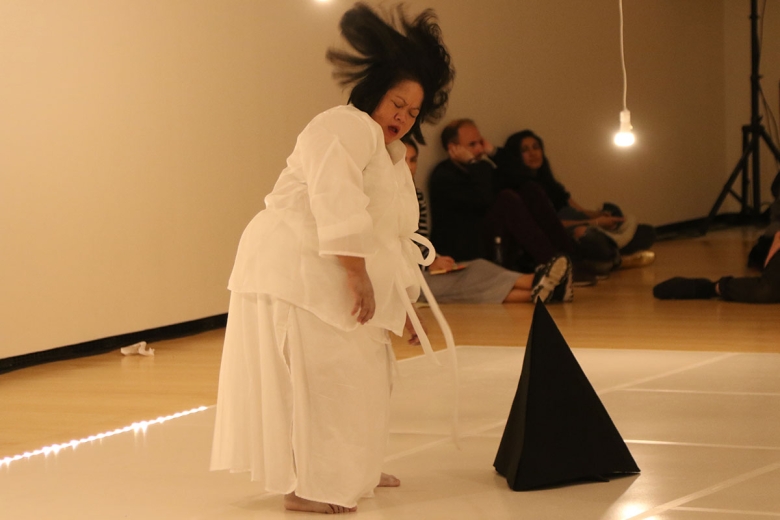 Melati Suryodarmo, If We Were XYZ – Trilogy: Performing Seven Scores Dreams, 2019. Video documentation of the performance realized at Asia Society on October 15 and 18, 2019. Single-channel high-definition video with sound. Performed by Melati Suryodarmo, concept and performance; Jessica Kenney, sound score and vocals; Antonius Oki Wiriadjaja, technologist and interactive-systems design. Duration: 23 minutes, 25 seconds. Courtesy of the artist. Photograph by Ellen Wallop. This work was commissioned by Asia Society Museum, New York, for the inaugural Asia Society Triennial: We Do Not Dream Alone.

Location: Asia Society Museum
Melati Suryodarmo maintains a multidisciplinary practice, which spans choreography, installation, photography, video, and durational performance. This is informed by the artist's ongoing research into the physical and psychological manifestations of the self and its relationship to the world through the lens of memory, identity, and sociopolitical histories. Suryodarmo received a degree in international-relations studies from the Universitas Padjadjaran, Sumedang, in 1993; a degree in fine art and an MFA in performance art from the Hochschule für Bildende Künste Braunschweig in 2001 and 2002, respectively; and is currently a PhD candidate in practice-based research at the Indonesian Institute of the Arts Surakarta. In 2012, Suryodarmo founded Studio Plesungan, an art space for performance artists, and in 2017 she served as artistic director for the 17th Jakarta Biennale. 

Drawing equally upon Javanese mysticism, neuroscience, and Freudian psychology, If We Were XYZ delves into the realm of dreams as they pertain to the slumbering subconscious and the conscious manifestation of desire. This multimedia project was developed from the artist's 2019 performance of the same title, commissioned as part of Asia Society's Creative Common Ground initiative. This trio of videos, inspired by Goya's 1799 etching, The Sleep of Reason Produces Monsters, and incorporating the artist's REM waves as documented in a sleep laboratory, leads the viewer through the scientific, surreal, and psychological landscape of our dreams as an attempt to understand the impact of the subconscious on our daily activities.  

Supported by The Andrew W. Mellon Foundation.
Below: Melati Suryodarmo, If We Were XYZ trailer. Video courtesy of the artist.
Related