Anne Samat
b. 1973 in Malacca, Malaysia

Working in Kuala Lumpur, Malaysia

Showing at Asia Society Museum

On view October 27, 2020, through February 7, 2021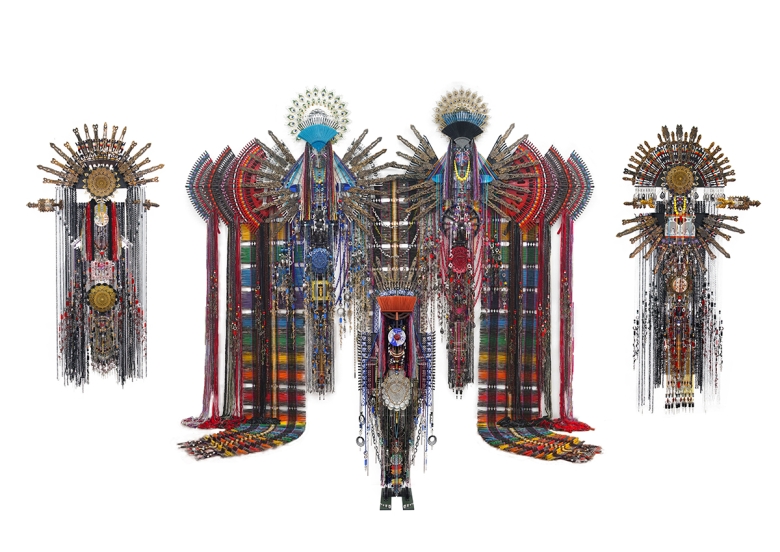 Anne Samat, Follow Your Heart Wholeheartedly, 2020. Rattan sticks, yarn, rakes, washers, plastic swords, toy soldiers, beads, metal and plastic ornaments. Left: H. 98 x W. 48 x D. 7 in. (249 x 122 x 17.8 cm). Center: H. 131 1/2 x W. 141 3/4 x D. 11 3/4 in. (334 x 360 x 30 cm). Right: H. 105 x W. 48 x D. 7 in. (266.7 x 122 x 17.8 cm). Front: H. 84 1/4 x W. 26 3/4 x D. 12 3/16 in. (214 x 67 x 31 cm). Courtesy of Richard Koh Fine Art and the artist. Photograph courtesy of Richard Koh Fine Art and the artist. This work was commissioned by Asia Society Museum, New York, for the inaugural Asia Society Triennial: We Do Not Dream Alone.

Location: Asia Society Museum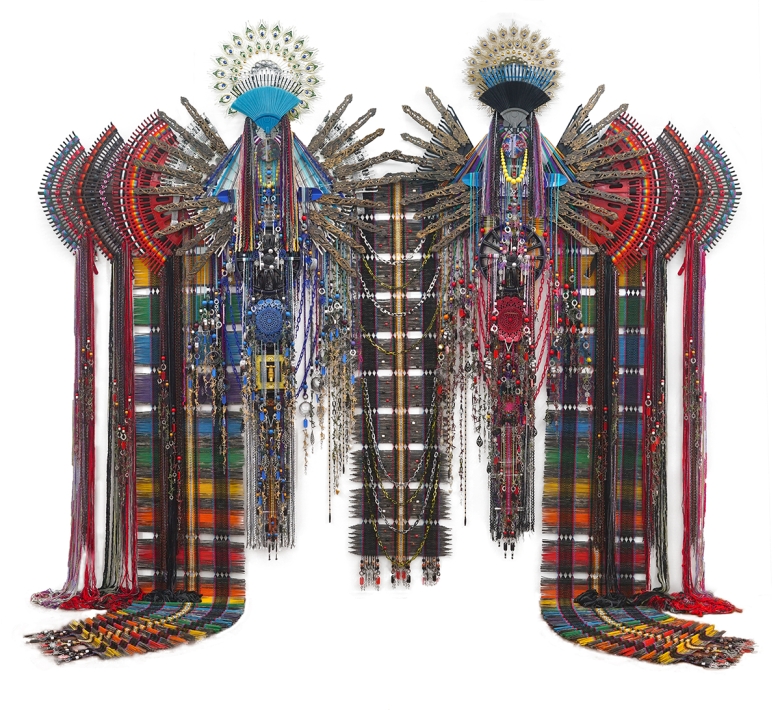 Anne Samat, Follow Your Heart Wholeheartedly (detail), 2020. Rattan sticks, yarn, rakes, washers, plastic swords, toy soldiers, beads, metal and plastic ornaments. Left: H. 98 x W. 48 x D. 7 in. (249 x 122 x 17.8 cm). Center: H. 131 1/2 x W. 141 3/4 x D. 11 3/4 in. (334 x 360 x 30 cm). Right: H. 105 x W. 48 x D. 7 in. (266.7 x 122 x 17.8 cm). Front: H. 84 1/4 x W. 26 3/4 x D. 12 3/16 in. (214 x 67 x 31 cm). Courtesy of Richard Koh Fine Art and the artist. Photograph courtesy of Richard Koh Fine Art and the artist. This work was commissioned by Asia Society Museum, New York, for the inaugural Asia Society Triennial: We Do Not Dream Alone.

Location: Asia Society Museum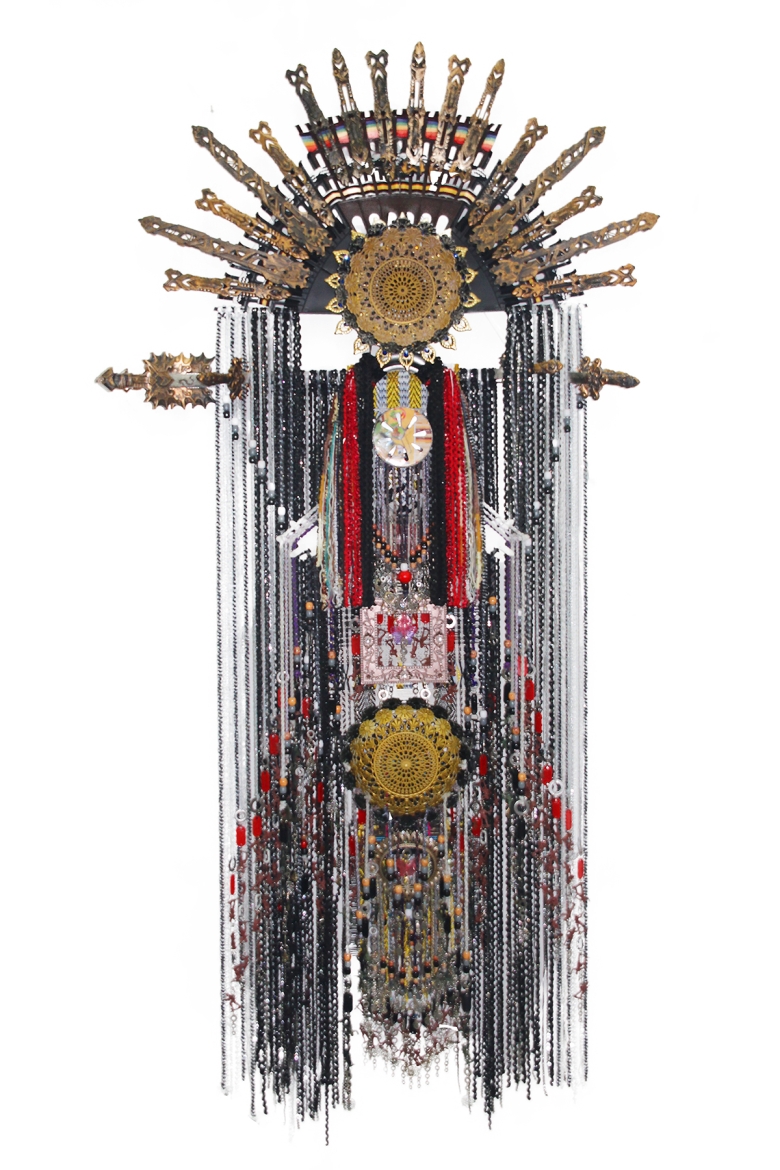 Anne Samat, Follow Your Heart Wholeheartedly (detail), 2020. Rattan sticks, yarn, rakes, washers, plastic swords, toy soldiers, beads, metal and plastic ornaments. Left: H. 98 x W. 48 x D. 7 in. (249 x 122 x 17.8 cm). Center: H. 131 1/2 x W. 141 3/4 x D. 11 3/4 in. (334 x 360 x 30 cm). Right: H. 105 x W. 48 x D. 7 in. (266.7 x 122 x 17.8 cm). Front: H. 84 1/4 x W. 26 3/4 x D. 12 3/16 in. (214 x 67 x 31 cm). Courtesy of Richard Koh Fine Art and the artist. Photograph courtesy of Richard Koh Fine Art and the artist. This work was commissioned by Asia Society Museum, New York, for the inaugural Asia Society Triennial: We Do Not Dream Alone.

Location: Asia Society Museum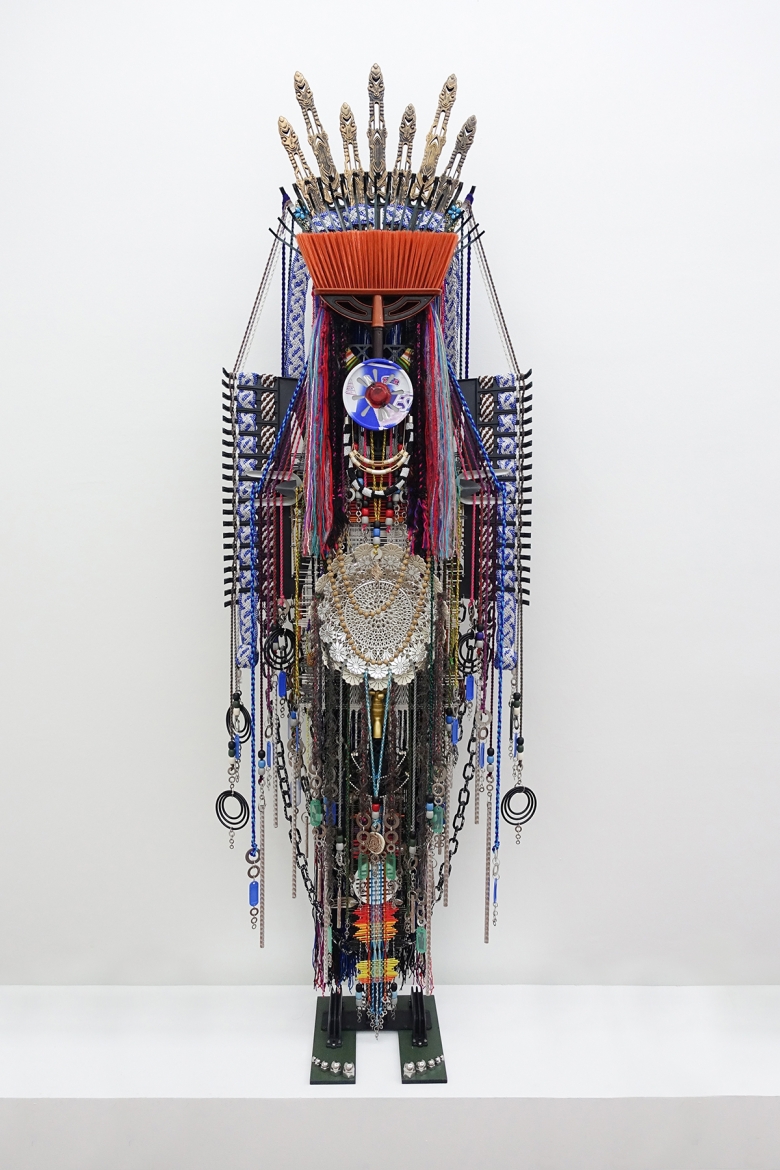 Anne Samat, Follow Your Heart Wholeheartedly (detail), 2020. Rattan sticks, yarn, rakes, washers, plastic swords, toy soldiers, beads, metal and plastic ornaments. Left: H. 98 x W. 48 x D. 7 in. (249 x 122 x 17.8 cm). Center: H. 131 1/2 x W. 141 3/4 x D. 11 3/4 in. (334 x 360 x 30 cm). Right: H. 105 x W. 48 x D. 7 in. (266.7 x 122 x 17.8 cm). Front: H. 84 1/4 x W. 26 3/4 x D. 12 3/16 in. (214 x 67 x 31 cm). Courtesy of Richard Koh Fine Art and the artist. Photograph courtesy of Richard Koh Fine Art and the artist. This work was commissioned by Asia Society Museum, New York, for the inaugural Asia Society Triennial: We Do Not Dream Alone.

Location: Asia Society Museum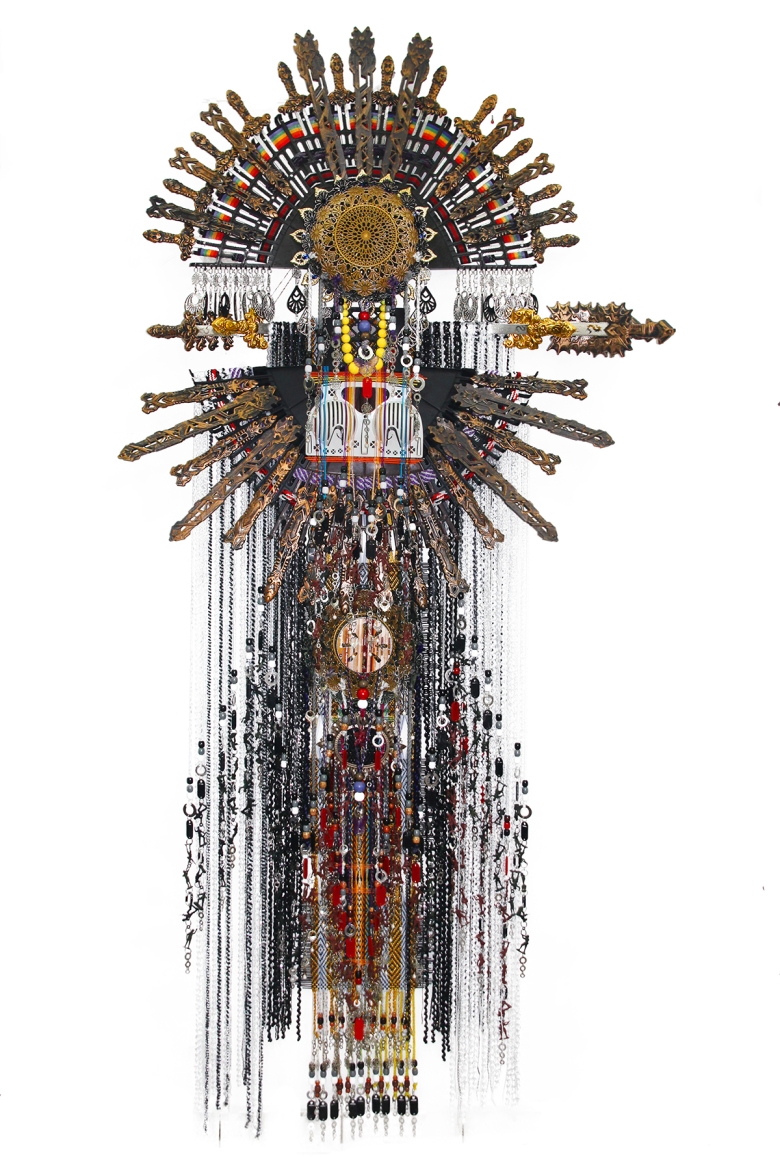 Anne Samat, Follow Your Heart Wholeheartedly (detail), 2020. Rattan sticks, yarn, rakes, washers, plastic swords, toy soldiers, beads, metal and plastic ornaments. Left: H. 98 x W. 48 x D. 7 in. (249 x 122 x 17.8 cm). Center: H. 131 1/2 x W. 141 3/4 x D. 11 3/4 in. (334 x 360 x 30 cm). Right: H. 105 x W. 48 x D. 7 in. (266.7 x 122 x 17.8 cm). Front: H. 84 1/4 x W. 26 3/4 x D. 12 3/16 in. (214 x 67 x 31 cm). Courtesy of Richard Koh Fine Art and the artist. Photograph courtesy of Richard Koh Fine Art and the artist. This work was commissioned by Asia Society Museum, New York, for the inaugural Asia Society Triennial: We Do Not Dream Alone.

Location: Asia Society Museum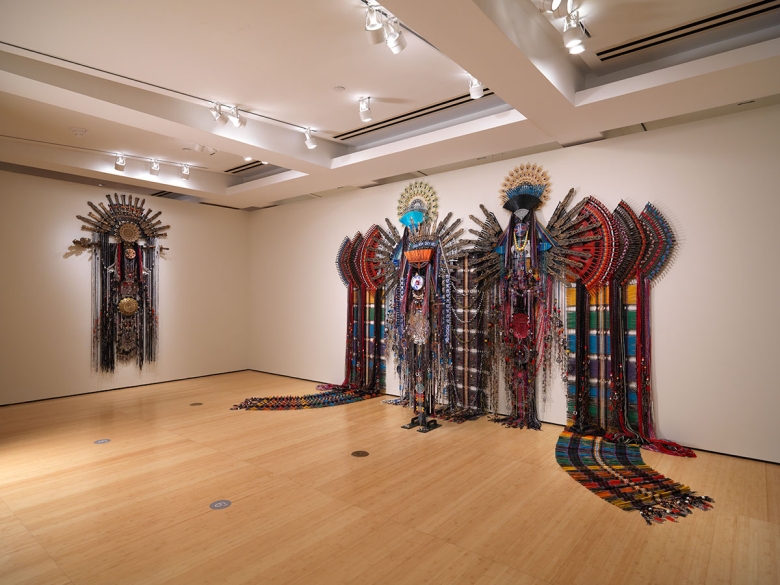 Installation view of Asia Society Triennial: We Do Not Dream Alone at Asia Society Museum, New York, October 27, 2020–June 27, 2021. Anne Samat, Follow Your Heart Wholeheartedly, 2020, Courtesy of Richard Koh Fine Art and the artist. Photograph © Bruce M. White, 2020. This work was commissioned by Asia Society Museum, New York, for the inaugural Asia Society Triennial: We Do Not Dream Alone. 

Location: Asia Society Museum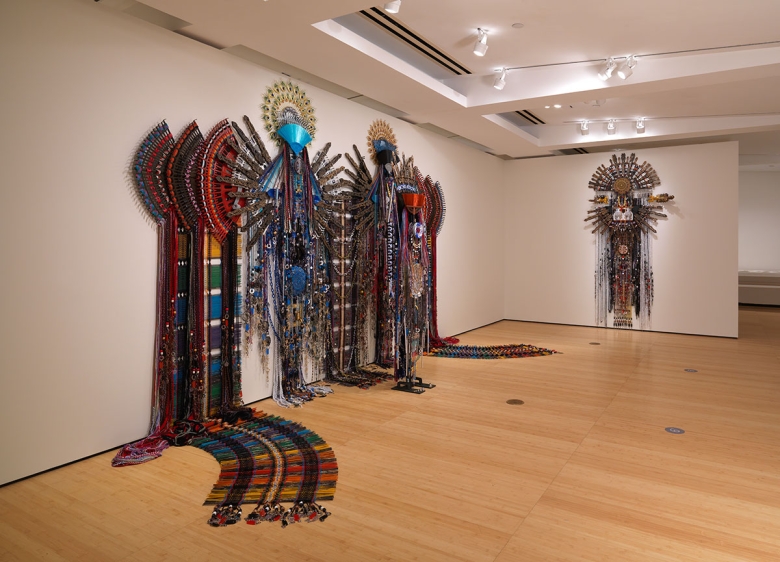 Installation view of Asia Society Triennial: We Do Not Dream Alone at Asia Society Museum, New York, October 27, 2020–June 27, 2021. Anne Samat, Follow Your Heart Wholeheartedly, 2020, Courtesy of Richard Koh Fine Art and the artist. Photograph © Bruce M. White, 2020. This work was commissioned by Asia Society Museum, New York, for the inaugural Asia Society Triennial: We Do Not Dream Alone. 

Location: Asia Society Museum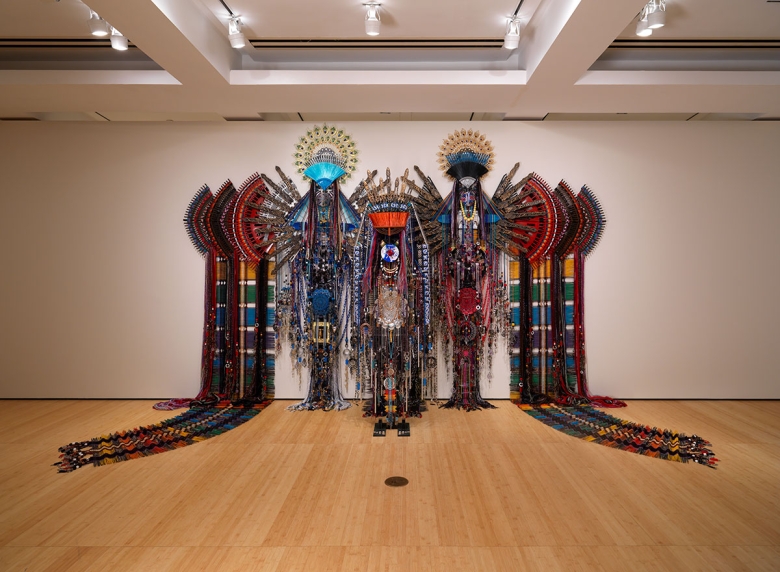 Installation view of Asia Society Triennial: We Do Not Dream Alone at Asia Society Museum, New York, October 27, 2020–June 27, 2021. Anne Samat, Follow Your Heart Wholeheartedly, 2020, Courtesy of Richard Koh Fine Art and the artist. Photograph © Bruce M. White, 2020. This work was commissioned by Asia Society Museum, New York, for the inaugural Asia Society Triennial: We Do Not Dream Alone. 

Location: Asia Society Museum
Anne Samat, Wide Awake and Unafraid, 2019. H. 122 x W. 212 5/8 x 13 3/4 in. (310 x 540 x 35 cm). Courtesy of Richard Koh Fine Art and the artist. Photograph courtesy of Richard Koh Fine Art and the artist
Anne Samat is a contemporary artist from Malaysia who works with fiber and weaving techniques from archipelagic Southeast Asia. Moving beyond the rules and acceptable practices of traditional weaving, Samat creates technically complex and visually arresting sculptural wall reliefs and anthropomorphic figures that engage with issues of gender and identity. The artist interrupts the lines and patterns of the weave by inserting a wide range of everyday objects, usually household items such as colanders, combs, and rakes. Her selection of these objects is congruent with the often very personal nature of her sculptures, which draw heavily from her biography. Samat's practice challenges the Euro-American hierarchical notions of art and craft, which often relegate non-western artisanal practices to the disparaged realm of craft. Samat received a BA in art and design from the Mara Institute of Technology, Shah Alam, in 1995. 

Follow Your Heart Wholeheartedly is a sculptural installation composed of three wall sculptures and one standing figure. The artist considers this work to be a tribute to her parents, ordinary folk who inspired her to pursue her dreams beyond what many would have expected of someone from her humble background. The title of the work alludes to the advice given to her many years ago by her late father, which was instrumental in her decision to become an artist. At the heart of the installation are two imposing warrior-like totem figures representing her father and mother as a king and queen, positioned to confront the viewer. Their royal stature is accentuated by the crown of peacock feathers that adorns each figure's head and epaulets fashioned out of toy-sword hilts and rakes. Their respective genders are distinguished by Samat's use of blue and pink, conventionally associated colors, to denote their genital regions. This central pair seems to envelop and hold the smaller standing figure in front, like parents protecting a child. According to the artist, this smaller figure is a tribute to her brother who recently passed away after a long illness. This trio is flanked by subordinate figures, meant to represent the artist and her living sister, standing as witnesses to the lives of the three family members who have passed on.
Supported by Richard Koh Fine Art.
Related