Yang Style 24 Form Tai Chi Course
VIEW EVENT DETAILS
In collaboration with Living Well Therapies
This 8-week course was postponed and extended a week. Classes will begin Monday, September 26, 2016 and go through November 21, 2016.
Work-related burnout, everyday stress, pain, sleeplessness, and emotional overload are all standard issue symptoms for each of us these days. Tai Chi, Qigong, and meditation offer practitioners access to the most highly refined healing resources naturally occurring within our own bodies. Without a prescription, doctor, hospital, or drugstore, you will learn practical tools for mobilizing this remarkable inner resource.
This 8-week beginner course in Yang Style 24 Tai Chi is led by Living Well Therapies founder Henderson Smith. Students will learn to maximize the "life-force energy," or Qi (Chi), in a beautiful form of "moving meditation." In a practice that Harvard refers to as "medication in motion," this course will provide a basic introduction to the value of Tai Chi for its 21st century practical applications to reduce stress and improve health. Delivered with a focus on movement, mindfulness, and the power of breath, students will develop the foundation for a set of skills that will empower them to cultivate wellbeing at home, at work, and at play for the rest of their life.
Each class will begin with meditation and Qigong to establish an aware, centered state from which to learn this ancient form of Tai Chi known as the Yang Style 24 Form. Students are encouraged to develop organically at their own pace, embrace their own unique considerations, and evolve in the capacity to better manage the thinking, feeling, and doing that influences every aspect of our lives. The movements are performed slowly with mindful intention on expressing your Qi through the body to improve your strength, balance, flexibility and range of motion.
Asia Society Members receive discounted registration. For questions, please contact KKleinkort@AsiaSociety.org.
Course Dates
Mondays, September 26 – November 21 (8 weeks — There will be no class on October 31)
Time: 6:00 – 7:30 pm
About the Instructor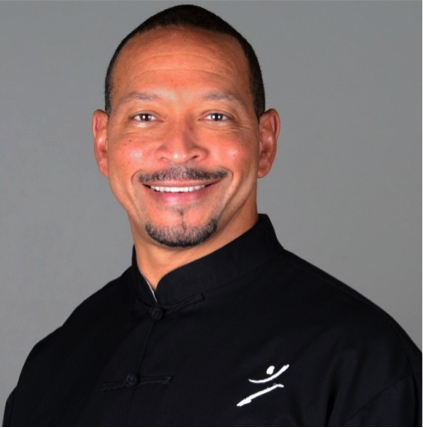 Henderson J. Smith, Jr. is the Founder of Living Well Therapies and specializes in teaching Qigong and Tai Chi as the exploration of applied physical, mental, and energetic self-mastery. He began the exploration of Qi (breath or energy) as a medium for healing and maximizing power with Sei Bu Do martial arts, under Grand Master Dr. Donald Swansey where he earned a 2nd Degree Black Belt. Henderson continued his study of Qigong, earning a 350 hour Professional Certification with the National Qigong Association (NQA) and a 200 hour Teacher Certification with the Institute of Integral Qigong and Tai Chi (IIQTC) under Dr. Roger Jahnke. Henderson recently earned advanced teacher certification as a Sr. Trainer with the IIQTC and served as Lead Assistant on a 2013 trip to China where he studied under 17th Generation Master Zhou Jin Bo. Henderson is currently studying under Master Shi Xing Hao of the Shaolin Kung Fu Academy in Houston, TX. 
With a BS in Management and Marketing, 20 years of experience in the insurance and employee benefits business, and a clear correlation between medical claims and the habits that drive them, Henderson formed Living Well Therapies in 2007 on the understanding that each individual has the unique responsibility of managing his or her self. Henderson is committed to holistic wellness solutions that harness the power to exercise conscious control of our thinking, feeling, and doing.
Henderson is a founding member of the board of directors of the former Houston Wellness Association and sits on the board of the Park People. He is also a Sr. Fellow with the American Leadership Forum (ALF), graduating in 2013 from Medical Class 5 with a focus on "Disruptive Innovation" applied to improving the health care system. Henderson is also a graduate of the United Way's Project Blue Print and Leadership Houston, and he designed a nationally endorsed benefits package for the United Way of America and its agencies.
For more information about Living Well Therapies: http://livingwelltherapies.net/
Education and outreach programs at Asia Society Texas Center are made possible through generous funding from the George and Mary Josephine Hamman Foundation. Additional support is provided by Friends of Education & Outreach at Asia Society Texas Center, a premier group of individuals and organizations committed to bringing the best in public programming to Houston.
Program Sponsor

Presenting Partner

Event Details
6 - 7:30 p.m.
1370 Southmore Blvd. Houston, TX 77004 713.496.9901
Register Now
$240 Members, $280 Nonmembers.