Women's Leadership Series
VIEW EVENT DETAILS
This program is sold-out. Tickets will not be available at-door.
The Women's Leadership Series (WLS) celebrates influential, diverse women making a substantive impact in both the business and culture arenas, locally and globally. This inaugural program starts with a local focus, inviting three women greatly impacting Houston in the arenas of entrepreneurship, philanthropy, academia, and mentorship: Donna Cole, Dr. Anne Chao, and Y. Ping Sun. Bloomberg's Stephanie Mehta will moderate the program. The goal of WLS is to inspire, educate, and empower women by learning from established leaders across the globe. All are welcome to attend.
If you are interested in sponsoring the Women's Leadership Series, please review our sponsorship packet and contact Jordan Witherspoon at JWitherspoon@AsiaSociety.org or 713.496.9909.
Media is standing-room only.
Schedule
Registration: 11:30 am
Luncheon and Program: 12:00 pm
About the Speakers and Moderator
Dr. Anne Chao, Philanthropist and Professor, Rice University

Anne Chao received her B.A. from Wellesley College, her M.A. and PhD from Rice University. She is a modern Chinese historian and interested in using computational technology to do social network analysis and text-mining. She is an Adjunct Lecturer in the Humanities and Manager of the Houston Asian American Archive at Rice. She was voted one of the 50 Most Influential Women of Houston in 2011. She and her husband, Albert, received the Meritorious Service Award from the Association of Rice Alumni in 2010. Her dissertation was a Co-Winner of the Captain Charles Septimus Longcope Award in History in 2009. She currently serves on the boards of the Houston Endowment, the Museum of Fine Arts Houston, the Houston Ballet and the Dunhuang Foundation, as well as the advisory boards of the School of Humanities, the Center for the Study of Women, Gender and Sexuality, the Chao Center for Asian Studies, and the Shepherd School of Music at Rice University.
Donna Cole, President and CEO, Cole Chemical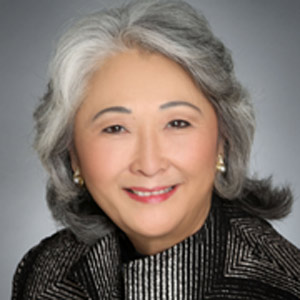 Donna Fujimoto Cole founded Cole Chemical in 1980, at the age of 27 with $5000, divorced, with a four year old daughter. In 2014, Cole Chemical had $85 million and chemical sales and chemical supply chain management solutions to a wide range of customers and industries. Ms. Cole was inducted into the Hall of Fame in 2009 by Greater Houston Women's Chamber of Commerce and was named one of Houston's 50 Most Influential Women in 2010. In 2015, the Houston Chronicle selected Ms. Cole as one of Houston's 10 Women of Distinction and the Houston Business Journal as a Women's Energy Leader. In 2014 Ms. Cole received the Japanese Ministries of Foreign Affairs recognition for her work bridging US-Japan Relations. She is also co-founder of Pantheon of Women, a production company telling stories of strong women in film and television to change the way men treat and perceive women and how young girls see themselves. She is on the board of the Houston Minority Supplier Development Council, Center for Asian Pacific American Women, US-Japan Council, National Veterans Network, The Women's Home, The Chao Center for Asian Studies, and The University of St Thomas.
Y. Ping Sun, First Lady, Rice University; Counsel, Yetter Coleman, LLP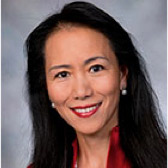 Y. Ping Sun came to Houston from New York City in 2004, when her husband David W. Leebron became Rice University's seventh president. A native of Shanghai, China, Ping attended Tianjin Foreign Languages School and Beijing Languages and Culture University. She received a full scholarship to Princeton University, where she graduated cum laude with an AB degree from the Woodrow Wilson School of Public and International Affairs. She received a law degree from Columbia University School of Law, where she served as an editor of the Journal of Transnational Law.
Ms. Sun is a trustee of Texas Children's Hospital, and a board member for Asia Society Texas Center, Teach For America, Hermann Park Conservancy, and the BARC Foundation. She also serves on the advisory boards of Asian Chamber of Commerce, Chinese Community Center, Houston Arts Alliance, and is a member of the Mayor's International Trade and Development Council for Asia/Australia. Ping is also the chair of the Association of American Universities Partners' Group which features 62 top American universities (including two from Canada). Ping is also an advisor of EastWest Bank and a director of Era Group Inc.
Stephanie Mehta, Editor and Editor-at-Large, Bloomberg LIVE and Bloomberg Businessweek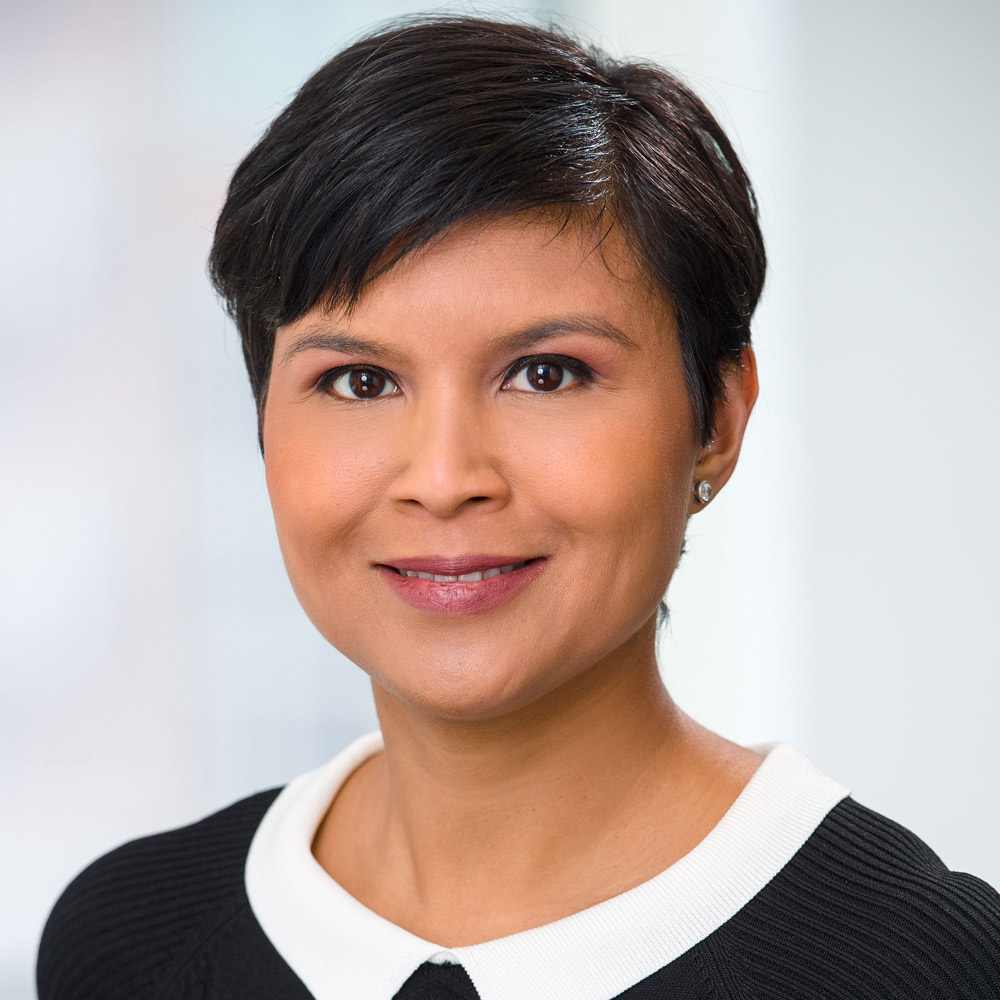 Stephanie Mehta is Editor of Bloomberg LIVE and Editor-at-large for Bloomberg Businessweek. She most recently served as the deputy editor of Fortune, where she helped set the overall direction of the magazine, with a special focus in technology, international news and policy coverage. She helped reinvent Fortune's annual Brainstorm Tech conference, and spearheaded the international expansion of the title's Most Powerful Women summit. Mehta joined Fortune in 2000 from The Wall Street Journal, where she was an assistant news editor, reporting and editing technology stories. Prior to joining the Journal, she worked as a business reporter for the Virginian-Pilot in Norfolk, Va. She received a B.S. in English and an M.S. in journalism from Northwestern University. A Chicago-area native, she now lives with her husband and two daughters in Scarsdale, New York.
The Women's Leadership Series is made possible through generous support from presenting sponsors Anne and Albert Chao, Nancy T. Chang, and ExxonMobil. Lead funding provided by Nancy C. Allen, and BP America, with additional support from Cathay Bank, the Mandy Kao Foundation, Paula Hinton, Teri and Jeff Lee, Amegy Bank, and United Airlines. Generous funding also provided by the Friends of Business & Policy at Asia Society Texas Center, a premier group of individuals and organizations committed to bringing the best in public programming.
The Women's Leadership Steering committee is chaired by Dr. Anne Chao and Paula W. Hinton. Members include Nancy C. Allen, Ming Chen Burdette, Donna Cole, Kathy Goossen, Mandy Kao, Rosine Matthews, Alice Mong, and Y. Ping Sun. Henrietta Holsman Fore serves as an honorary member.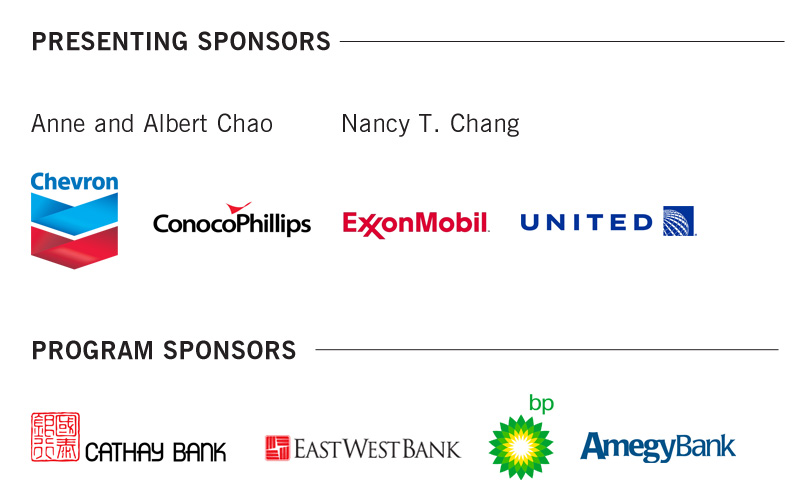 Event Details
12 - 1:30 p.m.
1370 Southmore Blvd Houston, TX 77004 713.496.9901
$75 Members, $100 Nonmembers. All sales final.
Bought tickets? Tell your friends on Facebook!
Join the Facebook Event »