Screen Asia: "The Way of the Dragon"
VIEW EVENT DETAILS
Summer is here and it's time to enjoy a Bruce Lee cult classic! The Way of the Dragon stars Lee as Tang Lung, a martial arts expert recruited to protect his relatives' Chinese restaurant from gangsters in Rome. The film broke Hong Kong box office records, outperforming The Big Boss and Fist of Fury, Lee's earlier cinematic successes. The Way of the Dragon is also notable for the appearance of martial arts icon Chuck Norris, who plays an American antagonist to Lee's character.
A food truck will be on site, and both alcoholic and non-alcoholic beverages will be available for purchase. Bring your own blankets, lawn chairs, and snacks to enjoy during the outdoor screening on the Festival Lawn! In case of inclement weather, the film screening will move indoors to the Edward Rudge Allen III Education Center. Rated R for scenes of martial arts violence and one brief scene of nudity.
Schedule
7:00 p.m. | Food Truck and Beverage Service
8:00 p.m. | The Way of the Dragon (1972) screening
About the Film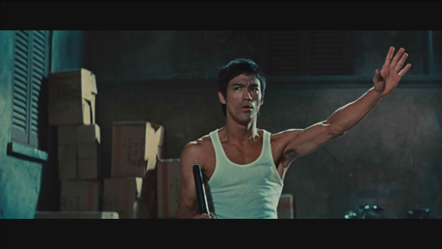 When Chen Ching-hua and her Uncle Wang run into trouble with local organized crime, they look to martial artist Tang Lung to protect their Chinese restaurant in Rome. Tang is initially uncomfortable with European customs and behavior, but quickly learns how to adapt to his surroundings. He must also constantly combat gangsters, who are pressuring his relatives to sell their eating establishment in the heart of the Eternal City. Acknowledging Tang's skill, the syndicate hires the best Japanese and American fighters, including Colt (Chuck Norris), who has an epic final showdown with Tang in the Roman Colosseum. Rated R for martial arts violence and brief nudity.
Food and Beverages
Asian and Cajun fusion by Casian King
Beer and wine
Soft drinks and water
Related Events
Screen Asia: Rush Hour, July 23
Screen Asia: Rush Hour 2, July 29
Screen Asia: Karate Kid, August 6
Education and outreach programs at Asia Society Texas Center are made possible through generous funding from the George and Mary Josephine Hamman Foundation. Additional support provided by the Friends of Education & Outreach at Asia Society Texas Center, a premier group of individuals and organizations committed to bringing the best in public programming to Houston.
 
Program Sponsor

Event Details
7 - 9:30 p.m.
1370 Southmore Blvd Houston, TX 77004 713.496.9901
RSVP
Free with RSVP. Food and drinks (alcoholic and non-alcoholic) available for purchase.
20160715T190000 20160715T213000 America/New_York Asia Society: Screen Asia: "The Way of the Dragon"

For event details visit https://asiasociety.org/texas/events/screen-asia-way-dragon 1370 Southmore Blvd Houston, TX 77004 713.496.9901
Planning to attend? Tell your friends on Facebook!
Join the Facebook Event »