Screen Asia: Telluride Mountainfilm Festival
VIEW EVENT DETAILS
UPDATE: Advance tickets for Friday and Saturday are sold out. Limited walk-up tickets may be available on a first-come, first-served basis. Please contact 713.496.9901 for more information. 
Telluride Mountainfilm Festival returns to Asia Society for the third year in a row to showcase films that educate and inspire audiences about issues of importance to Asia and beyond.
This event includes a dynamic spectrum of content from full-length documentaries, powerful short films, and avant garde animation, to adrenaline flicks and panel discussions. MountainFilm generates energy and inspiration, hope and exhilaration, love and tears. Join us for this 2-evening event, which includes delicious foods, drinks, and the very best thought-provoking and exciting documentaries on the planet. Different films will be shown on Friday, February, 20.
Schedule
Friday, February 20, 7:00-10:15 pm
Saturday, February 21, 7:00-10:15 pm
Doors open at 6:00 pm.
See the detailed film schedule here.
Tickets
UPDATE: Advance tickets for Friday and Saturday are sold out. Limited walk-up tickets may be available on a first-come, first-served basis. Please contact 713.496.9901 for more information.

General Admission
Friday, February 20: $25 Members, $30 Nonmembers
Saturday, February 21: $25 Members, $30 Nonmembers 
2-Day Pass: $45 Members, $55 Nonmembers 

VIP Passes
2-Day Pass: $500-$10,000. More details available in ticket link. 
Saturday's Screenings
64 mph
Directed by: Brett Schreckengost
The San Joaquin Couloir is one of Telluride's most iconic backcountry lines. Greg Hope is one of the town's best-known rippers. In 64 mph, the two meet for one slough-dodging, high-velocity descent.
Xmas Without China
Directed by: Alicia Dwyer
What would it be like to spend a month without the ubiquitous "Made in China" label? What if that month was December? One all-American family accepts this challenge from Chinese immigrant Tom Xia,  wanted to explore the relationship of his adopted homeland to the goods coming from his native one.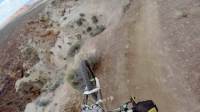 Kelly McGarry Rampage
Directed by: Kelly McGarry
Professional mountain biker Kelly McGarry recorded his run at the 2013 Red Bull Rampage with a helmet-mounted GoPro camera. The simple, unedited footage took the Internet by storm, garnering a mind-blowing 18 million views.
The Karsts of China
Directed by: Keith Ladzinski
Sprinkled across the vast country of China are pockets of geologic wonder: surreal forests of limestone fins, monumental arches and slender towers that reach into the sky. Climbers Cedar Wright, Emily Harrington and Matt Segal and National Geographic photographer Carsten Peter spend a month roaming the country in an exploration of wild and incredible landscapes.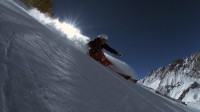 SuperMom
Directed by: Mike Douglas
Wendy Fisher ruled the women's big mountain freeskiing scene from 1996 to 2004. She skied Alaskan spines, hucked cliffs, starred in movie segments, won many championships, kept up with male cohorts, and inspired a new generation of female badasses. This Solomon film checks in with Fisher, who gets the opportunity to see if she's still got it on the steeps of B.C. and Chile.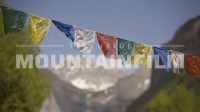 Marshland Dreams
Directed by: Brett Schreckengost
Once the largest ecosystem in the Middle East, and the rich homeland of Sumerians for millennia, the Mesopotamian Marshes were destroyed systematically by Saddam Hussein so that they couldn't shelter rebel forces. For the past 10 years, Iraqi exile Azzam Alwash has wheedled, cajoled, encouraged and coerced his countrymen to help restore the marshes sustainably.
Mending the Line
Directed by: Steve Engman, John Waller
In 1944, 20-year-old Frank Moore crossed through the occupied French countryside, daydreaming about returning one day in peacetime. Now 90-years-old, he completes the dream with his wife and son by his side. This story of a dream deferred and fulfilled proves that the scars of the past can be healed. Mending the Line was a 2013 Mountainfilm Commitment Grant recipient.
The Balloon Highline
Directed by: Sébastien Montaz-Rosset
Slacklining no longer seems to need the expanse of trees, crevasses or other earthbound objects — only some kind helium and a cool buzz
Related Links
ICE Official Website
Telluride Mountainfilm Official Website
About Mountainfilm
Started in 1979, Mountainfilm in Telluride is one of America's longest-running film festivals. Through the years, in and out of trends and fads, the Mountainfilm in Telluride Festival has always been best described by one unchanging word: inspiring. Far more than any other adjectives, that's how festival audiences describe their experience. Year-round and worldwide, Mountainfilm takes a selection of festival films out on the road. It presents both single-event and multi-day shows, hosted by a wide array of organizations, including schools and colleges, corporations, community groups, and theater operators. Through the tour, it impacts some 20,000 people every year and visits more than 70 locations on five continents.
Performing arts and cultural programs at Asia Society Texas Center are made possible by support from Bank of America. Asia Society Texas Center is funded in part by a grant from the City of Houston through Houston Arts Alliance. Additional support provided by Asia Society contributors and members. In collaboration with Mountainfilm in Terlluride and ICE: Issues, Cultures, and Environments Worth Sustaining.

Program Sponsors



Presenting Partners


Event Details
7 - 10:15 p.m.
1370 Southmore Blvd Houston, TX 77004 713.496.9901
Advance tickets are sold out. Contact 713.496.9901 for more information
20150221T190000 20150221T221500 America/New_York Asia Society: Screen Asia: Telluride Mountainfilm Festival

For event details visit https://asiasociety.org/texas/events/screen-asia-telluride-mountainfilm-festival-0 1370 Southmore Blvd Houston, TX 77004 713.496.9901
Bought tickets? Tell your friends on Facebook!
Join the Facebook Event »