Screen Asia: "Karate Kid"
VIEW EVENT DETAILS
Asia Society Texas Center is proud to present a cult classic film that highlights a young man's desire for acceptance in California and his friendship with a wise karate instructor. Bring your own blankets, lawn chairs, and snacks to enjoy during the outdoor screening on the Festival Lawn! In case of inclement weather, the demonstration and film screening will move inside to the Edward Rudge Allen III Education Center.
Schedule
7:30 pm | Interactive martial arts demonstration
8:00 pm | Karate Kid (1984) screening
About the Film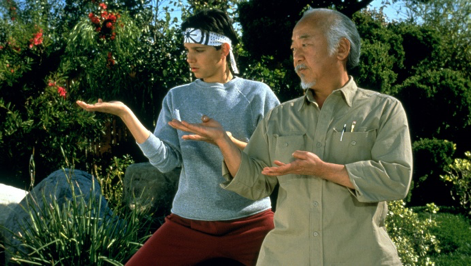 The practice of karate is a combination of physical talent and mental discipline. This is the lesson that young Daniel (Ralph Macchio), a San Fernando Valley teenager, learns from an unexpected instructor – Mr. Miyagi (Pat Morita), an elderly handyman who is also a martial arts master. When the teacher rescues Daniel from a vicious gang of karate school bullies, Miyagi instills in his adolescent student the importance of honor and confidence as skills in self-defense. Daniel must use his new lessons when facing Johnny, the merciless leader of the Cobra Kai gang, in a no-holds-barred tournament for the Valley Karate Championship.
Related Events
Screen Asia: The Way of the Dragon, July 15
Screen Asia: Rush Hour, July 23
Screen Asia: Rush Hour 2, July 29
Education and outreach programs at Asia Society Texas Center are made possible through generous funding from the George and Mary Josephine Hamman Foundation. Additional support is provided by Friends of Education & Outeach at Asia Society Texas Center, a premier group of individuals and organizations committed to bringing the best in public programming to Houston.
Program Sponsor

Event Details
7:30 - 10 p.m.
1370 Southmore Blvd Houston, TX 77004 713.496.9901
RSVP
20160806T193000 20160806T220000 America/New_York Asia Society: Screen Asia: "Karate Kid"

For event details visit https://asiasociety.org/texas/events/screen-asia-karate-kid 1370 Southmore Blvd Houston, TX 77004 713.496.9901
Planning to attend? Tell your friends on Facebook!
Join the Facebook Event »