Huffington Award Luncheon
VIEW EVENT DETAILS
January 2013 marks the launch of the Huffington Award Luncheon to recognize recipients of the Roy M. Huffington Award for Contributions to International Understanding. Ryan M. Lance, Chairman and CEO of ConocoPhillips, will play a key role as chair of the event.
Jon Huntsman, Jr. has been named the recipient of this year's award, named for the Houston oilman and former ambassador who played a leading role in creating Asia Society Texas Center. It is the highest honor bestowed by the organization on an individual who has been a major force on the international stage. Former recipients include President George Bush and First Lady Barbara Bush; Mr. and Mrs. George Strake; Robert Mosbacher, Sr.; Mayor Bill White; Washington SyCip; Gordon M. Bethune; and The Honorable Lee Kuan Yew of Singapore.
The Honorable Michael Huffington, son of Roy Huffington, will present the award to Huntsman, followed by a lively conversation between Huntsman and Alan Crain, Senior Vice President and General Counsel of Baker Hughes.
Please mark the afternoon of Thursday, January 31st for the Huffington Award Luncheon and consider sponsoring a table at the event. Held at the Hilton Americas, the luncheon begins at 11:30 am on Thursday, January 31, 2013.
A private reception with Jon Huntsman begins at 10:30 am with limited admission only for VIP ticket holders and table sponsors of $5,000 or more. Contact us today to reserve your space. Your investment will honor both Huntsman and Lance, while supporting programs for global understanding and engagement.
Honorary Host Committee
The Honorable James A. Baker III
Neil Bush
Ronnie C. Chan
Trammell S. Crow
Henrietta Holsman Fore
The Honorable Michael Huffington
Terry Huffington
Admiral Robert Inman
Ambassador Nicholas Platt
Ambassador Chase Untermeyer
Host Committee
Durga D. Agrawal
Edward R. Allen III
Albert Chao
Alan Crain
Joseph C. Dilg
Larry Faulkner
James Fonteno
Charles C. Foster
Marie and Vijay Goradia
Martyn E. Goossen
Dr. Robert Ivany
Dr. Renu Khator
David W. Leebron
Scott McLean
Ali A. Saberioon
Riaz Siddiqi
Y. Ping Sun
Roger W. Wallace
Underwriters ($25,000)
ConocoPhillips
Contributors ($10,000)
Eddie Allen | Eagle Global Advisors
Nancy C. Allen
Henrietta H. Fore
Vinson & Elkins
Patrons ($5,000)
Amerril Energy
Anadarko
Baker Hughes Incorporated
Muffet Blake
CenterPoint Energy
EOG Resources
Marathon Oil
Westlake Chemical Corporation
Yetter Coleman LLP
Partners ($2,500)
Amegy Bank
Cadence Bank
Trammell S. Crow | Crow Collection of Asian Art
The Dow Chemical Company
FosterQuan LLP
Huffington Foundation
Port of Houston Authority
Texas Children's Hospital
Other Contributors
Metro Bank
Dr. Larry Faulkner
Glen Gondo
Marie and Vijay Goradia
Regina Lindsey
Y. Ping Sun and David W. Leebron | Rice University
Milton D. Rosenau, Jr.
Mary and Roger Wallace
Wells Fargo Bank
Corporate Housing Associates
HSBC
Evan Betzer
Susan and Dan Boggio
Martyn E. Goossen | J.P. Morgan
Anadarko Petroleum
Houston Arts Alliance
The Hope and Healing Center
Saks Fifth Avenue
University of St. Thomas
Halliburton
Educational Sponsors
Nancy C. Allen
Baker Hughes Incorporated
Eagle Global Advisors
EOG Resources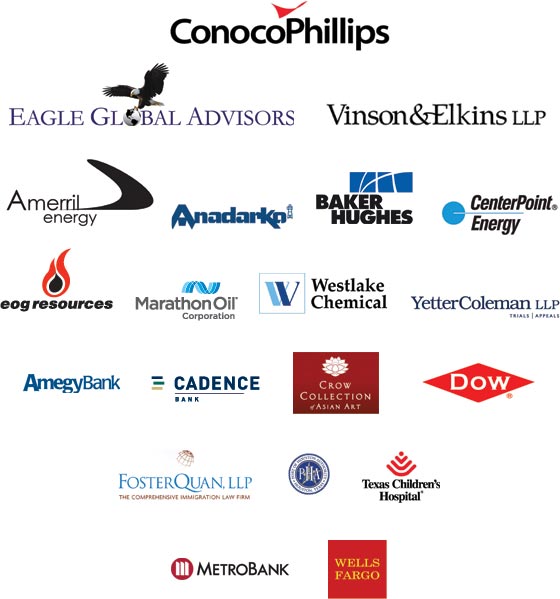 Event Details
Hilton Americas - Houston 1600 Lamar St. Houston, TX 77010
Online ticket sales have closed. A limited number of at-door tickets will be made available at 10:30 a.m. on the day of the event in front of the Ballroom of the Americas at Hilton Americas.

Add to Calendar
20130131T173000
20130131T173000
UTC
Asia Society: Huffington Award Luncheon
Hilton Americas - Houston 1600 Lamar St. Houston, TX 77010
---
Bought tickets? Tell your friends on Facebook!
Join the Facebook Event »