First Look Festival
VIEW EVENT DETAILS
Asia Society Texas Center opens its doors to the public with a lively weekend overflowing with performances, art-making workshops, storytelling, demonstrations, and art exhibitions. Admission is free, and all are welcome.
Festival Schedule and Highlights
Refreshments
Parking and Directions
Partners and Sponsors
Festival Schedule and Highlights
Click here to download the full, printer-friendly schedule by location.
Click here to download the full, printer-friendly schedule by time.
Naniwa Tobi Dento Hozonkai
This Osaka-based troupe performs acrobatics inspired by 19th century Japanese firefighters, or hikeshi. Naniwa Tobi's participation is made possible by the generous support by United Airlines®, the Official Airline of Asia Society Texas Center. In-kind support provided by the Consulate-General of Japan at Houston.
Festival Lawn
Lee's Golden Dragon • Vien Thong Tu Lion Dance • T'ai Chi • Qigong • Yogiños for Youth® from The Crow Collection of Asian Art
United Airlines® Performance Stage
Anjali Center for Performing Arts • Houston Grand Opera To Go • The Mountain Music Project • Riyaaz Qawaali • Shipra Mehrotra • Space City Gamelan • Ryukyukoku Matsuri Daiko • Wat Buddhavas of Houston • Thai Dance
Houston Public Radio Demonstration and Storytelling Stage
Cameron McCarthy and Aboriginal Tales from Australia • Lao Folk Dance • Rathna Kumar and Chitra Banerjee Divakaruni • Indonesian Dance • Sri Lankan Folk Dance
Chase® Activity Zone
Taiwanese Kites • Japanese Shibori • Sri Lankan Spices • Lunar Zodiac Face Painting • Korean Hangul • Dragon Puppets • Farsi and Arabic Calligraphy • Japanese Ikebana • Vietnamese Calligraphy • Indonesian Batik
The Festival also marks the opening of Treasures of Asian Art: A Rockefeller Legacy, a not-to-be-missed exhibition of 60 masterpieces from the Mr. and Mrs. John D. Rockefeller 3rd Collection at the Asia Society Museum in New York, which continues through September 16.
In the Allen Sculpture Garden artist Lee Ufan's Relatum — signal, a 2011 work commissioned especially for the space, will be on view. Also on view is Contemporary Asian Art: Texas Connections, an exhibition featuring works by pan-Asian artists, borrowed from private and public collections throughout Texas.
Refreshments
The Jade Stone Café at Asia Society will offer a limited selection from its menu for purchase.
In addition, four food trucks will be parked around the festival grounds. They include:
Phamily Bites
Serving lunch and late-night Vietnamese munchies to the masses of Houston one street block at a time.
It's A Wrap!
It's A Wrap! mobile bistro is a gourmet mobile food truck in Houston, offering a fusion of the world's most savory flavors formed into individual wraps.
The modular
East meets South in this fusion food truck owned by Kata Robata's Josh Martinez.
Porch Swing Desserts
Porch Swing Desserts, Houston's mobile dessert truck, serves a slice of Southern nostalgia reminiscent of yesteryear.
Parking and Directions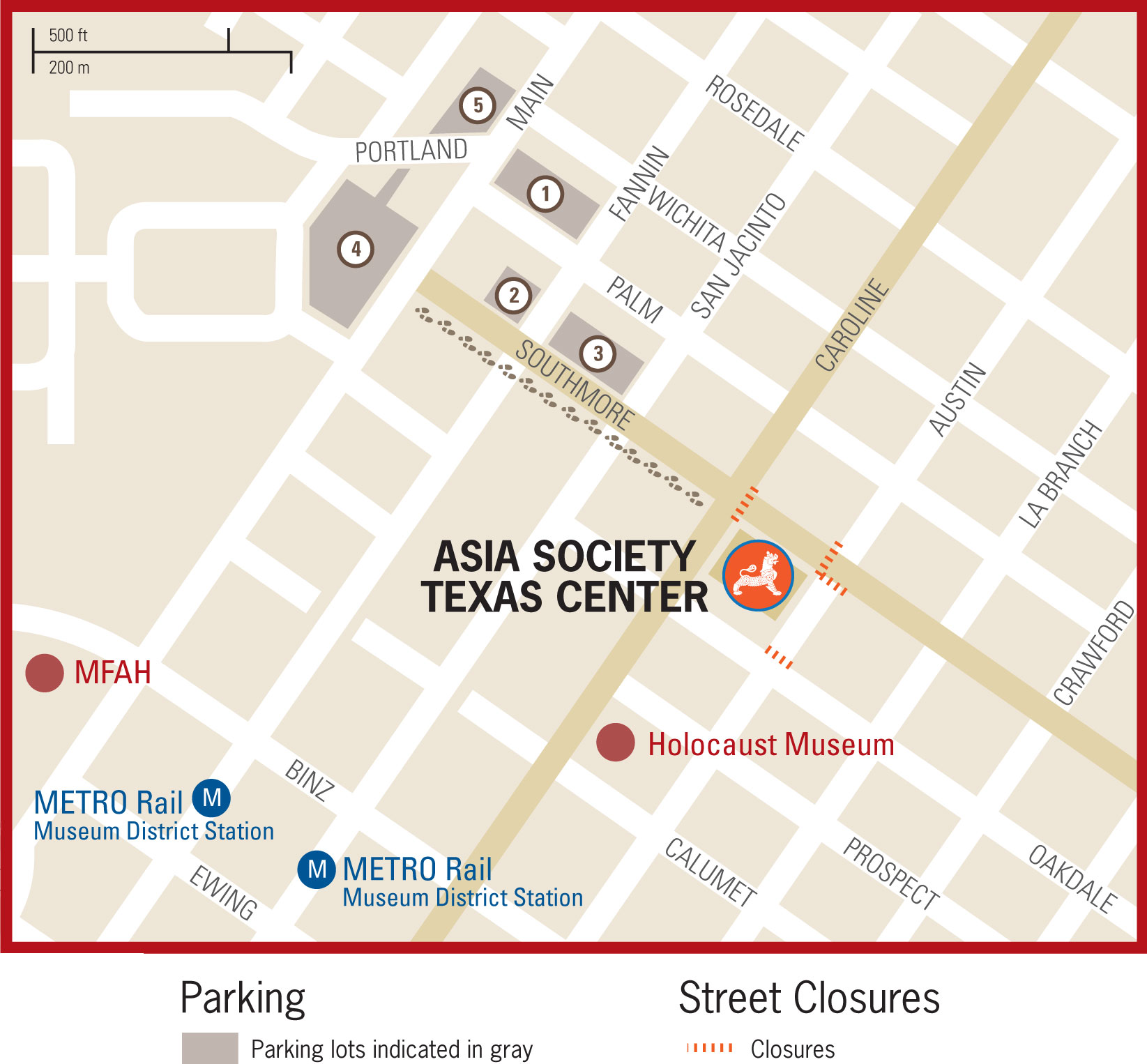 Click here to download a printer-friendly map with directions and parking information.
PARKING
Mann Eye Institute extra lot and adjacent Minit Man Car Wash lot
5100 block Main at Palm
Houston, TX 77002
Whitney Bank / Mann Eye Institute
5115 Main at Palm
Houston, TX 77002
Whitney Bank Drive-Thru grassy area
5100 block Fannin at Southmore
Houston, TX 77002
First Presbyterian Church, North Lot
Main at Southmore
Entry into this parking lot is accessed via Portland
Lawndale Art Center
4915 Main at Wichita
Houston, TX 77002
PUBLIC TRANSIT
The Texas Center is a five-minute walk from the Museum District METRO Rail Station.
DIRECTIONS
From 59 South
1. Start out going north on US 59, Southwest Freeway
2. Take the Main Exit
3. Turn right onto Main
4. Turn left onto Southmore
From 59 North
1. Start out going south on US 59, Southwest Freeway
2. Take the Fannin Exit
3. Turn slight-left onto Fannin
4. Turn left onto Southmore
From 288 South
1. Start out going north on TX 288, South Freeway
2. Take the Southmore Exit
3. Turn left onto Southmore
From 288 North
1. Start out going south on TX 288, South Freeway
2. Take the Southmore Exit
3. Turn right onto Southmore
The Consulate General of The Republic of Indonesia • His Highness The Aga Khan Council for the U.S.A. • The Consulate General of Sri Lanka • Children's Museum of Houston • Yu Ru Huang and the Taiwanese Heritage Society of Houston • Henderson Smith of Living Well Therapies • Laos American Association of Houston Texas • Ismaili Community Engaged in Responsible Volunteering (iCERV) • Mari Omori • Korean American Society of Houston • Luyen Duong • Tachibana School of Ikebana • Network of Indian Professionals • Lee's Golden Dragon • Vietnamese Student's Association-University of St. Thomas • Sushila Mathew, Ohara School of Ikebana • Wat Buddhavas of Houston • Dr. Katsya Chuon • Kim Kuja Korean Dance • Hirosaka Kosaka and Ferris Smith • Japan America Society of Houston
Corporate Sponsors

Media Sponsors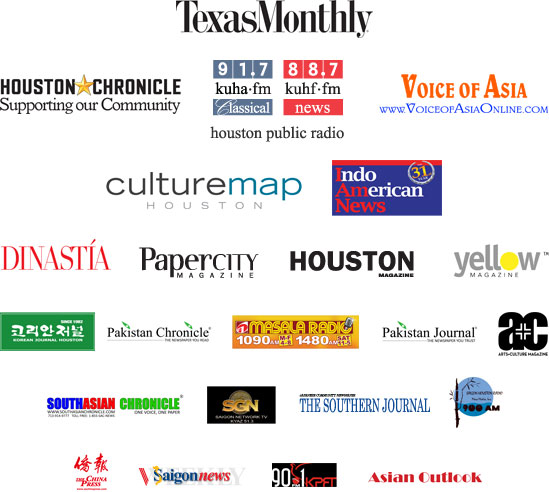 Event Details
Sat 14 Apr 2012 - Sun 15 Apr 2012
1370 Southmore Blvd., Houston, TX 713.496.9901

Add to Calendar
20120414T170000
20120415T230000
UTC
Asia Society: First Look Festival
1370 Southmore Blvd., Houston, TX 713.496.9901
---