China's Digital Economy: A Leading Global Force
VIEW EVENT DETAILS
In collaboration with McKinsey & Company and McKinsey Global Institute
China is one of the world's largest investors and adopters of digital technologies and home to one-third of the world's unicorns — new ventures with valuation over in excess of one billion dollars. The country has the scale to drive rapid commercialization of digital business models, and has the advantage of a massive home market of consumers who are young and eager to embrace digital living. Three aggressive, giant internet companies with global reach — Baidu, Alibaba, and Tencent, collectively known as BAT — are creating a multifaceted digital ecosystem that touches every aspect of consumers' lives. The central government is actively promoting digital innovation and entrepreneurship by offering support as an investor, developer, and consumer of new technologies.
China's digital transformation is already having a profound impact on its own economy and is likely to have an increasing influence on the worldwide digital landscape. Its digital globalization is still in a nascent stage and gathering momentum through mergers and acquisitions, investment, the export of new business models, and technology partnerships. Join Asia Society for a discussion on what will fuel continued growth and how China could set the world's digital frontier in the coming decades.
Preview McKinsey & Company's report on China's digital economy here.
---
Schedule
6:30 pm | Registration
7:00 pm | Program
---
About the Speaker
Dr. Jonathan Woetzel is a senior partner at McKinsey & Company and leads McKinsey Global Institute research on China, Asia, and global economic and business trends. Based in China since 1986, Jonathan has been instrumental in establishing and growing McKinsey's presence in China. In addition to his work helping Chinese and other Asian businesses prepare for global growth, Jonathan is responsible for convening the firm's work with city and regional authorities in more than 40 geographies around the world. He leads McKinsey's Cities Special Initiative and co-chairs the non-profit think tank Urban China Initiative that aims to develop and implement solutions to China's urbanization challenge. Jonathan is also the Asia-based Director of the McKinsey Global Institute where he leads research on productivity, urbanization, infrastructure, inequality and regional economies.
An expert on energy, sustainability, and economic master planning, Jonathan's public sector work is extensive. He has conducted more than 60 projects for local governments throughout China to support economic development and transformation. Jonathan works in the private sector as well, most often on topics related to corporate strategy, operations, and organization. He supported the largest company in China in a fundamental restructuring that led to the then-largest foreign listing on the New York Stock Exchange. Jonathan actively participates in a number of international forums, including the U.S.-China Clean Energy Forum and the Joint U.S.-China Coalition for Clean Energy. He lectures at Peking University's Guanghua School of Business and the China-Europe International Business School. Published widely in both Chinese and international publications, Jonathan has written five books on China, including Capitalist China: Strategies for a Revolutionized Economy (Wiley & Sons, 2003). He also co-authored, with Jimmy Hexter, the book Operation China: From Strategy to Execution (Harvard Business Press, 2007), with Jeffrey Towson, One Hour China (Towson Press, 2013) and with James Manyika and Richard Dobbs No Ordinary Disruption (Public Affairs, 2015). He currently has three Amazon international business bestsellers. A U.S. citizen, Jonathan is proficient in Mandarin, Spanish, and German.
---
About the Moderator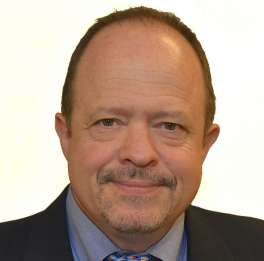 Al Lewis is the Houston Chronicle's business editor. He has been a columnist for The Wall Street Journal Sunday, MarketWatch, Dow Jones Newswires and the Denver Post. He also formerly served as business editor of The Denver Post and editor-in-chief of the South Florida Business Journal. Lewis has worked as either a financial writer or editor since 1985. Over the years, he has won numerous awards, including honors from the Associated Press, the Society of Professional Journalists, the Colorado Press Association and the Society of American Business Editors and Writers. Lewis, who grew up in Northbrook, Illinois, earned a master's degree in public affairs reporting from the University of Illinois at Springfield and a bachelor's degree in journalism and political science from MacMurray College in Jacksonville, Illinois.
---
Asia Society Texas Center Business & Policy Programs, Endowed by
Huffington Foundation
Bank of America, Muffet Blake, ConocoPhillips, ExxonMobil, United Airlines, and Vinson & Elkins LLP are presenting sponsors of Business and Policy programs at Asia Society Texas Center. East West Bank is the presenting sponsor of the China Series. Lead support for Business & Policy programs comes from Nancy C. Allen, BP America, Nancy T. Chang, Anne and Albert Chao, Eagle Global Advisors, and Wells Fargo. Generous funding also provided by the Friends of Asia Society Texas Center, a premier group of individuals and organizations committed to bringing the best in public programming. The program is presented in collaboration McKinsey & Company and McKinsey Global Institute.
Business & Policy Presenting Sponsors

China Series Presenting Sponsor 

Presenting Partners

Promotional Partners

Event Details
6:30 - 8:15 p.m.
1370 Southmore Blvd Houston, Texas 77004
Buy Tickets
$10 Members, $20 Nonmembers. All sales final.

Add to Calendar
20171213T003000
20171213T021500
UTC
Asia Society: China's Digital Economy: A Leading Global Force
1370 Southmore Blvd Houston, Texas 77004
---
Planning to attend? Tell your friends on Facebook!
Join the Facebook Event »