Authors & Asia: (Re)Imagining America
VIEW EVENT DETAILS
In collaboration with Kinder Institute for Urban Research
Immigration, border relations, labor practices — all are historic yet timely themes that helped define today's American landscape. This presentation by Dr. Shelley Fisher Fishkin and Dr. Stephen Klineberg touches on the specific ways Chinese and Mexican American immigrants are re-imagining place and history in their new country, illuminated particularly through the artist's lens.
This engaging program complements Asia Society's exhibition, The Other Side: Chinese and Mexican Immigration to America. Registered guests are invited to visit early for complimentary admission to the exhibition.
About Shelley Fisher Fishkin
Dr. Shelley Fisher Fishkin is the Joseph S. Atha Professor of Humanities and Director of American Studies at Stanford, where she is also the Co-Director of the Chinese Railroad Workers of North America Project. She is the author, editor, or co-editor of over 40 books, and has published over one hundred articles, essays, and reviews, many of which have focused on issues of race and racism in America, and on recovering previously silenced voices from the past. She is also a past president of the American Studies Association and a Founding Editor of the "Journal of Transnational American Studies". 
About Stephen Klineberg
A graduate of Haverford College, with an MA from the University of Paris and a PhD from Harvard, Dr. Stephen Klineberg joined Rice University's Sociology Department in 1972, after teaching at Princeton. In 1982, he and his students initiated the annual "Houston Area Survey," tracking the remarkable changes in the demographic patterns, experiences, attitudes, and beliefs of Harris County residents. The recipient of 12 major teaching awards at Rice and co-author of The Present of Things Future: Explorations of Time in Human Experience, Klineberg serves as Founding Director of Rice University's Kinder Institute for Urban Research.
Performing arts and cultural programs at Asia Society Texas Center are made possible through generous support from Bank of America, the City of Houston through Houston Arts Alliance, the Cullen Trust for the Performing Arts, The Clayton Fund, and Mickey Rosenau & Dr. Ellen Gritz, with additional support from the Favrot Fund. Funding is also provided from Friends of Performing Arts & Culture at Asia Society Texas Center. This program is presented in collaboration with the Kinder Institute for Urban Research.
Program Sponsors



Presenting Partner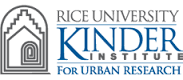 Event Details
1370 Southmore Blvd. Houston, TX 77004 713.496.9901
RSVP
Free with reservations, limit 2 per person. For additional requests, please call 713.496.9901. Unclaimed tickets will be released 10 minutes prior to the event.
20150501T180000 20150501T180000 America/New_York Asia Society: Authors & Asia: (Re)Imagining America

For event details visit https://asiasociety.org/texas/events/authors-asia-reimagining-america 1370 Southmore Blvd. Houston, TX 77004 713.496.9901
Planning to attend? Tell your friends on Facebook!
Join the Facebook Event »