Asia Society Presents! Diplomats of Drum
VIEW EVENT DETAILS
"They are a lethal force with a hodge-podge of percussion instruments, topped with irrepressible infectious fun." — Borneo Post
Through their high-energy global fusion sound, Diplomats of Drum weaves Malaysia's diverse soundscape into a vibrant musical tapestry. This 13-person ensemble will visit Asia Society Texas Center in partnership with Society for the Performing Arts (SPA).
This performance is the brainchild of Arts Midwest's Caravanserai program, presented in Houston through SPA. The initiative will offer three exciting programs throughout the 2014-15 season, from performance to film to shadow puppetry.
About Diplomats of Drum
Formed in 2005, Diplomats of Drum is a team of young street performers who grew into a popular percussion group. Celebrated for their captivating showmanship, the drummers added melodic folk and pop musicians and evolved into a dynamic band whose core lineup has been creating a unique blend of global music since 2010.
About Society for the Performing Arts
Founded in 1966, Society for the Performing Arts (SPA) is the largest independent non-profit presenting organization in the Southwest. Since its inception, SPA has sponsored more than 1,000 performances of the world's finest music, dance and theater events, in adherence to the belief that the arts are fundamental to the overall enrichment and quality of life within the community. In addition to presenting artists, SPA seeks to provide a variety of learning experiences for adults and children through master classes, lectures and special student performances, as well as build relationships between the performing arts and other interests within the greater Houston area and throughout the state of Texas.
Related Link
Society for the Performing Arts: Caravanserai
In collaboration with Society for the Performing Arts. Performing arts programs at Asia Society Texas Center are made possible by support from Bank of America. Additional support provided by Asia Society contributors and members. Asia Society Texas Center is funded in part by a grant from the City of Houston through Houston Arts Alliance.
Presenting Sponsor
Program Sponsors


Presenting Partners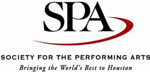 Event Details
1370 Southmore Blvd. Houston, TX 77004 713.496.9901
Buy Tickets
$5 Members, $10 Nonmembers. Tickets available September 1, 2014.

Add to Calendar
20141003T003000
20141003T003000
UTC
Asia Society: Asia Society Presents! Diplomats of Drum
1370 Southmore Blvd. Houston, TX 77004 713.496.9901
---
Bought tickets? Tell your friends on Facebook!
Join the Facebook Event »