Space in Time
VIEW EVENT DETAILS
In the exhibition «Space in Time - Contemporary Miniature Paintings from Pakistan», a young, globalized generation of artists from the National College of Arts in Lahore reinterprets works from the internationally renowned collection of Pahari miniatures of the Museum Rietberg from the 12th to the 19th century. Their works reflect a new, contemporary perspective and the questions young artists ask themselves in a complex world and within a very specific geopolitical situation.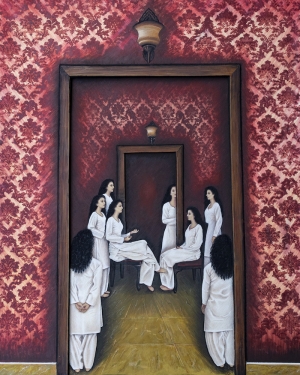 Program:
12:00 – Guided art tour with Gabriela Blumer Kamp
12:45 – Lunch at the Villa Wesendonck (included in ticket)
13:15 – End
We will meet at the Park-Villa Rieter (Seestrasse 110) at 11:50.
This tour is for Asia Society Switzerland members only. How to become a member?
Full no-show charge unless registration is cancelled until end of one business day before the event. 
---
About the Guide 
Gabriela Blumer Kamp was born in Denmark. With the age of 15 she moved to Switzerland. She studied history of art, ethnology and comparative study of religions in Lausanne and Geneva. Since 1998, she works at the Museum Rietberg. 
About Art Over Lunch 
Art Over Lunch is a monthly event series for members of Asia Society Switzerland. Each time, we visit an exhibition or a special part of the Rietberg collection with curators and experts for 45 minutes with a following small lunch. The tours are designed to give members a different view on the vast troves at the Rietberg and provide and opportunity to mingle and discuss.
Event Details
12 - 1:15 p.m.
Museum Rietberg
Gablerstrasse 15
8002 Zurich
(MAP)
Buy Tickets

Add to Calendar
20190426T100000
20190426T111500
UTC
Asia Society: Space in Time
Museum Rietberg Gablerstrasse 15 8002 Zurich (MAP)
---