Next Stop Nirvana
VIEW EVENT DETAILS
Art Over Lunch in February
In the current exhibition at the Rietberg Museum, Next Stop Nirvana, artworks from China, Japan, the Himalayas, and Southeast Asia tell of the beginnings of Buddhism in India and its spread across the world. The main focus of this special art tour for members of Asia Society Switzerland will be on the largest and the smallest piece in the exhibition: The monumental Buddha from Pakistan and the contact relics from the Piprahwa Stupa. Because of their seize as well as their special art-historical significance and their holy character for Buddhists, they constitute the two most spectacular objects in the exhibition. Presented for the first time ever, these art works do not only tell new stories about Buddha and Buddhism but also about the Rietberg Museum's relations with Asia.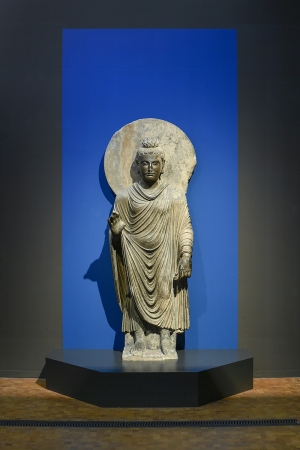 Program:
12:00 – Guided art tour with the exhibition curator Johannes Beltz
12:45 – Lunch at the Villa Wesendonck (included in ticket)
13:15 – End
This tour is for Asia Society Switzerland members only. How to become a member?
---
 About the Curator
Johannes Beltz is the deputy director and the head of curatorship at the Rietberg Museum. He is also the curator for exhibitions portraying art from India and Southeast Asia. Besides his engagements at the Rietberg Museum, he is lecturer for Buddhism and Hinduism at PHZH for the teacher training program.
About Art over Lunch
Art over Lunch is a monthly event series for members of Asia Society Switzerland. Each time, we visit an exhibition or a special part of the Rietberg collection with curators and experts for 45 minutes with a following small lunch. The tours are designed to give members a different view on the vast troves at the Rietberg and provide an opportunity to mingle and discuss.
Event Details
12 - 1:15 p.m.
Museum Rietberg
Gablerstrasse 15
8002 Zurich
(MAP)
Buy Tickets

Add to Calendar
20190206T110000
20190206T121500
UTC
Asia Society: Next Stop Nirvana
Museum Rietberg Gablerstrasse 15 8002 Zurich (MAP)
---