Jeong Kwan Cooks
VIEW EVENT DETAILS
Korean Buddhist Temple Cuisine
THIS EVENT IS SOLD OUT.
Fermented sauces, herbs fresh from the garden, preserved vegetables – it is not a coincidence that this sounds like the latest high-end slow food cuisine. The South Korean buddhist nun, Jeong Kwan, enjoys great popularity amongst a growing food loving fan base ever since she starred an episode of «Chef's Table». Still, she emphasises: «I am no chef, I am a nun», and therefore cooking is just another way to meditate.

The vegan temple cuisine traditionally omits all stimulating ingredients such as onion, leek or garlic – spices considered to arouse. From this constraint stems the temple cuisine's creativity – always mirroring poise and a well-balanced way of living. Locally sourced, organic, slow: cooking in remote Buddhist temples has always been this way.
 
We invite you to spend an evening with Jeong Kwan – who flies in for a short stay in Switzerland – and get to know the South Korean temple cuisine with all your senses.

Presenting Partner: Museum Rietberg.
---
Program

Welcome
Introduction by Hoo Nam Seelmann
Dinner
Tea and talk with Jeong Kwan – in Korean and German
 
18:30 Doors open
19:00 Beginning
 
Please note that the talk will be held in Korean and German, with translation to the respective language.
No animal-based products, alcohol or coffee will be served.
Korean tea and water are included in the price.
Tickets

- Single Ticket, Member of Asia Society Switzerland: CHF 75
- Single Ticket, Regular: CHF 150
- Table for eight people, Member of Asia Society Switzerland: CHF 500
- Table for eight people, Regular, Christmas-Discount until Friday, December 21, 2018: CHF 800
- Table for eight people, Regular: CHF 1000
 
THIS EVENT IS SOLD OUT.
 
Please note that in rare cases we cannot guarantee seats next to each other when buying single tickets together. We are sure that you will spend a lovely evening in delightful and smart company in any case.

Cancellation Policy

Until January 4, 2019: 100% of cost will be reimbursed
Until January 11, 2019: 50% of cost will be reimbursed
We cannot take cancellations from January 12, 2019.
When ordering a whole table, single seats cannot be cancelled.
---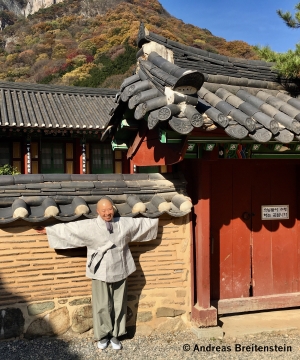 Jeong Kwan has been a Zen Buddhist nun for over 40 years and lives in the temple Baegyansa, located in southwest South Korea near the city of Gwangju. There she takes care of her garden and cooks for the other two nuns she shares the hermitage amidst Naejangsan national park with. Since 2015 she has been travelling the world regularly, being invited by star chefs such as Eric Ripert of «Le Bernardin» in New York – and the world travels to the remote temple, eager to learn more about her preparation methods like René Redzepi of the Copenhagen restaurant «Noma». The Netflix series «Chef's Table» introduced Jeong Kwan to a broad public, German newspaper FAZ calls enjoying Jeong Kwan's food an experience to witness «once in a lifetime», the New York Times labels her as «one of the world's greatest chefs».
Event Details
7 - 10 p.m.
Restaurant Bellavista
Hönggerbergring 47
8093 Zurich
(MAP)
Buy Tickets

Add to Calendar
20190119T180000
20190119T210000
UTC
Asia Society: Jeong Kwan Cooks
Restaurant Bellavista Hönggerbergring 47 8093 Zurich (MAP)
---