Careers & Internships
Careers
We are looking for an exceptional individual who shares our vision and can advance the foundation built by Asia Society Southern California – especially mobilizing entertainment, media, technology, and sports-business leaders in Southern California's vibrant multicultural community. The position requires a self-starter who combines creative strategic planning and outreach with meticulous attention to the implementation of programs. The ideal candidate will bring a portfolio of contacts and development experience to help build a strong funding base to expand the Center's activities.
The Associate Director is a multi-faceted position and key leadership role at Asia Society Southern California. Working with the Executive Director, the Associate Director will be responsible for overseeing the Center's daily operations and assisting in overall program and financial management. Experience in event planning, public relations and development, as well as a commitment to excellence, are required.
---
Internships
Asia Society Southern California is searching for interns to help with program development as well as marketing and communications.  This is a great opportunity for the selected interns to be involved in all aspects of researching and implementing Asia Society programs as well as marketing and outreach in these areas. Positions open until filled – apply today!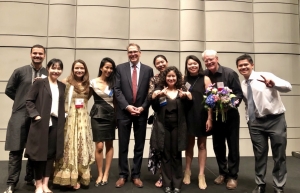 See attached position descriptions and email your application to Li Huang, lhuang@asiasociety.org 
---
Volunteers
Learn about our Volunteer Opportunities.
Join us for complimentary access to our events. Please email to info_la@asiasociety.org
Thank you!