Minyoung "Minnie" Shin
Senior Program Officer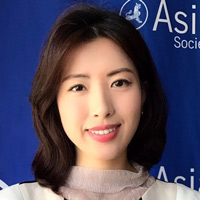 Minyoung "Minnie" Shin is a Senior Program Officer at the Asia Society Policy Institute (ASPI) in New York, where she supports the Director of Asian Sustainability on ASPI's climate change and environmental cooperation projects.
She is passionate about environmental sustainability and catalyzing social impact through market mechanisms and sustainable development policy. Before joining ASPI, Minnie was a Climate Corps Fellow at the Environmental Defense Fund and a Sustainability Intern at the Natural Resources Defense Council. She helped both organizations "walk the talk" on sustainability by conducting assessments on energy consumption and carbon footprint, and developing energy efficiency and carbon emissions reduction strategies. Additionally, Minnie has three years of green supply chain management and climate change policy consulting experience from Korea. She also worked for the Export-Import Bank of Korea, financing and managing multilateral economic development grants in developing countries.
Minnie is from Seoul, Republic of Korea. She holds a Master of Public Affairs in Environmental Science and Policy from Columbia University's School of International and Public Affairs, a Master of International Studies in International Cooperation from Seoul National University's Graduate School of International Studies, and a Bachelor of Arts in English Literature from Dongguk University. She is also a LEED Green Associate and FSA Credential Level II Candidate.
 
Related Initiatives
ASPI initiative to create a roadmap for linking the carbon markets in China, Japan, and the Republic of Korea.