Meet the Author Series at the Writers Bar with Jessica Hagedorn
MANILA, Philippines -- It was an intimate evening at the Writer's Bar of Raffles Hotel in Makati last July 8, 2013, where a group of book enthusiasts and Asia Society members sat on comfy lounge chairs listening aptly to Jessica Hagedorn as she delivered a piece from the much-anticipated book: Manila Noir. 
Jessica Hagedorn reading a piece from Manila Noir.
Photo credit: Geraldine Sun
Organized by National Bookstore and Raffles Hotel, internationally-acclaimed author Jessica Hagedorn came to Manila to promote her latest book of the Noir series.
Jessica Hagedorn, an American playwright, poet and multi-media performance artist of Filipino descent, is the author of several books such as Dream Jungle, The Gangster of Love, which was nominated for the Irish Times International Fiction Prize, and Dogeaters, which was nominated for a National Book Award, and Toxicology.
Manila Noir, an original anthology on crime stories based in Manila, provides the ideal, torrid setting for an Akashic Noir series volume. It is described as a place where five-star hotels coexist with informal settlements, where religious zeal coexists with superstition, and where politics is often snonymous with celebrity and corruption. Edited by Jessica Hagedorn, it includes stories by Lourd De Veyra, Gina Apostol, Budjette Tan and Kajo Baldisimo, F.H. Batacan, Jose Dalisay Jr., Eric Gamalinda, Angelo Lacuesta, R. Zamora Linmark, Rosario Cruz-Lucero, Sabina Murray, Jonas Vitman, Marianne Villanueva, and Lysley Tenorio.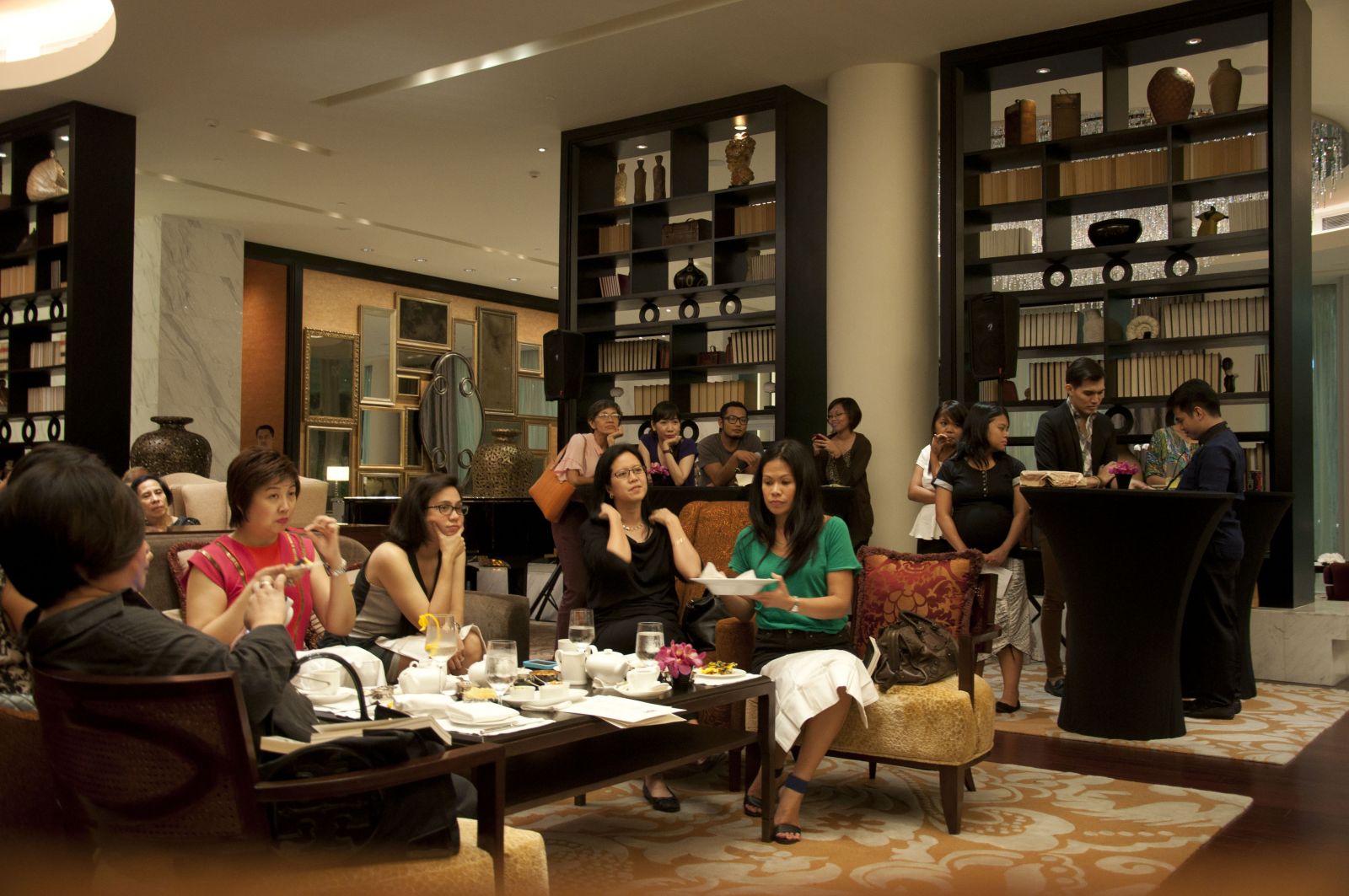 Participants at the Writers Bar, Raffles Hotel.
Photo credit: Geraldine Sun
Alfred "Krip" Yuson, an award-winning Filipino literary figure, moderated the event and sat down with Jessica Hagedorn after her piece to talk about the different process and aspects of the book. Other contributors of the book were also present such as R. Zamora Linmark and Angelo Lacuesta.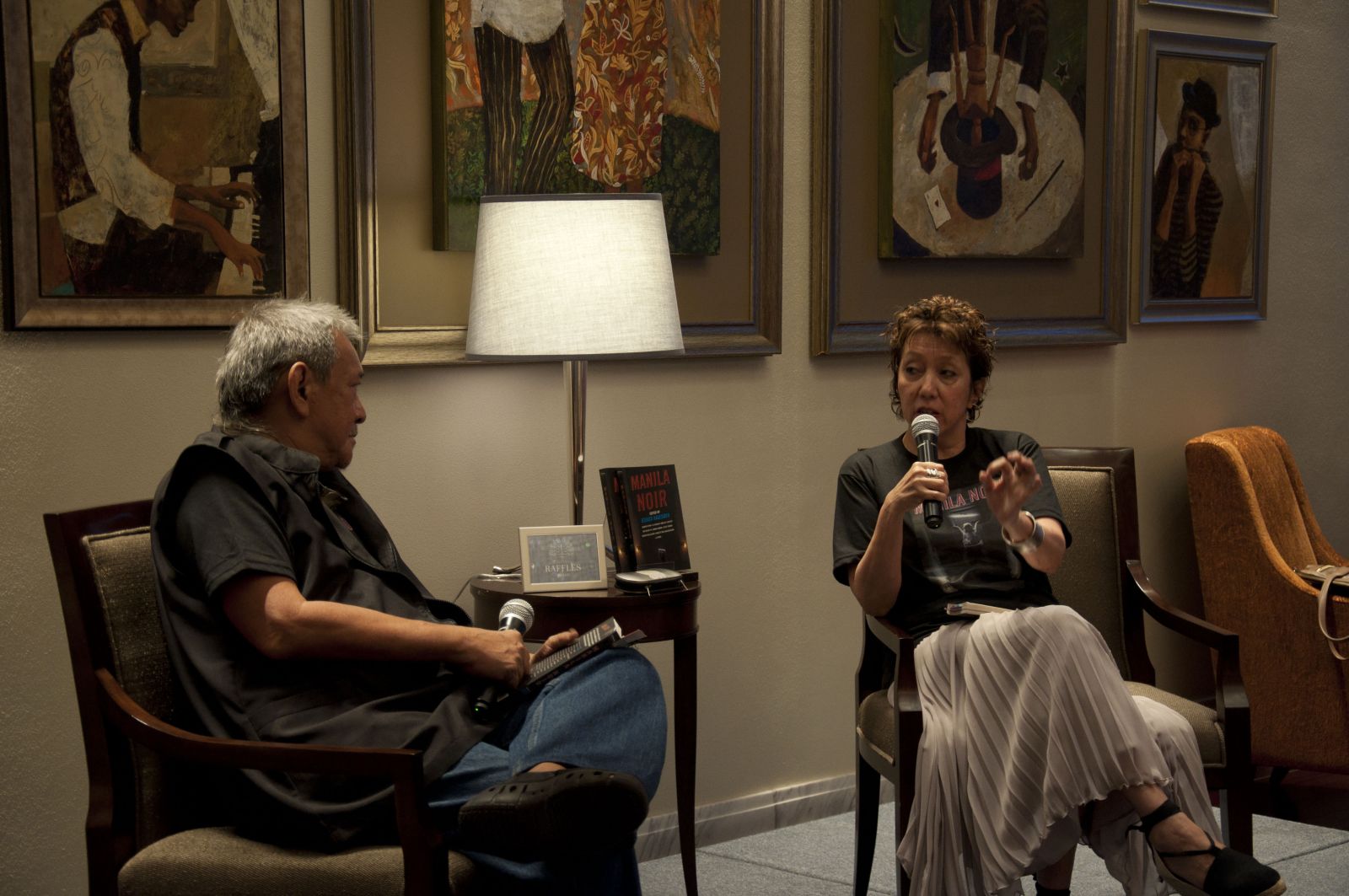 Kip Yuson and Jessica Hagedorn
Photo credit: Geraldine Sun

On the background of creating Manila Noir
Having to work with Filipino authors located in various regions around the world, particularly the Philippines, US and Europe, Hagedorn shared it was a great and challenging experience. Since the publishing company gave less than a year for her to complete the book, she relied on the recommendations of her friends for Filipino authors she could tap into. Instead of having an open call for entries, she read their work and personally contacted 14 authors, giving them 2 months to write orginal pieces.
One interesting aspect of the book was the inclusion of graphics, which was not done in her other Noir series. "Graphics is a tradition of the Philippines and including it in Manila Noir set it apart from the other Noir books," Hagedorn expressed. 
On the editing process
With this book, Hagedorn relied heavily on email to communicate with the authors. She shared it was harder and trickier to fully express her thoughts as email was an impersonal form of communication as compared to the old days where she could personally talk to the authors and have them openly discuss ideas. When asked how the editing process of this book differed from the others, she expressed it was more fast-paced and email-oriented. Due to the time constraint, she didn't have the luxury of editing the book in long-hand neither did she have an assistant. Having chosen the Filipino authors for their diversity and style, she also highlighted how much she learned from editing their work.
After their discussion, Yuson opened up the floor to questions from the audience, which was then followed by a book-signing.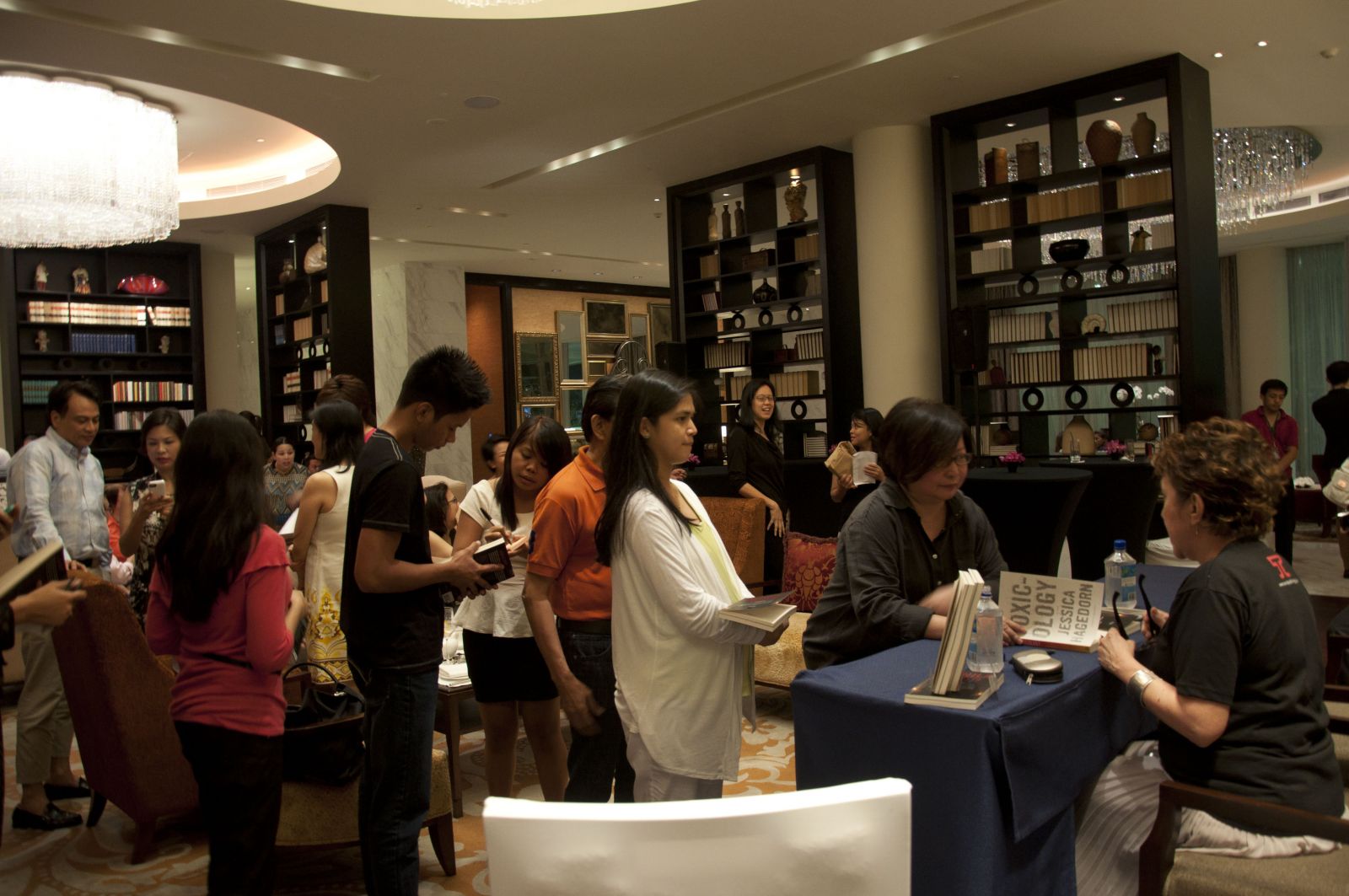 Book signing.
Photo credit: Geraldine Sun
For more pictures, please visit our facebook page. For more information on Meet the Author events, please email info@asiasociety.org.ph.