Learning of the different blocks of Universal Health Care
Former DOH Secretary, Dr. Esperanza Cabral, continues the health care dialogue by sharing her thoughts on Health Service Delivery.
MANILA, November 9, 2012 -- Launched last August 2012, The Secretary's Cup is a nationwide debate competition that aims to promote awareness about Universal Health Care here in the Philippines. Since then, debates have been held in universities and several other venues which opened the topics surrounding health for discussion. 
Included in this project organized by the Department of Health, the Universal Health Care Study Group of the University of the Philippines (UHC-SG), and Asia 21 Young Leaders' Initiative Philippines are a series of activities that target different audiences to better advocate Filipinos' right to health. Aside from the debate competitions, there are townhall meetings being held at the grassroots in different provinces in the Philippines, and there are talks being given by former DOH Secretaries for the public and even medical professionals to understand more about Universal Health Care. 
Last October 2012 was Dr. Francisco Duque's presentation on Health Financing where he touched base on the role of PhilHealth in the health system and he also presented a flow chart of how the system works here in the Philippines. He then posed a challenge for the participants to also be involved in thinking of ways as to how we can simplify and make the system much more efficient and effective. 
Yesterday, November 19, 2012, Former DOH Secretary Esperanza Cabral continued the dialogue on health care by sharing her thoughts on the importance of Health Service Delivery and how it is central to all the other building blocks of Universal Health Care namely: financing, governance, information systems, regulation, service delivery and human resources. 
Dr. Cabral also shed light on the status of the distribution of medical professionals here in the Philippines and how there is no way that if we follow the current system will we be able to provide quality healthcare to millions of Filipinos. She also gave some comments on how corporatization of government hospitals in the Philippines might not be the solution to ensure the provision of better services in hospitals.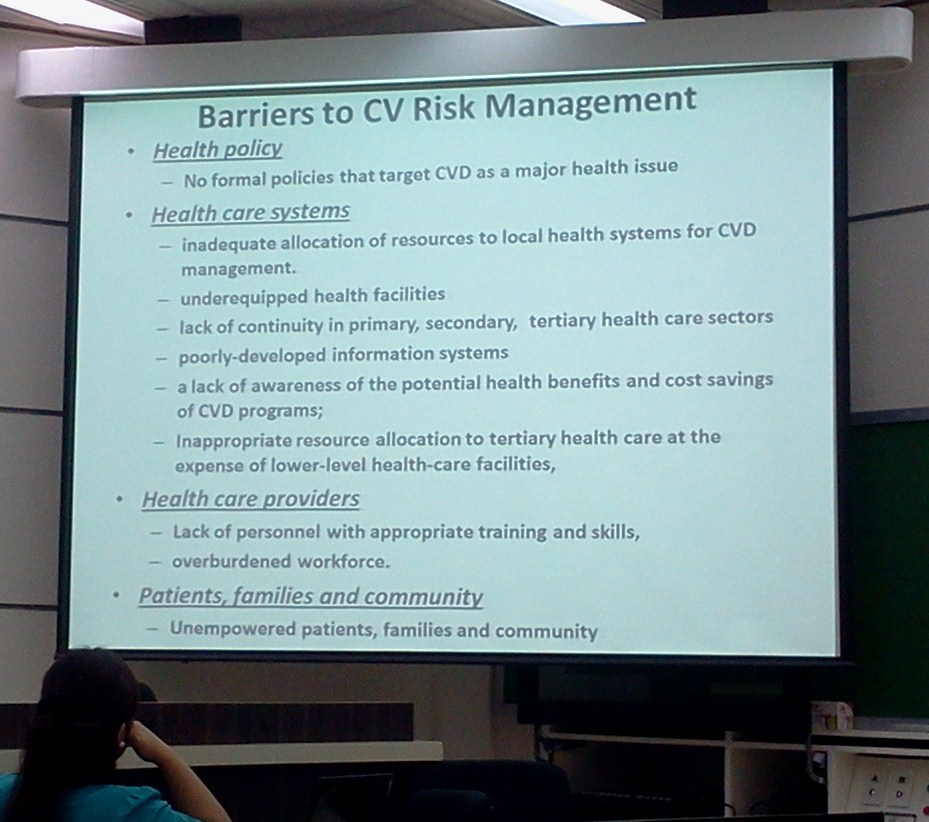 Inappropriate resource allocation to local health systems have created
high risk for proper Cardio Vascular Disease management.
With these striking numbers and health statistics, we are then challenged to learn more about the health situation here in the country and be more active in seeking for solutions so we can contribute to this mission of providing quality health care for all Filipinos.