Kulinarya Wins Awards for Best Food and Design!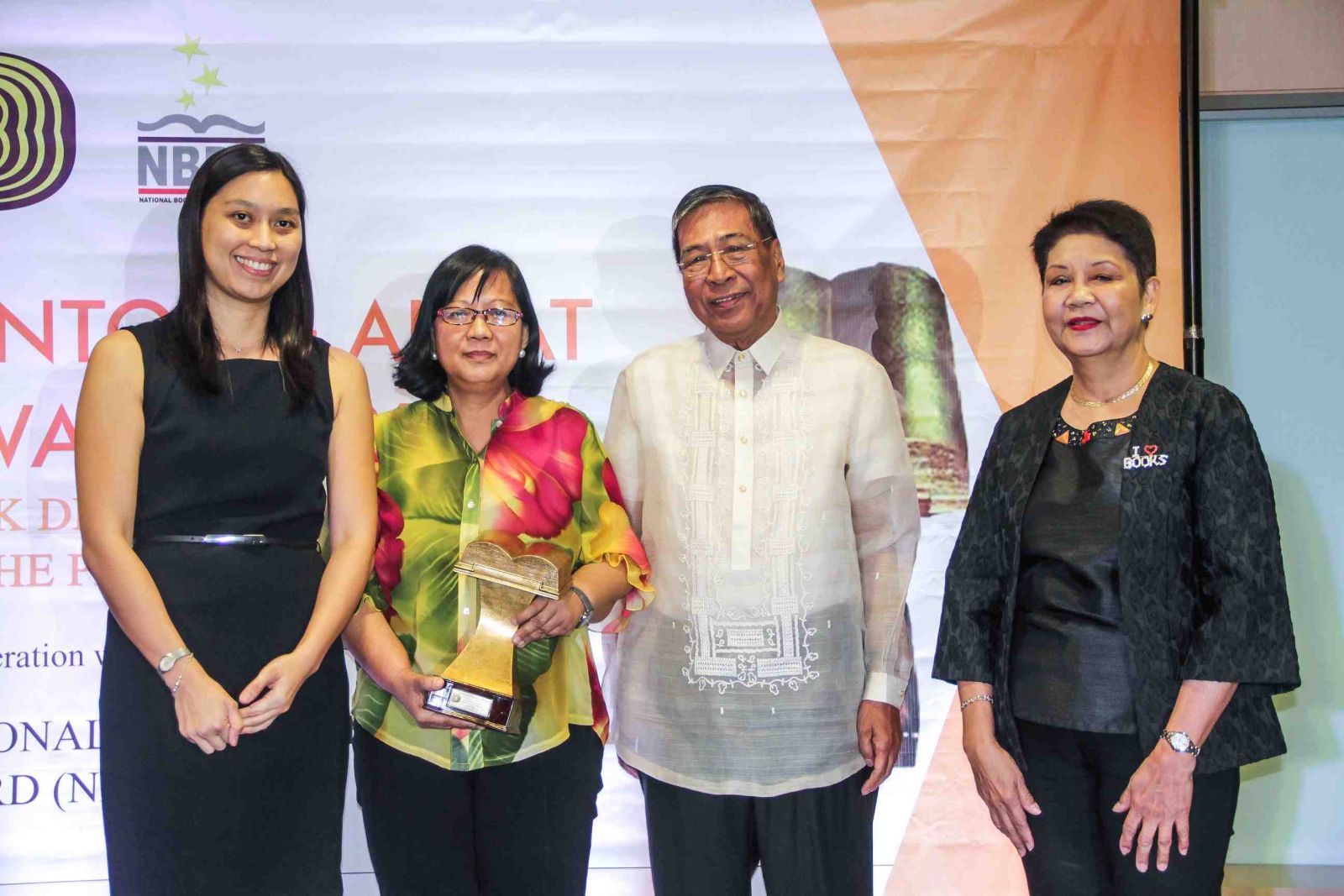 Anvil Publishing Manager Karina Bolasco (2nd from left) accepting
the Gintong Aklat award for Kulinarya: A Guidebook to Philippine Cuisine 2nd ed.
Anvil Publishing, Inc. and Asia Society Philippines are proud to announce that Kulinarya: A Guidebook to Philippine Cuisine (Second Expanded Edition) bagged Gintong Aklat Awards in 2 categories this year—Food and Book Design. This follows the first edition's win in the Culinary category in 2010.
Gintong Aklat Awards or Golden Book Awards are given biennially by the Book Development Association of the Philippines to the best books judged for all-around excellence. Books are divided into several major categories— Literature in Filipino, Literature in English, Arts and Culture, Food, Natural Sciences, Social Sciences, and Inspiration and Self-help.
Earlier this year, Kulinarya also won second place in the Gourmand World Cookbook Awards - Asian Cuisine from Asian Books Category.
Asia Society Philippines, in the Preface of the second edition says: "The expanded edition, following the great success of the Guidebook, continues in the mission to capture the essence of traditional Philippine cuisine for all to create and enjoy. Kulinarya: A Guidebook to Philippine Cuisine (Second Expanded Edition) is the continuation of a movement to inspire homemakers, cooks, students, purveyors, retailers, and all manner of restaurants to bring Filipino cuisine to the highest level of excellence in preparation and presentation for the world to appreciate."
Kulinarya features favorite Philippine recipes developed for modern kitchens by top Philippine chefs Glenda Barretto, Conrad Calalang, Margarita Fores, Myrna Segismundo, Jessie Sincioco, and Claude Tayag. Divided into nine chapters, the book features different types of Filipino dishes with accompanying recipes: Pulutan, Sabaw, Gulay at Ensalada, Ulam, Adobo, Inihaw, Pancit, Merienda, and Minatamis. New recipes include classic inihaw dishes, Paksiw na Lechon, Arroz Caldo and more.
Aside from new recipes, this new edition also contains expanded sections on best practices for Filipino cuisine, as well as an all new-section, "The Filipino Table," an overview of Philippine dining ways.
The award-winning book features more of noted photographer Neal Oshima's excellent images elegantly laid out in the book design by artists Aman Santos and Guillermo Ramos.
The new edition was made possible through generous grants from Del Monte Philippines, San Miguel Pure Foods Corporation, Century Pacific Group, Franklin Baker, Jollibee Group Foundation and Tao Corporation.
Kulinarya: A Guidebook to Philippine Cuisine (Second Expanded Edition) is available in branches of National Book Store, Powerbooks, and Bestsellers nationwide. 
For bulk orders, contact Asia Society at 550-2612 / 810-8983 or info@asiasociety.org.ph.