Holi Festival 2014 Colors Manila
MANILA, Philippines – Holi Hai! More than one thousand people celebrated the colorful Holi Festival last March 16, 2014 at SM Mall of Asia By the Bay.
Holi Festival is Hindu festival that marks the arrival of spring, the season of hope and joy. It is celebrated with much enthusiasm and gaiety on the full moon day in the Indian month of Phalgun (March).

Holi goers in Manila danced to the beats of the drum troupe Samba School Imperatriz Filipinense and DJ CJ Wasu.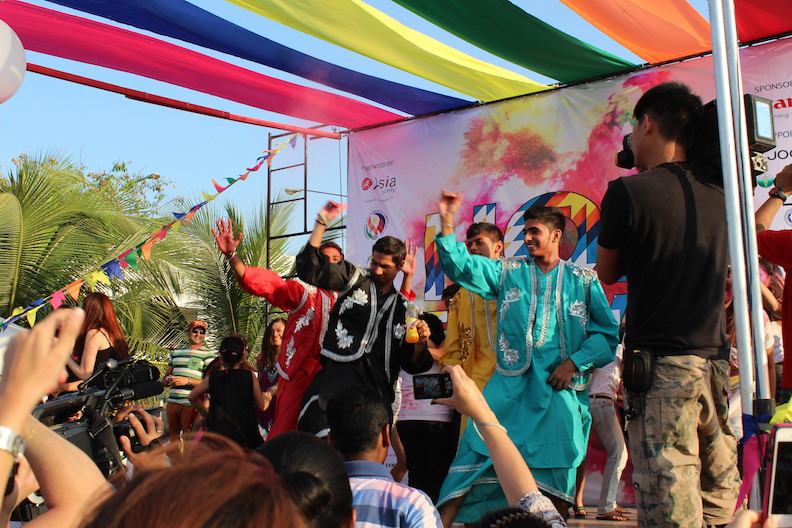 The program officially commenced with a very energetic performance by the Manila Lion Bhangra Group. The Shimmy Goddesses then took the stage, dancing and gyrating to popular Bollywood songs such as Chamak Challo. There were various Bollywood performances by local Indian dance groups Holi Desi Girls, Holi Desi Boys, International Group and Dabangg, who were accompanied by singers Ritu, Han, Pawan, and Himan.

The crowd was also given an opportunity to learn the basics of Bollywood and Belly dancing through workshops conducted by the dancers.
The program was highlighted by two countdowns wherein everyone threw colored powder (gulal) into the air. The throwing of gulal up in the air and at each other symbolizes friendship, unity, and a sense of revelry. Young & old, Filipino and Indian, friends and strangers alike, joined in the color play and greeted each other "Happy Holi!"
After sunset, a Hindu priest performed the ritual of burning Holika or Holika Dahan, which originates from the legend of Holika and Prahlad. The demon king Hiranyakashyap wished to get rid of his son Prahlad. He asked his sister Holika to enter a blazing fire with Prahlad in her lap, knowing that she was immune to fire. Prahlad was saved for his extreme devotion while Holika paid with her life. Holika Dahan symbolizes the triumph of good over evil.
Varieties of sumptuous Indian cuisines were also introduced to the public through different concessionaires and their food booths.
The night continued as the DJ played Bollywood party music that made the crowd even more pumped up.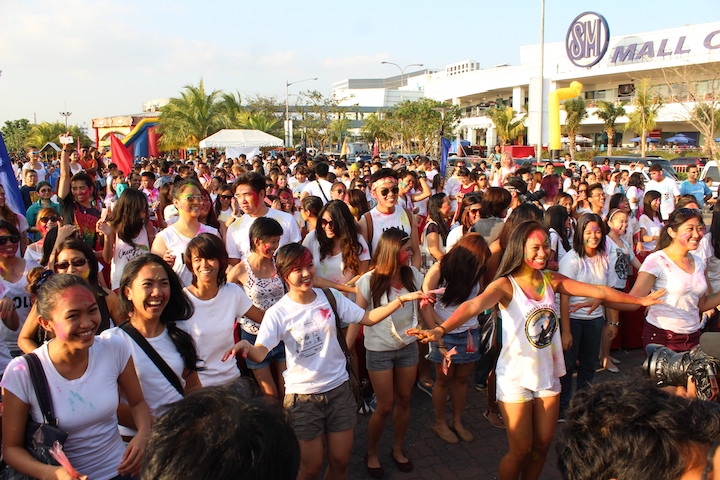 Asia Society Philippines, together with its partners, SingIndia Music of the Soul, Federation of Indian Chambers of Commerce, and Indian Ladies Club, commit to bringing Holi Festival to Manila every year.
Holi Festival 2014 was made possible through support of our sponsors Canon Philippines, New India Assurance, Jockey Philippines, Ambica International Trading, Pepsi Cola Products Philippines, with special thanks to RK Manufacturing, Serena Enterprises and Pilipinas Taj Autogroup. Solar News Channel, ABS-CBN News Channel, Hinge Inquirer Publications, Rappler and WhenInManila.com, were the media partners for the event.
Special thanks to and text by Rhinnon Pamintuan.
Event Poster: