Devex Manila: 40 Under 40 International Young Leaders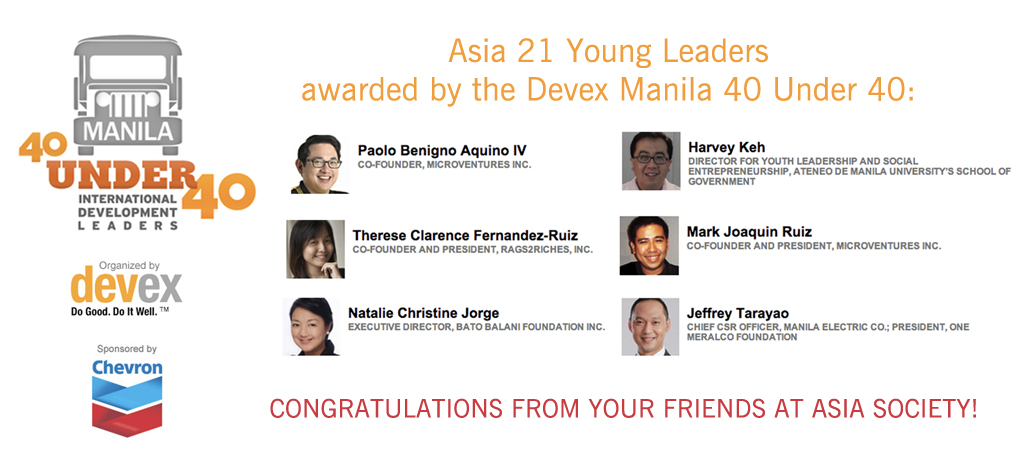 MANILA, Philippines - Devex is known as the world's largest community of international aid & development professionals with over 500,000 members on their website, www.devex.com. Following the successful 40 under 40 events in Washington 2010 and London 2011, Devex has selected the Philippines as the first developing country to host the event. The Manila 40 Under 40 program recognizes 40 leaders based in the Philippines under the age of 40 that have dedicated their service and spearheaded programs that have contributed to the country's development. 
These young leaders were selected based on their influence on the development agenda and impact on development results. With the goal to highlight and celebrate the important work of the next generation leaders in the global development community in Metro Manila, Devex's
selection committee
has chosen a diverse array of leaders from international development agencies   , government to corporations to NGOs.
Six of the forty awarded individuals are also Asia 21 Young Leaders. Included in the 2013 Manila 40 Under 40 list of awardees are: 
Paulo "Bam" Benigno Aquino, IV - Co-Founder of Microventures, Inc. 

Therese Clarence Fernandez-Ruiz - Co-Founder and President of Rags2Riches, Inc. 

Natalie Christine Jorge - Executive Director, Bato Balani Foundation, Inc. 

Harvey Keh - Director for Youth Leadership and Social Entrepreneurship, Ateneo de Manila University's School of Government

Mark Joaquin Ruiz - Co-Founder and President of Microventures, Inc. 

Jeffrey Tarayao - Chief CSR Officer, Manila Electric Co.; President of One Meralco Foundation
Asia Society congratulates these young leaders who continue to inspire the youth with their unwavering commitment to the nation's development. We encourage everyone to learn more about their advocacies and support their projects by reading their profiles
here.
For more information about the Asia 21 Young Leaders Initiative, please email info@asiasociety.org.ph.