Asia 21 Philippine Fellow named one of the 2012 TOYM awardees
Ivan Henares is recognized for his excellent work in heritage conservation.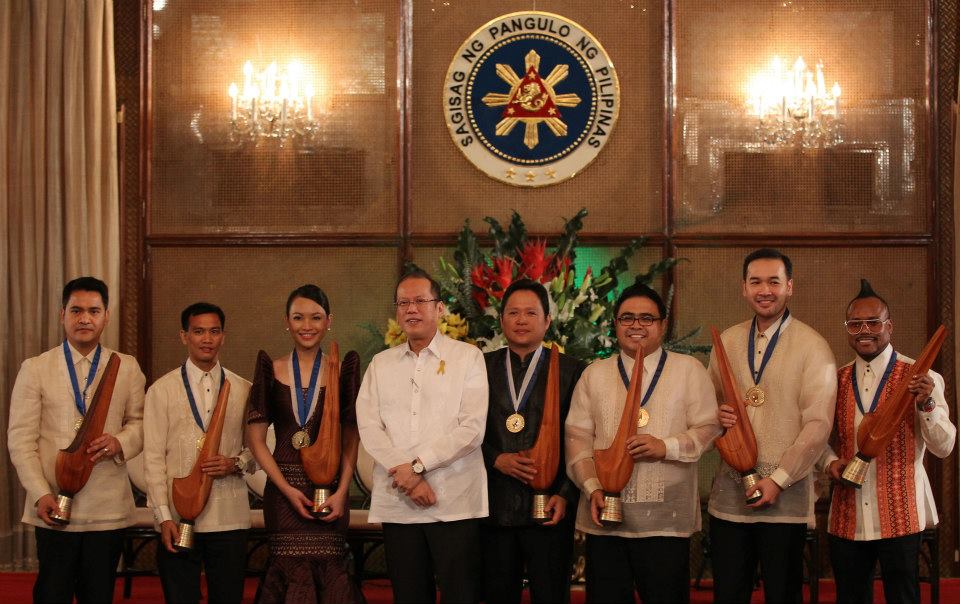 L-R: Rodrigo "Jiggy" Manicad, Jr., Emelio "Chieffy" Caligdong, Emmeline Aglipay,
President Benigno Aquino III, Waren Baticados, Ivan Anthony Henares,
Abelardo Apollo David and Allan "Apl.D.Ap" Pineda.
(Photo by: Jay Morales / Malacañang Photo Bureau).
MANILA, January 9, 2012 --  The Junior Chamber International (JCI) Philippines, together with TOYM Foundation and the Gerry Roxas Foundation, concluded last December 13 its 2012 search for The Outstanding Young Men of the Philippines in ceremonies held yesterday at L'Opera Ristorante, Bonifacio Global City, Taguig. The awarding ceremony took place on January 9, 2013 at the Rizal Hall, Malacañang Palace.
Our Asia 21 Philippine Fellow, Ivan Henares, joined this year's roster of TOYM awardees for his work in heritage conservation. The chairperson of the board of judges, Associate Justice Arturio Brion, announced the 7 TOYM awardees for this year:
1.    Emmeline Aglipay – At 30, the Democratic Independent Workers Association (DIWA) partylist representative is one of the youngest members of the House of Representatives. She advocates the protection of labor rights, notably by co-authoring the Kasambahay Bill and putting up DIWA labor centers all over the country. Here, free labor legal assistance, livelihood seminars, skills training, and medical assistance are provided. 
2.    Warren Baticados – An associate professor at the University of the Philippines College of Veterinary Medicine, he has published 20 papers on veterinary parasitology, microbiology, and pathology in international scientific journals, and has written ten more. He has also done pioneering work on the molecular detection of organisms causing animal diseases. 
3.    Emelio "Chieffy" Caligdong – As a member of the Philippine Air Force, the athlete used to play for the Air Force football club before becoming the Philippine Azkals vice-captain. He is recognized for his "excellence and luster" as a left winger midfielder, as well as his efforts to teach the sport to kids in his Iloilo hometown.
4.    Abelardo Apollo David – A winner of five presidential awards and three national awards, the visionary established the Independent Living Learning Centers, as well as the Rehabilitation and Empowerment of Adults and Children with Handicap Foundation Inc., to help persons with special needs gain independence and have quality lives.
5.    Ivan Anthony Henares – A senior lecturer at the University of the Philippines Asian Institute of Tourism, the Netizen behind popular blog Ivan About Town has championed heritage conservation using contemporary media. He conceptualized the San Fernando Frog Festival (Pyestang Tugak), and became the youngest chairperson of the Giant Lantern Festival Executive Committee. Both events are held in San Fernando, Pampanga.
6.    Rodrigo "Jiggy" Manicad Jr. – A GMA News reporter, he is guided by the public's right to know when doing stories that may be risky but must be heard. He has covered, among others, the military's inability to evacuate wounded soldiers from the battlefield, the overseas Filipino workers doubling as drug mules, and the dire situation of the people in Fuga Island, Cagayan.
7.    Allan "apl.de.ap" Pineda – A member of the U.S. hip hop group Black Eyed Peas, the Filipino-American rapper is a Smart ambassador who has recently collaborated with American Idol finalist Jessica Sanchez for a video encouraging the youth to "jump in" and pursue their dreams. Aside from setting up his own music company, Jeepney Music Inc., he also started the Apl Foundation to give aid to children and communities.
A panel composed of past TOYM honorees screened nominations for this year's search that came from all over the country. From the screened nominations, the winners were selected by a distinguished board of judges presided by Supreme Court Associate Justice Arturo D. Brion. Chaired 
 by ABS-CBN's Karen Davila, 2008 awardee for broadcast journalism, the panel a
lso comprised of Dr. Agnes D. Mejia, Miguel Belmonte, Aurelio Montinola III, Bro. Ricardo  Laguda, Angelico Salud and Dr. Raul Sunico.
Out of seventy candidates, only seven TOYM awardees were chosen based on the following criteria: service to the community or nation, professional excellence and integrity in their field, and leadership, including innovativeness, morality, and pioneering spirit. They should be at least 18 years old to 40 years old.
The seven awardees will be honored this week by President Benigno Aquino III at the Rizal Hall in Malacañang.
Sources: