2012 Annual Rice Forum
Raising Rice Farmers' Income through the Palayamanan Approach
MANILA, November 27, 2012 -- "Rice is the most important staple", began Dr. Emil Javier of the Asia Rice Foundation who opened the 2012 Annual Rice Forum held on 27 November 2012 at the Traders Hotel, Manila with the theme "Raising Rice Farmers' Income through the Palayamanan Approach."
The forum was attended by experts on rice, academics, farmers and representatives from various organizations who are also stakeholders of the Palayamanan Approach. The forum aims to revisit the program and see possible improvements to the program based on its implementation in the past years. 
This approach started around 2001 and involves a diversified farming system wherein farmers produce a combination of crops, livestock, aquaculture, etc. making sure that the use of the land available is maximized. 
Stemming from the terms "palay" which means rice and "yaman" which means wealth, Palayamanan is translated into "wealth in rice farming".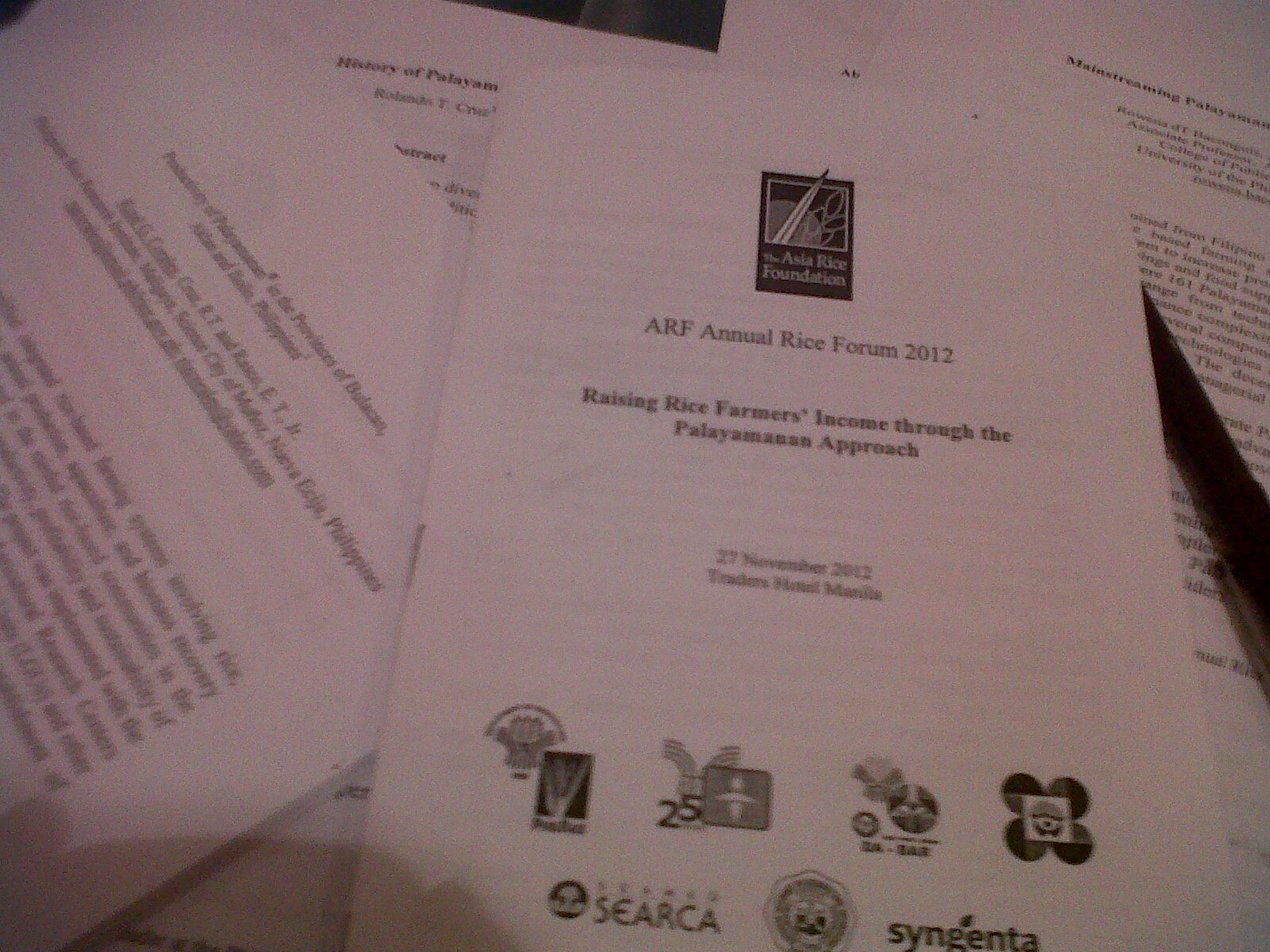 Papers presented during the Annual Rice Forum 2012
 
Speakers during the forum presented their papers on the following topics: 
- History of Palayamanan by Dr. Rolando Cruz of PhilRice
- Productivity of Palayamanan in the Provinces of Bulacan, Aklan and Iloilo, Philippines by Mr. Rizal Corales of PhilRice
- Small Scale Irrigation Project for Palayamanan System by Dr. Ruben Cruz of DA-BSWM
- Community Based Participatory Action Research Overview by Ms. Kris Thea Marie Hernandez of DA-BAR
- Mainstreaming Palayamanan in the National Extension System by Dr. Rowena dT Baconguis of UPLB
Dr. Ruben Villareal of the National Academy for Science and Technology succinctly summarized the forum providing the following recommendations on how we can be self sufficient by 2020: 
 
- reduce harvested area from 4.0M to 3.5 M has
- 1.0 M has rainfed
- expand hybrid rice to 1.0M has
- universal use of certified inbred seed
- double fertilizer application (65kg nutrients/ha to 130 kg/ha)
- raise milling recovery from 62% to 65%
- reduce postharvest loss from 15% to 10%
- reduce rice capita intake from 105 kg to 100 kg/year
- reduce seeding rate (100kg to 40kg/ha)
*has = hectares
Dr. Villareal also brought up very interesting points as he cited technology, availability of credit and market among others as the key concerns in the continued implementation of the approach. He also suggested that we invest in crops that produce energy so we won't have to depend on fossil fuels and worry about its depletion in producing the country's staple food. 
For more information, you may contact The Asia Rice Foundation www.asiarice.org