Interview: Farah Yasmeen Shaikh on Performing The Forgotten Empress
The internationally acclaimed Kathak artist discussed her upcoming performance, The Forgotten Empress, which encapsulates the rise and influence wielded by a female empress in Mughal India.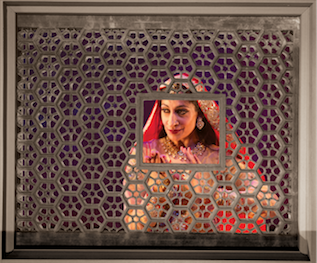 (Farah Yasmeen Shaikh )
Farah Yasmeen Shaikh and her ensemble, Noorani Dance, will present the classical dance form of Kathak, and perform an excerpt of their upcoming production, The Parting, at ASNC's Open House Reception on Sept. 14th.  The Parting is a multi sensory performance based on the 1947 Partition of India and Pakistan, premiering in San Francisco in January of 2018. 
Farah Yasmeen Shaikh discusses her award winning performance of The Forgotten Empress, which will tour Pakistan this Fall and Asia Society Texas Center in April 2018.
The Forgotten Empress is the story of a real life Mughal Empress, Noor Jahan, from 17th century India.  How did you come to tell the story of this woman?
I was initially inspired to know about this incredible woman after reading the captivating novel, The Twentieth Wife by Indu Sundaresan. In fact, I first told the story as an adaptation of Indu's novel of historical fiction for the premiere performance of The Twentieth Wife – in which Indu was heavily involved in the scriptwriting of – in 2015. After traveling to Pakistan many times, I felt an even greater responsibility in telling her story after learning about her present-day insignificance, despite her deep knowledge and unprecedented level of influence over the Mughal Empire.
Empress Noor Jahan is from Persia. How do you reconcile modern geography and culture? How do you engage both Pakistan and India?
Yes, the Empress was from Persia. The beauty of the time was that there was just a beautiful coming together of culture, religion, and language especially under the reign of Emperor Akbar, Jahangir's father. As India and Pakistan used to be one country, they see the history of the Mughal period as shared history. Many of the monuments actually reside in both countries — it's actually quite sad that the people of each country don't have the opportunity to easily visit these great monuments.
How does the relationship between the music and dance influence this performance?
I always joke that in some ways I'm more exhausted by the costume changes than I am by the amount of dancing I do throughout the stage. However, in the tradition of Kathak, it is not the costume that creates the character but the movement and expression. My decision to have multiple costumes was to highlight the lavish lifestyle of those living in royalty during this time period, but I would like to think it is my dancing that is giving the character it's life.
How do you view Asia Society as a venue for presenting this piece?
I've always admired Asia Society for the diversity in programming that it offers in the arts. Having had the opportunity to meet and converse with the staff from different locations, I was thrilled when Stephanie at the Asia Society Texas Center confirmed her interest to have The Forgotten Empress performed at their venue. Knowing of the large population of South Asians in Houston, I'm excited to share the story of just how much power and influence a Mughal Empress had during her time — which quite possibly many of them are unaware of! Especially in our current national and international state affairs, sharing stories of powerful Muslim women is more important than ever, and Asia Society is a perfect partner to make this happen. And as an American Pakistan Muslim woman dancer, I am also aware that my background has an important message as well. 
You will be performing at ASNC this September 14th for our annual Open House Reception. What can we look forward to experiencing that night?
Though I hope to share The Forgotten Empress with Northern California sometime in the near future, I will have some of my most advanced members of my performing ensemble, Noorani Dance, as well as myself perform some traditional and innovative pieces of Kathak at the event in September. Additionally, we will perform excerpts of my next work titled "The Parting" which is a performance of dance, music, and theater sharing renditions of stories from the 1947 Partition of Indian and Pakistan. This piece will premiere in San Francisco in January of 2018. 
As a teacher of Kathak dance here in the SF Bay Area, how have you witnessed storytelling as bridging cultures within the U.S., India, and Pakistan?
The beauty of storytelling through any medium is that more often than not we can find a way to relate to the characters regardless of our culture. I have found that for the past 21 years that I've been practicing, performing, and teaching Kathak, students and audiences from all over are able to find an access point where they feel entertained, educated, and as I always hope, inspired. It is important for me as the performer and teacher to make the dance accessible by knowing what their vantage point might be and the emotional connections they make. As with anything, it starts with dialogue and understanding. 
Interview edited for publication.
---
More Information & Further Reading:
Details and tickets for ASNC's Open House Reception
Learn more about Asia Society Northern California's upcoming events.