World Art Through The Asian Perspective
VIEW EVENT DETAILS
Speaker Series Seminar With Suhanya Raffel in Collaboration With the Long Now Foundation
Meet Suhanya Raffel, the executive director of the new M+ Museum in Hong Kong which is slated to open in 2020. Suhanya joins us from Hong Kong and will talk about the museum's grand opening plans and world art through the Asian perspective.
M+ is the new museum of visual culture in Hong Kong as part of West Kowloon Cultural District, focusing on 20th and 21st century art, design and architecture, and moving image from Hong Kong, the Mainland, Asia and beyond.  It will be one of the largest museums of modern and contemporary visual culture in the world.
Located adjacent to the Art Park on the waterfront in West Kowloon, the M+ building will be completed in March 2020 with the museum itself opening nine to twelve months later. 
The architectural form by Herzog & de Meuron encompasses an efficient system of spaces, facilities and functions. Accessible through multiple entry points the horizontal structure houses 17,000 square metres of exhibition space, three cinemas, a lecture theatre, a learning centre, a museum shop, performance spaces, cafés, a mediatheque and a public roof terrace with views of Victoria Harbour and the Hong Kong skyline. Soaring up from the podium is the vertical museum tower which houses the library, archive, study centre, member's facilities, museum offices and restaurants, and features a LED façade for the display of artists' moving image works.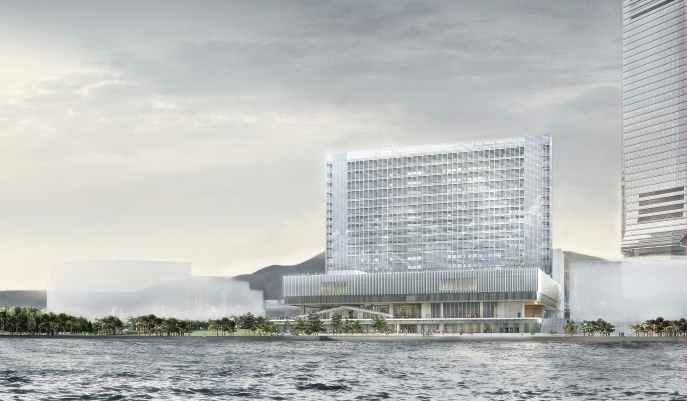 ---
About Suhanya Raffel
Suyanha Raffel leads and oversees all of M+'s activities, including collections building, exhibitions, research, programming, institutional collaborations, and operations. She joined the West Kowloon Cultural District Authority in November 2016 as Executive Director, M+. She was appointed Museum Director, M+, in January 2019.
Previously, Ms. Raffel was Deputy Director of the Art Gallery of New South Wales, Sydney. Before that she worked at the Queensland Art Gallery / Gallery of Modern Art, Brisbane, where she held many senior curatorial positions, including Acting Director and Deputy Director of Curatorial. At the Queensland Art Gallery, she was instrumental in building the contemporary Asia Pacific collection and led its Asia Pacific Triennial of Contemporary Art (2002–2012).
Ms. Raffel is currently a trustee of the Geoffrey Bawa Trust and the Lunuganga Trust in Sri Lanka, and a member of the Board of the International Committee for Museums and Collections of Modern Art (CIMAM).
---
Agenda
7:00 PM Registration & Networking
7:30 PM Talk Begins
8:30 PM Conclusion
Asia Society and Long Now Members are invited to gather at Corridor following the event for drinks and informal discussion.
---
Partnership
The Long Now Foundation and Asia Society Northern California are partnering on a series of talks in Long Now's Seminars About Long-term Thinking series. With the Asia Pacific region being vital to long term thinking for the planet, and especially for those on the Pacific coast, we believe that there is a fruitful collaboration to explore for both of our memberships and the wider public.
The Asia Society's depth of knowledge about critical issues, key leaders and cultural perspectives coming out of Asia can inform the topics, people and conversations featured in the long-running Seminar series curated and hosted by Long Now's president Stewart Brand. Public access to the recorded talks broadens the reach of this in-depth collaboration.
---
About Long Now
The Long Now Foundation was established in 01996* to develop the Clock and Library projects, as well as to become the seed of a very long-term cultural institution. The Long Now Foundation hopes to provide a counterpoint to today's accelerating culture and help make long-term thinking more common. Long Now aims to foster responsibility in the framework of the next 10,000 years.
Event Details
7 - 8:30 p.m.
SFJAZZ Center
201 Franklin St
San Francisco, CA 94102
Buy Tickets
$25, use code "asiasociety"

Add to Calendar
20191015T020000
20191015T033000
UTC
Asia Society: World Art Through The Asian Perspective
SFJAZZ Center 201 Franklin St San Francisco, CA 94102
---